If I ever have a "real" job – by that I mean one that earns a steady paycheck – I want to teach preschool. I love little ones. I love watching them explore the world around them. It's so fun to watch them learn new things. That moment when they grasp a new concept and a big smile graces their face… yeah. That's a little piece of heaven right there.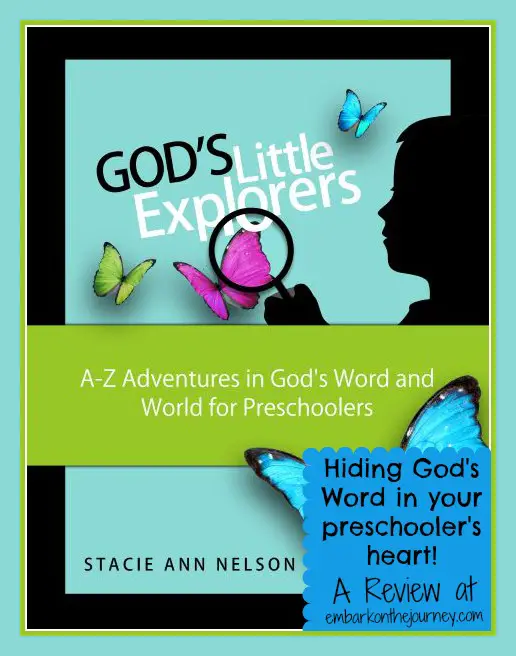 God's Little Explorers is a wonderful preschool Bible curriculum!
Honestly, when I first saw the title of this program online, I thought it was a geography program for little ones. It's not. It's a Christian preschool curriculum for homeschoolers written by Stacie Ann Nelson. This 28-week program covers the entire alphabet, but she doesn't teach them in order. Instead, she teaches the Bible in chronological order. While teaching the Bible stories from Genesis through Revelation, she covers all 26 letters.
There are four main parts of this program:
Bible Adventure – read the Bible, sing songs, crafts or projects
Theme Adventure – explore themes with science, cooking, and more
ABC & 123 – introduce the alphabet, numbers, and shapes
Life Skills – chores, manners, service projects, and more
Optional sections include:
Book bag – reading lists
Learning bags – Stacie's version of busy bags
Hymn study
Composer study
Artist study
Who is it for?
While this program is written for ages 3-4, it can be adapted to accommodate 2 and 5 year olds. Therefore, it's easy to adapt for your preschooler.
What do I think about it?
I love it! I love the way the pages are set up. I like that the instructions for the week are included in one two-page spread so it's easy to see at a glance what is expected for the upcoming days. All of the suggested activities are described on the lesson planning pages or linked to instructions on the blog. Most of the activities use supplies that most people already have on hand making this program perfect for parents who are looking for a frugal preschool program for their littles.
From numbers to colors to ABC's, God's Little Explorers is such a wonderful preschool program. The fact that it is based on scripture makes it even better in my book. Teaching little ones to hide God's word in their hearts is of utmost importance. God's Little Explorers is a program that does just that in a natural way. I highly recommend this program for homeschoolers with little ones!