As a mom, one of my biggest tasks is to work myself out of a job.
Are you asking yourself what that even means? Let me explain. I'll bet you've been working toward it even if you didn't know you were.
Ultimately, I need to know that my kids can get on without me, because I won't always be around. Some day, they are going to grow up and move out. When they do, it will do my momma-heart good knowing my kids can fend for themselves. If they can't, I've done them a disservice.
So, it's up to me to work myself out of a job by training them to be able to run a household on their own.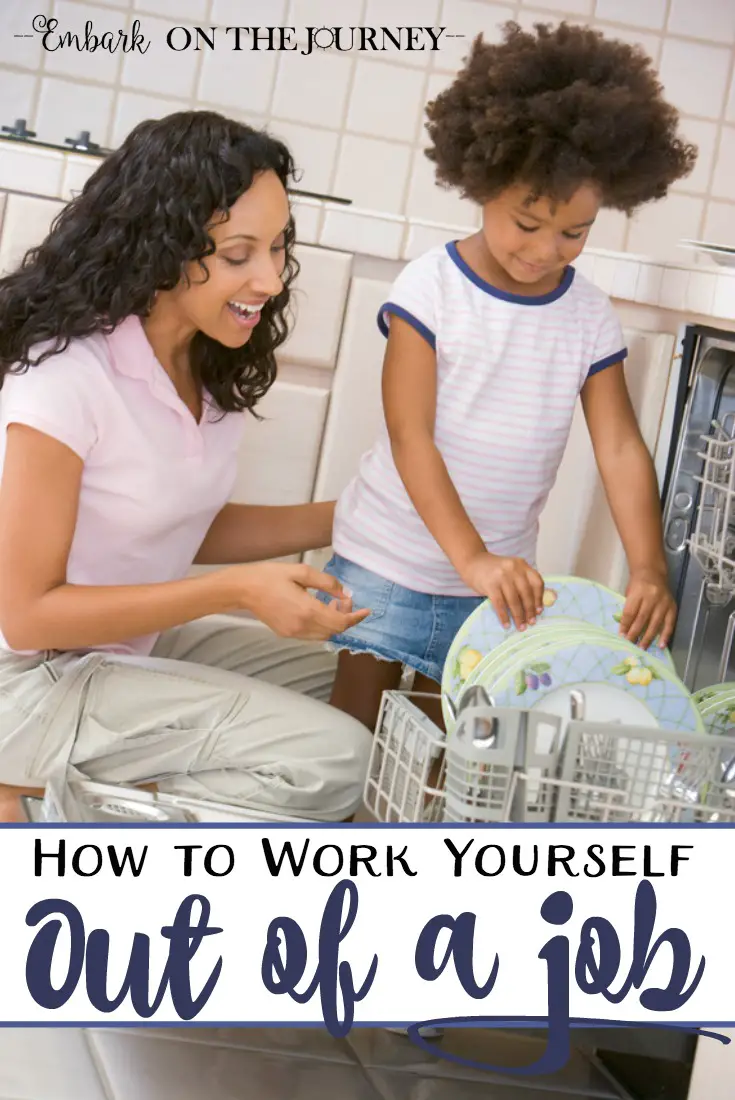 How to Work Yourself Out of a Job
Start young!
Kids are capable of so much more than we give them credit for. Young children can pitch in around the house far sooner than we're willing to turn over the reins.
Toddlers can wipe down a low table. Preschoolers can put their dishes in the dishwasher or help set the table. Elementary-aged students can start learning basic cooking skills. Tweens can start cooking simple meals. High schoolers should be able to run the household.
The only way for a high schooler to be confident enough to run a household is to be trained from a young age. It takes years of patient guidance from mom and dad to learn all the ins and outs of laundry, grocery shopping, meal planning, and all else that comes with running a household.
Let them help!
Start out by letting little ones help you out. There's no need for instruction at this point. Toddlers and preschoolers are eager to be by your side. They want to feel useful, and will gladly wipe down tables with you.
At this point, you're modeling. They're watching how you do things, and they're mimicking you. Little ones are so eager for your approval during their younger years.
Teach them.
At the point that you determine they are ready to tackle a job around the house, teach them how you want it done. Do you want towels folded a certain way? Are you particular about how the dishwasher is loaded?
Be willing to invest the time to show your kids how to properly do their chores when they're young. It will pay off in dividends as they get older.
Adjust your expectations.
It's worth mentioning the fact that you will need to adjust your expectations in the beginning. Your seven year old will not fold towels as neatly as you do. Five year olds may miss the back corner of the table, because their arms are too short. Ten year olds may not lift the couch or coffee table to vacuum under them.
IT'S OKAY! Repeat after me. IT'S OKAY. They'll get it eventually. The key right now is to transition the job to them. Just realize that you may need to go back and do a deep clean once a week or so to make sure all of the dirt is vacuumed up or every corner has been mopped while they're in the learning stage.
Don't hover.
No one likes a nag! Once you've taught them how to properly do the job, take a step back. Trust that they will do the job properly. When your child says the job is done, go back and inspect it. Make sure they've completed all of the steps and they've completed them well.
If you don't inspect, they won't do their best. They'll do just enough to say it's done. Praise what they've done, and instruct them to finish anything left undone.
Make it theirs.
Don't be afraid to let go of the job. Make it theirs. Expect that it's their job from now on – or until a younger sibling is old enough to take over. Slowly but surely, you'll find yourself managing less and less of the day-to-day household tasks while you encourage your kids to become responsible for more and more.
Look around… what can you begin relinquishing today? Where can you begin to train a child to take over? Laundry? Dishes? Lunches?
Related Posts