I am not a camper. I've been a few times – back when I was young, and my mom made me do it. I'm not a huge fan the great outdoors unless I'm close enough to my house for a shower and my own bed.
My kids, however, love to camp with my mom and dad. They don't mind mosquitos and campfires. They love cooking over the campfire and swimming in the lake.
I don't mind reading to my kids about camping, though. I can live vicariously through the characters in the books, and my kids can relive memories they've made with their grandparents.
These picture books about camping are perfect for kids of all ages. On the list, you'll find books to read to your children and books they can read on their own.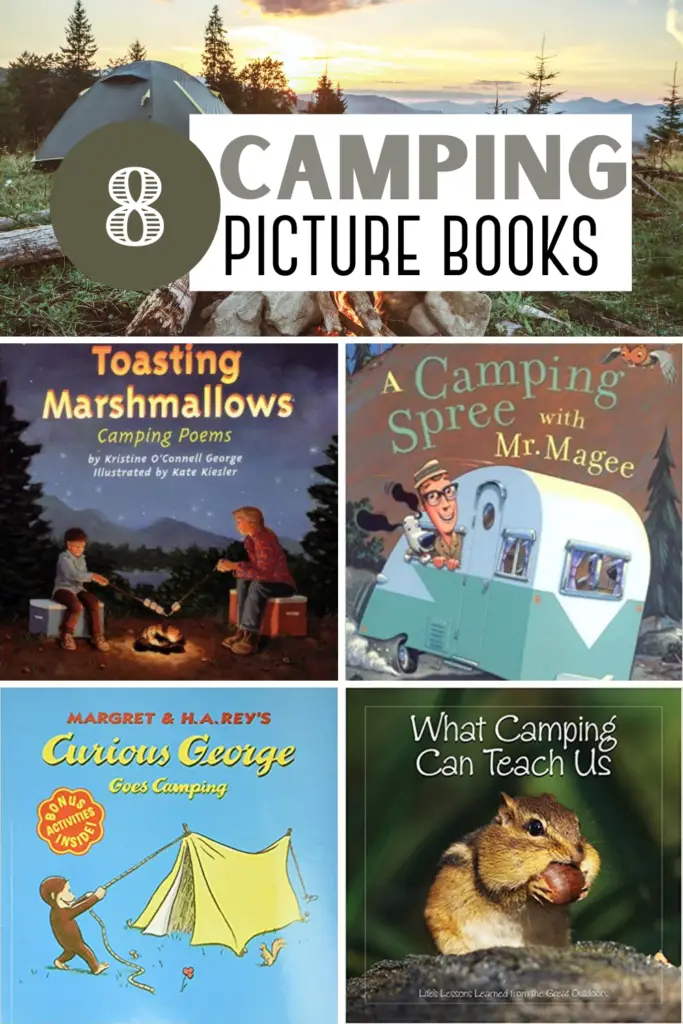 Do you like camping? How about your kids? Here are some fun camping picture books to read with your little ones.
If you are looking for some camping crafts, be sure to check out these camping crafts for preschoolers.
These chapter books make great camping read alouds for kindergarten kiddos.
Picture Books About Camping
Below, I've featured just a handful of camping picture books that will help your kids get excited about your next camping trip.
You should be able to find them at your local library or bookstore. If you can't find them locally, you can click each image cover to purchase them on Amazon.
Toasting Marshmallows: Camping Poems – Everything that happens when you go camping can be an adventure, from getting dressed inside your sleeping bag on a chilly morning to meeting a moose to sharing secrets in a tent at night.
P. J. Funnybunny Camps Out – Camping is not for girls, right? At least, that's what P.J. and his pals tell Donna and Honey Bunny when they want to tag along on a camping trip. But when two mysterious ghosts frighten the boys all the way home, only the girls know the real story.
1 2 3 Make a S'more with Me – A fun counting book perfect for beginning readers.
What Camping Can Teach Us – Kids love camping, and in this delightful children's book, vivid, full-color photographs evoke the sights and sounds of enjoying the days and nights outdoors. Paired with these images are quotes on cozy tents, happy campfires, funny animals, tummy-filling food, hanging out with family and appreciating the natural world.
A Camping Spree with Mr. Magee – Mr. Magee and his trusty dog, Dee, are enjoying a peaceful camping trip when all of a sudden they find themselves plunging down a mountain and teetering on the edge of a huge waterfall! How will they find their way out of this slippery situation?
Curious George Goes Camping – George tries to be helpful, but he of course just ends up upsetting a nearby camper. As he's hiding in the woods, he meets a forest creature who catapults the mischievous monkey into a chain of even more outrageous events!
S is for S'mores: A Camping Alphabet – Next to baseball and fireworks on the Fourth of July, nothing else seems as American as the family camping trip. From what to pack, where to go, and what to do when you get there, S is for S'mores: A Camping Alphabet takes readers on an A-Z trail exploring this outdoor pastime.
Fred and Ted Go Camping – In this story Fred and Ted go camping, and as usual, their uniquely different approaches to doing things (such as packing equipment, setting up camp, and fishing techniques) have humorous—and sometimes surprising—results.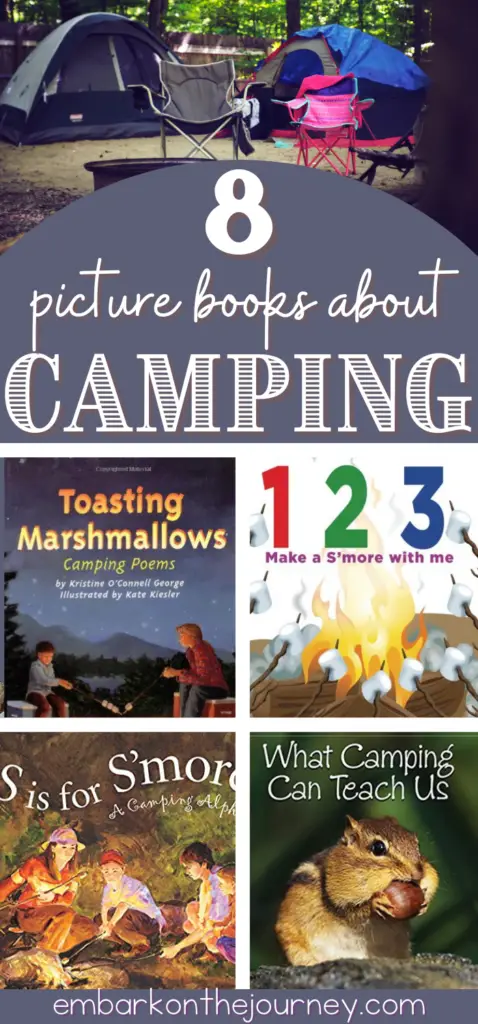 MORE CAMPING FUN FOR KIDS
Camping never felt so cuddly! Set up camp in the playroom with this adorable, personalized campout kit, complete with a smiling marshmallow, water flask and campfire. 
This fun interactive game of Camp Charades will keep your camping trip fun. With 17 pages (8 cards per page) of exciting charade cards, your campfire moments just got more fun.
With a felt hiking map, compass, and hatchet, your kids will have all they need for a fun (pretend) hike through the woods.
Related Posts