Kids learn best through play! It helps them learn skills in a natural way. These pretend play printables are perfect for preschool and kindergarten!
Add these free printables for kids to your dramatic play areas, and your little ones will be set for an afternoon of learning through play!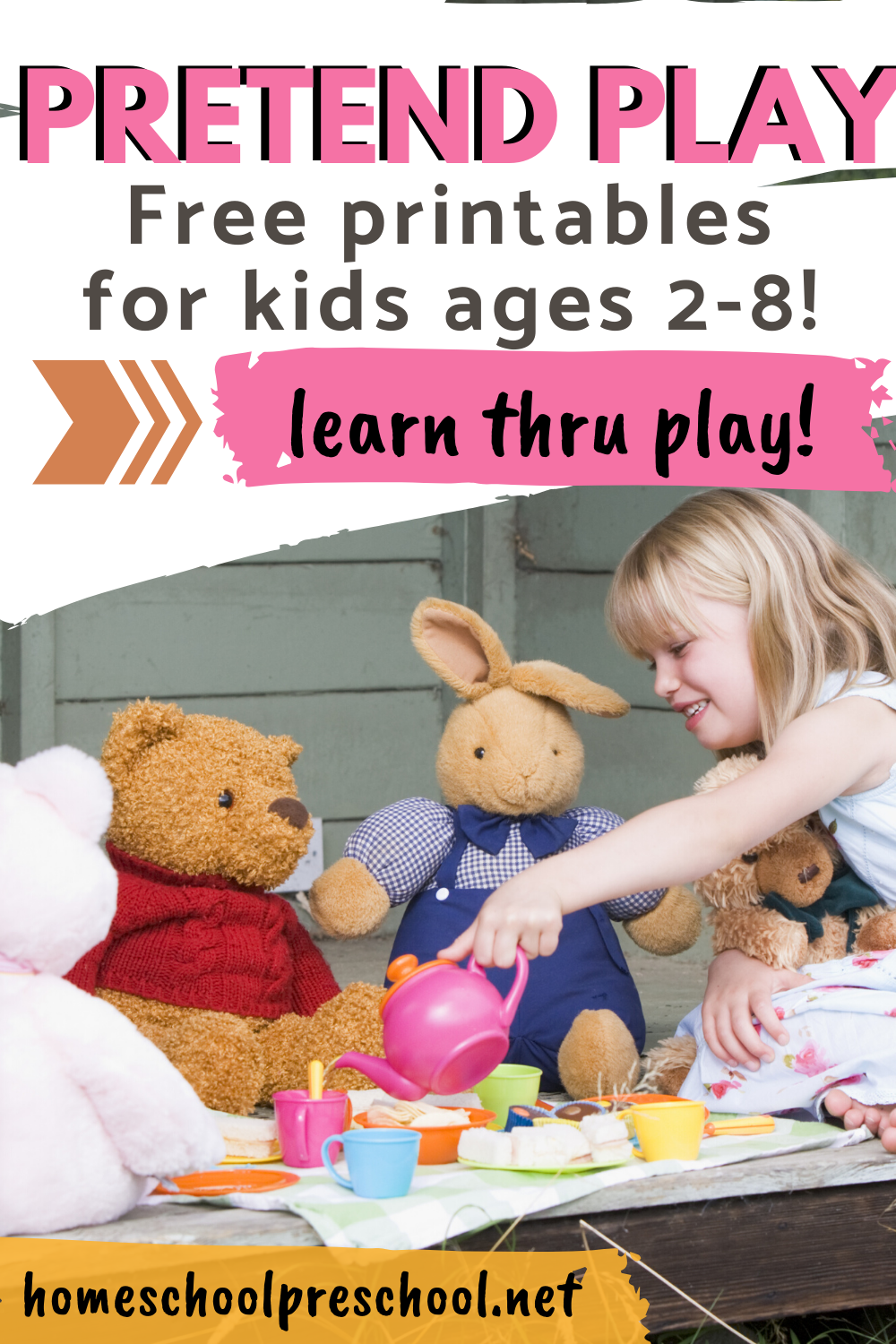 Pretend Play Printables
Bring new life to your play kitchen by turning it into a restaurant. This simple restaurant dramatic play set includes a menu, an order sheet, and pretend money. Fluffy Tots
Charades is a fun game for kids, because they get to act out scenarios. These What Job Do You Want charades cards encourage kids to act out (and guess) various jobs. Mosswood Connections
When your kids serve up pretend pizza, they get a chance to learn fractions. Even preschoolers can enjoy fractions. At this point, it's all about planting seeds for later learning. Homeschooling My Kinetic Kids
This grocery store pretend play pack contains a store hours sign, name badges, and more. Homeschool Share
Animal loving kiddos will love this set of pretend play vet's office printables that pair nicely with a pretend doctor's kit. Mess for Less
[mv_video key="suusyjzrpshdsm51heou" volume="70″ aspectRatio="true" title="Free Homeschool Websites" thumbnail="https://mediavine-res.cloudinary.com/video/upload/suusyjzrpshdsm51heou.jpg" jsonLd="true" doNotOptimizePlacement="false" doNotAutoplayNorOptimizePlacement="false" sticky="false"]Little ones want to be just like mom and dad. They can with this fun dramatic play coffee shop! Where Imagination Grows
Take some of the fear out of going to the doctor when kids explore this doctor pretend play kit. Kids Activities Blog
Little ones can practice counting when they pay for their goodies in this bakery pretend play area.  Life Over C's 
Kids will love choosing treats from the menu and then serving them up when you set up a pretend bakery and ice cream shoppe! Mom Dot
Can't get away for a real camping trip? Set up a tent in your backyard, add these camping pretend play printables, and your kids will be set for a backyard campout! Where Imagination Grows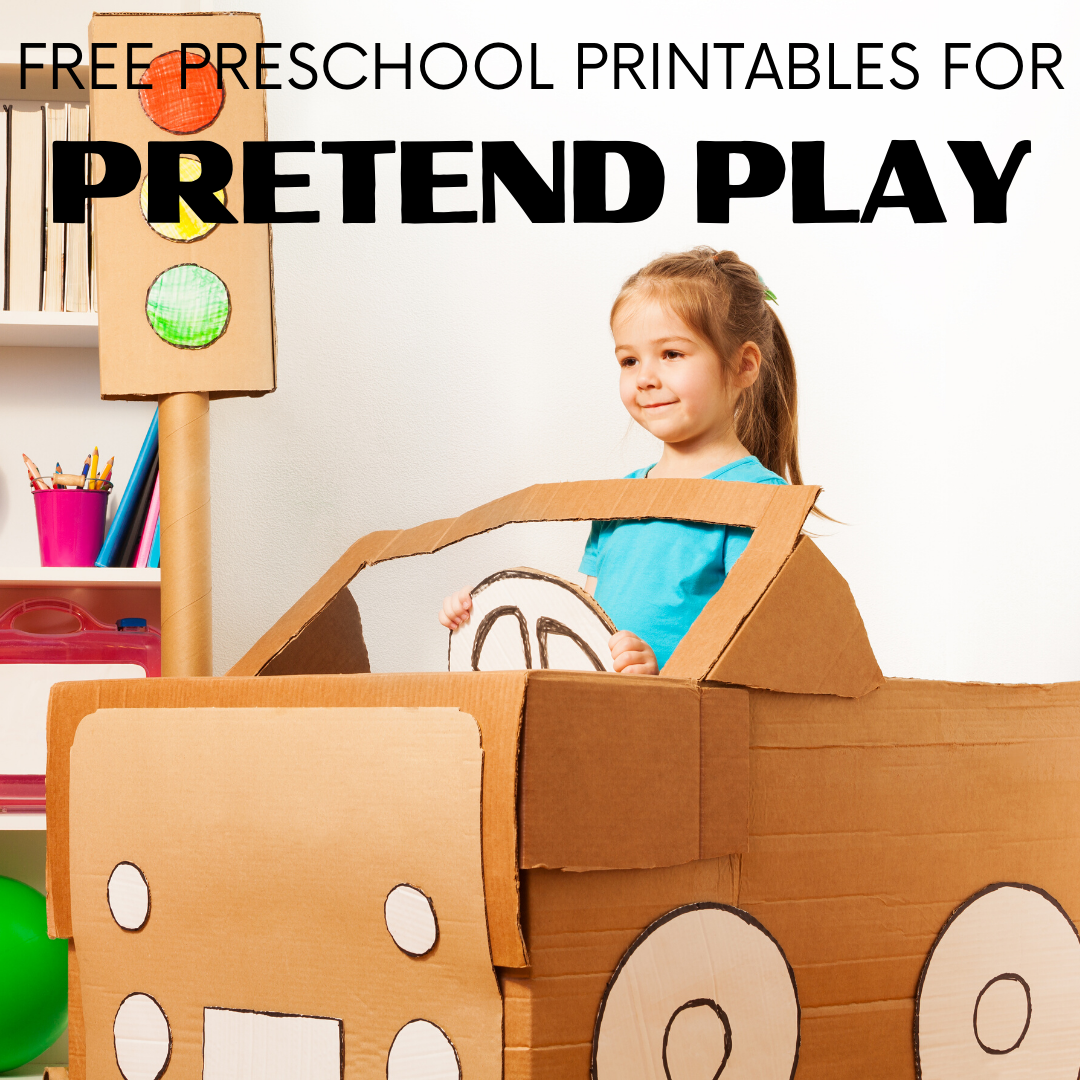 Pretend Play Books
Fill your book basket with a great collection of pretend play books. Most of these books can be found at your local library or used bookstore.
If you have a hard time finding them, you can order them through my Amazon affiliate links by clicking the images below.
Race Driver Set – Large format board book, containing sturdy press-out pieces for hours of creative, imaginative play! The race driver set reveals everything that is needed for an afternoon of working on cars.
Princess Party Set – Large format board book, containing sturdy press-out pieces for hours of creative, imaginative play! The tea set reveals everything that is needed for an afternoon tea. 
Chef's Kitchen – With a saucepan, spatula, pizza base and toppings, children will have fun rustling up a pretend meal, while the illustrated board book shows chefs in the kitchen using utensils and making meals, with fun things to find. There's information, too, about what each utensil or food stuff can be used for.
Round Out Your Unit with These Activities:
Little ones are natural caregivers, love freely, and want to fix all the owies! This soft felt first aid kit is perfect for budding nurses, veterinarians, doctors, or the best mamas + papas.
Felt food is a great option for your game kitchen or market, as well as a beautiful decor for your home. With this felt pasta set, your little chef will be able to cook a great meal for you or for your dolls or toys. 
Related Posts