Got cat lovers on your Christmas list?
My daughter is! I bet she'd love one or more of these special gifts.
I've rounded up more than 20 PURRFECT gift ideas for cat lovers that will make your holiday shopping a little easier!
Grab one or more of these cat lover gifts for the animal lover on your gift list!
If you know a cat owner, why not give them the ability to monitor their cat's activity even when they're not at home? By installing a home camera system in their house, they can view their cat's movements throughout the day, as well as improving the security of their house! If you are interested in gifting something like this to the cat-lover in your life, you may want to check out these home security cameras reviews to give yourself a better idea.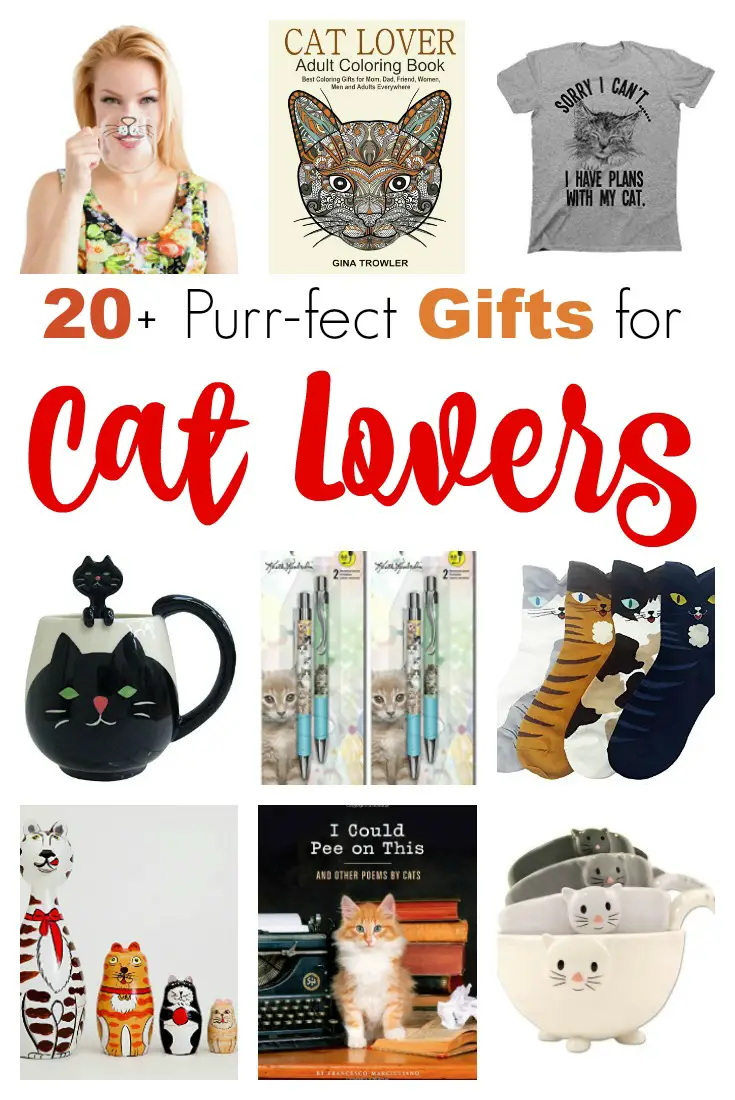 20+ Purrfect Gifts for Cat Lovers
Women's Sweet Animal Socks with Thick-Eared Cuffs
"Adorable, good quality socks! Soft, stretchy, lightweight (warm but not a thick winter sock). I have sensitive skin, and they're very comfy, not at all itchy for me." – Kat (Amazon)
These socks are adorable, and every cat lover needs this set to warm their feet this holiday season!

Kikkerland Cat Butt Magnets, Set of 6
These cat butt magnets will be the topic of conversation when your loved ones see them on your refrigerator!
This magnet assortment includes 6 cat breeds identified by their sculpted characteristic butts. These magnets are perfect for the cat lover in all of us. Used in the home, or office, everyone will get a kick out of these butts.
"Bought this as a gift for my friend. They are adorable and she absolutely loved it. If it's possible for something in the shape of a cat's butt to look as thought it were a well made, high-quality item, this certainly does." – Heather (Amazon)

Sorry I Barfed on Your Bed and Other Heartwarming Letters from Kitty
This book contains a hilarious collection of full-color photos and letters of excuses and suggestions from cats to the people who love them—no matter what bad thing they've done!
"As both a cat lover and fan of comedy and humor I greatly appreciated this book. Plenty of laughs and funny pics to brighten your day. Even if you are not a cat owner you will appreciate the foibles involved. Great purchase and read!" – S. McAllister (Amazon)

Modern Minute's Fashionable Feline Chiffon Scarf
This luxurious scarf is adorned with an all-over cat pattern. This is the perfect accessory for the cat lover on your holiday list!
"Very pretty, soft scarf. It's chiffon so not for winter, but for very mild days. It was a gift for a cat lover, but the solid black cats give it a more sophisticated look. It's not kiddie looking." – M. Smith (Amazon)

Serve tea, coffee, or hot chocolate in this cute mug. It's microwave and dishwasher safe.
"I was looking for a cute cat mug for my mother-in-law and this fit the bill exactly. I like how the spoon can sit on the lip of the cup and actually adds to the cuteness of the design." – Cynthia (Amazon)

Cat Lover: Adult Coloring Book
Relax and de-stress with this inspiring collection of beautifully drawn cats. The artistic designs of these cat patterns will be fun to color giving you hours of rest and relaxation!
"For the cat lovers in your life! Be creative, bring more color to your life!" – Jeri (Amazon)

4″ X 4″ Wooden Box Sign: "Yes, I Really Do Need All These Cats
This sign will let everyone know how you really feel about all those felines you love! It may be small in size, but it's big in sentiment. It can be hung on the wall or displayed on a shelf.
"A great way to show people that you're crazy…about cats." – Jennica (Amazon)

Post-it Cat Figure Pop-up Note Dispenser, 3 inch x 3 inch
This is a must-have for the office! Every cat lover needs this post-it cat figure sitting on their desk. Perfect for the office, home office, or teacher's desk!
"This was given to me as a gift, and it absolutely made my day. What an adorable companion for my desk! My Post-It Notes have never been dispensed in such a cute way before. It's now impossible for me to have a bad day at work. It's just puuuurrrrfect." – Brandy Lee (Amazon)

Wicary Cute Sweet Cat Sterling Silver Pearl Earrings
These sweet cat earrings are classy enough for the office, date night, or a holiday party. They're simple enough for every day wear.
"The earrings are Sterling silver with a pearl that is cat shaped. They are pretty universal in the matching outfits department. I like the versatility. I am impressed! Would be perfect for kids or adults or any cat lover." – BlueEyedTechieinTx (Amazon)

Here's a fun twist on a classic game for cat lovers! Cat-opoly is great fun for family and friends, the back of each deed contains fun facts about cats. Tokens include a milk bottle, mouse, sardines, cat food, fish, and a ball of yarn.
"Looks really cute! I bought this as a naughty santa gift and it was a HUGE hit! Everyone wanted to steal it. My husband and I decided to buy an extra one to keep for us at home." – EmiriBest (Amazon)

Funny Cat Theme Pads – 4 Assorted Kitty Note Pads
Cat lovers will laugh out loud at the quirkiness of their feline friends with these insightful and curious poems from the singular minds of housecats.
"Just received "I Could Pee on This: And Other Poems by Cats" today and have already finished it, wiping the tears of laughter as I went along. This is the perfect gift for the cat lover in your life, although it isn't necessary to be one to find the book thoroughly delightful and laugh-out-loud funny." – KJ (Amazon)