Your budding astronauts will love this collection of solar system books for kids! They'll love learning about the planets, stars, sun, and moon.
My favorite part of building unit studies is gathering a collection of good books. Kids can learn a lot from reading non-fiction books at their reading level. When they read (or listen) to books, they're more likely to remember information when they're connected to it.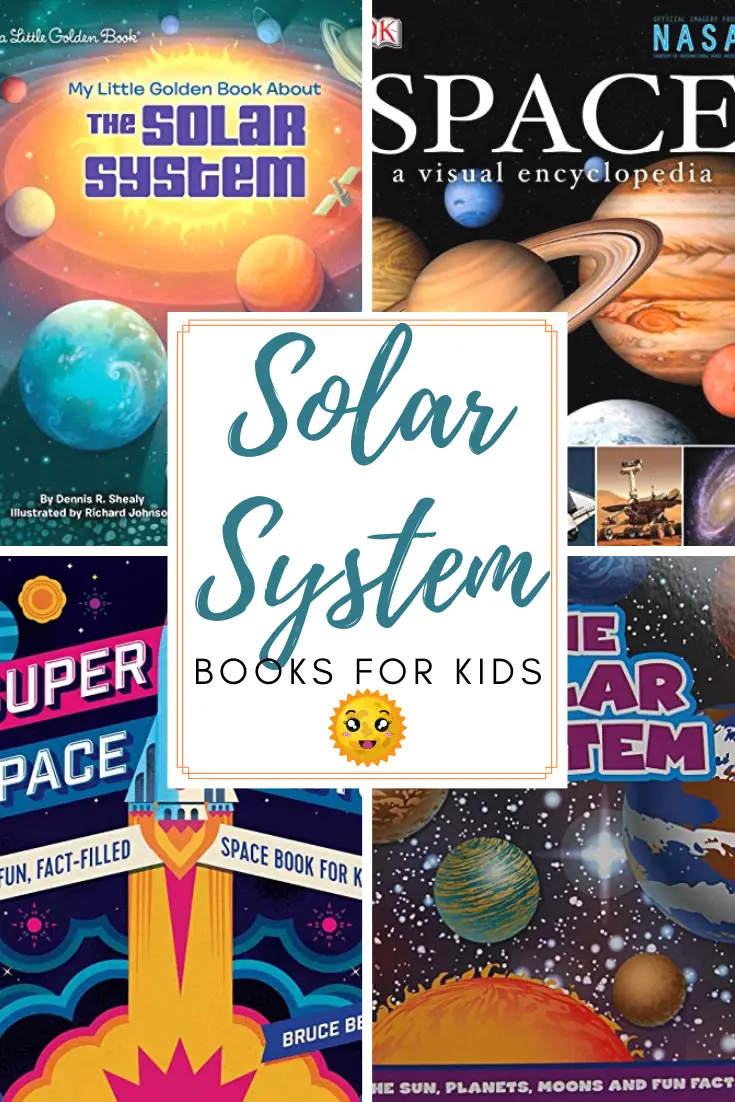 Solar System Books for Kids
Below, I've featured just a handful of solar system books that will help your kids ages 3-10 learn about the planets, moon, sun, stars, and more.
You should be able to find them at your local library or bookstore. If you can't find them locally, you can click each image cover to purchase them on Amazon.
Super Cool Space Facts – Take an exciting, fact-filled journey that goes where all great space books for kids should―to our solar system and beyond!
Space – Exploring the planets of our solar system and much more, Smart Kids Space is an ideal first guide to the mysteries of our incredible universe.
The Solar System – This simple yet informative book brings our fascinating solar system to life for kids just learning how to read. They'll enjoy poring over the dramatic illustrations as they learn about planets, constellations, satellites, spacecraft, and more.
Planets – Curious kids will learn about the different planets in our solar system, including our own precious planet, Earth! Interactive spreads help young readers learn basic concepts while sweet, poetic text helps them understand how special our solar system is in the grand context of outer space.
Space: A Visual Encyclopedia – Blast off into space and discover the planets in our solar system and beyond in this jam-packed encyclopedia for children.
The Solar System – Combines fascinating facts and bright design to launch a lifetime of learning!
The Magic School Bus: Lost in the Solar System – The field trip to the planetarium is foiled when the museum turns out to be closed, but Ms. Frizzle saves the day. The Magic School Bus turns into a spaceship and takes the class on a trip zooming through the atmosphere, to the Moon, and beyond! 
Space! The Universe As You've Never Seen It Before – Truly encyclopedic in scope and fully up-to-date covering the stars and planets, space exploration, and the night sky, Space! is packed with amazing facts and NASA images revealing the wonders of the cosmos — from black holes to the big bang to the planets.
Everything Space – Get ready to blast off into space to explore planets, stars, and beyond! This fun book will pull you in like gravity, full of fun facts, reports from explorers, maps and infographics, and more than 100 pictures.
There's No Place Like Space! – Beginning readers and budding astronomers are launched on a wild trip to visit the eight planets in our solar system, along with the Cat in the Hat, Thing One, Thing Two, Dick, and Sally. It's a reading adventure that's out of this world!
Planets – This brilliantly illustrated book taps into children's natural curiosity about the vast world of space. This level 2 reader, written in simple language that is easy for young readers to understand, introduces children to our solar system, including all of the planets and dwarf planets, and lots of fascinating fun facts. 
Where Is Our Solar System? – This engaging book chronicles the beginning of the modern age of astronomy, then follows later discoveries, including NASA's current missions in space.
Little Kids First Big Book of Space – The book will explain basic concepts of space, beginning with what is most familiar to kids and expanding out into the universe.
Planets and the Solar System – Touch, read, and discover all about our amazing solar system with your toddler and Smithsonian Kids! Featuring special embossing to highlight fun facts about the wonders of space and the universe, this book engages both verbal and tactile learning skills.
The Planets: The Definitive Visual Guide to Our Solar System – Viewed layer by layer, planets and other objects in the Solar System are taken out of the night sky and presented on a white background, revealing every detail of their surface and internal anatomy in astonishing detail.
Which of these books about the solar system will you read first?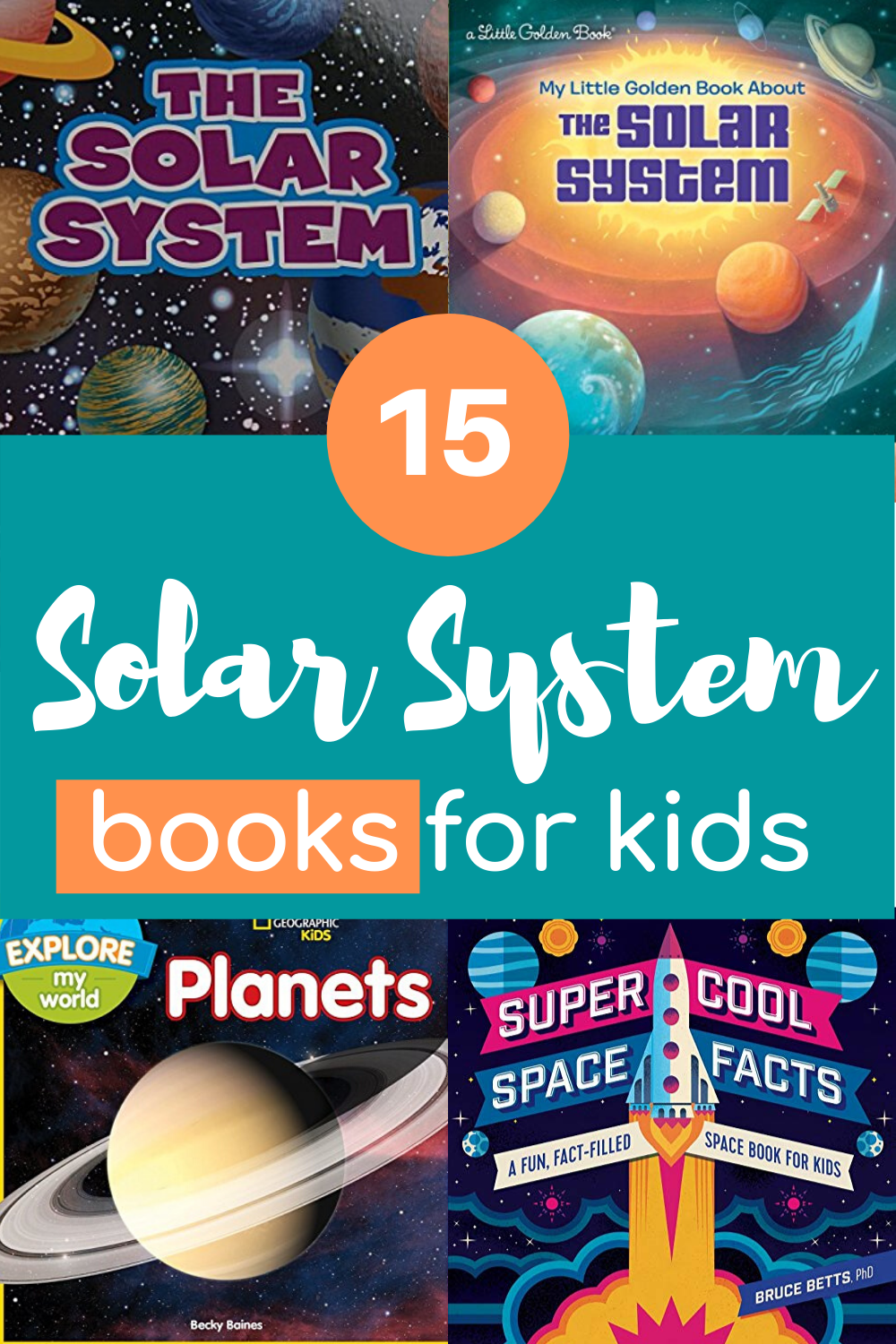 Round Out Your Unit with These Activities
This handmade collection of planets is an original games for kids. With it children can learning all solar system, colours, sizes and types. The toy solar system is suitable for little kids and schoolchildren.
This felt solar system playset has four pieces that you put side to side to make a mat. There are eight planets, a sun, and a rocket ship included in this set. Each planet has a lot of detail.


Related Posts