Before you head out on your next vacation or road trip, grab one of these fun travel journals for kids. They'll record their favorite memories and mementos in them.
No matter how old your kids are, they'll love recording their travel memories and favorite mementos in a travel journal. Whether you're heading to the beach or just a road trip to Grandma's house, record it all in these books.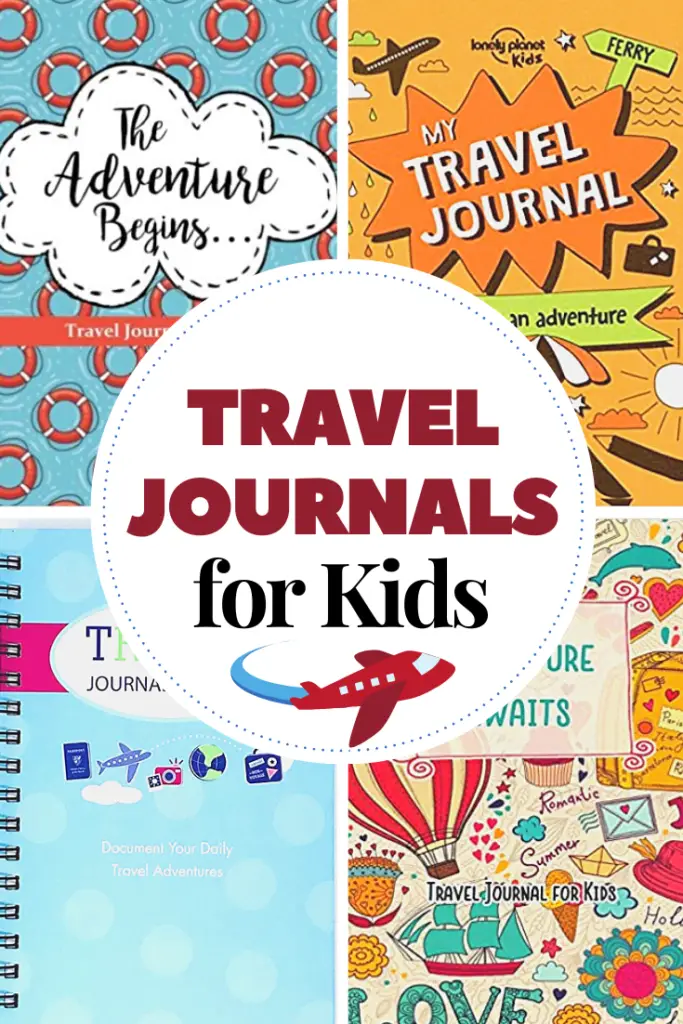 Travel Journals for Kids
Below, I've featured just a handful of travel journal for kids.
You should be able to find them at your local library or bookstore. If you can't find them locally, you can click each image cover to purchase them on Amazon.
Go! A Kids' Interactive Travel Diary and Journal – Bring this journal on your next adventure to create the best-ever souvenir. There are also adventure badges to earn, stickers, places to keep photos and other treasures, and postcards to send. Whether you're headed to grandma's, camping for the weekend, or taking a summer vacation, Go! is pretty much guaranteed to make your next trip even more memorable
Adventure Awaits Travel Journal for Kids – This travel journal has fun prompts, areas to doodle, circle the answer areas, and blank areas where kids can glue in memorabilia.
Travel Journal for Kids – Journal pages include a few simple questions to capture the big and small things that happened each day with plenty of space for daily doodles.
Travel Journal – Kids are prompted to log the weather, activity, what they saw, ate, who they met, what they learned and what they are grateful for.
My Travel Journal – Never forget an adventure with this bright and bold journal from Lonely Planet Kids. Packed with writing topic suggestions, lists to complete, ideas for getting the creative juices flowing and lots more fill-in fun, this is the perfect way for young travellers to record their memories from a trip.
Kids' Travel Journal – Taking a trip? Going on vacation? Great! Use this journal to keep a record of everything!
The Ultimate Travel Journal for Kids – Inside these travel activities for kids, 6-9-year-olds will find guided prompts to record hopes for their trip, highlights, new discoveries and more. Plus, this journal includes ultra-fun travel activities for kids likes fill-in the blanks and crosswords for endless entertainment.
Travel Journal – Kids are prompted to log the weather, activity, what they saw, ate, who they met, what they learned and what they are grateful for.
The Adventure Begins – This travel journal with prompts is made specifically for children and can be used for any kind of trip – from a once in lifetime trip to Disney World or Hawaii to a fun-filled cruise or rustic campout.  
Travel Journal for Boys – A fun journal will help boys remember and enjoy their travel, vacations and adventures.
I Was Here: A Travel Journal for the Curious Minded – This colorfully illustrated, guided travel book encourages users to explore the easily overlooked and wonderful everyday details encountered while traveling, whether near or far away. Packed with unique and fulfilling journeys that can be undertaken in any city, as well as prompts to record every whimsical discovery, each page is a surprise.
Kid's Travel Diary – With easy to use interactive pages, kids can quietly spend many happy hours writing about their very own travel adventures.
Travel Journal for Girls – This travel Journal gives your kids space to record their experience of their summer travels.
Kids' Travel Journal – If you want your children to remember a great vacation well into their adult years, the Kids Travel Journal Diary from Mudpuppy is the perfect option. This travel diary features 128 pages with just the right mixture of guidance and blank spaces to help the child organize his or her thoughts, while offering plenty of room for creativity. 
Camping Adventures – This Camping Journal includes a variety of page layouts and prompts for writing, scrapbooking, drawing, and more. Kids will have fun while creating a lasting keepsake.
Related Posts