Introduce your littlest ones to the ocean with this fun collection of whale books for toddlers! Bright images and chunky pages make them perfect for ages 1-3!
In my opinion, it's very important to introduce children to books at a very early age. When I was pregnant with my own children, I read to my belly. As soon as I learned my grandchild was on the way, I began stocking up on board books for him.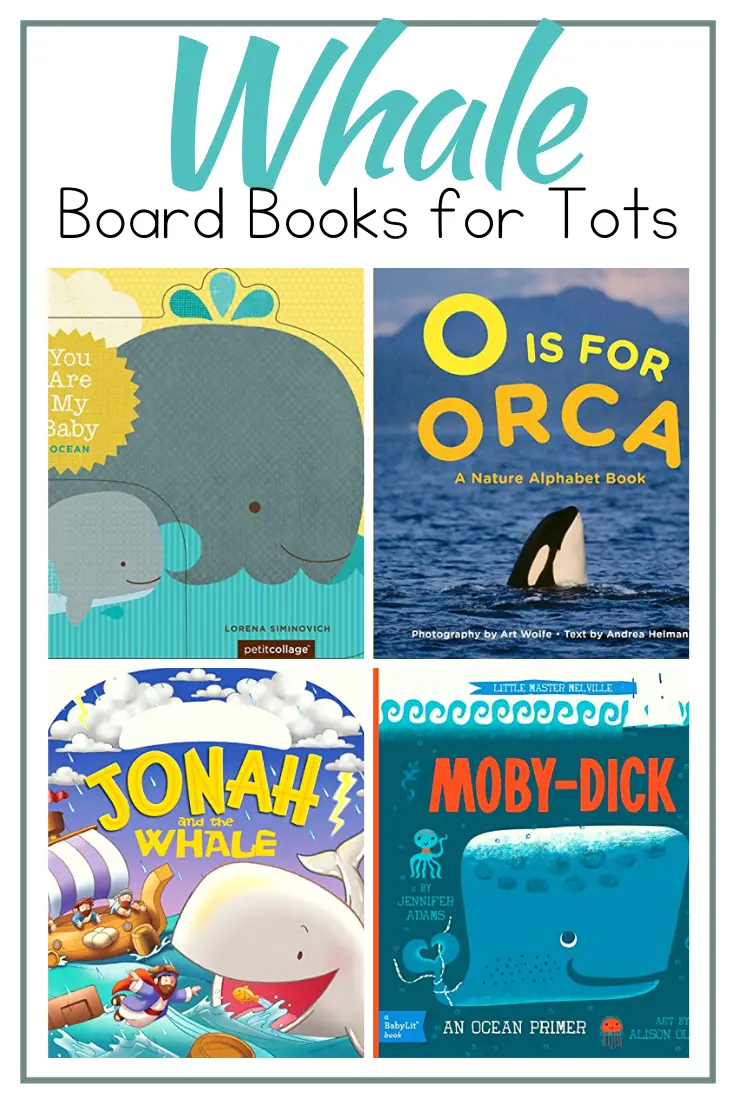 Whale Books for Toddlers
Below, I've featured just a handful of board books that will help you introduce your toddlers to whales and the ocean.
You should be able to find them at your local library or bookstore. If you can't find them locally, you can click each image cover to purchase them on Amazon.
The Whale in My Swimming Pool – One sunny day, a little boy heads outside for a swim, but his pool is already taken . . . There's a big whale in the water and it's not budging!
Yoga Whale: Simple Poses for Little Ones – This delightful board book invites children ages 0–4 to join in a fun series of easy yoga poses. Whale, Jellyfish, Dolphin, Starfish, and six more friendly sea creatures show the way.
You Are My Baby – In a new title in this series of charming and inventive board books, readers will find a little book nestled inside a bigger one: Turn the pages to match the baby animals to their parents, and learn some early concepts along the way.
The Snail and the Whale – When a tiny snail meets a humpback whale, the two travel together to far-off lands. It's a dream come true for the snail, who has never left home before. But when the whale swims too close to shore, will the snail be able to save her new friend?
Baby Beluga – Join this adorable baby whale in a busy day at sea, culminating in a warm mother-child bedtime ending. With its delightful illustrations, this is the ideal sing-along for a whole new generation of readers.
If I Were a Whale – Toddlers will love to learn about whales swimming in the deep blue sea in this beautifully illustrated board book that shares simple whale facts in an imaginative way.
Whale (Shake & Play Bath Book) – The book is named for the Whale that appears on the front and back covers, but when toddlers open this book they'll see six more colorful creatures on inside pages–every little water-dwelling animal labeled with its name. Whale's friends include a penguin, a seal, a walrus, and others. 
Baby Orca Finger Puppet Book – Baby Orca Finger Puppet Book invites the youngest readers to swim along with Baby Orca as he discovers the wonders of his ocean home from playtime to bedtime.
Jonah and the Whale – What would you do if you were swallowed by a whale? Follow Jonah into the sea as he learns a valuable lesson about forgiveness.
Moby-Dick: An Ocean Primer – Little Master Melville teaches little ones the language of the sea in Moby-Dick: An Ocean Primer. From ships and sailors to squawking gulls and moody good captains, Alison Oliver's brilliant illustrations and Jennifer Adams' clever, simple text will make a sea dog out of any young shipmate.  
Jonah's Big Fish Adventure – Uh-oh! Jonah didn't listen to God, and now he's in the belly of a big fish! What will happen to Jonah next? This retelling of the story of Jonah and the fish will teach children about obeying God and God's forgiveness.
Good Night Whales – Good Night Whales features blue whales, killer whales, sperm whales, pilot whales, right whales, narwhals, beluga whales, breaching, bubble netting, dolphins, seals, sea otters, walruses, and more. 
The Whale on the Bus – Join in the fun with a host of colorful animals as they ride, soar, whizz and zoom on a whole range of exciting vehicles–from tigers on gliders to cranes on trains and ducks on trucks.
O is for Orca: A Nature Alphabet Book – O is for orca and P is for puffin! From AUKLET to ZIGZAG, this ABC book is filled with stunning nature photos and fun facts.
Jonah and the Whale– After Jonah sets sail against God's command, he finds himself in the belly of a great whale. Trapped there for three days and three nights, he learns a valuable lesson in forgiveness.
Which of these books about whales will you read first?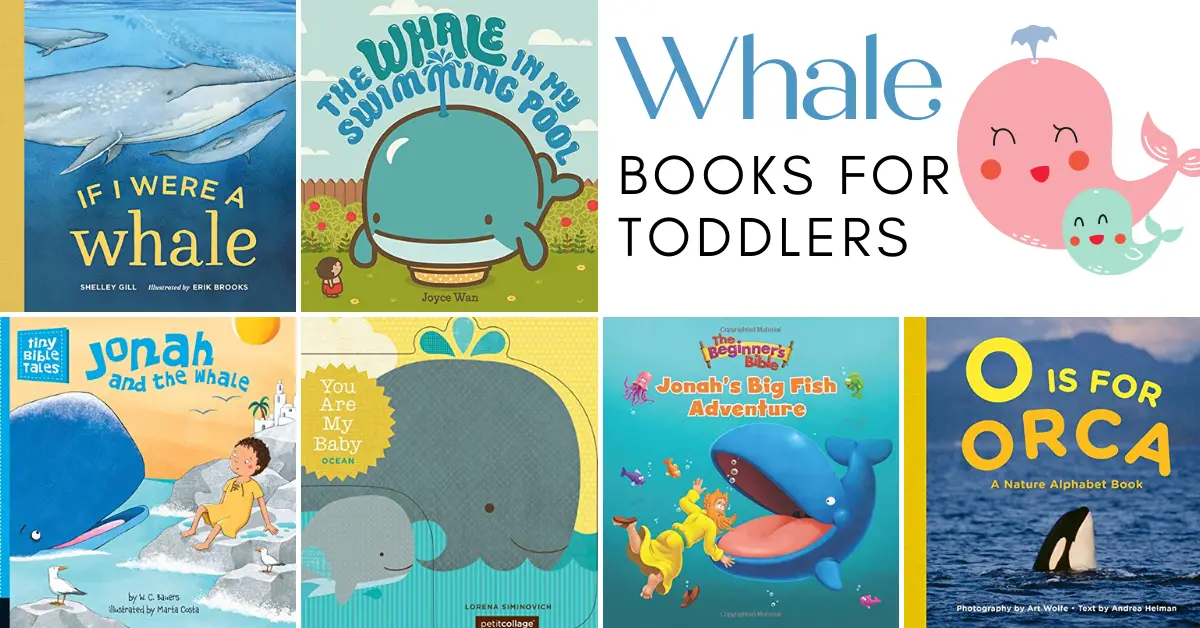 Round Out Your Unit with These Activities
This wooden whale puzzle is gorgeous! Each piece is shaped like a wave, and the finished puzzle is a beautiful ombre blue! 
More Book Lists