This week, I've been sharing resources for learning about Children Around the World. Monday, I shared a fun freebie full of coloring and writing pages. Yesterday, I shared a fun new Christmas Around the World unit study I recently discovered. 
Today, I'm sharing a list of books you can use to teach your little ones about the lives of children all around the world.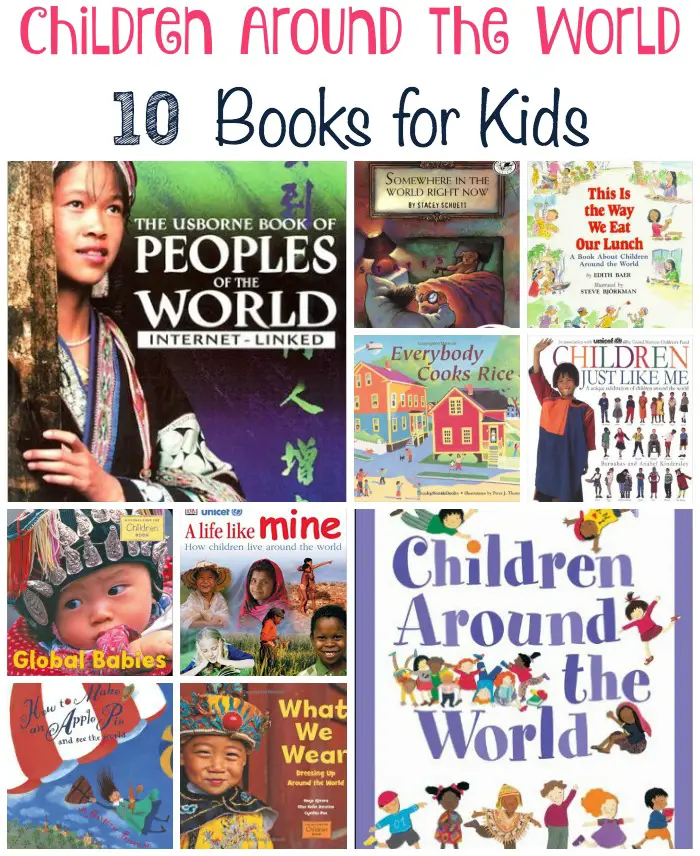 Children Around the World
How to Make an Apple Pie and See the World – An apple pie is easy to make…if the market is open. But if the market is closed, the world becomes your grocery store. This deliciously silly recipe for apple pie takes readers around the globe to gather ingredients. First hop a steamboat to Italy for the finest semolina wheat. Then hitch a ride to England and hijack a cow for the freshest possible milk. And, oh yes! Don't forget to go apple picking in Vermont! A simple recipe for apple pie is included.
This is the Way We Eat Our Lunch – Introducing young readers to the typical dishes that children around the world eat every day, a fact-filled culinary tour covers everything from Coney Island hot dogs to Japanese tempura.
Everybody Cooks Rice – A child is sent to find a younger brother at dinnertime and is introduced to a variety of cultures through encountering the many different ways rice is prepared at the different households visited.
The Usborne Book of Peoples of the World – Every second of every day, the six billion people who live on earth are busy – working, laughing and talking, worshipping, cooking, eating, watching films, building homes, and just living their lives. This fascinating book gives an insight into the lives, jobs, pastimes, values and cultures of people from every corner of the planet, and explains how religions, cultures, societies and governments work.
Somewhere in the World Right Now – Shows what might be happening at the exact same moment in different parts of the world, from Boston to Australia, in an introduction to time zones.
Global Babies – Appealing photos of babies from seventeen cultures around the globe are woven together by simple narration. GLOBAL BABIES presents children in cultural context. Diverse settings highlight specific differences in clothing, daily life, and traditions, as well as demonstrate that babies around the world are nurtured by the love, caring, and joy that surround them.
A Life Like Mine – A Life Like Mine profiles children from all over the globe leading their lives in different and fascinating ways. The challenges of nations both developed and developing are revealed in the stories and photographs in this special volume.
What We Wear: Dressing Up Around the World – What we wear can identify who we are: what team we play for or what team we root for, where we go to school, how we worship, or how we represent our heritage. What we wear expresses our individuality, and clothes can make us happy, confident, and proud. Whether it's a piper in a tartan plaid, a cowpoke in a cowboy hat, or a novice in ceremonial face paint, children everywhere wear different clothes and accessories for different reasons. But, one thing they all have in common is that they are all unique and beautiful.
Children Just Like Me – Published to coincide with UNICEF's fiftieth anniversary, a celebration of children around the world is based upon interviews with young people from all walks of life and reveals their diverse cultural backgrounds and universal similarities.
Children Around the World – No matter where they live, children are always curious about the world. But nothing proves more fascinating to them than other children. Speaking in the first person, the children briefly describe such things as the language, food, clothing, schooling and daily life of their region.
Related Posts: