Summer is the perfect time to get outside at study the stars!
Fill your bookshelves with books about space, planets, astronauts, and more. Inspire your kids to get outside and "look up."
This collection of books about space is out of this world!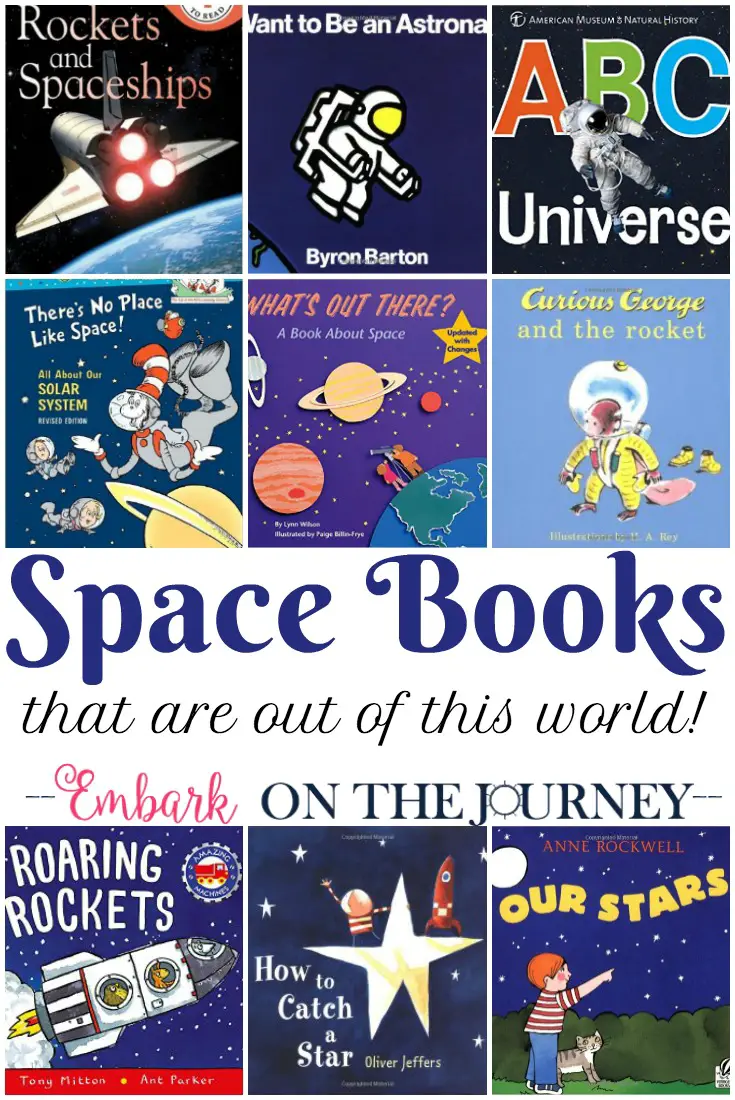 Picture Books About Space
Draw Me a Star. 
This is a story of an artist who, from his earliest years, draws. The artist draws a star! Then, the tree, house, flowers, clouds, rainbow, and night.
The Moon Book. Identifies the moon as our only natural satellite, describes its movement and phases, and discusses how we have observed and explored it over the years.
Me and My Place in Space. With earth as a starting point, a young astronaut leads readers on a tour past each planet and on to the stars, answering simple questions about our solar system. In clear language, drawings, and diagrams, space unfolds before a child's eyes.
How to Catch a Star. Once there was a boy, and that boy loved stars very much. So much so that he decided to catch one of his very own. But how? Waiting for them to grow tired from being up in the sky all night doesn't work. Climbing to the top of the tallest tree? No, not tall enough. The boy has a rocket ship . . . but it is made of paper and doesn't fly well at all. Finally, just when the boy is ready to give up, he learns that sometimes things aren't where, or what, we expect them to be.
Good Night Galaxy. Blasting into space, this board book explores the unique aspects of the Milky Way. Introducing children to the sun and planets, moons, asteroids, and comets of our solar system, this book also encompasses black holes, constellations, and binary stars.
ABC Universe. From an astronaut in space to Voyager, yellow dwarf, and zenith, this ABC board book opens up the entire universe to children! Created in tandem with the American Museum of Natural History, it takes kids on a photographic journey through comets, flares, and planets like Jupiter, and introduces them to black holes, supernovas, telescopes, and more. Perfect for the youngest astronomers.
Space Walk: Lift-the-Flap Adventures. Blast off into space! Eight planets revolve around our sun, and we're going to visit them, one by one. By lifting the flaps, young children will embark on a cosmic adventure. They'll visit hot, dry Mercury; red, glowing Mars; and storm-ravaged Jupiter, just to name a few.
Curious George and the Rocket. This lively story captures George's adventure of becoming the first space monkey.
On the Launch Pad: A Counting Book About Rockets. A countdown from twelve to one as a space shuttle awaits liftoff. Readers are invited to find hidden numbers on an illustrated activity page.
If You Decide to Go to the Moon. "If you decide to go to the moon," writes Faith McNulty, "read this book first. It will tell you how to get there and what to do after you land. The most important part tells you how to get home.
Rockets and Spaceships. Rockets do many jobs. They carry satellites and people into space and can be used as weapons. What else do you think they can do?
Our Stars. Scientists use telescopes and satellites to study the stars. But even though they're far away, stars are part of your world, too! Just lift up your eyes to see.
Roaring Rockets. Rockets have power. They rise and roar. This rocket's waiting, ready to soar. Rockets carry astronauts with cool, white suits oxygen helmets and gravity boots.
There's No Place Like Space! All About Our Solar System. Au revoir, Pluto! Beginning readers and budding astronomers are launched on a wild trip to visit the eight planets in our solar system, along with the Cat in the Hat, Thing One, Thing Two, Dick, and Sally.
What's Out There? A Book About Space. What is the sun made of? What causes night and day? Why does the moon change shape?
Which one of these books about space will you read with your kids first?
If you want to add these books to a space-themed unit study, you could round it out with one or more of the following activites:
Related Posts