This March, fill your bookshelves with this amazing collection of picture books for Women's History Month. Teach kids about women who've changed the world!
March is Women's History Month. Take some time to learn about the contributions of some of the strongest, bravest, smartest women in history.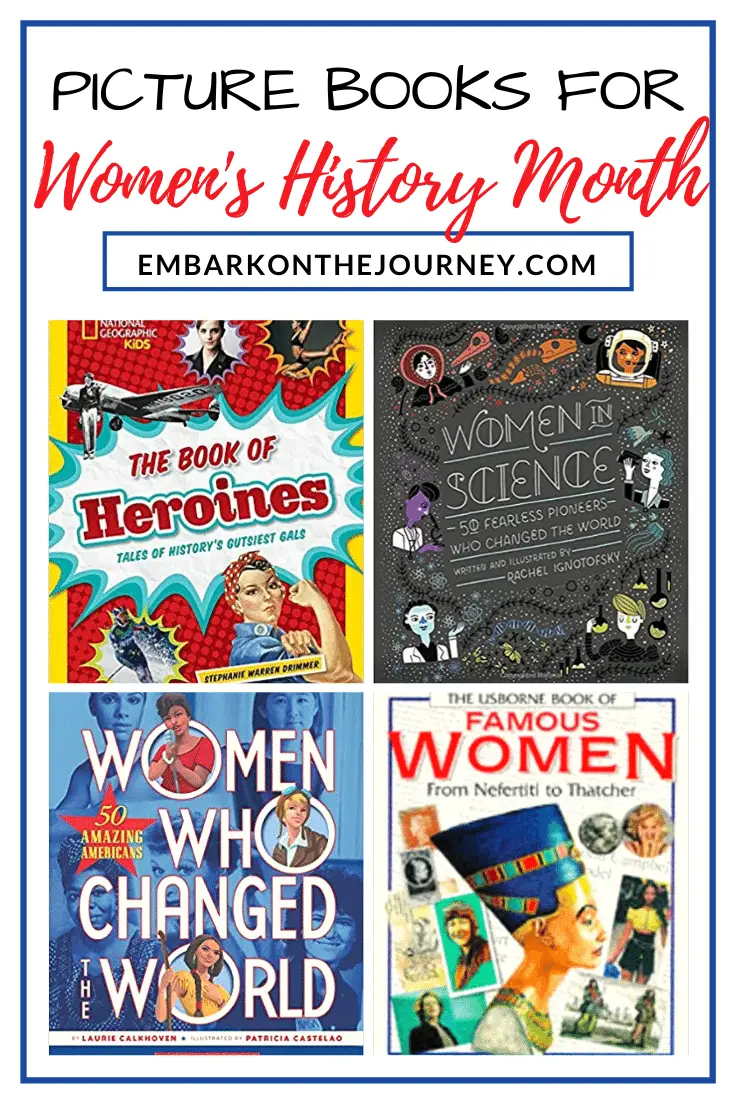 Celebrating and empowering women is so important for our future generations. Today, I want to share a list of books that are perfect for Women's History Month.
Books for Women's History Month
Fill your book basket with a great collection of picture books for Women's History Month. Most of these books can be found at your local library or used bookstore.
If you have a hard time finding them, you can order them through my Amazon affiliate links by clicking the images below.
If You Lived When Women Won Their Rights: There was a time that girls and women in the United States could not: wear pants; play sports on a team; ride a bicycle; or go to college. That all began to change in 1848, when American women (and some men) met in Seneca Falls, NY, at the first convention for women's rights held anywhere in the world.
Heroine of the Titanic: The Real Unsinkable Molly Brown: Margaret (Molly) Brown is best known for her bravery and compassion during the tragic sinking of the Titanic, which catapulted her to international fame virtually overnight. But few people are aware that she was also an outspoken suffragist, a tireless champion of miners' rights, and one of the first women to run for the U.S. Congress.
The Usborne Book of Famous Women: This is an essential guide to the women who have changed our world. From spies to fashion designers and scientists to actresses, photographs and detailed illustrations bring to life the thrills and exploits of heroines throughout history.
Lives of Extraordinary Women: Rulers, Rebels (and What the Neighbors Thought): This book turns the spotlight on women who have wielded power, revealing their feats–and flaws–for all the world to see. Here you'll find twenty of the most influential women in history: queens, warriors, prime ministers, first ladies, revolutionary leaders. Some are revered. Others are notorious. What were they really like?
Amelia to Zora: Twenty-Six Women Who Changed the World: Twenty-six amazing women; twenty-six amazing stories. From Amelia Earhart, pilot and adventurer, to Zora Neal Hurston, writer and anthropologist, learn about the hardships and triumphs that inspired each woman to change the world around her.
Girls Think of Everything: Stories of Ingenious Inventions by Women: In kitchens and living rooms, in garages and labs and basements, even in converted chicken coops, women and girls have invented ingenious innovations that have made our lives simpler and better. Their creations are some of the most enduring (the windshield wiper) and best loved (the chocolate chip cookie). What inspired these women, and just how did they turn their ideas into realities?
Girls Who Looked Under Rocks: The Lives of Six Pioneering Naturalists: If there is a pre-teen or adolescent in your life, especially a girl, take a look at this empowering, inspiring chapter book. It portrays the youths and careers of six remarkable women whose curiosity about nature fueled a passion to steadfastly overcome obstacles to careers in traditionally men-only occupations.
Girls Who Rocked the World: Heroines from Joan of Arc to Mother Teresa: It's never too soon to start making a difference, and these exhilarating examples of girl power in action make for ideal motivation.
Elizabeth Leads the Way: Elizabeth Cady Stanton stood up and fought for what she believed in. From an early age, she knew that women were not given rights equal to men. But rather than accept her lesser status, Elizabeth went to college and later gathered other like-minded women to challenge the right to vote.Here is the inspiring story of an extraordinary woman who changed America forever because she wouldn't take "no" for an answer.
Malala Yousafzai: Warrior with Words: The inspiring, true story of Malala Yousafzai, a young Pakistani girl who stands up and speaks out for every child's right to education. Though she and two of her schoolmates were targeted by a Taliban gunman, a life-threatening injury only strengthened her resolve. Malala spoke at the U.N. on her 16th birthday in 2013, nine months after she was shot.
I am Jane Goodall: Learn all about Jane Goodall, the chimpanzee scientist.
For the Right to Learn: Malala Yousafzai's Story: She grew up in a world where women were supposed to be quiet. But Malala Yousafzai refused to be silent. She defied the Taliban's rules, spoke out for education for every girl, and was almost killed for her beliefs. This powerful true story of how one brave girl named Malala changed the world proves that one person really can make a difference.
A Picture Book of Anne Frank: The story of a girl who tried to hide from the Nazis.
A Picture Book of Amelia Earhart: The first woman to fly across the Atlantic solo, she disappeared mysteriously.
The Story of Ruby Bridges: The year is 1960, and six-year-old Ruby Bridges and her family have recently moved from Mississippi to New Orleans in search of a better life. When a judge orders Ruby to attend first grade at William Frantz Elementary, an all-white school, Ruby must face angry mobs of parents who refuse to send their children to school with her.
Women Who Changed the World: In Women Who Changed the World, you'll meet fifty of the most influential and inspirational American women who had a lasting impact on our nation and the world. Starting with some of America's "Founding Mothers" like Pocahontas and Abigail Adams, and continuing up to the present day with game changers like Hillary Clinton, Oprah, and Misty Copeland, the book features a unique and diverse cast from all walks of life.
The Book of Heroines: Tales of History's Gutsiest Girls: Everybody needs a role model! Discover true stories of superstars, war heroes, world leaders, gutsy gals, and everyday women who changed the world. From Sacagawea to Mother Teresa, Annie Oakley to Malala Yousafzai, these famous women hiked up their pants and petticoats and charged full-speed ahead to prove girls are just as tough as boys…maybe even tougher.
Women in Science: 50 Fearless Pioneers Who Changed the World: Women in Science celebrates the achievements of the intrepid women who have paved the way for the next generation of female engineers, biologists, mathematicians, doctors, astronauts, physicists, and more!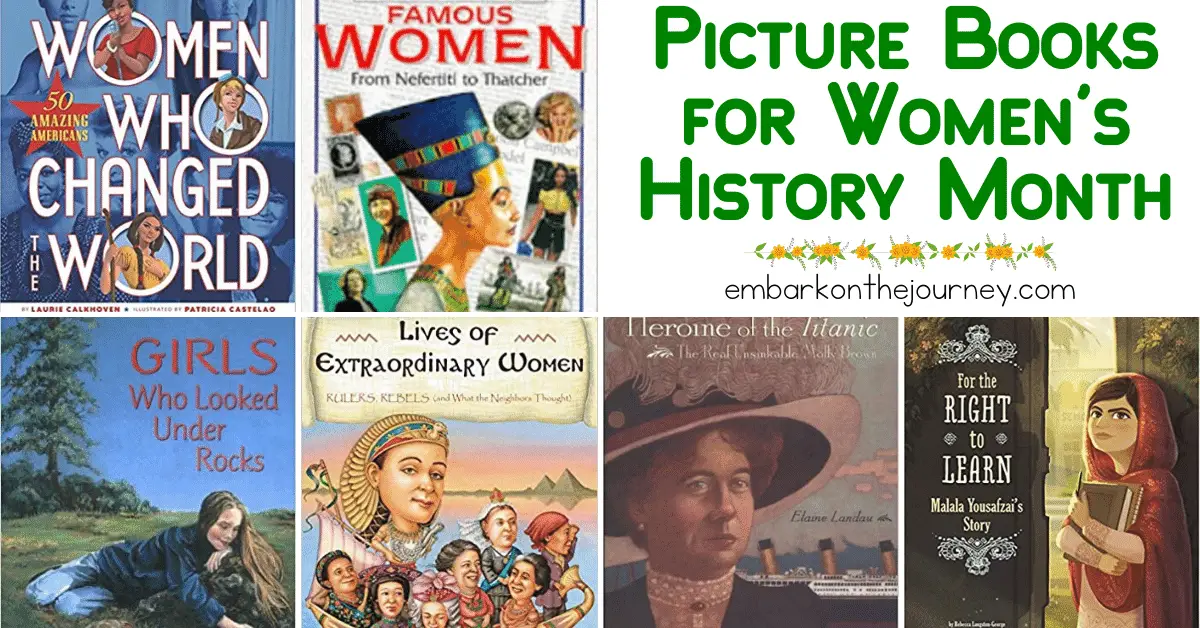 Round Out Your Unit with These Activities
History is full of strong women and now you can show off your love for them in your home, office, or classroom. This set of history making peg women can be used as decoration to grace your desk or living space, as a great conversation starter, a gift for that special teacher or feminist in your life, or they can be used as a toy or homeschooling aid to teach your child or children about powerful and strong women in history.
Related Posts