Download and print this fun dinosaur activity pack! It's perfect for quiet time, on-the-go, or anytime! Kids ages 4-8 will love it!
Your dinosaur-loving kiddos are going to love this fun printable activity pack. It's got several dinosaur-themed activities that will keep preschool, kindergarten, and early elementary aged kids entertained.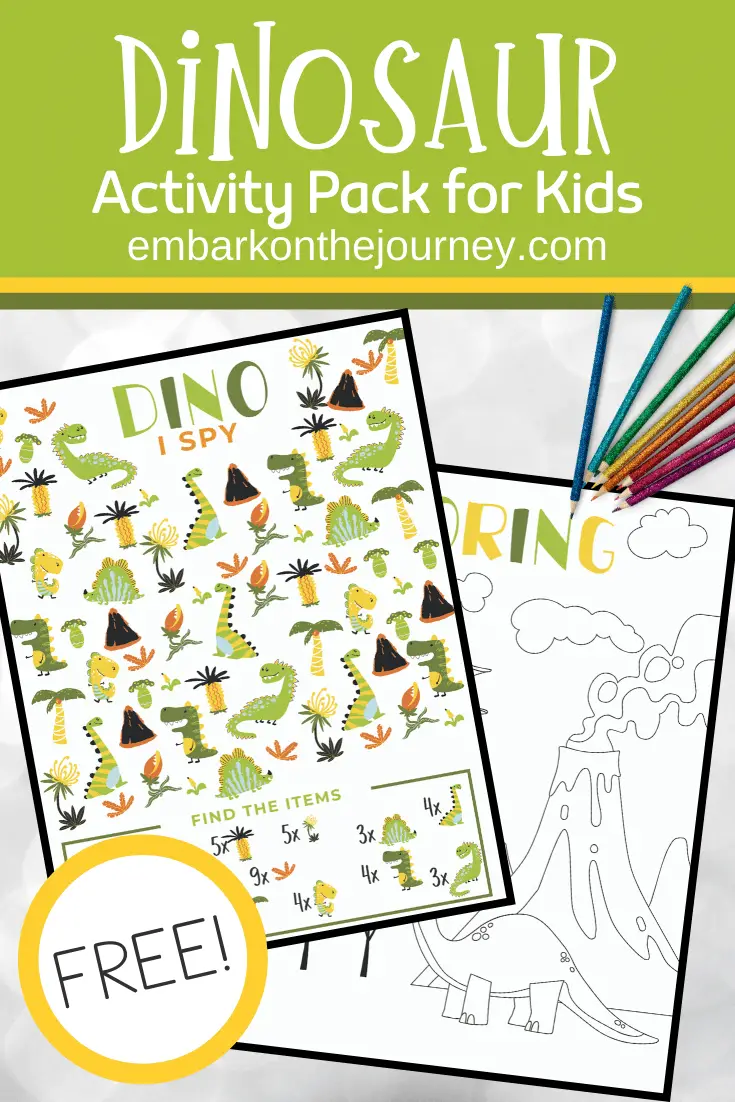 This mini-pack of free printables for kids contains several different activities for a variety of ages and skill-levels. Print the ones that work best for your kids and save the rest for later.
Dinosaur Activity Pack
When you provide activities that double as skill builders, it's a win-win! Each of the four pages in this mini-pack focus on a different skill while providing a fun brain break for little ones. 
This pack includes the following activities: 
• Coloring page: Coloring allows kids to express their creativity while building the muscles in the fingers, hands, wrists, and forearms. Kids of all ages can color this page. 
• I Spy: Kids will search for a specific images among a large group of dinosaur-themed images. This activity page features a large box full of dinosaur-themed images. At the bottom of the page, there is a chart showing kids what they're looking for as well as how many of each item they need to find. This is a great way to reinforce number recognition and counting as well as a way to build visual discrimination skills.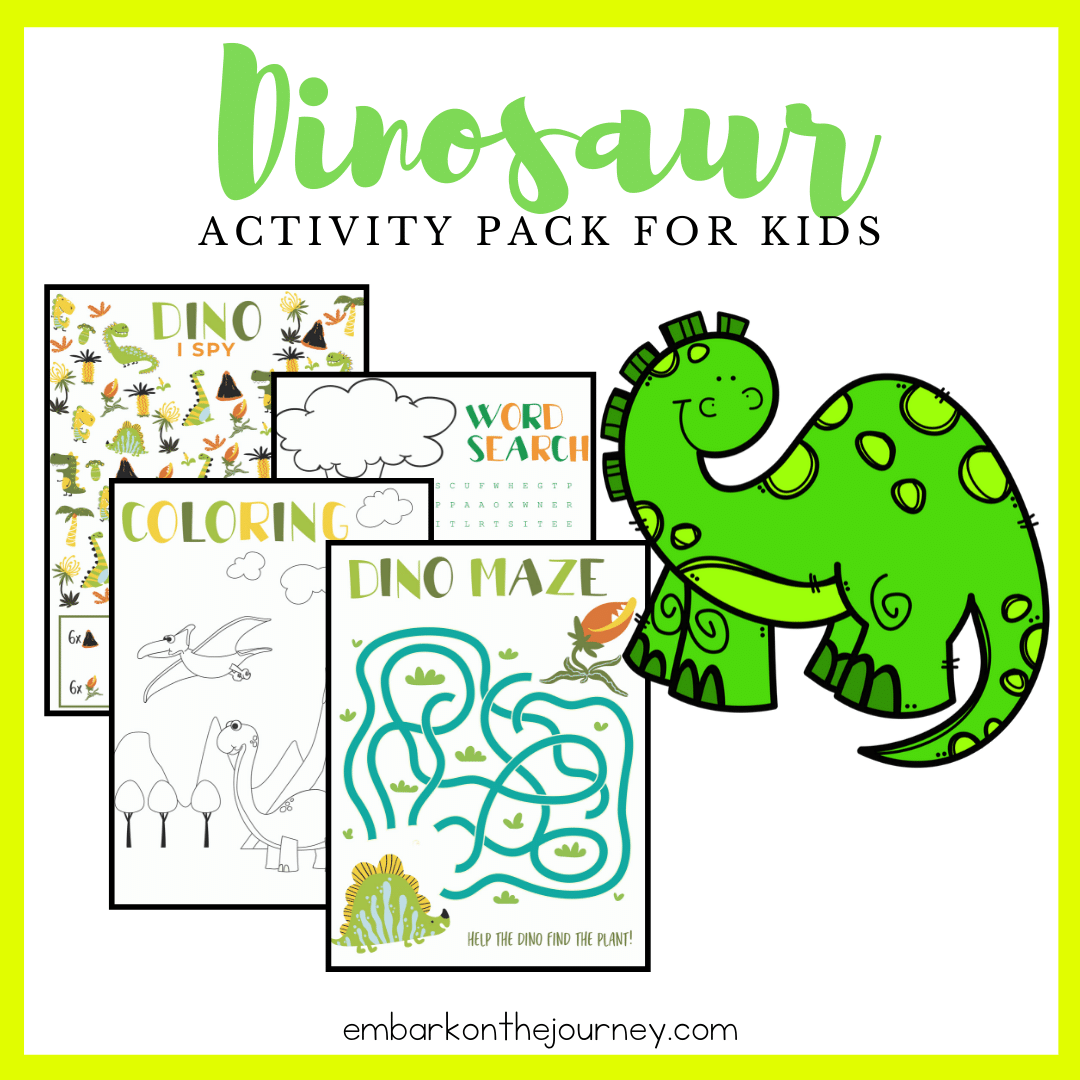 • Word Search: Older kids can practice reading the words. Then, they'll circle or highlight each of the words in the word search grid. This is an advanced visual-discrimination activity.
• Maze: Kids will help the dinosaur find the right path to the flower. They'll fine tune their hand-eye coordination and fine motor skills as they find the correct path. This activity may be best for kids ages 6+ as younger children might get frustrated by the multiple path choices. 
The word search, maze, and I Spy pages can be laminated or slipped in a dry erase pocket. Then, kids can use dry erase markers to complete the pages. Laminating these pages allows them to be used repeatedly. Just wipe them off and start over again.
PRESCHOOL BOOKS ABOUT DINOSAURS
Fill your book basket with a great collection of books about dinosaurs. Most of these books can be found at your local library or used bookstore.
If you have a hard time finding them, you can order them through my Amazon affiliate links by clicking the images below.
Dino Files: A Mysterious Egg – When Frank's grandma finds the fossil of a dinosaur egg, it's an amazing discovery. Even more amazing? When that egg hatches! Now Frank and his cousin Samantha need to figure out how to take care of a baby dinosaur.
Dinosaurs Before Dark – Where did the tree house come from? Before Jack and Annie can find out, the mysterious tree house whisks them to the prehistoric past. Now they have to figure out how to get home. Can they do it before dark…or will they become a dinosaur's dinner?
The Mystery of the Dinosaur Bones – Mysteries follow super-sleuth Cam Jansen everywhere she goes…even to the museum. Cam and her class are on a field trip at the museum when Cam discovers that some bones are missing from a dinosaur skeleton. Can Cam find the bones and catch the thief?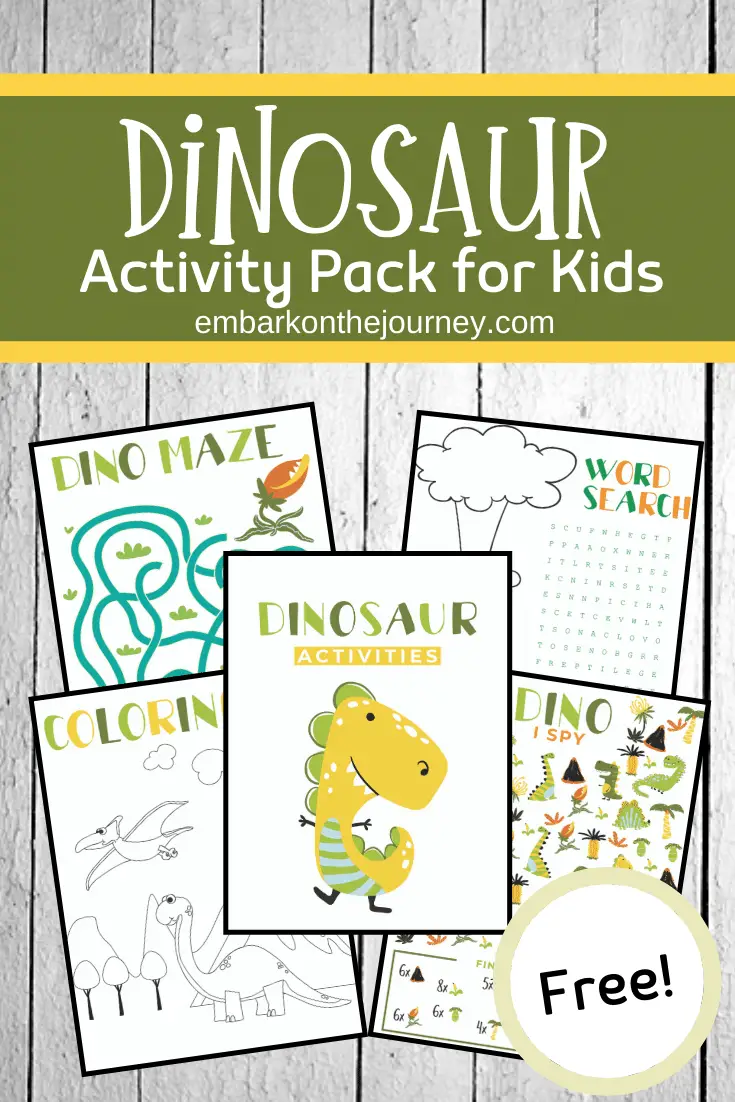 Teaching Resources
Story stones are so much fun for kids of all ages! Use these dinosaur story stones to retell or act out your child's favorite dinosaur stories or movies.  
Natural, wooden toys inspire creativity and imaginative play. These wooden dinosaur figures are perfect for your pretend play area. 
Download Your Printables
This dinosaur activity pack is only available to my readers. Click the button below, enter your information, and download your printables.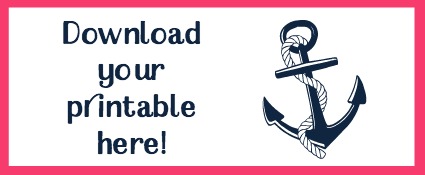 Related Posts