I thought I had a pretty good idea of the benefits of homeschooling when we started our journey fifteen years ago. I would be home with my kids. We would strengthen our family bond. Reading time would be our number one priority! I could give the kids a firm foundation in God's word and move through our curriculum at each child's pace.
I was sure I knew what to expect. All of those benefits are certainly things we've experienced over the years. However, I was surprised by some of the unexpected benefits we've discovered along the way.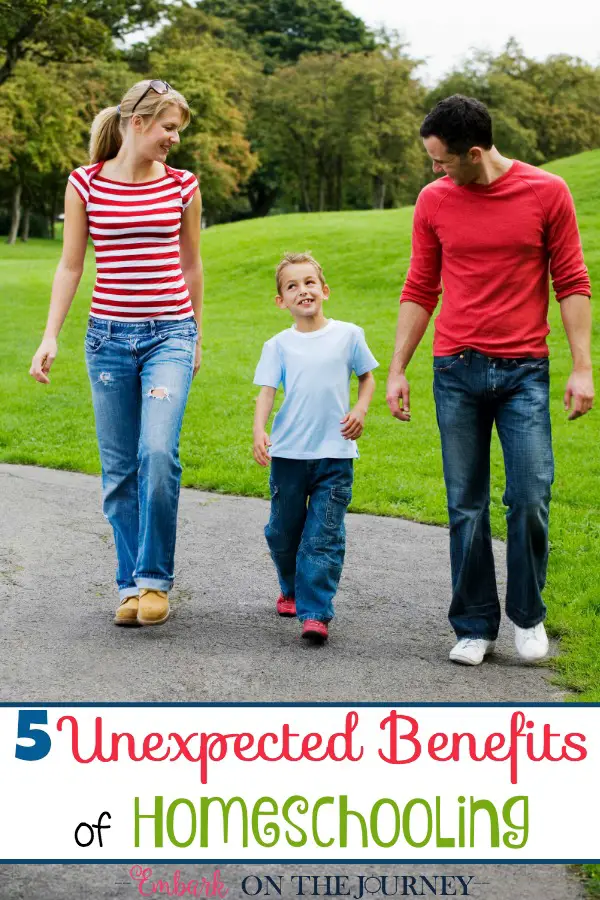 5 Unexpected Benefits of Homeschooling
Learning alongside my child. When I started homeschooling, I was doing so to provide my kids with an education tailored to their needs. I had no idea how much I would be learning alongside them. Big things and little things. I remember the big points from early history classes I took in school, but I had no idea how much I really don't know. I find myself learning new things every day in all our subjects – from science and history to grammar and foreign language. For me, this is a huge plus for homeschool moms!
Kids can follow their academic passions. I've mentioned before that Emma spent three years studying biology, because she is obsessed with animals. I threw in an occasional study of plants or the solar system to broaden her horizons. When I left the decision up to her, however, we always came back around to animals. I knew that, eventually, she'd have to have a little more structure to fulfill her high school requirements. In the meantime, I had the freedom to let her study what she loved. 
Whether your kids is passionate about animals or plants or math or ancient history, homeschooling gives them the time and freedom to explore those and more. 
Kids can follow their extra-curricular passions. In addition to academic passions, homeschool kids can pursue their extra-curricular passions, as well. Em has a passion for dance. For many years, she has been a competitive dancer. She has had more late nights at the studio than I can count. She has had many weekends away as we travel to competitions. Nutcracker performances are all-consuming during the month of December. Because we homeschool, we have the flexibility to adjust our schedule to meet her academic needs while allowing her to do what she loves without worrying about homework or attendance records. 
Homeschooling gives kids the time and flexibility to explore their passion for art, music, dance, sports, and more. 
We can travel when we want. Some of our fondest vacation memories are from our trips to Disney World. We always go in September after Labor Day – after public school kids are back in session. The crowds are smaller so the lines are shorter. There are more reservations available to dine with our favorite characters. 
We haven't been in the past few years, because my middle one has been attending the local public high school. We stick to his schedule for holidays and vacation so we can include him for now. However, I'm very much looking forward to a more flexible schedule next year when he heads off to college. Em and I will be able to pick up and go whenever e want without leaving anyone behind. 
We love having the ability to travel during the off-season. We also enjoy taking field trips right before or after public schools go back in session. Typically, they don't take field trips on the first day after a holiday or during the first few weeks of school. So, we try to take advantage of these 'dead' times. 
No dress code! Well, unless you want to count our pjs as our dress code. More often than not, Em does her schoolwork in her pjs. She doesn't tend to get dressed until close to when the neighborhood kids will get home from school. There's no need. I don't care if she's in her kitty cat fleece pants, a plaid skirt/polo, or a pair of cut-off jeans her brother outgrew. No one's going to see her (other than the UPS guy), I don't care!
I love that my kids don't care about name brands. I love that I'm not scouring the mall every August looking to outfit my kids with a brand new wardrobe for school. I'm also not worrying about the costs involved in having to dress them in school uniforms. 
What unexpected benefits have you discovered along your homeschool journey?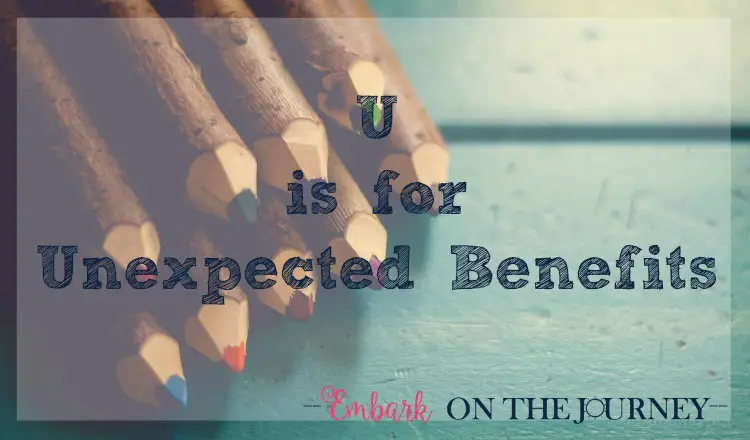 This post is part of my ABC's of Homeschooling series! To read the entire series, visit my ABCs of Homeschooling page. I'll add to this page each day as the posts go live.