Africa facts for kids! These printables are designed to teach upper elementary students about Africa, it special holidays, and its unique culture.
This worksheet packet is full of fun facts and activity pages about Africa. As you begin planning your geography lessons about Africa, you'll love digging deep with these worksheets for kids.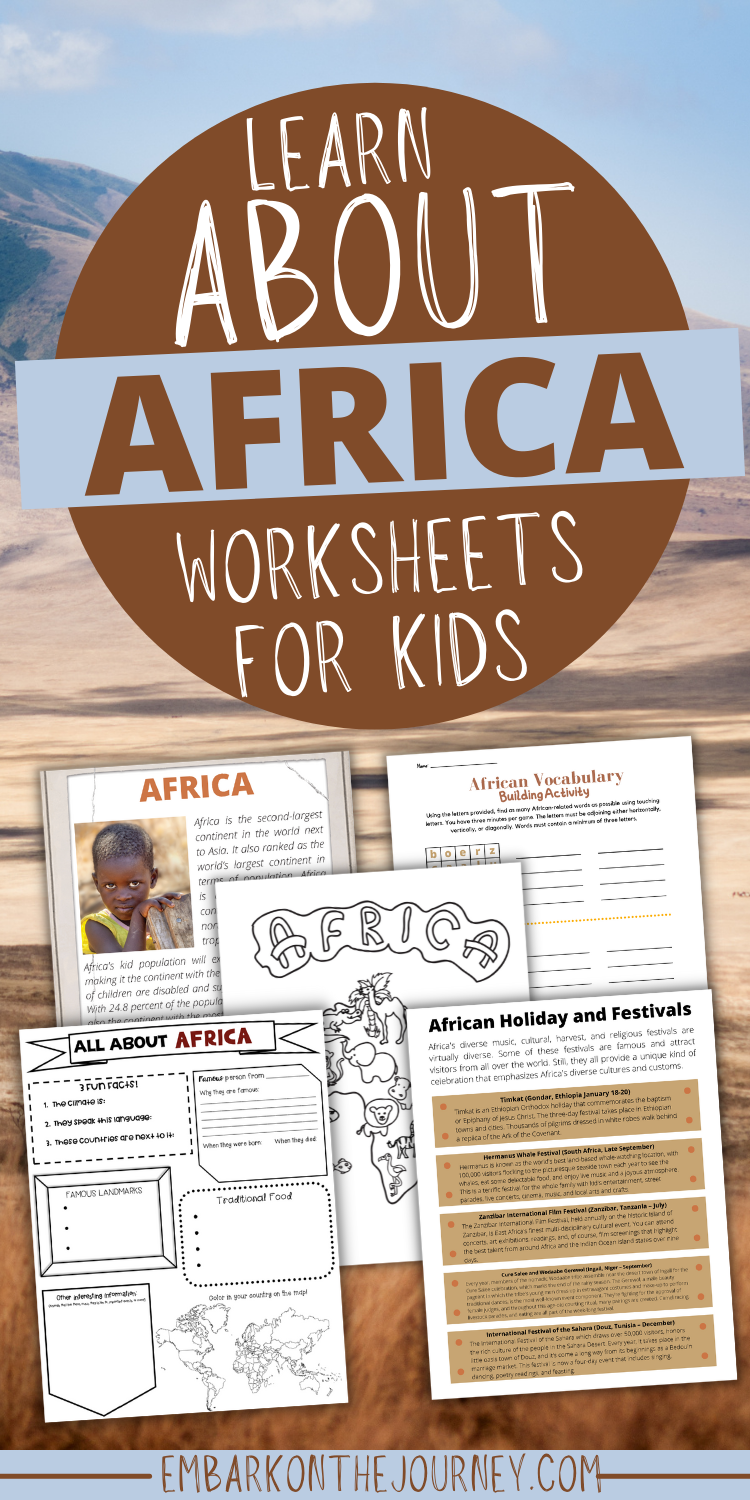 Africa Facts for Kids
There are so many fun things to teach children about Africa. Here are a few engaging ideas that will help you teach your kids about Africa, special holidays, and more.
All About Africa for Kids
This worksheet packet includes the following:
Africa facts information page that shares facts about the continent and life in Africa.
African holidays and festivals fact page featuring information about ten holidays and festivals celebrated in African culture.
Notebooking page to research facts and information about Africa including traditional foods, famous landmarks, a famous person, and more.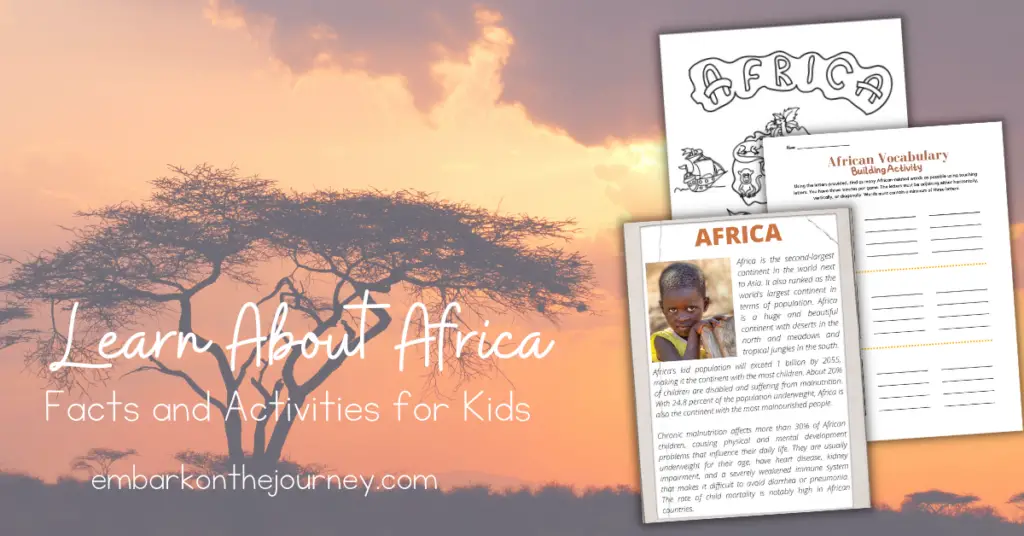 Africa coloring page featuring an outline of the continent and many animals from the area. This page can be used as a cover page for your Africa unit study, or you can have younger siblings color this page while older students are working through the unit.
African vocabulary building activity. Kids will search for African words (and everyday words) in a fun word search type game. You can write a word bank on an index card or on your whiteboard, if necessary.
BOOKS ABOUT Africa
Fill your book basket with a great collection of books about Africa. Most of these books can be found at your local library or used bookstore.
If you have a hard time finding them, you can order them through my Amazon affiliate links by clicking the images below.
The Boy Who Harnessed the Wind – When a terrible drought struck William Kamkwamba's tiny village in Malawi, his family lost all of the season's crops, leaving them with nothing to eat and nothing to sell. William began to explore science books in his village library, looking for a solution. There, he came up with the idea that would change his family's life forever: he could build a windmill.
A Long Walk to Water – A Long Walk to Water begins as two stories, told in alternating sections, about two eleven-year-olds in Sudan, a girl in 2008 and a boy in 1985. The girl, Nya, is fetching water from a pond that is two hours' walk from her home: she makes two trips to the pond every day. The boy, Salva, becomes one of the "lost boys" of Sudan, refugees who cover the African continent on foot as they search for their families and for a safe place to stay.
When Stars are Scattered – Omar and his younger brother, Hassan, have spent most of their lives in Dadaab, a refugee camp in Kenya. Life is hard there: never enough food, achingly dull, and without access to the medical care Omar knows his nonverbal brother needs. So when Omar has the opportunity to go to school, he knows it might be a chance to change their future . . . but it would also mean leaving his brother, the only family member he has left, every day.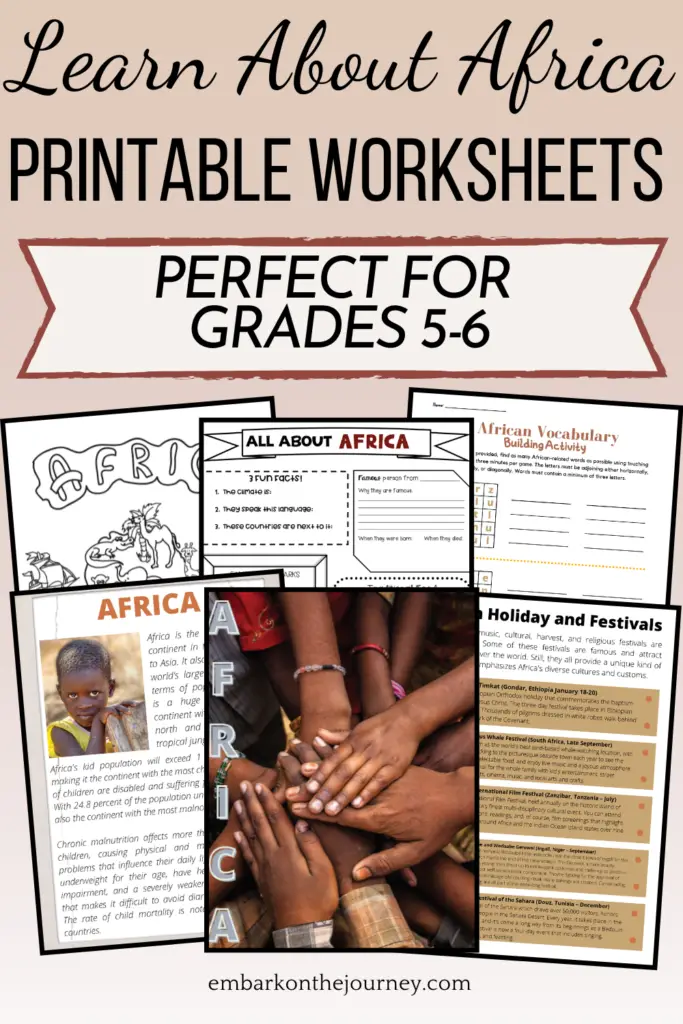 Teaching Resources
This EDITABLE Montessori set of 55 African map nomenclature 3-part cards is a fun, easy, and fast way to educate by playing with your toddlers, children or students! Create a unique gift for any special occasion!
These hand painted beechwood multicultural peg dolls are absolutely gorgeous! They are painted in traditional dress. Choose from one of several African dolls to help bring your favorite stories to life.
Download Your Printables
This Africa learning pack is only available to my readers. Click the button below, enter your information, and download your printables.