Download and print these Amelia Earhart activities are perfect for kids in grades 3-5. In this pack, you'll receive a wordsearch, crossword puzzle, and a scrambled word puzzle.
You can add these printables to your Amelia Earhart unit study as well as studies of aviation and/or women in history.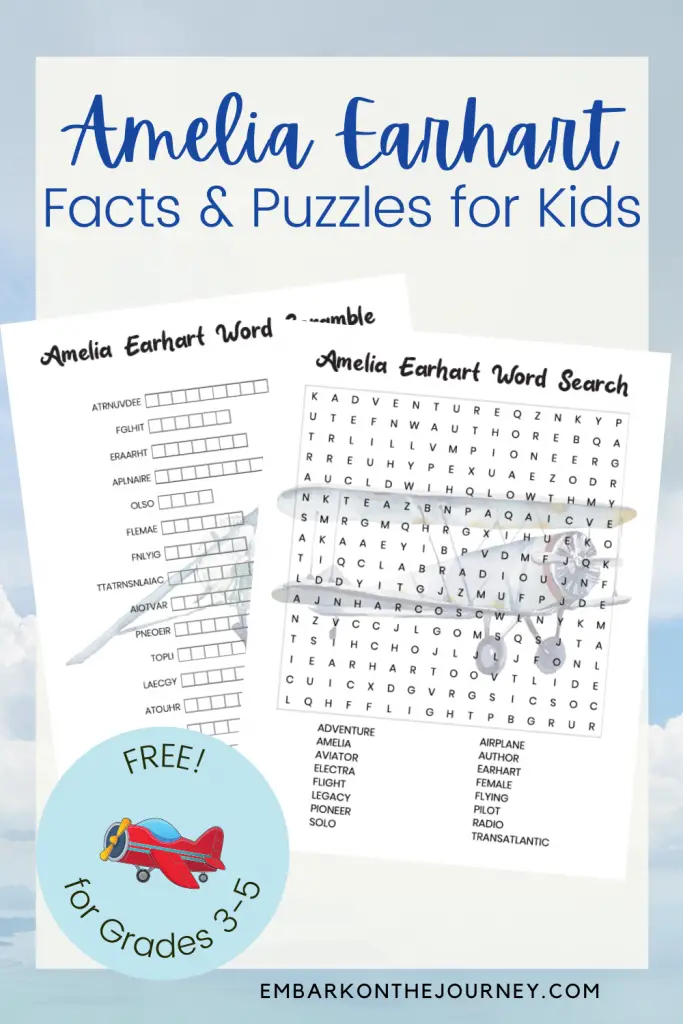 These print-and-go worksheets are perfect for busy moms and teachers. They're great for both home and classroom use.
Amelia Earhart Activities
You can use the Amelia Earhart worksheets to learn more about her family life and her accomplishments.
Then, use the puzzles to reinforce those facts and to build your child's vocabulary about aviation and Earhart's life.
Use the fact page in this pack, you can introduce Amelia Earhart with a quick overview of her early years and she came to love flying. Then, you can give them a brief overview of her accomplishments from getting her pilot's license to the records she set over her life. You'll end with her disappearance during her last flight.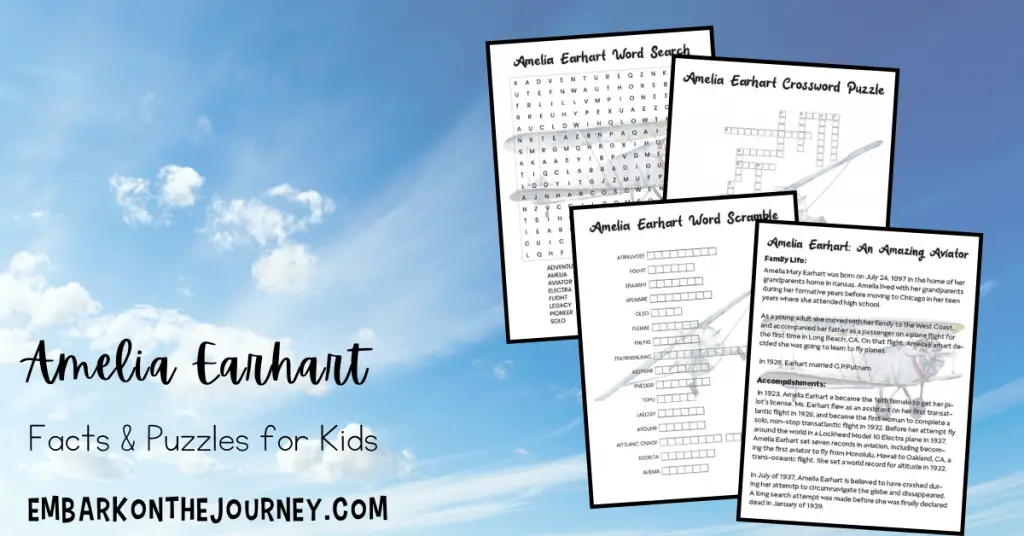 Amelia Earhart Word Search
After introducing Amelia Earhart via the fact page, kids can search for words related to her life and her accomplishments in the word search puzzle.
This puzzle includes sixteen words for kids to find within the puzzle.
Amelia Earhart Crossword Puzzle
The Amelia Earhart crossword puzzle can act as an assessment tool as kids try to recall facts from the information page and fit the words into the puzzle.
This puzzle includes fourteen clues pulling information from the fact page.
Amelia Earhart Word Scramble
Finally, the worksheet packet includes a word scramble. The words in the scramble are the same as the words in the wordsearch. Therefore, kids can use the word search list as a word bank, if necessary.
This puzzle includes sixteen words for kids to unscramble.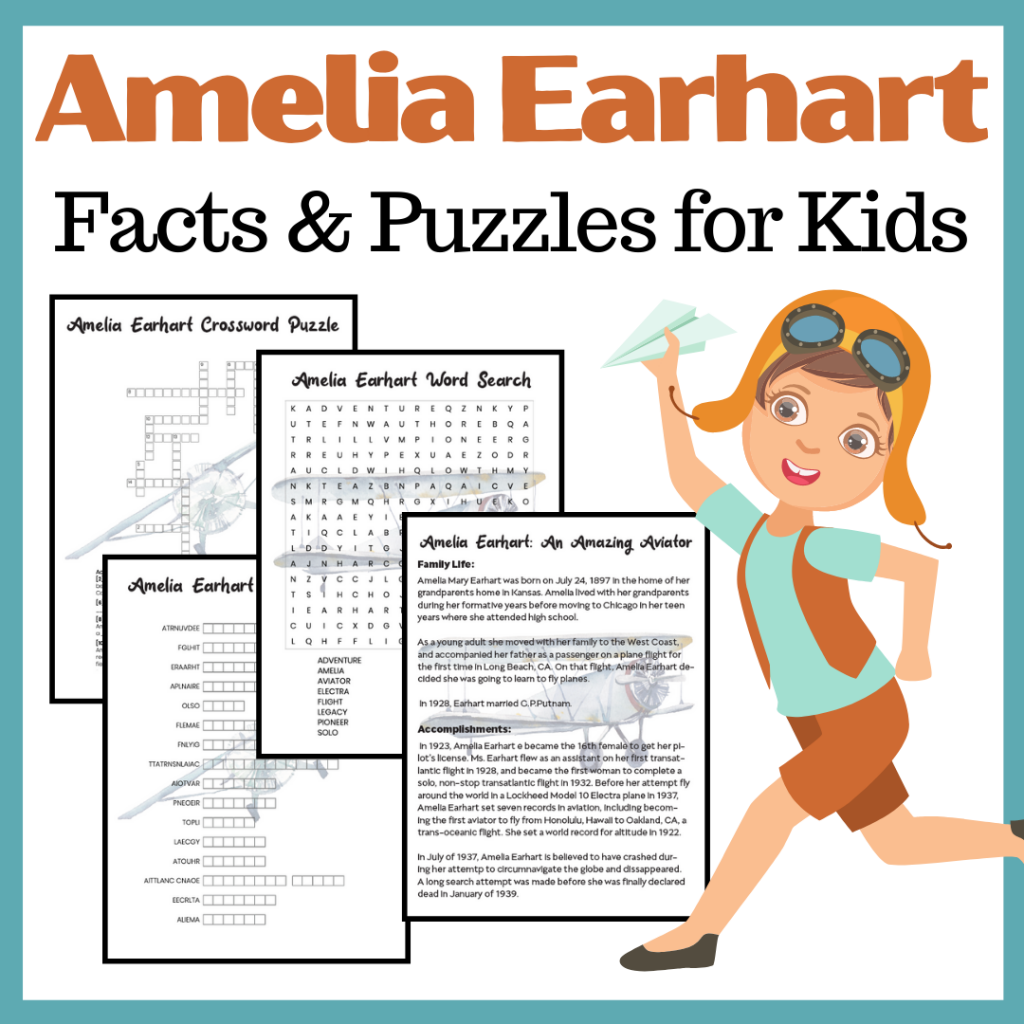 Books About Amelia Earhart
Fill your book basket with a great collection of books about Amelia Earhart. Most of these books can be found at your local library or used bookstore.
If you have a hard time finding them, you can order them through my Amazon affiliate links by clicking the images below.
I Am Amelia Earhart - Amelia Earhart refused to accept no for an answer; she dared to do what no one had ever done before, and became the first woman to fly a plane all the way across the Atlantic Ocean. This book follows her from childhood to her first flying lessons and onward to her multi-record-breaking career as a pilot.
When Amelia Earhart Built a Roller Coaster - Amelia Earhart was one of America's most famous aviators. But do you know what she was like as a child? From running on the river bluffs and playing football to building a roller coaster, Amelia Earhart was an active and confident child. 
A Picture Book of Amelia Earhart - You may know Amelia Earhart as one of history's most beloved aviators, but did you know she grew up playing football and studied automobile-engine repair? This clear and concise picture book biography with bright, colorful illustrations follows brave Amelia throughout her inspiring lifetime.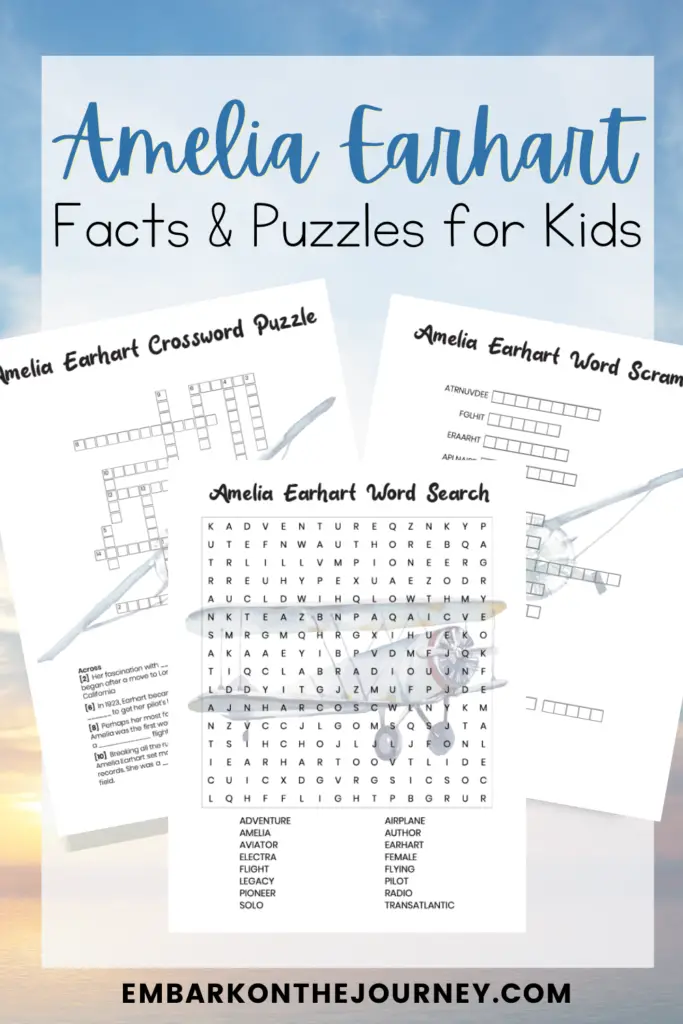 Teaching Resources
You can add a fun Amelia Earhart costume to your dress-up area so kid can act out their favorite Amelia Earhart story. 
An Amelia Earhart peg doll would make a great addition to your small worlds or your aviation pretend play area.
Download Your Printables
This Amelia Earhart activity pack is only available to my readers. Click the button below, enter your information, and download your printables.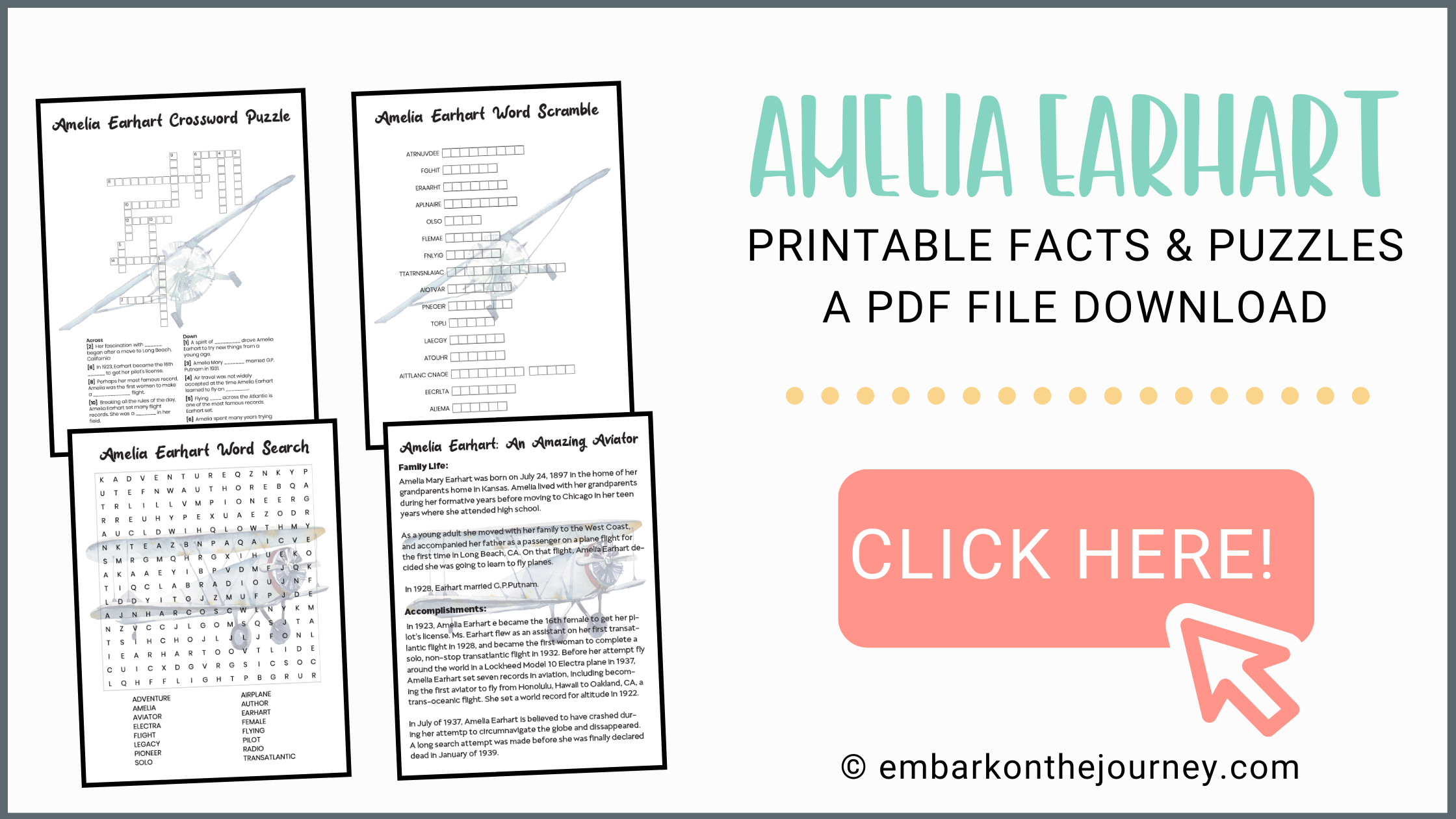 Related Posts