If you plan to teach your children about birds this spring and summer, you don't want to miss this awesome list of bird books for preschoolers.
This collection of fiction and nonfiction books is a great way to introduce young children to birds, the life cycle of a bird, and life as a bird. They're great for beginning readers and work well as read-alouds, too.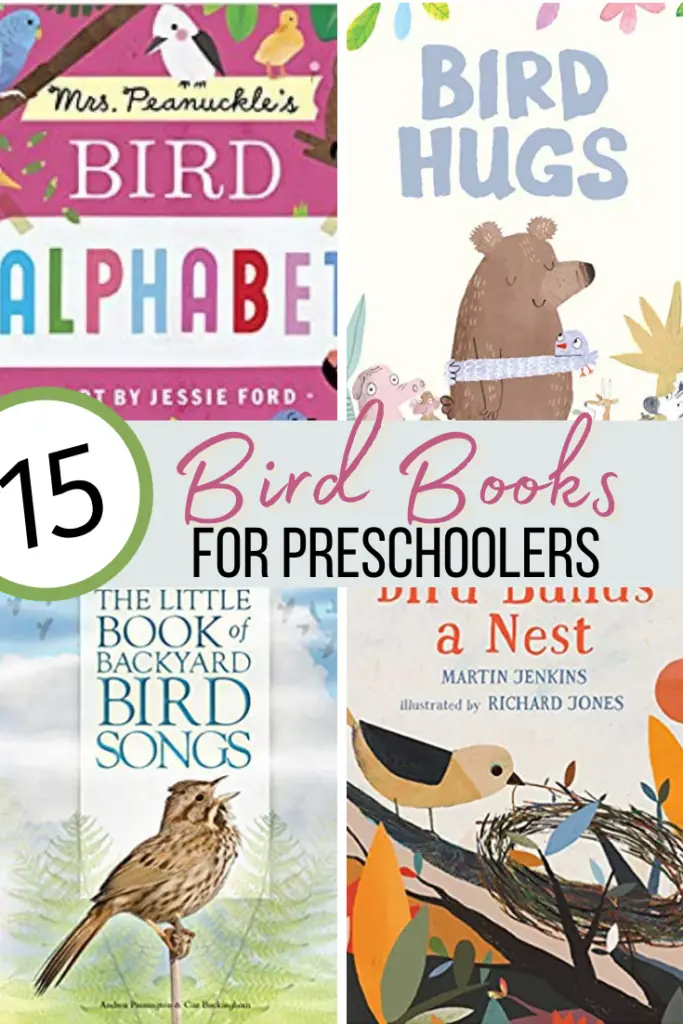 Bird Books for Preschoolers
Below, I've featured just a handful of picture books that will help your preschoolers learn about birds.
You should be able to find them at your local library or bookstore. If you can't find them locally, you can click each image cover to purchase them on Amazon.
National Geographic Little Kids First Big Book of Birds – This adorable reference introduces young readers to birds of all kinds: big and small, flyers and swimmers, colorful and plain. They'll find backyard favorites, such as robins and cardinals and be introduced to more unique species that inhabit rainforests and deserts around the world.
Bird Builds a Nest: A First Science Storybook – It's time for Bird to build her nest! Follow her as she pulls a worm out of the ground, lifts some twigs that are just the right size, and pushes the twigs into place. 
The Little Book of Backyard Bird Songs – This book features recordings of twelve bird songs from some of the best-known garden bird species seen and heard across North America.
Bird Hugs – Bernard isn't like other birds. His wings are impossibly long, and try as he might, he just can't seem to fly. He's left wondering what his wings are good for…if they're even good for anything at all. 
Birds, Nests & Eggs – A fun, informative take-along guide that will help children identify 15 birds. Kid will also learn how and where birds build their homes and all about their young.
National Geographic Kids Look and Learn: Birds – In this engaging board book, young readers will meet birds of all colors, shapes, and sizes.
My Backyard Bird Book – Kids love learning about nature, and birds are a very important and amazing part of it! They come in all shapes, sizes, and colors. They live in trees, bushes, and skies of your town, park, and even your own backyard.
Mrs. Peanuckle's Bird Alphabet – From the albatross to the zebra finch, Mrs. Peanuckle pulls out her binoculars and introduces toddlers to 26 species of birds from all around the world.
Fine Feathered Friends: All About Birds – Bee hummingbirds, ostriches, flycatchers, chickadees, and bald eagles! Dick and Sally find themselves on a bird-watching tour led by the Cat in the Hat. After a quick lesson on just exactly what a bird is, they go motoring around the world to observe our fine feathered friends in their natural habitats. 
A Nest is Noisy – From tiny bee hummingbird nests to orangutan nests high in the rainforest canopy, an incredible variety of nests are showcased here in all their splendor.
The Beaks of Birds – Come along on a tour of the wonderful world of birds and their beaks. This book is the story of a child and two grown-up friends on a jaunt across their yard, in a park, past a pond, and through the pages of a photo album.
Tiny Bird – When the last summer flowers open their petals to the sun, it's time for a tiny ruby-throated hummingbird to dip its beak into the heart of each bloom, extracting as much nectar as possible before the hard trip ahead.
Flora and the Flamingo – In this innovative wordless picture book with interactive flaps, Flora and her graceful flamingo friend explore the trials and joys of friendship through an elaborate synchronized dance. With a twist, a turn, and even a flop, these unlikely friends learn at last how to dance together in perfect harmony. 
A Nest Full of Eggs – Read and find out about a full year of growth and change for robins in this colorfully illustrated nonfiction picture book.
My Spring Robin – When spring arrives, a young girl looks everywhere for the robin who sang for her last year. She sees all the sights and sounds of the new season: a blooming crocus, a buzzing bee, a colorful magnolia tree, a brief rain shower…but where is the robin?
Which of these books about birds will you read first?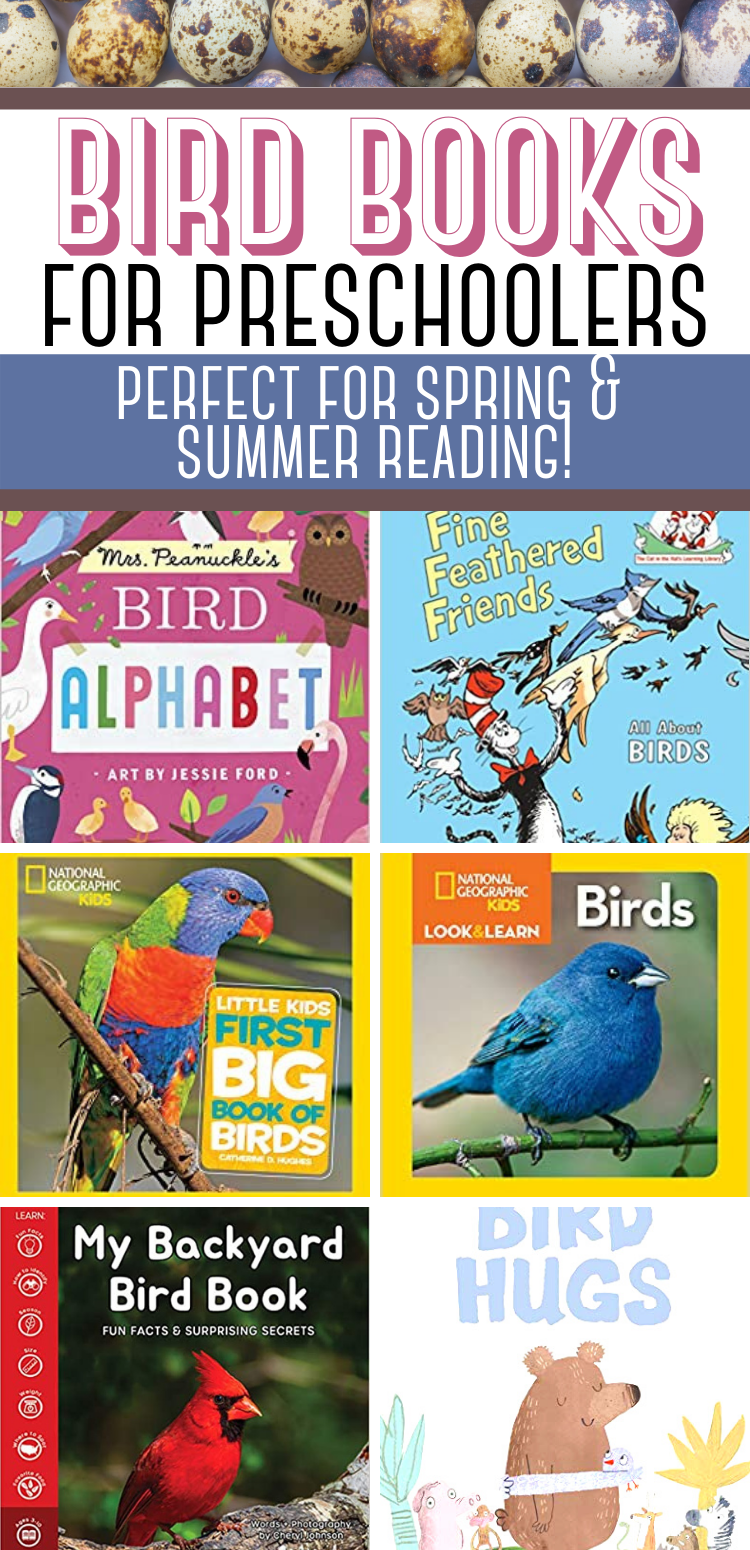 RESOURCES I LOVE
Learn more about birds, from songbirds to waterfowl to raptors! Young ornithologists get to design bird-protecting window clings, create different types of bird feeders and more in this exciting Feathered Friends kit!
You are a Bird Feeder Engineer and want to invent a groovy bird feeder design that's never been seen before. Can you design and build a bird feeder that meets the survival needs of local birds using upcycled materials?
Related Posts