Wow! August has flown by! We are back to school and back to dance. The temperatures are beginning to drop a bit which means we can eave our windows open for most of the day. I love hearing the birds and neighborhood kids outside. I love the smell of fresh-cut grass on the weekends. I love that the leaves are just beginning to changes. It's still pretty green around here, but there are a few trees with red leaves. I love fall!
September has so many wonderful holidays and events to celebrate. Join me as we celebrate all month long.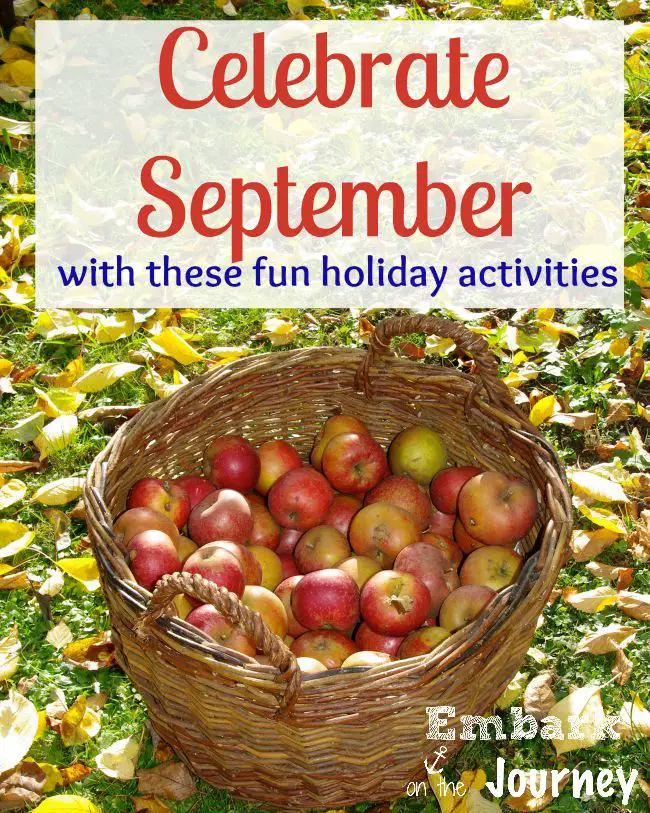 September is…
Celebrate something new this month…

September 3 is Sky Scraper Day. Read Skyscrapers! Then,  let your kids build sky scrapers with blocks, LEGO
s, milk cartons, or cardboard boxes.
September 5 is Cheese Pizza Day. Read Pete's a Pizza. Then, grab a $5 Hot and Ready Pizza from Little Caesar's pizza, or make one yourself. 
September 6 is Read a Book Day. Choose one or more of these books about books to read with your little ones! 
September 7 is Labor Day. Read A Day's Work. Complete this fun Labor Day Craft entitled I Heart American Workers.
September 9 is Teddy Bear Day. Read The Teddy Bears' Picnic. Then, let your kiddos have a teddy bear picnic in the backyard. These Beary Cute Cookies would be perfect for that picnic!
September 10 is Sewing Machine Day. Emma loves this Sewing School book. If you don't own a sewing machine, read some reviews such as the best all around sewing machine to help you choose which machine is right for you! Here are a few sites with beginner sewing projects: 
September 11 is 911 Remembrance Day. Read September 11 Then and Now. Here's a great list of patriotic crafts and activities for little one. 
September 12 is Chocolate Milk Shake Day. Download this book of milkshake recipes, and let your kids pick out their fave! I bet they'd love a tasty afternoon treat. 
September 12 is also National Video Game Day. Did you know there is a Minecraft School for homeschoolers? How cool is that!
September 13 is Grandparent's Day. Read this two-in-one book What Grandma's Do Best/What Grandpa's Do Best. Then, have your little ones give their grandparents a call to tell them how much they're loved. 
September 16 is Collect Rocks Day. Read about rocks and minerals before heading out to collect some rocks. Then, grab some paint and let your little ones get creative! They may enjoy turning their rocks into monsters or ladybugs or Minions! 
September 16 is also National Play Doh Day. Whether you make your own homemade playdough or you buy it at the store,  here are 40+ open-ended playdough mats for them to enjoy.
September 17 is National Apple Dumpling Day. Introduce your kiddos to The Apple Dumpling Gang. You could enjoy some homemade apple dumplings while you watch it. 
September 18 is National Cheeseburger Day. In addition to enjoying a cheeseburger for lunch or dinner, you should definitely introduce your little ones to His Cheeseburger from Larry the Cucumber!
September 19 is National Talk Like a Pirate Day. Speaking of Veggie Tales, how about a viewing of The Pirates Who Don't Do Anything for talk like a pirate day. For more pirate-y fun, here are more than 50 pirate activities to do with your kids. 
September 21 is World Gratitude Day. Teach your kids about gratitude with this fun gratitude game.
September 22 is Elephant Appreciation Day. Print out this free elephant alphabet and counting cards. Then make a cute elephant craft with your littles. 
September 25 is National Comic Book Day. Read stories about favorite comic book heroes. Then, let your little ones choose one or more of these 50+ superhero crafts to complete.  
September 26 is Johnny Appleseed Day. Last month, I created a Johnny Appleseed printable that would be perfect for today! 
What will you celebrate this month?
This week, we're linking to: Mom's Library