How do you know if your child is ready for a social media account?
There are more people using social media than ever before, and it's everywhere – in the news, movies and television, even children's shows often reference social media sites. It's not realistic to think our kids don't know social media exists. It's literally everywhere. They have probably seen you use it too. If you are a regular user of multiple platforms like Instagram then I'm sure you would be keen to learn more about a free linktree alternative!
If they know about it, there's a good chance they want to be a part of it. If their friends are doing it, they may want to do it, too. So, how do you know if and when your child is ready for their own social media account?
Only you, the parent, can assess whether or not your child is ready for social media. Only you know how mature your child is, the reason he or she wants to be on social media in the first place, and how responsible they will be with the account(s).
Does your child fully understand the dangers of social media? Do they understand security risks?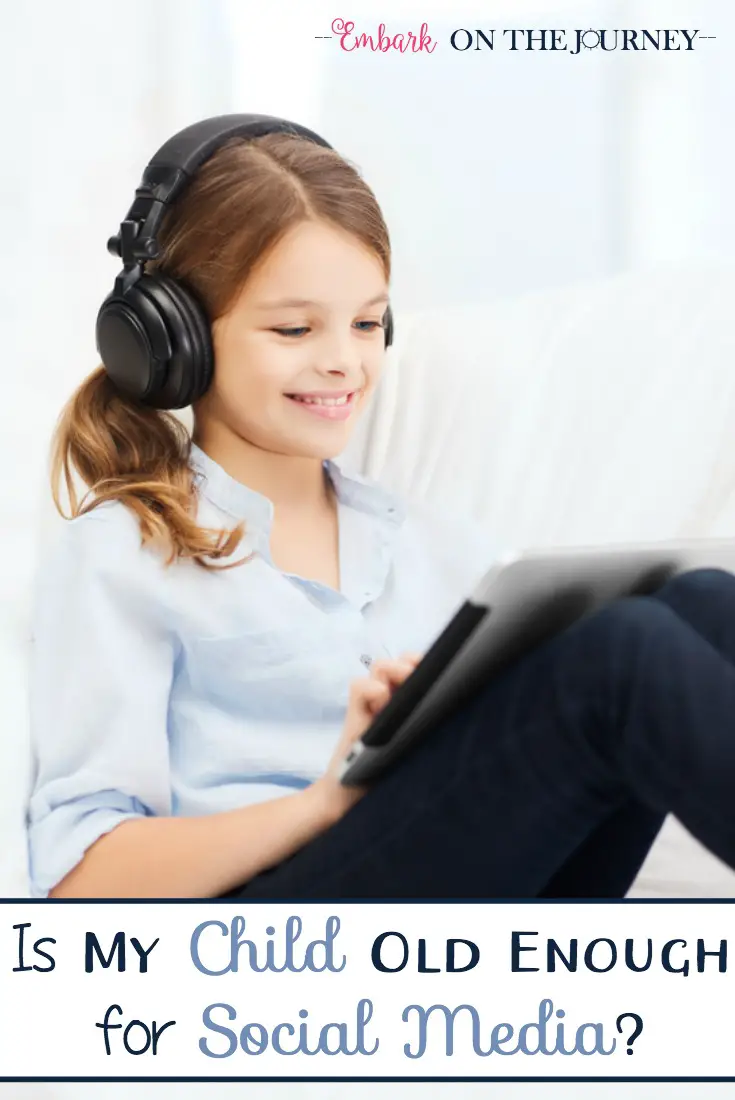 Is My Child Old Enough for Social Media?
Many parents don't realize that all social networks have age limits on them. The minimum age for opening a Facebook, Instagram, Twitter, Pinterest, Tumblr, or Snapchat account is 13, while Kik users under 17 need parental permission.
Parents often choose to use the minimum age for the networks as a guideline for deciding if their child is ready for an account. However, as long as your child is a minor, it's your decision when they get to use social media. This is why getting information yourself will greatly help you in the process.
You don't have to let your child on social media just because they reach the minimum age requirement. Young people develop at different rates, and there are so many other factors that go into it. One 13-year-old might be able to handle a simple Facebook account with family and close friends only, whereas another 15-year-old might not be mature enough for the same privilege.
What makes you most comfortable?
You may be okay with your child having a private Twitter or Instagram account that the public cannot see and approving any requests for adds. You may not be okay with Snapchat where things that are done on the network are erased after. Maybe you're okay with Facebook but not okay with YouTube or Vine, because you don't want your child posting videos.
Both of my boys got Facebook accounts about the time they entered high school. All of their friends were on Facebook, and they wanted to be able to connect with them. I set their passwords and monitored their accounts for the first few months they were on.
Once I was comfortable that they were using Facebook responsibly, I relaxed a little more on the monitoring. I still knew their passwords so I could pop on to check whenever I wanted, I just didn't do it regularly or even often.
Emma is 13 and not on Facebook yet, but she is on Instagram. It's how she stays connected with her old friends after our cross-country move. Like all Instagram users, she is able to use services like Socialfollow®
to gain a larger following, although at 13, it may not be entirely necessary at this point. She's not allowed on Snapchat or Kik, because I'm not on those networks so I can't monitor her. She isn't asking for a FB account, and I'm not inviting her to open an account. I will probably allow her to get an account when she asks, however, but I'll monitor her as I did my boys.
Is there a good reason for them to be online?
In the complete opposite direction, some parents make exceptions for certain networks for specific purposes, such as a YouTube account for a child who likes to code or animate. The child may not actually be in the videos and if security precautions are taken, many parents would be comfortable with this and it could help your child advance in a career set.
Em wants to start a channel on YouTube for her gourmet dog treat business. I'm not ready to let her take the plunge, but it's something we're currently discussing.
Is your child a public figure or brand ambassador?
A child model or actor might want certain accounts to showcase their portfolio but not for personal use. It's also advised that a parent monitors or even manages these types of accounts since they attract child predators.
We have several dance friends who are models, brand ambassadors, and/or actively auditioning for work. They have Instagram and Facebook accounts that are monitored by their parents. Their parents recognize that this is a great way to get their child's name out to the industry, but they still monitor and help maintain the accounts to keep their kids safe.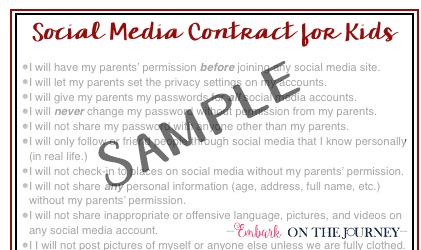 Create a social media contract.
Another thing you can do before you give your kids permission to join various social media platforms is to create a contract. Decide what the rules will be and what the consequences will be if the rules are broken. Go over them with your child. Make sure you child has a very clear understanding of both the rules and the consequences. Have both the parent and the child sign the contract.
I've created a social media contract that you can download. You can use this as your own contract writing in your family's consequences at the bottom of the page. Or, you can use it as a starting point for creating your own. It's available for instant download. Click the link below to access yours.
Download a copy of my social media contract here.
It's ultimately up to you.
Bottom line: Your child is ready when you think they are ready. It's advisable to start on a trial basis with one network, set your rules, and be sure your child can follow them consistently. Always monitor their accounts and talk openly and regularly with them about how they are connecting with online. This can go a long way toward preventing tragedies, spotting cyber-bullying early, and much more. A friend of mine recommended that I looked into something called the Tor project, which is basically to do with staying anonymous online and securing online privacy. I mean, it may be interesting to look into. Like anything, if this sounds of interest, do your research first before committing to anything.
As a final thought, never feel pressured to give your child access to social media earlier than you feel comfortable simply because other kids are doing it. You're responsible for keeping your child safe at all times – online and off.
For me, I want to ensure my kids know how to behave responsibly on social media. So, I grant them access while they're still living under my roof. I monitor heavily in the beginning and pull back a bit as they get older and prove they're mature enough to behave. I have taken social media away when a child has not behaved appropriately, and they've had to earn it back. It's a privilege not a right in our house.
What are your thoughts about kids on social media? Please keep your comments kind. Remember that everyone has different situations and different boundaries, and there is no right answer. There's only a right for you answer.
Related parenting posts: