Chinese New Year is just around the corner. These Chinese New Year worksheets provide activities that are fun and engaging for kids 5-10!
This fun no-prep activity pack is full of activities that will engage children in the days leading up to Chinese New Year. Kids will enjoy the mazes, coloring pages, a word search, and more.
Just download and print these activity pages. Kids will strengthen motor skills, logical reasoning, and visual discrimination as they complete them.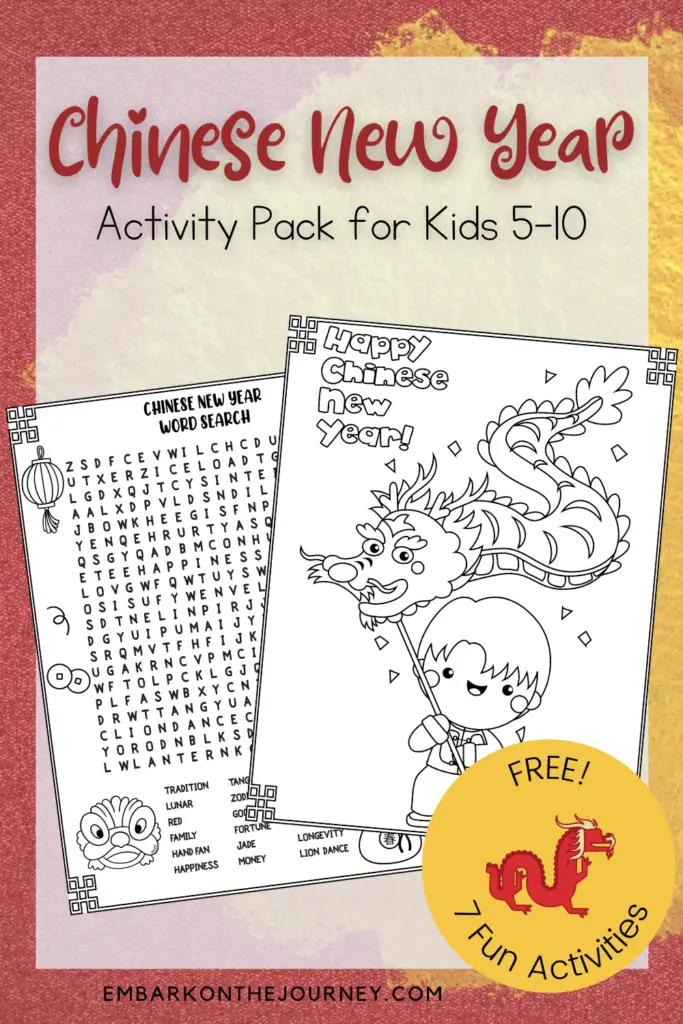 Chinese New Year Worksheets
These holiday worksheets are especially fun for elementary students. Preschoolers can complete the coloring pages, but the other pages are designed for older kids to complete.
In this Chinese New Year activity pack, we have included the following activities:
word search
word scramble
anagram (how many words can you make…)
coloring pages (2)
mazes (2)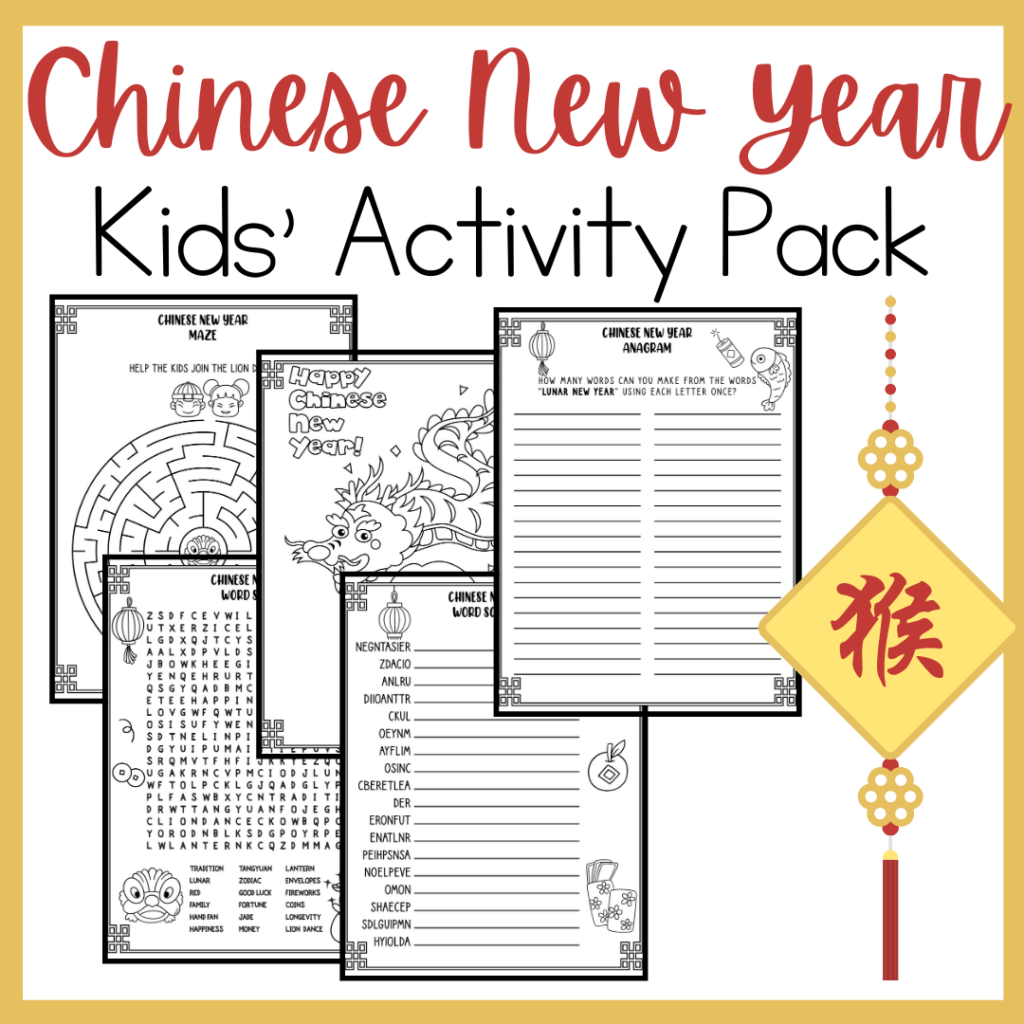 These activity pages are designed in black and white to help you save on ink! If you want to make these pages reusable (except for the coloring pages), laminate them or slip them in a dry erase pocket.
Kids can use dry erase markers to complete the word search, anagram, mazes, and the word scramble.
CHINESE NEW YEAR BOOKS
Fill your book basket with a great collection of Chinese New Year books. Most of these books can be found at your local library or used bookstore.
If you have a hard time finding them, you can order them through my Amazon affiliate links by clicking the images below.
Dragon Dance: A Chinese New Year Lift-the-Flap Book – It's Chinese New Year and there are so many fun things to do! Shopping at the outdoor market for fresh flowers, eating New Year's dinner with the whole family, receiving red envelopes from Grandma and Grandpa, and best of all-watching the spectacular Chinese New Year's parade!
Lion Dancer: Ernie Wan's Chinese New Year – Ernie Wan is very excited for the Chinese New Year festival. He is dancing the lion dance for the first time!
Lucky New Year – Come celebrate the Chinese New Year with its magical traditions— from giving gifts to watching parades! Children will love to scratch and sniff the sweet oranges, turn the wheel to find their Chinese animal year, lift the flap to find the lucky money, and watch the big dragon pop up to wish them a year filled with wisdom, wealth, and happiness.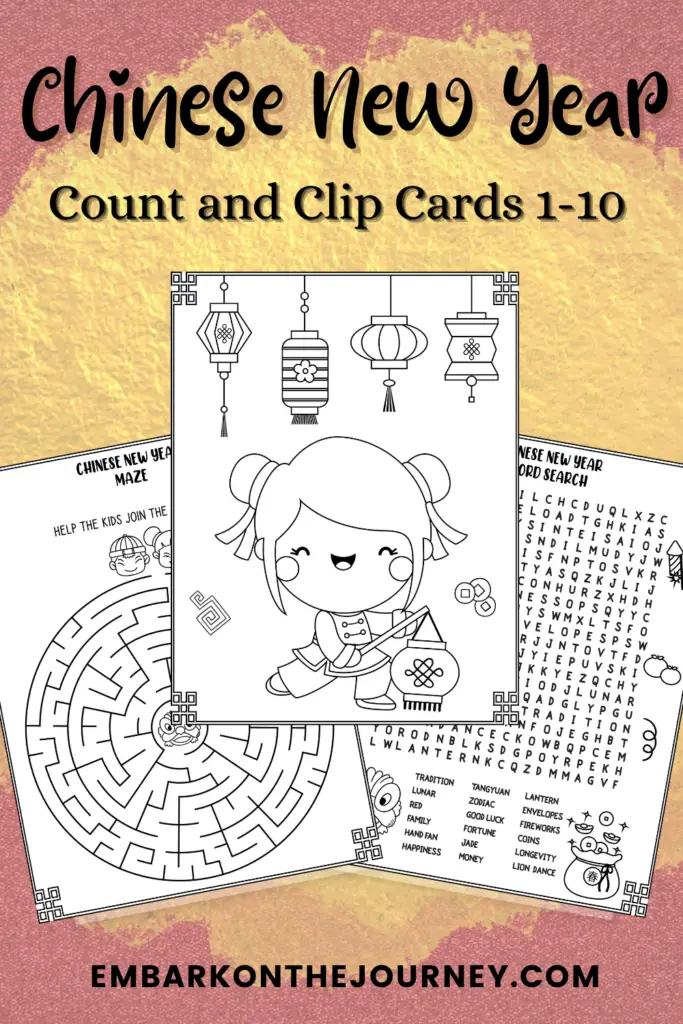 Grab Your Printables
Get your Chinese New Year activities in the shop here.
This printable activity pack includes seven activity pages – mazes, word search, coloring pages, and more.
With these no-prep worksheets, kids will have a blast in the days leading up to the Chinese New Year.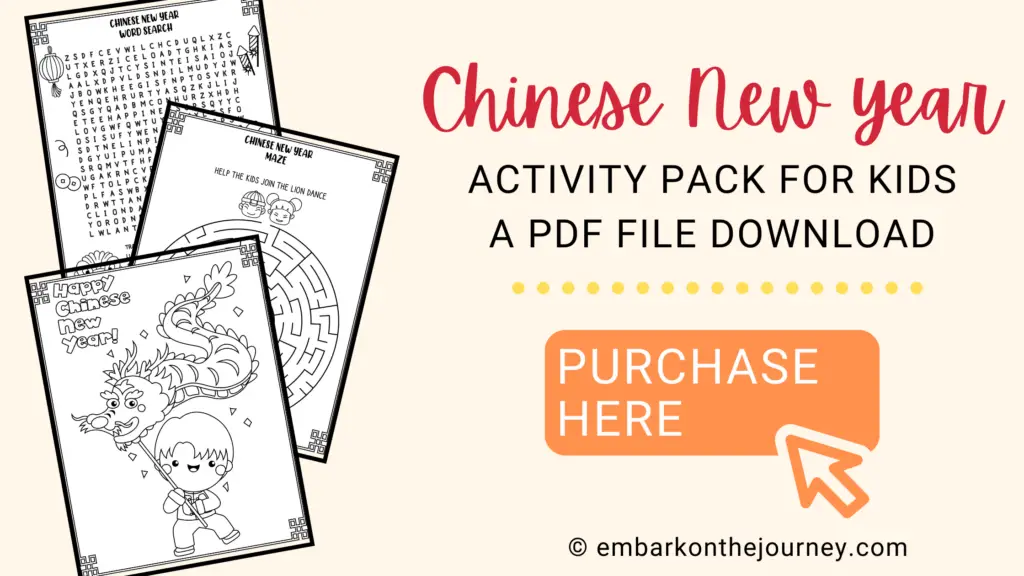 Related Posts