Download and print this awesome set of February writing prompts for elementary students! There are 28 prompts to get you through the month.
With snow on the ground and temperatures below freezing (at least in my part of the country), it's the perfect time to sit in the warmth of the house and get those creative juices flowing with these elementary writing prompts.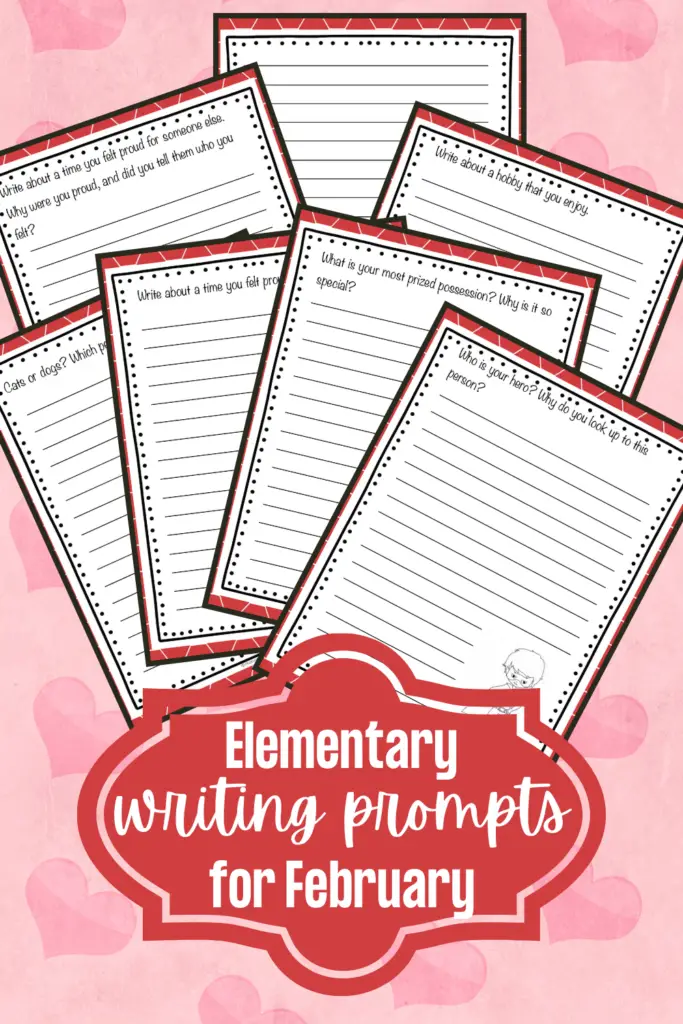 Print out these free printables for kids, and get them writing! 
writing prompts for february
Throughout the month of February, kids will have the opportunity to write about their favorite movie, being president, special talents, their dream job, and much more.
There are a total of 28 writing prompts in this printable pack – one prompt for each day of the month. There is also a blank page for those who need more room to write.
Here are a few ideas for making writing a bit more fun this month:
• Let your students use colorful pens when they write. Our favorites are erasable gel pens! Em likes to change colors with each paragraph, and I like that there are no scribbled out mistakes.
• Print all of the writing prompt pages, and bind them into a writing notebook. Let your child choose the order in which they'll complete their writing prompts each day. This gives them a little more control over the assignment, and encourages them to write about what sparks their interest on a given day.
• Don't worry about editing and proofreading. Let them write. At the end of the month, have them pick a favorite piece or two to polish and publish. You can go through the whole editing, revising, rewriting process at that time. Waiting allows kids to write freely without having to worry about the technical stuff.
Don't forget…
Throughout the upcoming year, I will release a brand new set of writing prompts every month. By the time they've all been released, you will have 365 elementary writing prompts to use in your homeschool!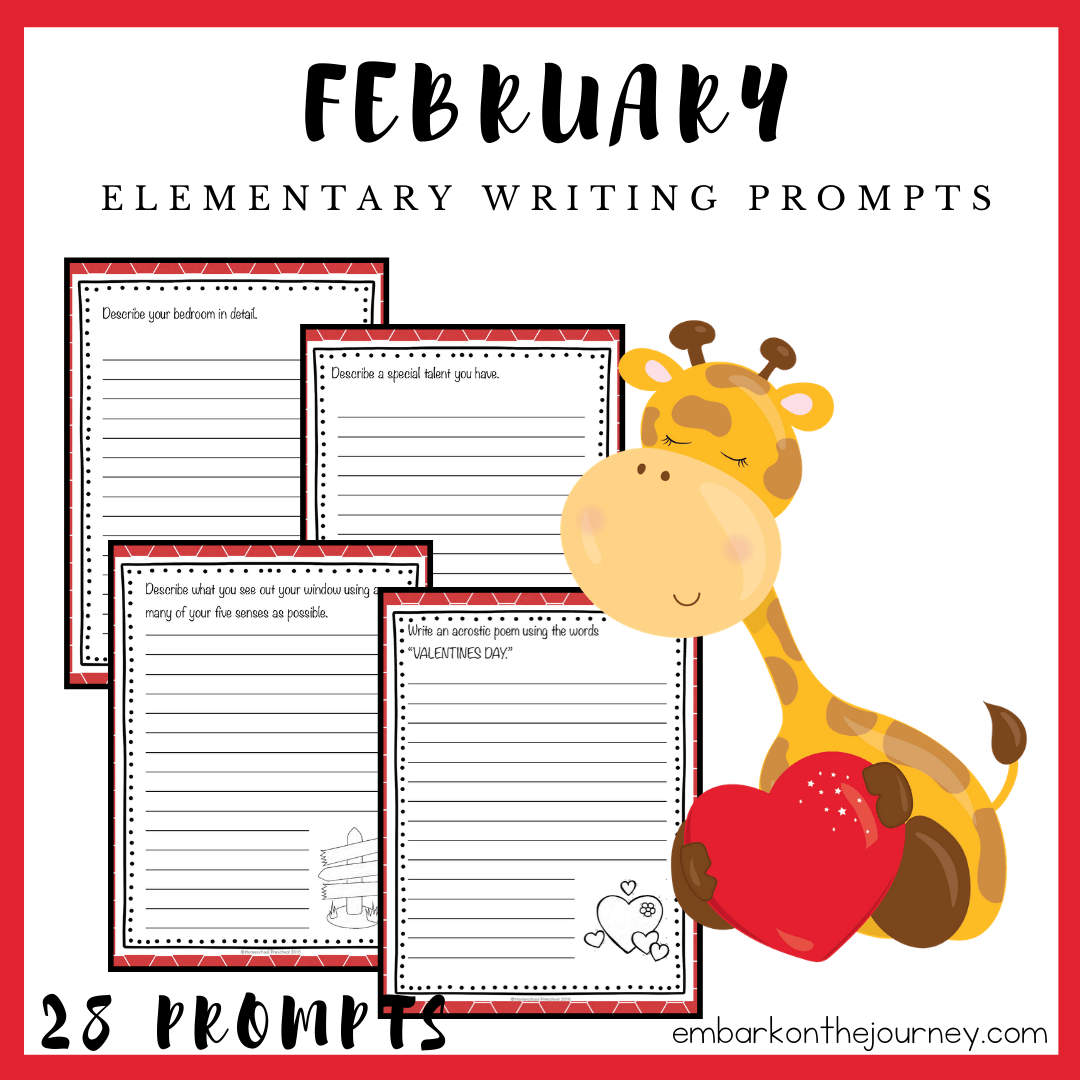 Writing Prompts
Fill your book basket with a great collection of writing prompt books. Most of these books can be found at your local library or used bookstore.
If you have a hard time finding them, you can order them through my Amazon affiliate links by clicking the images below.
Cliffhanger Writing Prompts – This ready-to-use resource contains 30 exciting story starters that model good writing and help any student get past writer's block! 
101 Story Starters for Kids – Write your own stories with the help of these creative story starters! With 101 fun and unique writing prompts, you'll have no trouble kicking your imagination into high gear.
Rip the Page! Adventures in Creative Writing – This is the everything-you-need guide to spark new poems and unstick old stories, including lists of big, small, gross-out, and favorite words; adventurous and zany prompts to leap from; dares and double dares to help you mash up truths and lies into outrageous paragraphs; and letters of encouragement written directly to you from famous authors.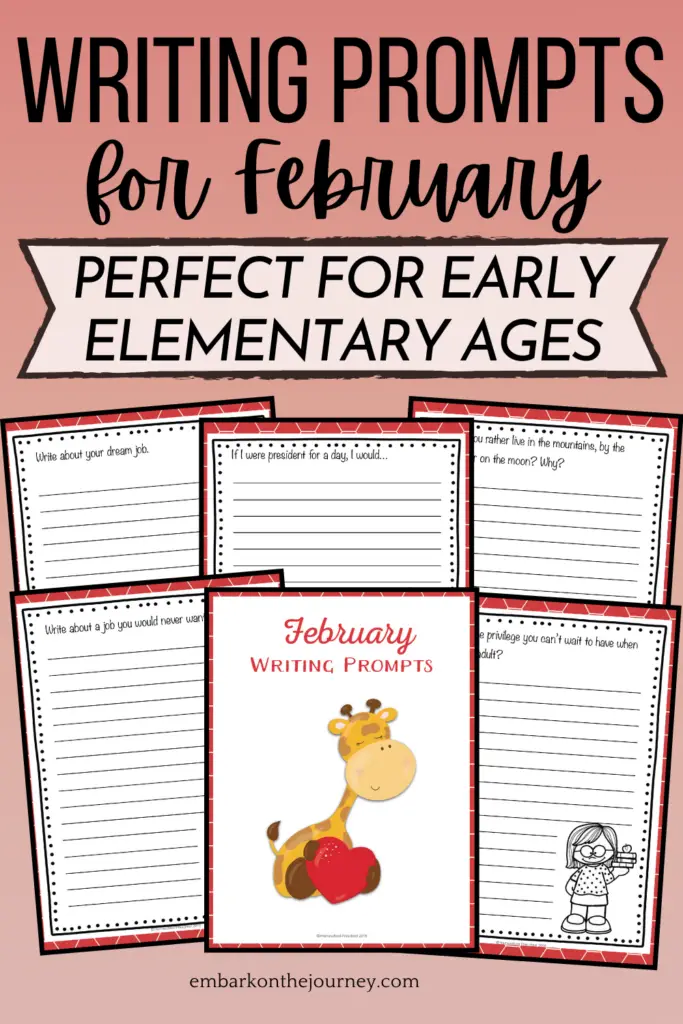 Teaching Resources
These writing dice are based off of the 5w's (Who, What, When, Where, Why) whose answers are considered basic in storytelling and information gathering. Need a character? Roll the "Who" set. Need a time frame to base your story around? Roll the "When" set. Want to challenge yourself with a whole story? Roll all of the dice and see where it takes you.
Download Your Printables
This set of February Writing Prompts is only available to my readers. Click the button below, enter your information, and download your printables.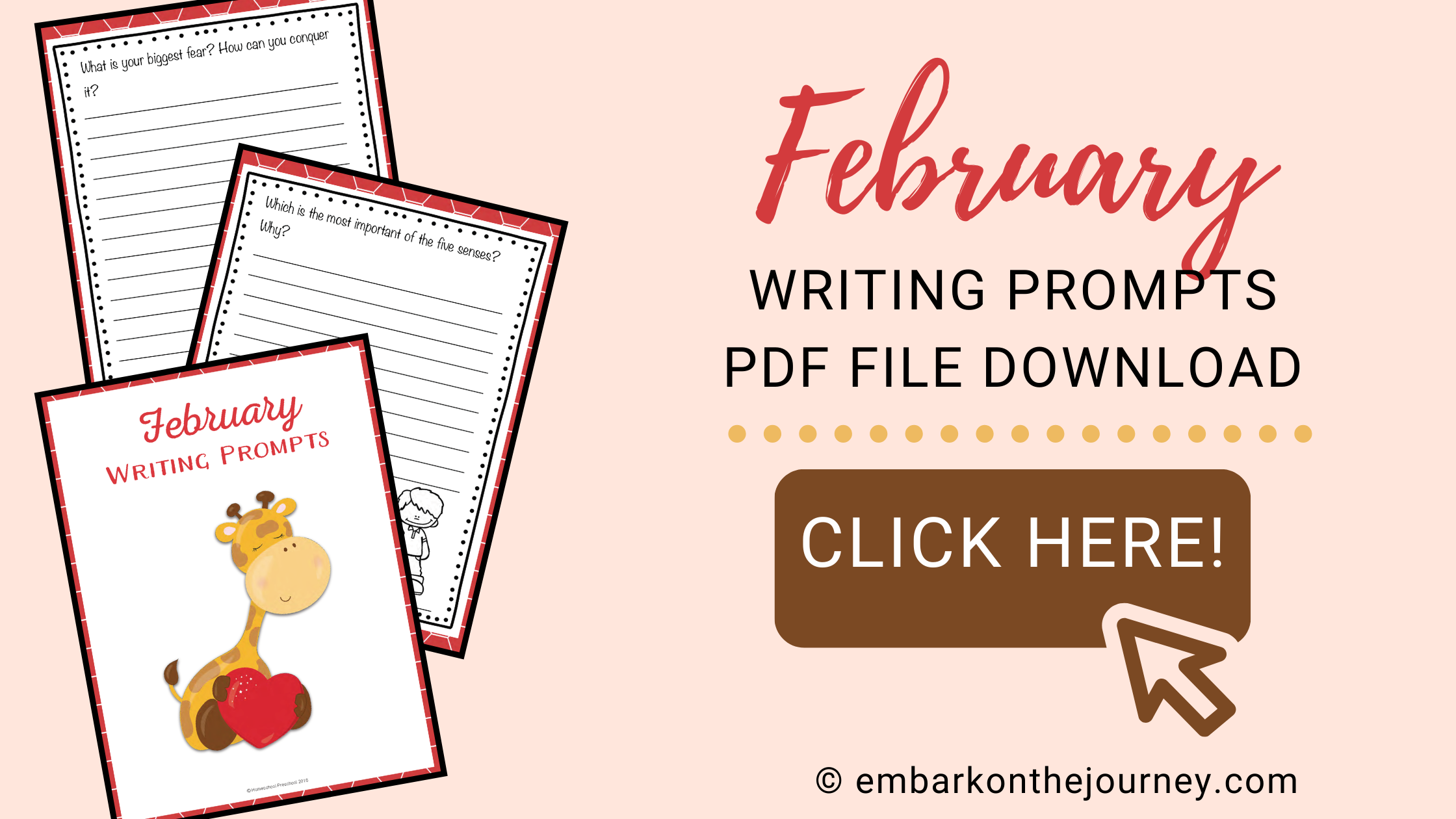 Related Posts