Have you made a Christmas bucket list yet?
As my kids get older, it gets harder and harder to do 'family' activities. Logan, my oldest, works full time and is often gone until evening. Then, he just wants to crash after a long day at work.
Isaac, my middle, is off at college. When he comes home, he wants to catch up on his sleep and see all of his friends who are also home for the holidays. Then, of course, there's a beautiful young lady who he wants to hang out with, as well.
Em, who's home with me all day, wants to visit friends when they get home from school – if she doesn't have Nutcracker rehearsals.
For the next few weeks, however, everyone has agreed to be intentional about spending time together this holiday season making memories. So, we came up with a bucket list of things we want to do between now and Christmas.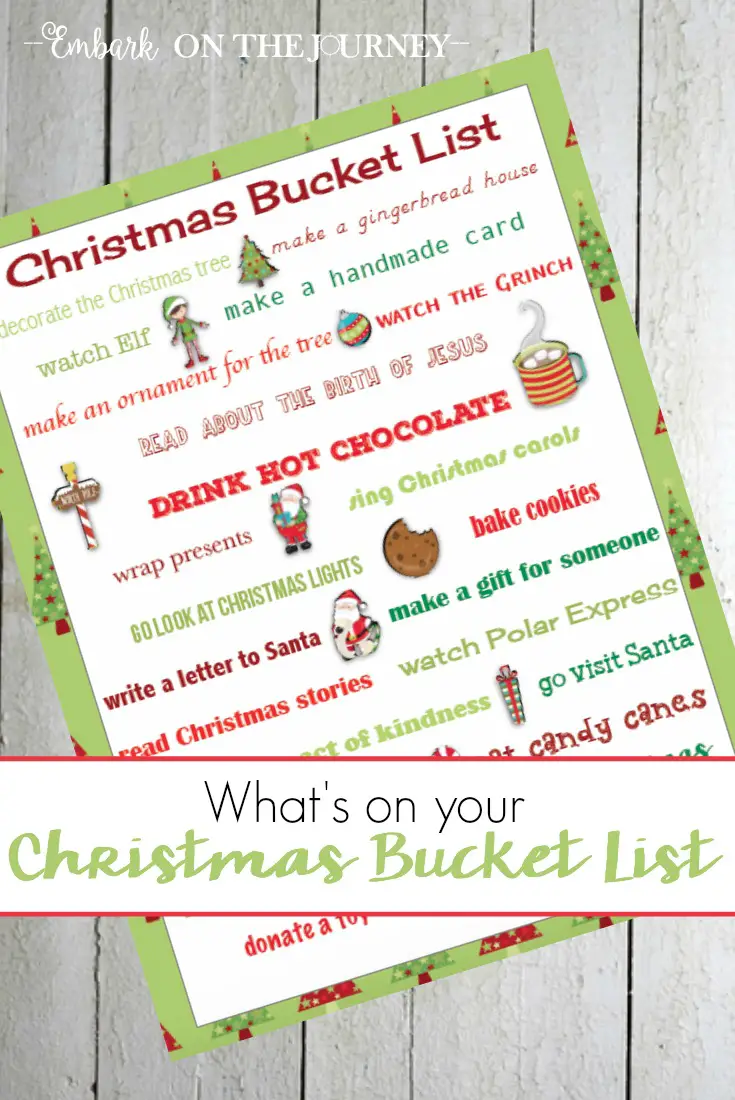 Christmas Bucket List
Some of our bucket list items – crafts, homemade gifts, and making a countdown chain – are "Emma only" activities. My big boys aren't interested in crafting. Emma, though, crafts all year long, and can't wait to get started.
They aren't too in to the Christmas stories anymore, but Em will read every book in our basket this month. Then, she'll ask to go to the library for more.
Family movie nights. We're all over them! We love our Christmas movies. We love to drink hot chocolate and eat popcorn while we watch our favorites – Polar Express, Elf, etc.
Get yours now.

One more idea…
I plan to print our bucket list and put it in an old picture frame. As we do each activity, I'll have Emma cross it off with a dry erase marker (on the picture frame glass). This will allow us to reuse the Christmas bucket list for years to come.
What traditions do you have that you would add to a Christmas bucket list?
More Christmas Fun