Your young dinosaur fans will love these dinosaur printable activities. Discover dinosaur-themed crafts and worksheets for kids ages 3-8.
I remember when my son was about four years old, and his best friend was obsessed with dinosaurs. His buddy, Adam, could name more dinosaurs than I had ever heard of.
As a result, my kiddo picked up an affinity for dinosaurs.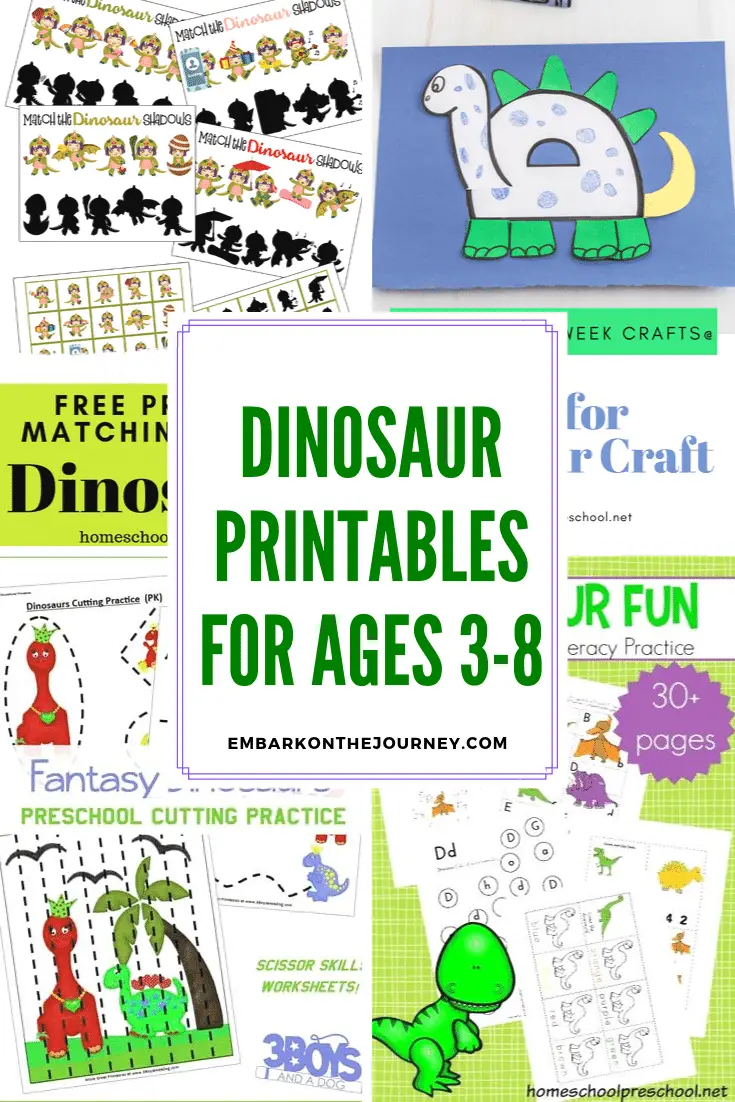 Dinosaur Printable Activities
Add this letter D dinosaur craft to your dinosaur themed activities. It's also a great addition to your Letter of the Week activities, as well. Homeschool Preschool 
These printable dinosaur alphabet sequencing puzzles are a great way to work on letters and letter sounds with young students. Artsy Craftsy Mom
Print out a set of dinosaur tangram mats for a fun activity that touches on shapes, visual discrimination, and dinosaur names. Simple Everyday Mom
Kids will work on one-to-one correspondence, number recognition, counting, and fine motor skills with these clothespin dinosaurs. School Time Snippets
These dinosaur playdough mats are a great way to help your little ones practice counting and fine motor skills. Fantastic Fun and Learning
Kids can practice counting while building fine motor skills with three dino-mite dinosaur counting activities for preschoolers!  Homeschool Preschool
Preschoolers can use these dinosaur cutting practice pages to build fine motor skills as they practice using scissors. 3 Boys and a Dog
It'll be wonderful to print this board game out and play a dinosaur game with your family on Family Game Night! The Natural Homeschool
This dinosaur printable lesson plan is designed to be used alongside the movie The Good Dinosaur. Simple in the Country
Little ones can explore shapes and dinosaurs with these dinosaur shape puzzles. Powerful Mothering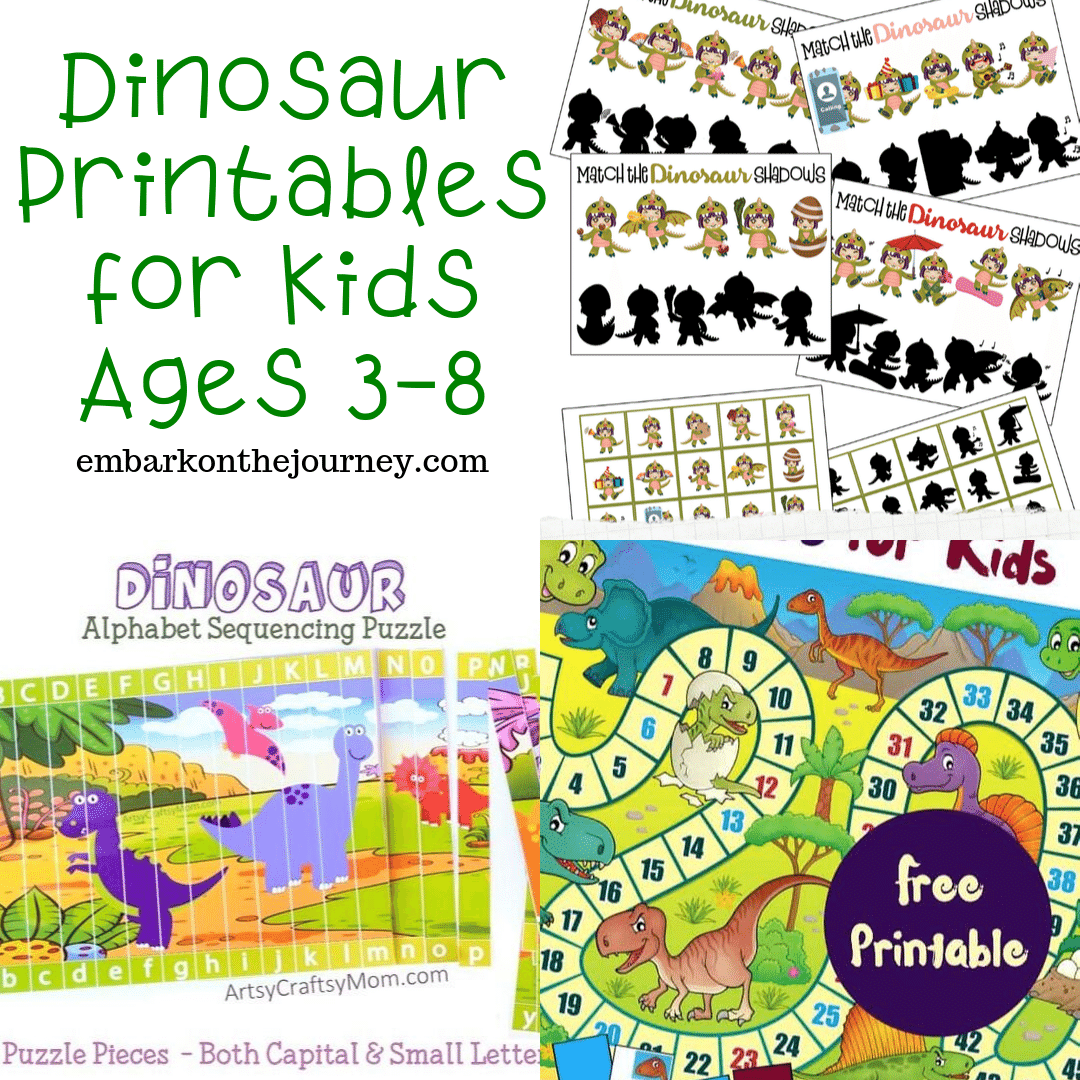 What child doesn't love dinosaurs? Kids love them, and they'll love this dinosaur matching game printable that helps develop visual discrimination skills! Homeschool Preschool
Kids will work on numbers, counting, and colors when they complete this printable dinosaur egg matching game. 
Your kids can learn dinosaur facts with these printable dinosaur information bookmarks. 3 Dinosaurs
Children big and small will love getting creative as they decorate the dinosaurs on these dinosaur coloring pages. Easy Peasy and Fun
These dinosaur printable activities are dino-mite! Your preschoolers will love practicing math and literacy skills with their favorite dinos. Homeschool Preschool
These preschool dinosaur pages will keep your little ones entertained for hours. No Stress Homeschooling
Help your little ones brush up on their math skills with these dinosaur math pages. Living Life and Learning
Print off these fun dinosaur coloring pages. In All You Do
There are lots of dinosaur games to print out here. Preschool Mom
Dinosaur Books
• Saturday Night at the Dinosaur Stomp
• How Do Dinosaurs Go to School?
• Oh Say Can You Say Di-no-saur?
• The Berenstain Bears' Dinosaur Dig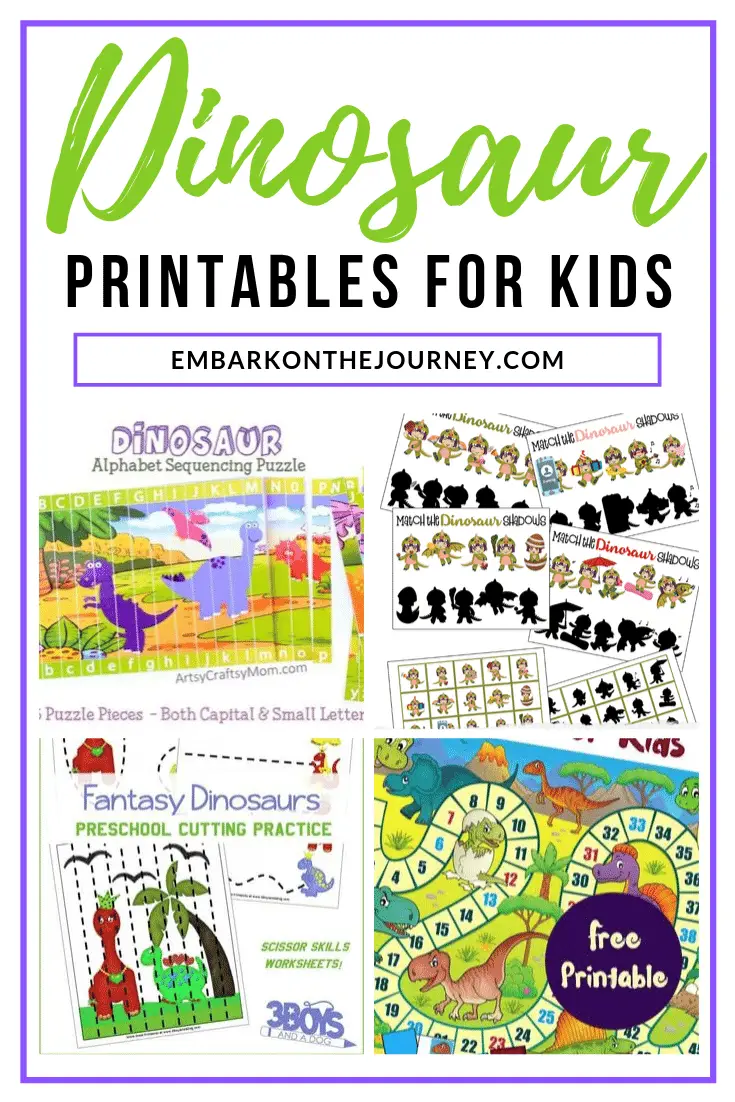 Dinosaur Activities
If you don't mind messy crafts, you're kids will LOVE making their own paper mache dinosaur land. Living Life and Learning
Work on fine and gross motor skills while pretending to be a dinosaur! No Stress Homeschooling
Make your own dinosaur paper hat. Paper and Glue
Here's a Magic Hatching Dinosaur Egg recipe! Growing a Jeweled Rose
Make some fossil dough. Nuttin' but Preschool
Here's a whole host of dinosaur activities to share with your kiddos. Chestnut Grove Academy
Instead of salt dough, kids will love making fossil cookies! Martha Stewart
Make some dino feet for your little ones to wear as they stomp around the house. Broogly
These q-tip dinosaurs are super cute! Stuck on Glue
Related Posts