If your kids are as obsessed with slime as mine is, you have to check out this amazing collection of over 35 easy slime recipes for kids!
What do you get when you mix glue, borax, glitter, and water? The latest tween obsession! That's what!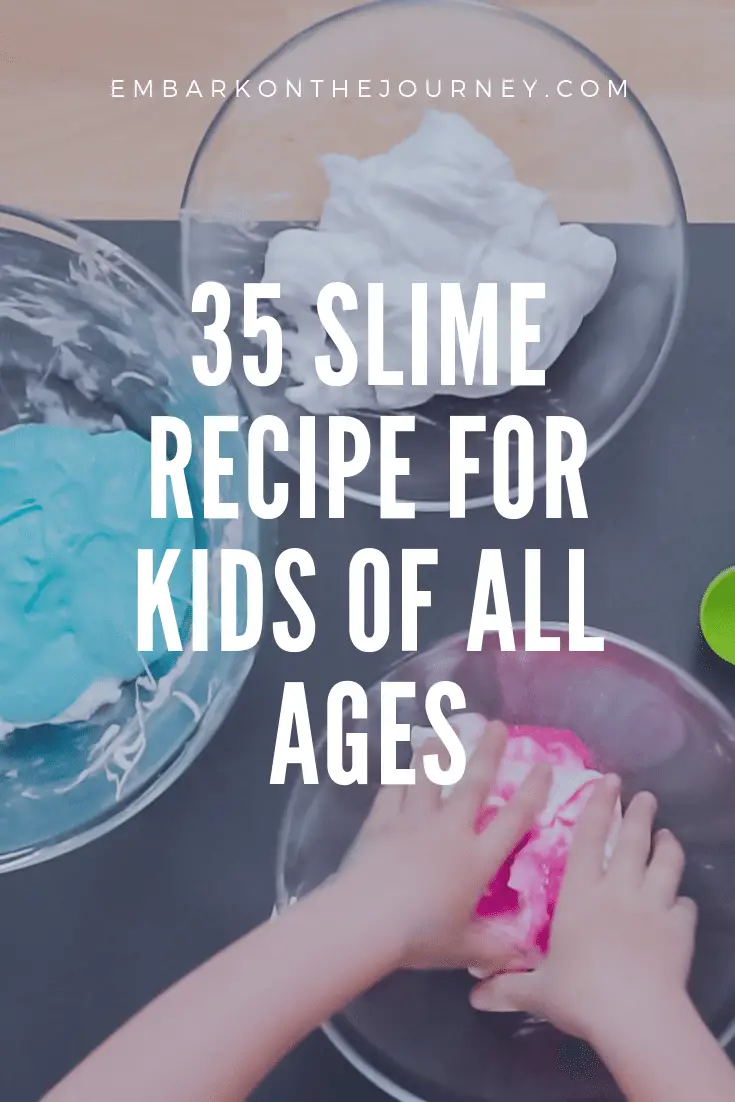 Never in my life would I have imagined there would be a glue shortage outside of August and back-to-school. However, that's exactly what I discovered when I drove to not one, not two, but FOUR stores to find white glue!
I lamented about it on Instagram when my quick trip to Kroger turned into a trip around town just to find a bottle of Elmer's glue. We finally found a few at our local craft store, and my kiddo came home happy as a clam!
What in the world would cause a national Elmer's glue shortage? SLIME! Have your kids been bitten by the slime bug? Are they as obsessed as mine with that gooey, flarpy, glittery concoction?
Amazing Slime Recipes
My daughter has become obsessed with making slime! She spends most of her allowance on glue and other slime supplies.
We actually just left Walmart with 7 more bottles of Elmer's glue (in addition to the three she picked up yesterday while out with her dad). I'm quite sure she'll come home from ballet class tonight and set up shop in the kitchen.
She'll gather her glitter, sequins, essential oils, and food coloring. Then, she'll start creating. She uses a different recipe every time because she loves to see how changing one ingredient makes the slime different.
If you've got a child that's obsessed with slime, or you want to introduce your kiddo to a great afternoon craft project, check out the amazing collection of slime recipes I've rounded up for you.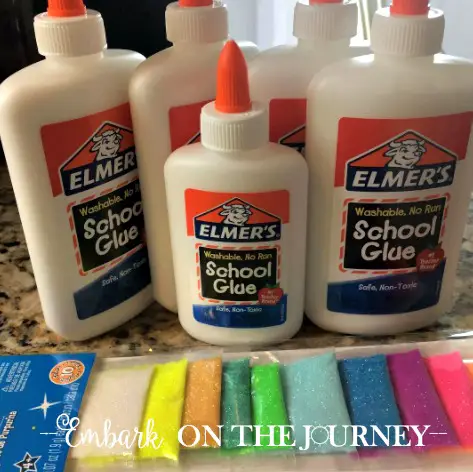 Easy Slime Recipes
This tutorial for How to Make Homemade Slime from Money Saving Mom requires quite a few ingredients – most of which you'll likely have on hand.
This Super Silly Slime was the perfect addition to Natural Beach Living's jellyfish studies!
Emma tried her first Rainbow Slime today, and it was so pretty.
Your kids will love making this simple glittery snowball slime recipe from Homeschool Preschool. It's a great activity to add to your winter sensory activities.
If your kids like water beads, they'll want to try this Water Bead Slime from Parenting Chaos.
Buggy and Buddy made some fun Jungle Slime that your kids will enjoy making.
Your girly girls will love this Pretty Pink Princess Slime!
This Calming Glitter Slime from Lemon Lime Adventures uses essential oils for a nice calming effect.
Fun-a-Day shares how to make Super Easy Gold Slime.
Heat Sensitive Color Changing Slime from Left Brain Craft Brain is by far the coolest recipe I've seen!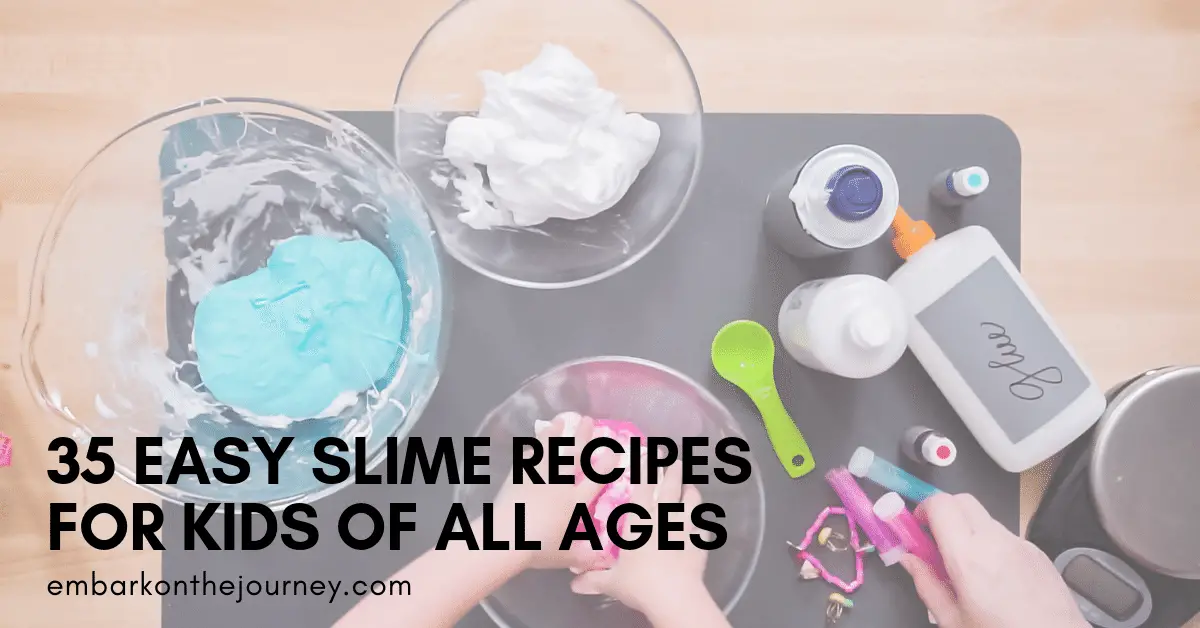 Check out what Fun at Home with Kids adds to her Polka Dot Slime. What a great idea!
Here's a recipe for making Super Stretchy Slime that doesn't require borax, starch or detergent.
Did you know you can make Magnetic Slime? Frugal Fun 4 Boys shows you how!
Amazing DIY cinnamon scented fall slime! This simple homemade cinnamon slime is perfect for kids of all ages!
This Fish in a Bag Slime from My Frugal Adventures would make great party favors.
2 Ingredient Slime that Glows is sure to be a hit with kids of all ages!
This Beauty and the Beast Slime from As the Bunny Hops is perfect for your Disney princess fans!
I love Fluffy Slime the best. It's not sticky and 'slimy' like some of the others Emma makes.
Momdot shows you how you can actually blow bubbles with your slime.
Minion Slime? Yes, please!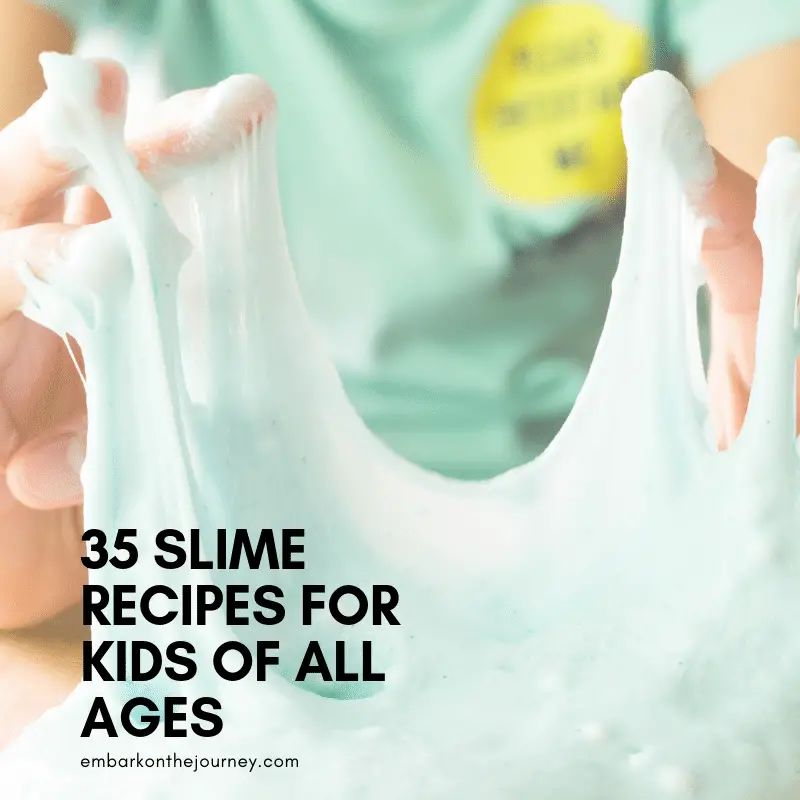 Did you know you can draw pictures on your slime? Left Brain Craft Brain shows you how.
Make homemade Glow in the Dark Slime with these instructions from A Pumpkin and a Princess.
Edible Slime Recipes Kids Will Love
This fun Peanut Butter Slime from Encouraging Moms at Home is sure to be a hit with the kids!
This Taste Safe Slime Recipe from Crafts on Sea looks fun.
I'm intrigued by this Edible Slime Made from Gummy Bears! I'm going to have to show it to Emma!
Schooling a Monkey turned a chemistry experiment into some tasty Taffy Slime!
I bet this Kool-Aid Slime from Growing a Jeweled Rose smells amazing!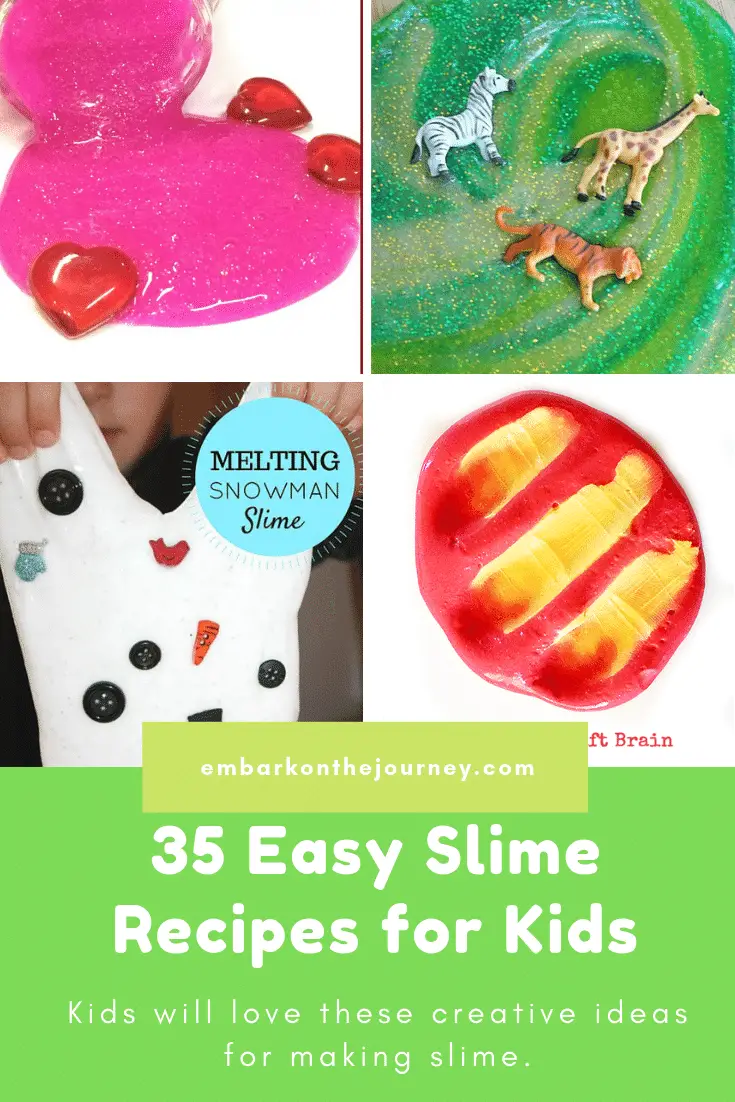 Seasonal Slime Recipes You Can Make All Year Long
This Pumpkin Guts Slime is perfect for fall!
Pre-K Pages shares a fun tutorial for making Candy Cane Slime that's perfect for Christmas.
How about some Spiderman Slime for your Halloween festivities?
Googly Eye Slime is perfect for Halloween and/or a supplement to your monster-themed activities.
Kids will love giving out little jars of Sparkly Valentine's Day Slime to their loved ones.
You have to check out this Melting Snowman Slime from Little Bins for Little Hands! It is so stinking cute!
Here's another cute Melted Snowman Slime from Coffee Cups and Crayons.
For Thanksgiving, give this Cranberry Edible Slime a try.
A Grinch-Inspired Slime from Schooling a Monkey is a perfect addition to your Christmas craft list.
Kids will love decorating their own Slime Monsters! They'll make great birthday party favors or Halloween crafts.
Speaking of party favors, here's a DIY Slime Kit party favor tutorial with free printables.
Want to try your hand at making slime? You'll need a few of these ingredients to get started.
Elmer's Glue – LOTS of it!
Glitter
Sequins
Shaving cream
Borax
For storing your slime
Saline
For scented slime
Related Posts