Sick days. They're inevitable. It takes a lot for me to declare a homeschool sick day when I'm the one feeling bad. I tend to have more empathy, however, when it's my kids who are under the weather. This year, we've had more than our fair share of them. 
How do you handle sick days when you homeschool? Do you try to "do school" when your kiddos are sick? For us, it depends on how sick they are. As much as I try to be relaxed about our homeschool schedule, there is a timeline that we try to follow so we have our summers off. So, we try to accomplish a few things if at all possible on sick days.

 Homeschool Sick Day
Sick days. They're inevitable. But, they don't have to be a total bust. Here are three ways we make the most of a homeschool sick day.
Take it easy.
When my daughter feels less than great but isn't "down-for-the-count" kind of sick, we try to attack some of her school lessons. She can take a spelling test snuggled in her blankets on the couch. She can get her reading done in bed with her electric blanket. We don't tackle any hands-on science projects, but there are enough "little" things on her assignment sheet that she can manage as she feels up to it. This way, neither of us feel as if the day was a total bust. 
[mv_video key="suusyjzrpshdsm51heou" volume="70″ aspectRatio="true" title="Free Homeschool Websites" thumbnail="https://mediavine-res.cloudinary.com/video/upload/suusyjzrpshdsm51heou.jpg" jsonLd="true" doNotOptimizePlacement="false" doNotAutoplayNorOptimizePlacement="false" sticky="false"]
TV is a good thing.
In January, when my daughter was sick for two weeks, we watched many episodes of Magic School Bus
. I know they aren't 7th grade material, but they're better than watching the Disney Channel. We also watched The Boy in the Striped Pajamas
which she had been begging to watch for about a year.
Sick days are great for watching documentaries and educational shows. Sometimes, we may choose to watch a movie based on a book we've recently read. I keep a running list of movies that we can watch to tie in to a lesson or book that we touched on recently or will in the near future. Sick days are great days to pull those out.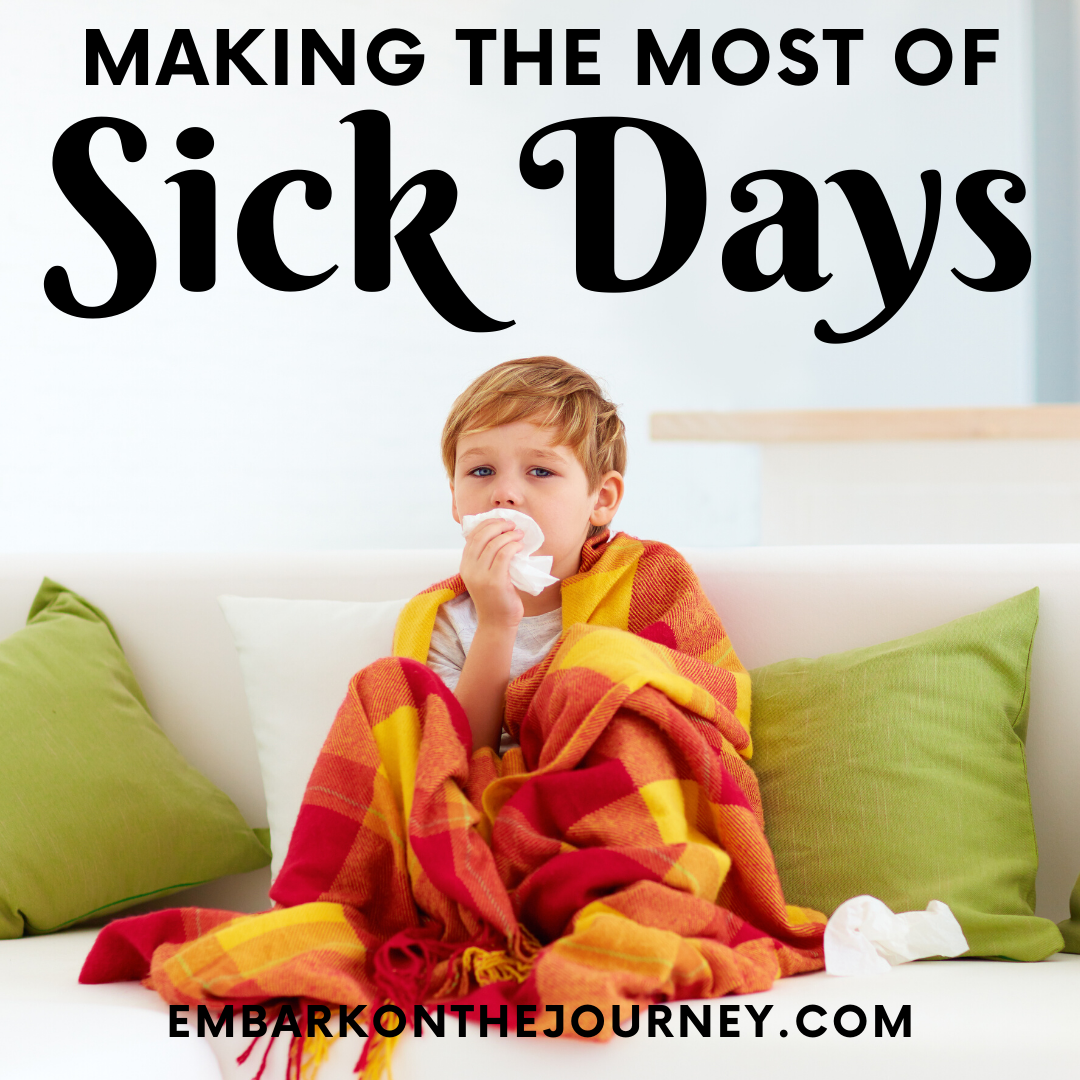 Let it go!
There are, however, some days where we just have to let it go. She's too sick to focus. She has zero energy to get assignments done. The beauty of homeschooling is that we can do just that. I can let her curl up with a good book and read when she's not sleeping.
When she's better, I can adjust my lesson plans accordingly so we can catch back up. Maybe there are two lessons we can combine into one. Maybe there is a review lesson or two we can skip. In the long run, it will all work itself out. 
How do you handle sick days in your homeschool? 
Related Posts