Helping kids set goals that are achievable can be a daunting task. It doesn't have to be. These resources will help you teach SMART goals for kids.
As adults, we know that goal-setting can be a daunting task. It's easy to say 'I want to lose weight,' 'I want to exercise,' or 'I want to save money.' However, the how we'll get there part of goal-setting isn't quite as easy.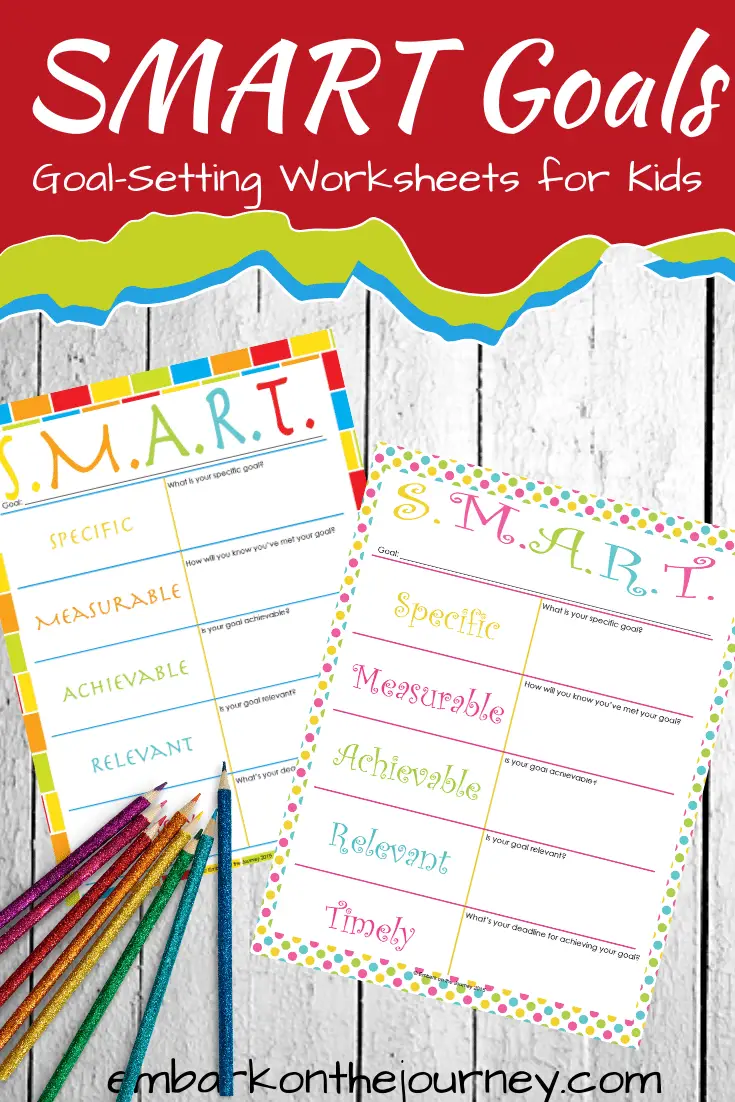 With kids, who have a harder time seeing the big picture of a goal, it can be even more daunting. So, we need to teach them, and perhaps ourselves, to set SMART goals. So, just what are SMART goals, and why are they more attainable? 
What Are SMART Goals?
I'm going to explain SMART goals in the context that my daughter and I have been talking about them. Back in February, she injured her hip at a dance convention. Since then, she has done months and months of physical therapy. In addition, she has had a huge growth spurt, broken her wrist, and injured her knee.
With all of this, she has lost quite a bit of flexibility resulting in the loss of her splits. This isn't a big deal to a lot of people, but to my little dancer it has been the source of tears on more than one occasion. So, her goal is to get her splits back. Here's how we broke down her goal.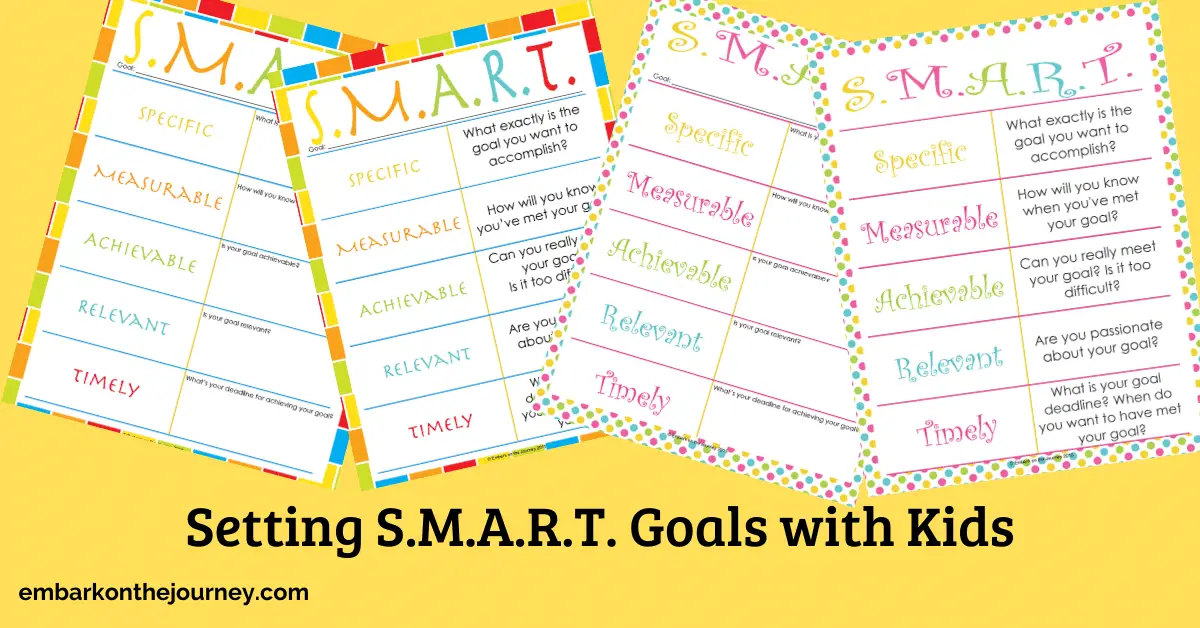 SMART goals are specific. What exactly is the goal you want to accomplish? For my kiddo, it's getting her splits back. Right now, she's just going to work on her straddle splits. Left and right splits will come later.
I encouraged her to focus on one instead of all three. This should be less frustrating for her. She'll accomplish this by stretching daily once her PT gives her the thumbs up. 
SMART goals are measurable. How will you know when you've met your goal? For my daughter, she'll know when she's all the way down on the floor.
SMART goals are achievable. The goal should be challenging not unattainable. Because she had all three splits and her over-splits prior to her injury, her PT and I know this is an achievable goal for Em as long as we focus on one at a time and just go for flat – not over-splits (where the legs are above the hips when 'flat' on the floor.)
[mv_video key="suusyjzrpshdsm51heou" volume="70″ aspectRatio="true" title="Free Homeschool Websites" thumbnail="https://mediavine-res.cloudinary.com/video/upload/suusyjzrpshdsm51heou.jpg" jsonLd="true" doNotOptimizePlacement="false" doNotAutoplayNorOptimizePlacement="false" sticky="false"]SMART goals are relevant. Make sure the goal you set is something that matters to you. You'll never work toward a goal that doesn't inspire you.
My daughter wants her splits back for a couple of reasons. She'll feel like her body is finally healed from her original injury. She feels they'll make her ballet leaps more fluid and graceful. She knows that as she works on her splits, she'll also be working on her flexibility again which will help her have nicer extensions, as well. 
SMART goals are timely. When do you want to meet your goal? E's goal is to have her splits before summer intensives start in June. If she's got her splits and her flexibility back, she should be able to participate at the level she was prior to her injuries.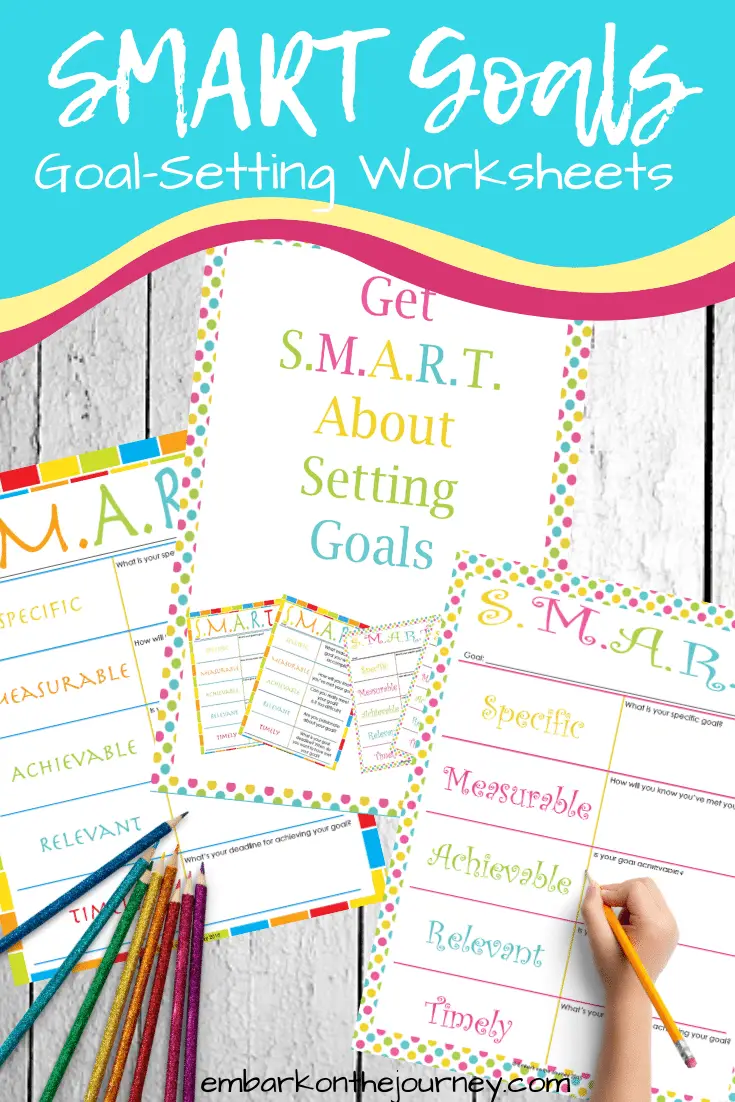 Setting SMART Goals with Teens
After working through these steps with my daughter, I went through them with my teenaged son. His goal is to pay off a debt he owes to my husband and me for the new motor we had to put in his car a few months ago. The agreement was that he would pay for half of the repair.
His specific goal is to pay us $50/week until his debt is gone. His goal is measurable, because he'll have met his goal when he makes his last payment. It is achievable if he budgets wisely when hanging out with his friends. It's very relevant because he doesn't like owing anyone anything. His timeline is to have us paid off in eight weeks.
This mindset of breaking goals into manageable chunks is perfect for kids, teens, and adults. It's important to me, though, to help the kids learn how to do this now rather than in their 40's like me.
I've created a set of printables for you to use with your kids (or yourself) to help them start setting S.M.A.R.T. goals.


DOWNLOAD YOUR PRINTABLES
This set of SMART Goals planning pages is only available to my readers. Click the button below, enter your information, and download your printables.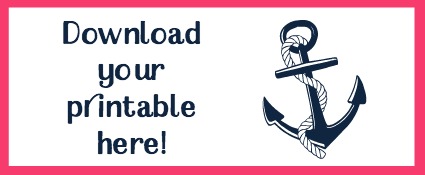 Related Posts