These printable hummingbird activities for kids are designed to help elementary students learn more about these amazing birds.
As the weather warms up, I'm enjoying all the sights and sounds that are happening right outside my window. For instance, there is a sweet little hummingbird that visits the bush right in front of my office window.
This little visitor inspired me to share some fun facts and activities so you can teach your kids all about these gorgeous little birds.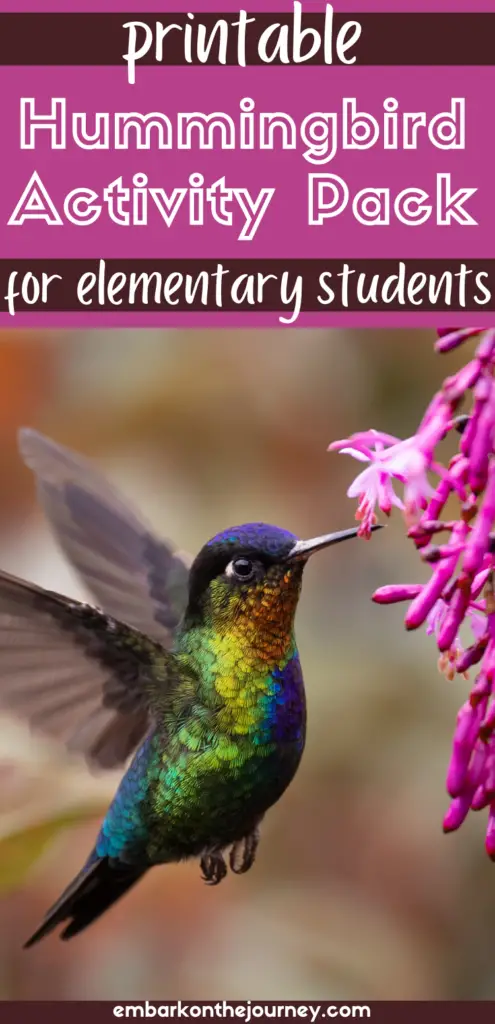 Hummingbird Activities for Kids
There are so many fun activities you can do as you teach your children about hummingbirds. Here are a few engaging ideas that will help you teach your kids about hummingbirds, their life cycle and anatomy, where they live, and more.
hummingbird videos for kids
I love to incorporate movies and videos into our unit studies whenever possible. They're perfect for sick days or rainy days. Here are a few ideas for kids:
• First Flight: A Mother Hummingbird's Story
books about hummingbirds
I love to include a wide variety of books in my lessons. I use some for read-alouds and save others for independent reading (when appropriate).
Below, I'm sharing a few of my favorite nonfiction books about hummingbirds. I find they're perfect for introducing the animal, increasing vocabulary, and illustrating important information.
• About Hummingbirds: A Guide for Children
• Tiny Bird: A Hummingbird's Amazing Journey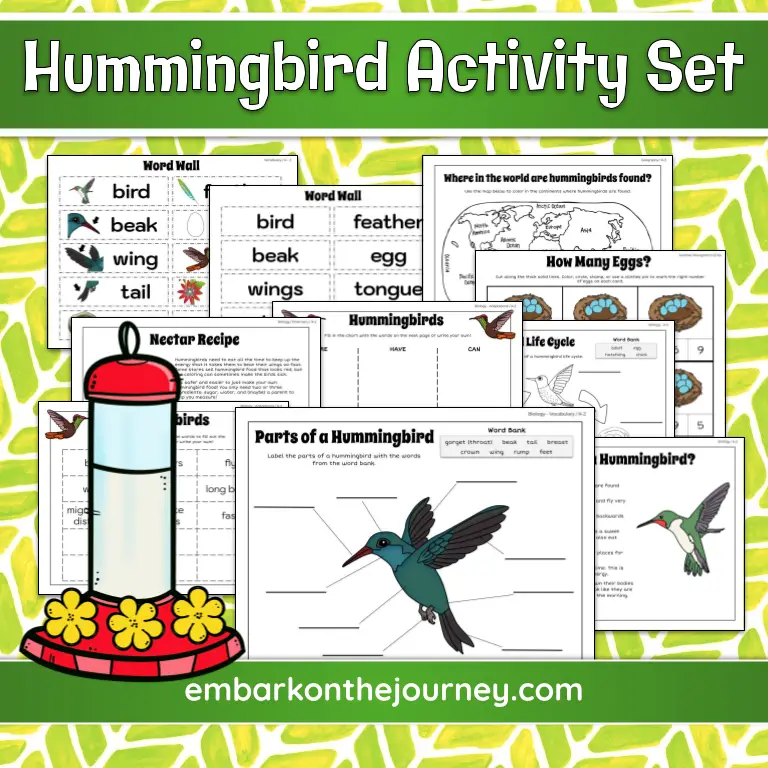 hummingbird activities
Young learners love hands-on activities, and they help little ones engage with the topic at hand. When studying hummingbirds, you can add one or more of these activities to your to-do list:
• Hang a hummingbird feeder near a window to attract birds for your kids to see up close.
• Kids can learn to draw a hummingbird with this video tutorial.
• Have your kids make this gorgeous hummingbird craft (which includes a free printable template).
Hummingbird Printables for kids
Print out this wonderful hummingbird themed printable for kids. It's full of engaging activities that are designed for kids ages 6-10.
WHAT'S INCLUDED?
• Hummingbird Facts – The "what is a hummingbird" page includes fun facts about hummingbirds. You can laminate this page and hang it in your learning space during this unit, if you'd like.
• Parts of a Hummingbird – Kids will use the words from the word bank to label the parts of a hummingbird.
• Hummingbird Life Cycle – Children will use the words from the word bank to label the life cycle of a hummingbird.
• Hummingbirds Are/Have/Can – Students will cut/paste (or write) words to fill out this 3-column worksheet about hummingbirds.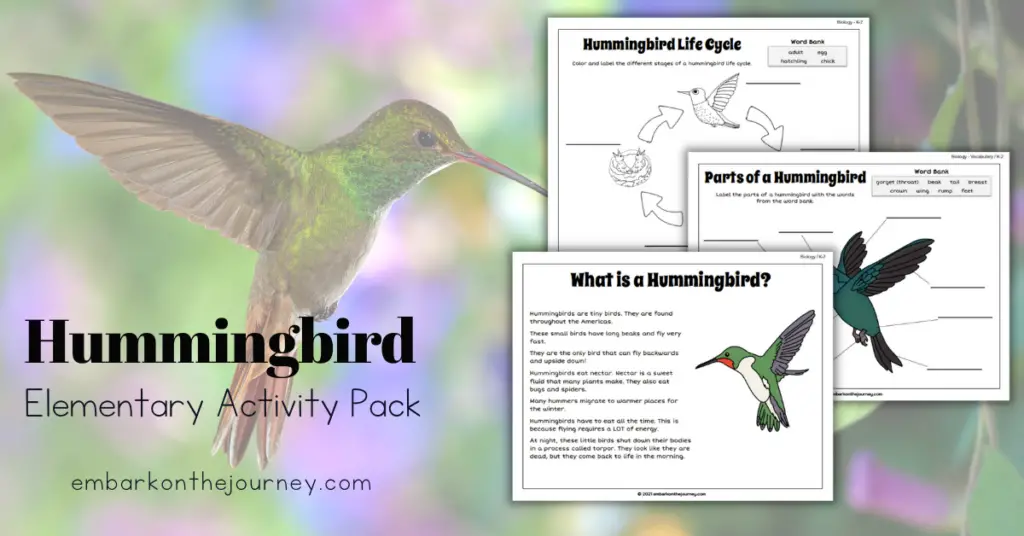 • Nectar Recipe – Kids will have a blast following the recipe to make their own hummingbird nectar to fill the hummingbird feeder.
• World Map – Read a few nonfiction books or do some online research to learn where hummingbirds live. Then, color the world map to show what you've learned.
• Word Wall – There are two pages of word wall words. One page includes pictures with the words for younger students. These pages are perfect for building vocabulary.
• How Many Eggs? – Young students will count the eggs in each next and mark the correct number.
Download Your Printables
This hummingbirds printable pack is only available to my readers. Click the button below, enter your information, and download your printables.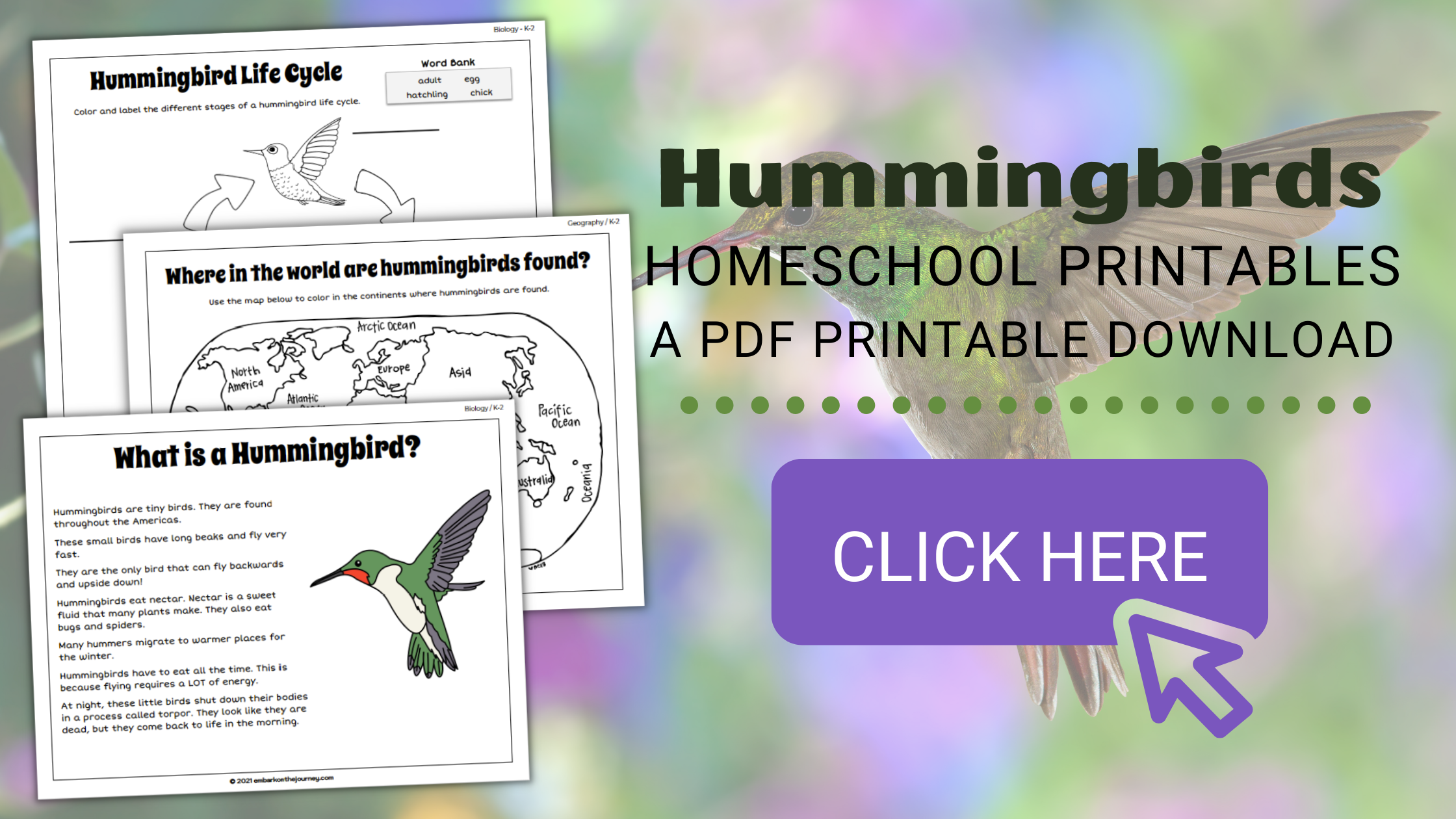 Related Posts