This budding scientist unit plan is perfect for homeschool students! You can use it with any of your science themes for young learners.
Add these free printables for kids to your science lesson plans. It includes a variety of activity page designed for use with elementary students.
Learn about famous scientists, try a few science experiments, and learn how to record your experiment findings.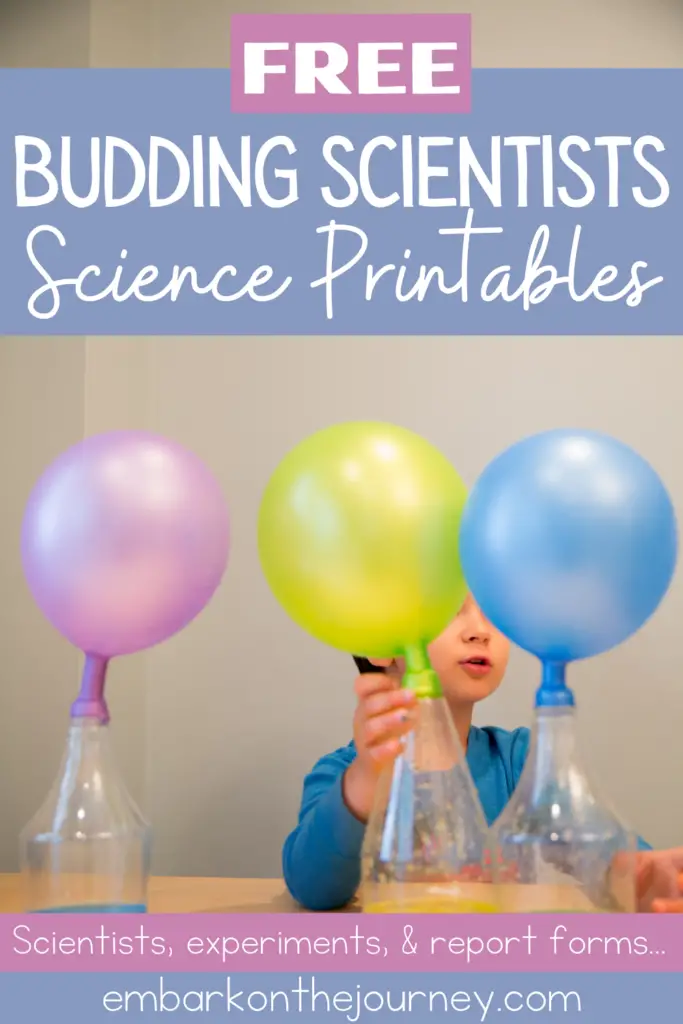 This six-page printable contains a variety of activities designed for elementary aged students. Many of them can be used with any science curriculum you use in your homeschool.
Budding Scientist Unit Plan
There are so many ways to teach science in your homeschool. You can use the traditional textbook method which I've done in my homeschool over the years.
You can use lapbooks and unit studies with your children, and I've done this over the years, as well.
I tend to use lapbooks and unit studies in the younger years. About the time my kids get close to middle school, we begin transitioning to textbooks.
With both methods, we try to do as many hands-on activities as possible. We've dissected animal organs, grown plants from seeds, explored mixtures and solutions, and more.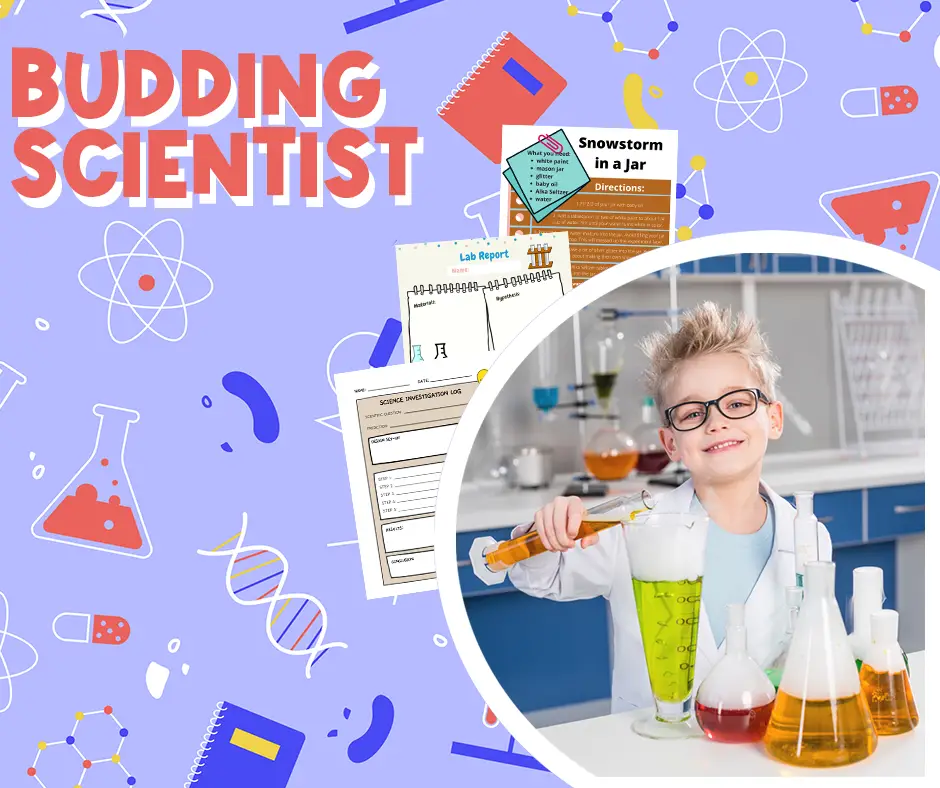 What's Included in this pack?
This six page science printable includes everything you need to spark the interest of your budding scientist.
• Famous Scientists. Scan the QR code to explore a huge list of the most popular scientists of all times. The list includes a brief summary of each scientist's accomplishments, and then kids can click through to read even more about the people who pique their interest.
• Scientist Report. The scientist report form can be used to research any scientist. On the graphic organizer, kids will record information about their scientist's early life, awards won, contributions to science, and more. If you'd like, you can have kids use this organizer as the start of a scientist report.
• Experiment. Follow the instructions (and video tutorial) to complete a Snowstorm in a Jar experiment. There is also a link to make a Rainbow in a Jar if your kids are interested.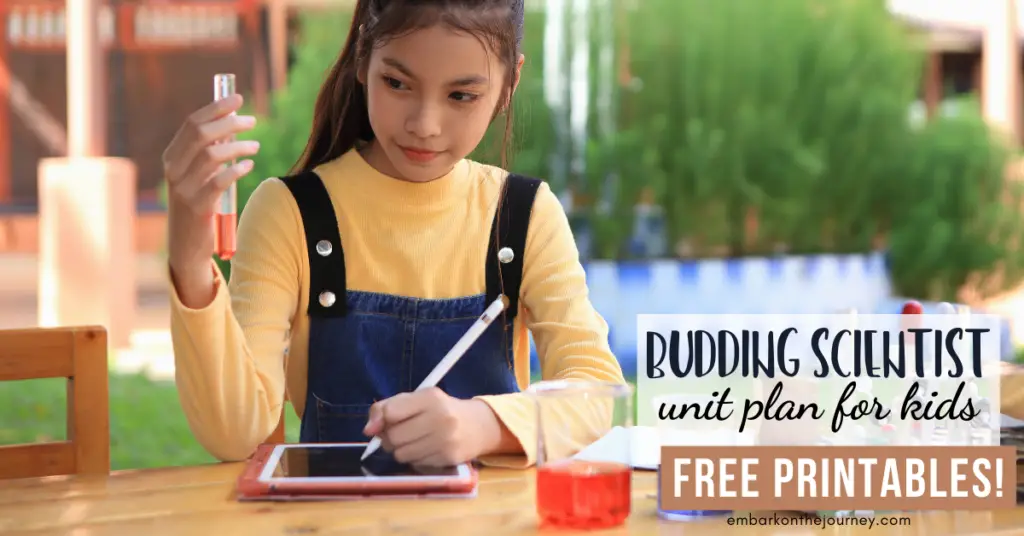 • Lab Reports. This pack includes two lab report forms. On these worksheets, students will record the materials used in the experiment, their hypothesis, methodology, and conclusions. These pages can be used with the experiments shared in the science printable, or it can be used with your chosen science curriculum.
• Experiments List. This page features a list of popular science experiments your kids can do at home. Again, you can use the lab reports above with any of these experiments.
Science Books for Kids
Fill your book basket with a great collection of science experiment books. Most of these books can be found at your local library or used bookstore.
If you have a hard time finding them, you can order them through my Amazon affiliate links by clicking the images below.
• Everything Kids' Science Experiments Book – With The Everything Kids' Science Experiments Book, all you need to do is gather a few household items and you can recreate dozens of mind-blowing, kid-tested science experiments.
• Awesome Science Experiments for Kids – With awesome projects like a Fizzy Rocket, Magnet-Powered Car, and Pencil Sundial, kids will have a blast learning to build, design, and think critically―while getting inspired to interact with the world around them and make their own discoveries.
• Awesome Kitchen Science Experiments for Kids – An age-appropriate introduction to the scientific method empowers kids to form hypotheses and test their theories. The experiments are rated for difficulty and potential mess, so adults know how much supervision is required. Easy-to-follow instructions ensure educational―and edible!―results.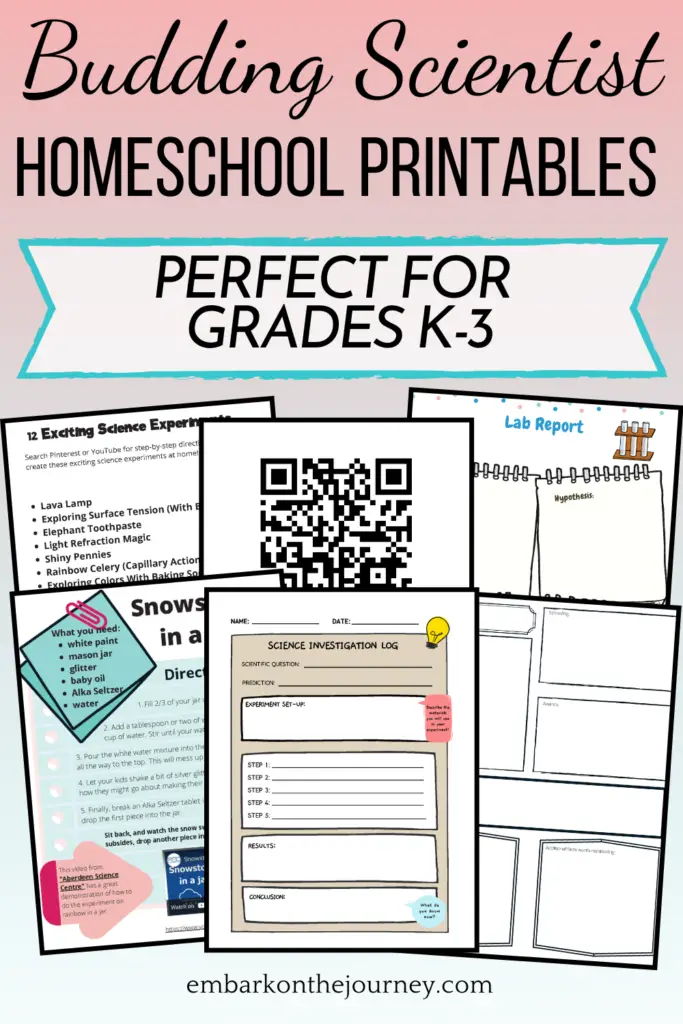 Teaching Resources
• Add some STEM to your science lessons with a subscription to Groovy Lab in a Box. These kits blend scientific inquiry and engineering design in one STEM box delivered right to your front door.
• Crafty kids will enjoy a subscription to Green Kids Crafts with combines science and art for kids age 2-10!
Download Your Printables
This Budding Scientist printable pack is only available to my readers. Click the button below, enter your information, and download your printables.