You don't have to spend a ton of money on a costume for your kids this Halloween! Try one of these homemade Halloween costume ideas!
Halloween will be here before you know it, and I bet your kids have already begun thinking about what they want to be this year.
Keep reading to discover more than twenty homemade Halloween costumes your kids will love!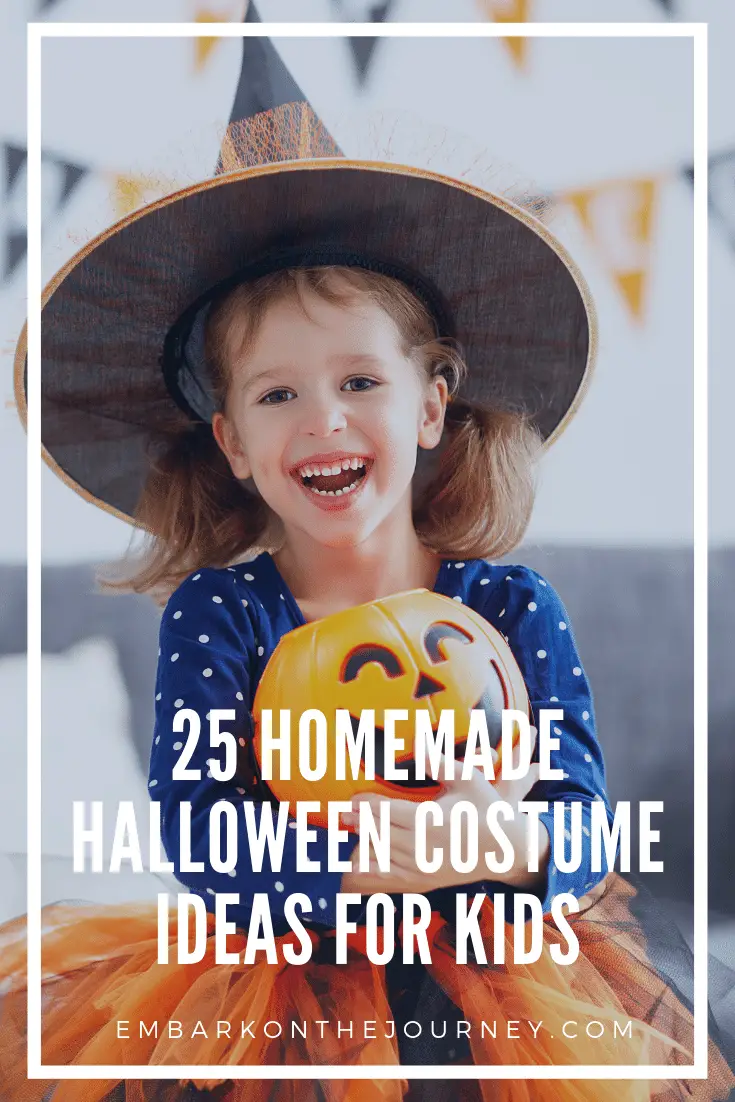 Kids will love going through their closet (or a sibling's) to find items that can work together to make a unique homemade Halloween costume.
Homemade costumes don't have to look cheap and homemade. But, they can be as simple or as intricate as you'd like them to be.
Homemade Halloween Costume Ideas
In years past, I've made my daughter a nerd costume using her brother's button-down shirt and a pair of suspenders and plastic glasses from the party store.
She's been Dorothy (here's a simple Dorothy costume pattern you could use), a witch with a homemade tulle tutu, and a cat with store-bought ears.
Here are some more ideas for homemade Halloween costumes for kids!
With a cardigan, construction paper, and some paint, you and your kiddos can make a great book-inspired Pete the Cat costume. The Joy of Sharing
If you have some basic machine-sewing skills, you can make this sparkly dragon with wings costume. SWoodson Says
Follow this simple tutorial to upcycle some cardboard boxes into a DIY airplane costume for toddlers. Penlights to Pacifiers
Your little ones will love these simple super hero masks! You'll love that they're no-sew and come with a free template! The Craft Train
Recycle some empty cardboard egg cartons this Halloween. Turn them into ears and a nose for a simple egg carton black cat. The Craft Train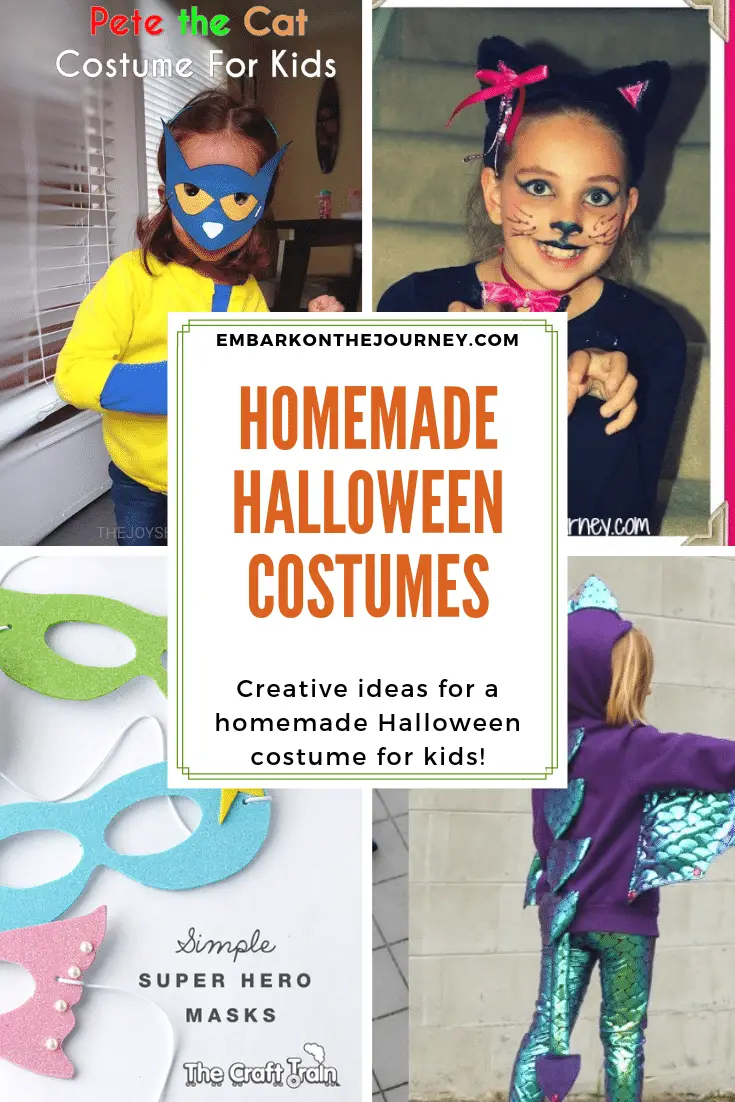 Did your kids fall in love with the Trolls movie like mine did? If so, they'll love this simple troll headband tutorial. Simplify Create Inspire
Do you need a quick bat costume before Halloween? If so, these bat wings made from an umbrella are the perfect accessory! Mother Natured
If you can't sew, don't worry! You can still make this cute no-sew wizard costume for your little one. Daisies and Pies
Your little ones will shine in this simple (and oh so cute) homemade firefly costume. Kenarry
While this site isn't written in English, it's pretty easy to figure out how to make this Jelly Belly Jellybeans costume that even your teens will love! Ideas Interior
The old lady/old man costume is a classic and always looks so adorable on little kids. Coolest Homemade Costumes
Halloween Books for Kids
Fill your book basket with a great collection of Halloween books. Most of these books can be found at your local library or used bookstore.
If you have a hard time finding them, you can order them through my Amazon affiliate links by clicking the images below.
The Berenstain Bears and the Spooky Old Tree – Three brave little bears explore the inside of a mysterious old tree and go into, up, through, over, down, and out.
Mercy Watson: Princess in Disguise – When the Watsons decide to zip their porcine wonder into a formfitting princess dress for Halloween — complete with tiara — they are certain that Mercy will be beautiful beyond compare…
Ick and Crud: Happy Halloween – It's Halloween, the day for spooky ghosts and scary cats! Check out the action as Bob tricks the boys for a Halloween treat.
Halloween ABC – Little ones will enjoy this colorful book about a bunch of trick-ortreaters from A to Z (an angel, a ballerina, a cowboy, and so on) and their fun, "spooky" adventures around the neighborhood!
I Spy: A Scary Monster – All-new, easy-to-read riddles are paired with fun, spooky photographs to create an I Spy reader that is perfect for Halloween!
Nate the Great and the Halloween Hunt – It is Halloween night, and all the kids are dressed up to go trick-or-treating. But Nate's friend Rosamond needs his help. Her cat Little Hex is missing. Is he hiding, or is he lost? Nate and his trusty dog, Sludge, are on the case!
Round Out Your Halloween Festivities with These Activities:
• Your kids will love building their fine motor muscles as they lace up this super fun Frankenstein paper plate craft! Perfect for your Halloween crafting.
• Halloween crafts are great, and this preschool mummy craft is no exception! Kids can build fine motor muscles as they wrap their cute mummies.
• Have a Halloween class party coming up, or will you have a Halloween party at home? You need these DIY Halloween treat bags with a free printable template!
Related Posts
• 50 Things to Do with Leftover Halloween Candy