While our temperatures this week are unseasonably warm, it won't be long before it's time to break out the winter gear. We've already brought the coats out of storage. I just bought Emma a My Little Pony hat and glove set
. Now, I have to hunt for new winter boots since Emma has grown into (and claimed) mine.
If your little ones are gearing up for the winter weather, you'll love this list of books all about hats. Fill their book basket, then snuggle up in front of the fireplace and read a new story or a beloved favorite.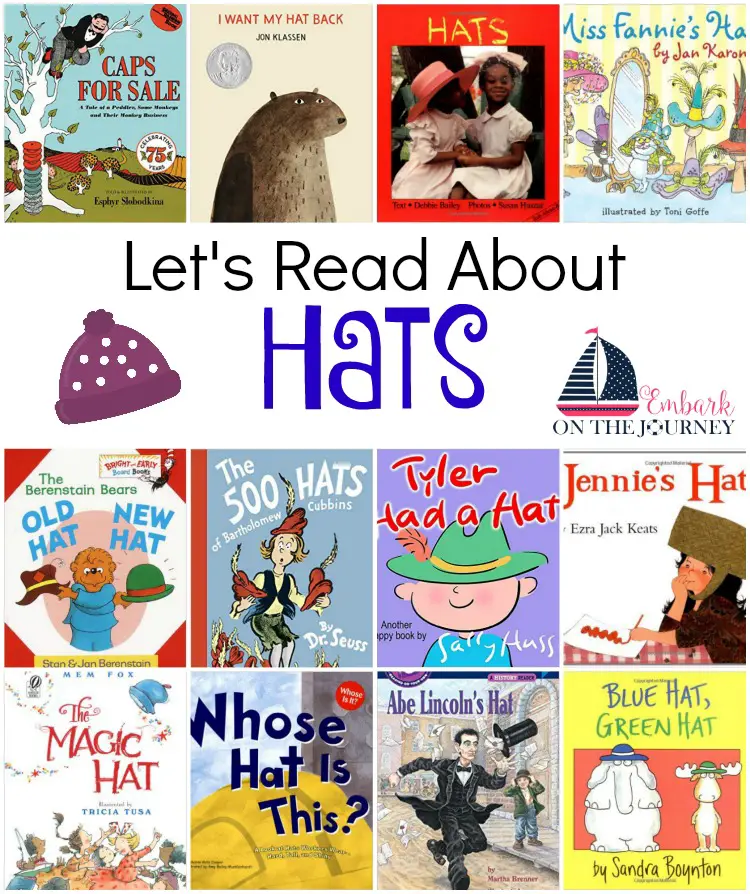 Books About Hats
Hats, Gloves, and Hot Cocoa with Love – Targeting readers from Birth through first grade, the book evokes all of the sights, sounds, smells and feelings of a New England Winter, and is designed to delight and challenge early readers with appropriate compound words and compelling visual imagery.
Old Hat New Hat – Brother Bear explores the concepts of size and shape as he shops for a new hat. He tries on frilly hats and silly hats, bumpy hats and lumpy hats, until he finds the most perfect hat of all–hisown!
Caps for Sale – This story about a peddler and a band of mischievous monkeys is filled with warmth, humor, and simplicity and teaches children about problem and resolution. Children will delight in following the peddler's efforts to outwit the monkeys and will ask to read it again and again.Caps for Sale is an excellent easy-to-read book that includes repetition, patterns, and colors, perfect for early readers.
The farmer had a hat, an old brown hat.
Oh, how her liked that old brown hat!
But then the wind came, and blew the hat away. And as fast as the farmer ran, the wind raced even faster. So the farmer went looking. Neither squirrel, nor Mouse, nor Duck, nor any of the other animals has seen the hat–though they had seen some pretty strange things. Would the farmer ever find his favorite hat?
Jennie's Hat – Jennie's favorite aunt is sending her a new hat, and Jennie is sure it will be beautiful. But when the box arrives, the hat inside is very plain. She had imagined a wonderful hat with big colorful flowers and even tries to make her own hat from a straw basket! Jennie is almost ready to give up on her dream when she receives a fanciful surprise from some very special friends.
Tyler Had a Hat – Yes, Tyler had a hat, but so did his sister Genevieve have a hat, and also a cat had a hat.The problem was that none could see because of how they wore their hats. It took a rat to solve the problem and lift their hats, which in turn lifted their point of view and then their spirits.Seeing is believing, they all learned. A delightfully silly tale with a very useful message – See and think for yourself!
Miss Fannie's Hat – Ninety-nine year old Miss Fannie has lots of hats, and she loves them all. But her favorite is the pink straw hat with the silk roses. That's the one Miss Fannie has worn on Easter Sunday for the past thirty-five years. When Miss Fannie's preacher asks her to donate one of her precious hats to the church auction, choosing which one to part with is no small task.
The 500 Hats of Bartholomew Cubbins – This book tells of Bartholomew Cubbins (from Caldecott Honor winner Bartholomew and the Oobleck) and his unjust treatment at the hands of King Derwin. Each time Bartholomew attempts to obey the king's order to take off his hat, he finds there is another hat on his head. Soon it is Bartholomew's head that is in danger . . . of being chopped off!
The Cat in the Hat – Poor Dick and Sally. It's cold and wet and they're stuck in the house with nothing to do . . . until a giant cat in a hat shows up, transforming the dull day into a madcap adventure and almost wrecking the place in the process!
I Want My Hat Back – The bear's hat is gone, and he wants it back. Patiently and politely, he asks the animals he comes across, one by one, whether they have seen it. Each animal says no, some more elaborately than others. But just as the bear begins to despond, a deer comes by and asks a simple question that sparks the bear's memory and renews his search with a vengeance.
The Magic Hat – One fine day, from out of town–and without any warning at all–a magic hat appears in the sky. It tumbles and bounces through the air and makes magic wherever it lands. Everyone is delighted as, one by one, the townspeople are transformed into giant playful animals. And then a wizard arrives. . .
This Is Not My Hat – When a tiny fish shoots into view wearing a round blue topper (which happens to fit him perfectly), trouble could be following close behind. So it's a good thing that enormous fish won't wake up. And even if he does, it's not like he'll ever know what happened. . . .
Whose Hat is This?
 – Describes some of the different kinds of hats that people wear.
Hats – Young children describe sun hats, rain hats, bicycle helmets, party hats, and funny hats.
Abe Lincoln's Hat – Abraham Lincoln, one of our greatest presidents, started out in life as an absent-minded frontier lawyer. How did he nudge his memory? He stuck letters, court notes, contracts, and even his checkbook in his trademark top hat. When he took off his hat, it was all there!
Blue Hat, Green Hat – Three earnest animals and one misguided turkey learn colors and clothes in this Sandra Boynton classic.