This paper plate unicorn craft is absolutely adorable! Your kids will love creating this paper plate craft with just a few simple supplies! It's perfect anytime of year.
Arts and crafts are important for kids of all ages. They can express their creativity, build motor skills, and try new techniques. Paper plate crafts are fun, because you're likely to have the supplies you need on hand. This unicorn craft is no exception!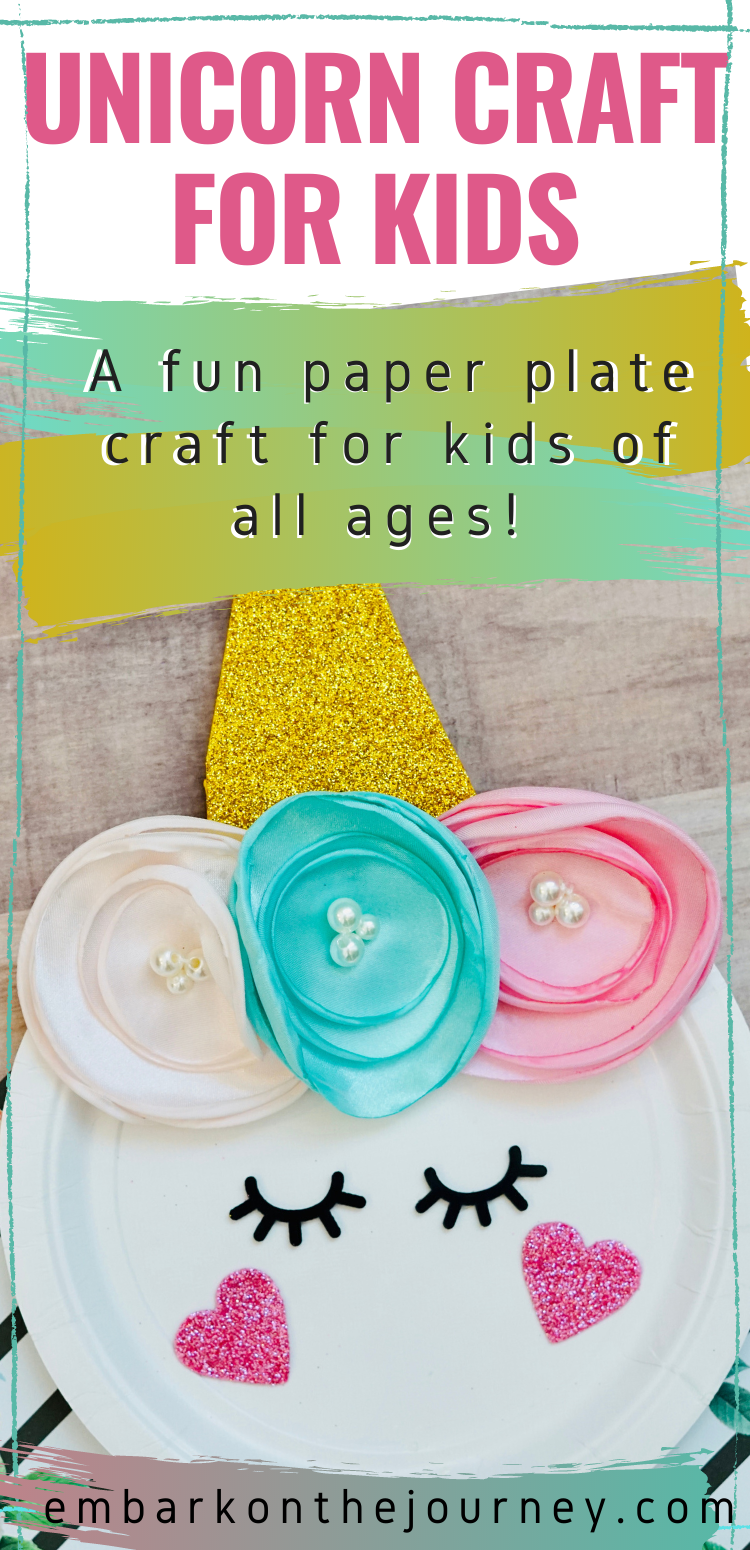 Paper Plate Unicorn Craft
This paper plate craft for kids will make a great addition to your fantasy and/or letter Uu activities. Or, your crafty kids can make this craft "just because".
What You'll Need
White Paper Plate
Glue Stick
Gold Glitter Paper
Unicorn Eye Stickers (Hobby Lobby)
Flowers
Heart Foam Hearts (Dollar Tree)
Scissors 
amazon ad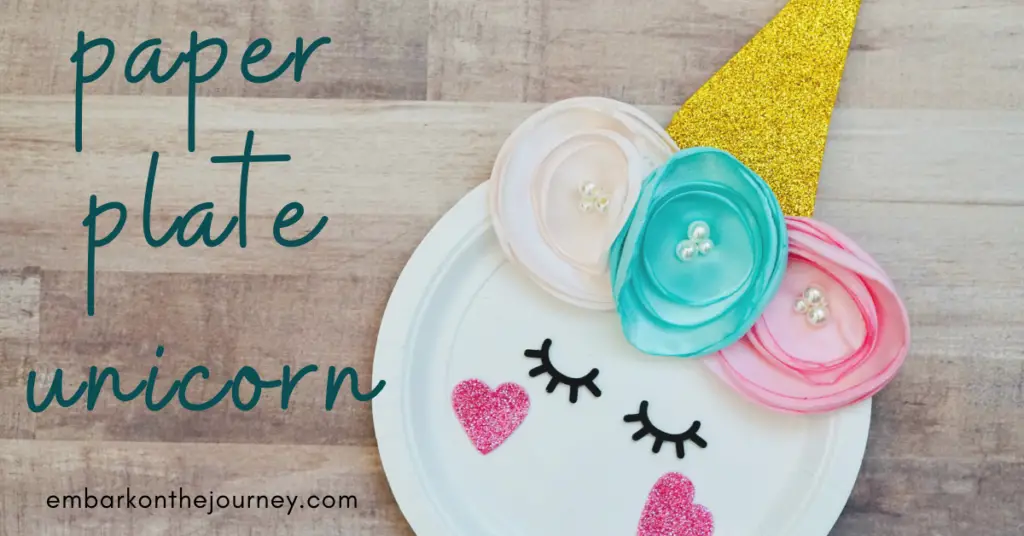 What You'll Do
Take your gold glitter paper, and cut out a unicorn horn. It can be just a simple triangle shape. Glue the horn onto the top of your paper plate.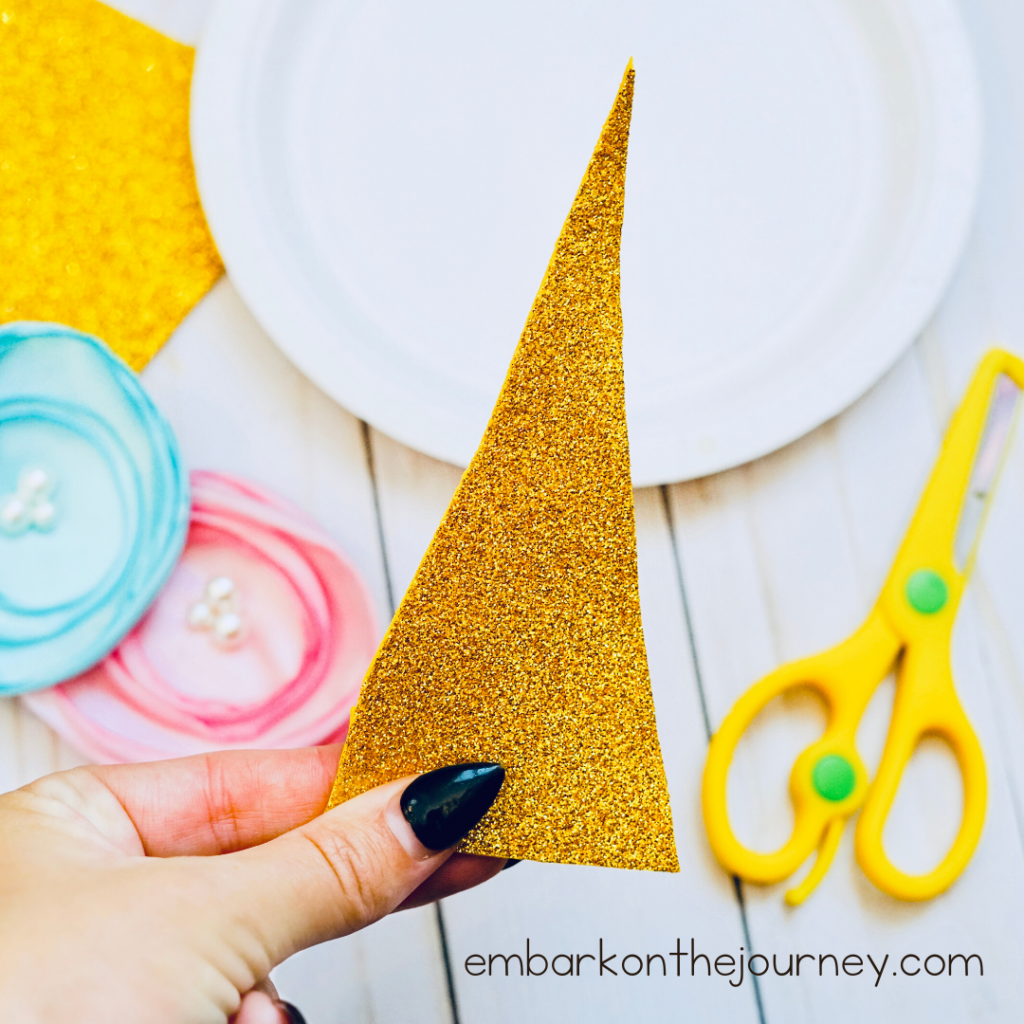 Next, glue the flowers to the paper plate. I like to glue these where the horn meets the plate to hide the seam.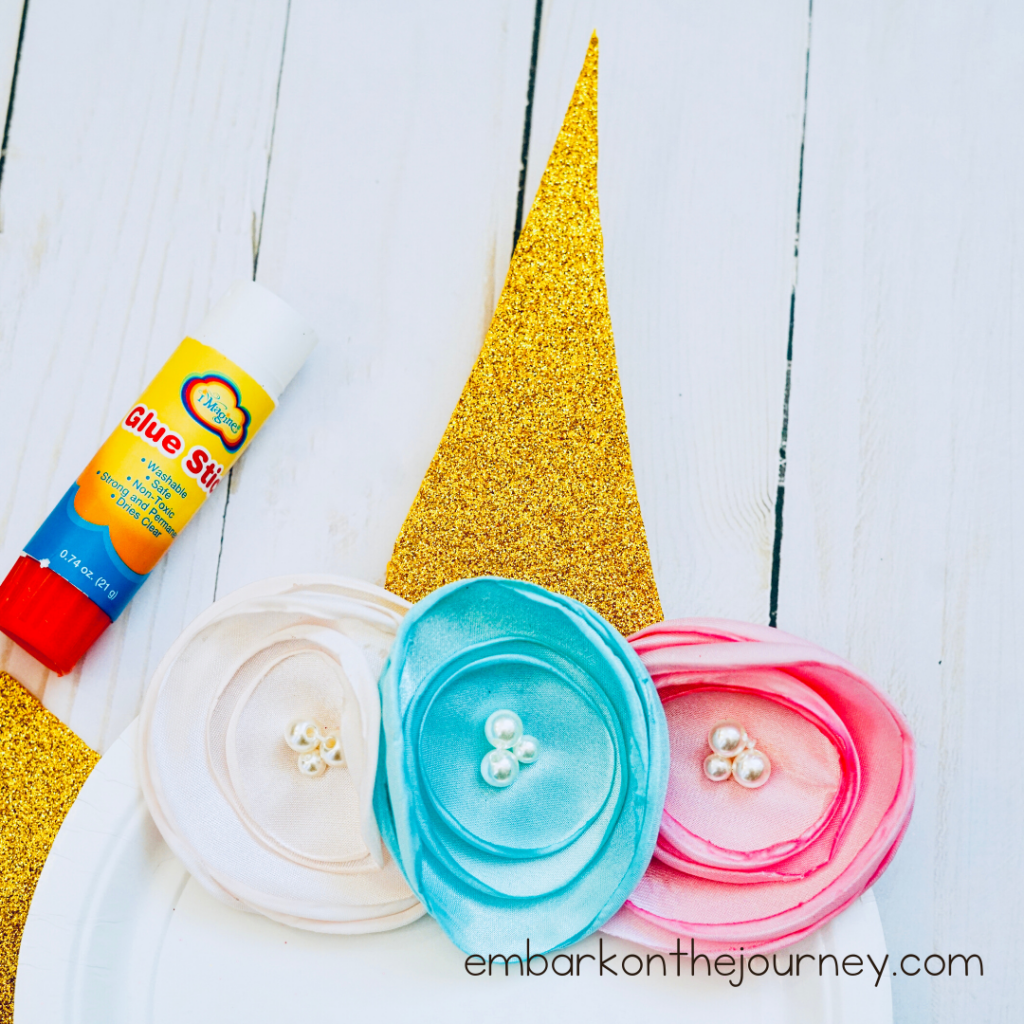 Now, stick on your unicorn eye stickers. You can also use a black sharpie and draw unicorn eyes if you don't have stickers on hand! 
Glue the pink foam hearts onto the paper plate to make unicorn cheeks. You can also draw these on and add a little glitter or glitter glue to make them sparkle.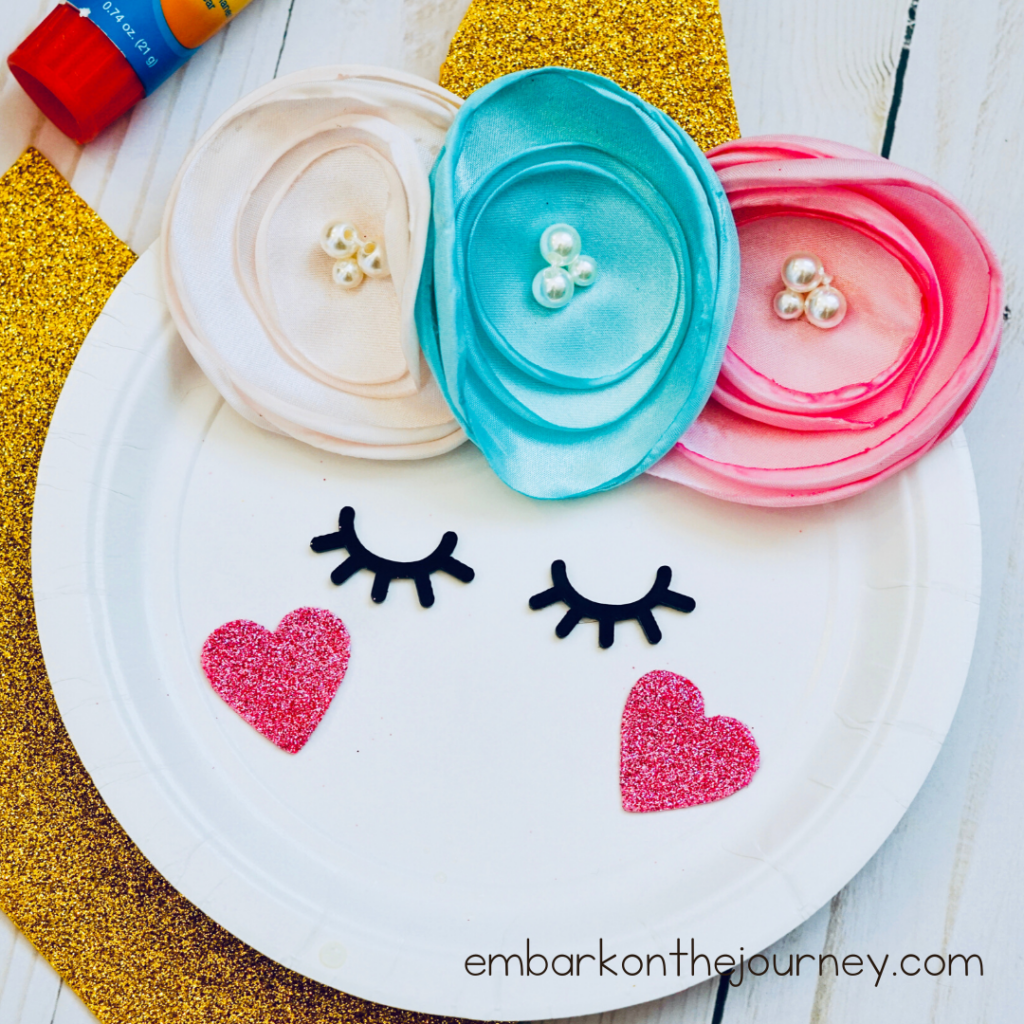 PICTURE BOOKS ABOUT UNICORNS
Fill your book basket with a great collection of books about unicorns. Most of these books can be found at your local library or used bookstore.
If you have a hard time finding them, you can order them through my Amazon affiliate links by clicking the images below.
Never Let a Unicorn Scribble! – This story is about a little girl who keeps hearing, "Never let a unicorn scribble!" But in her heart believes that people just don't understand how beautiful scribbling can be. She keeps trying to teach her unicorn to scribble but soon realizes this is more difficult then she anticipated.
Fancy Nancy and the Quest for the Unicorn – Nancy and Bree are unicorn experts. (That's a fancy way of saying they know almost everything about them.) When they decide to go on an epic quest to find a unicorn, Freddy and JoJo want to play too.
How to Catch a Unicorn – Try to catch one of the world's most elusive mythical creatures―the unicorn! Filled with zany traps and lots of rainbow unicorn fun, this is the unicorn book of the year!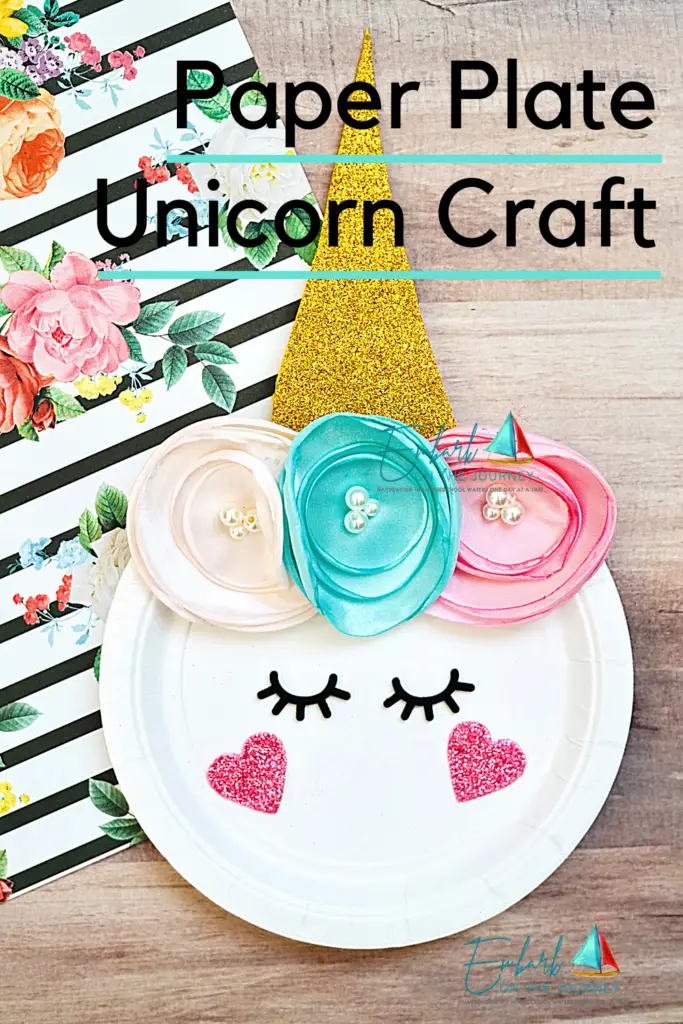 RESOURCES I LOVE
This Unicorn theme playdough set is the perfect gift for your little unicorn lover! It is full of magical and fun pieces that will keep the imagination working for hours!! Turn off the tv or tablet and let the fun begin with homemade nontoxic playdough and all the amazing pieces that come in the kit.
Rainbows and unicorns and butterflies oh my!! I believe in unicorns, do you? Your little unicorn lover will fall in love with this beautiful unicorn sensory bin. Included is two cups of rainbow rice plus all of the themed accessories you see here!
Related Posts