This simple beach themed handprint art project is a great way to display your favorite beach photos while preserving your child's handprint. You'll want to display this all summer long.  
Last week, my family and I headed to the beach. We met up with my baby sister and her family. It was my nephew's first trip to the beach, and I'm so glad I got to watch him experience the sand and the surf. We made so many great memories!
Of course, I had my camera on hand to capture it all.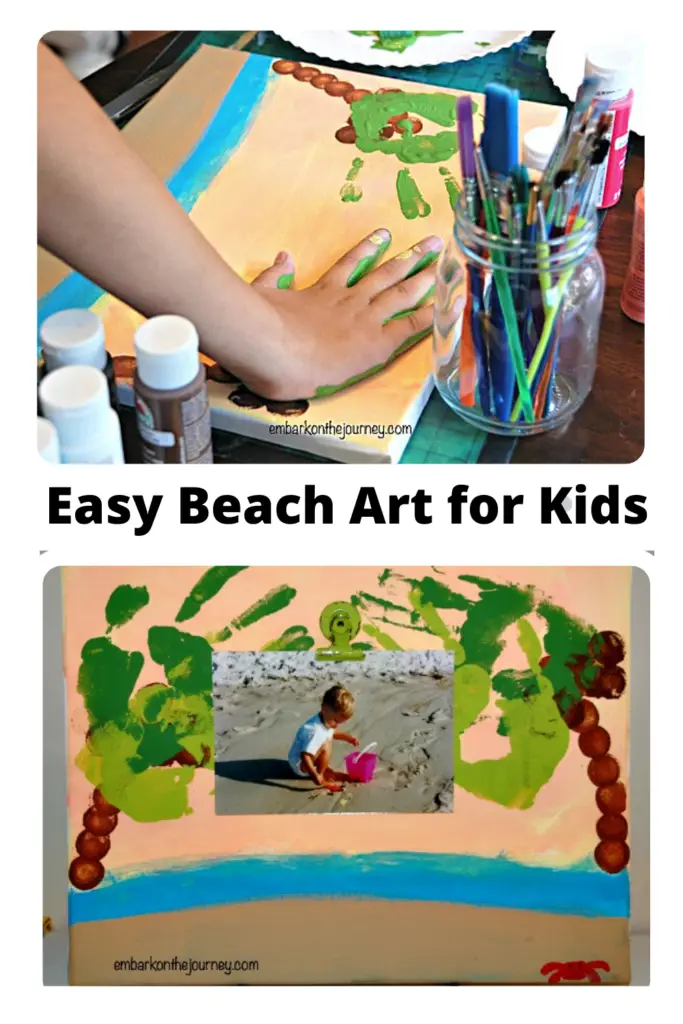 Beach Themed Handprint Art
My daughter wanted a way to showcase her favorite pictures from our beach trip so I started hunting for ideas. While I was scouring Pinterest, I saw an idea that I thought would be perfect!
I gathered the supplies and set her to work on this awesome beach-themed picture frame. It was so easy for her to make on her own.
I brought the supplies on vacation with us. My niece made one for herself, while Emma and I helped my nephew make one.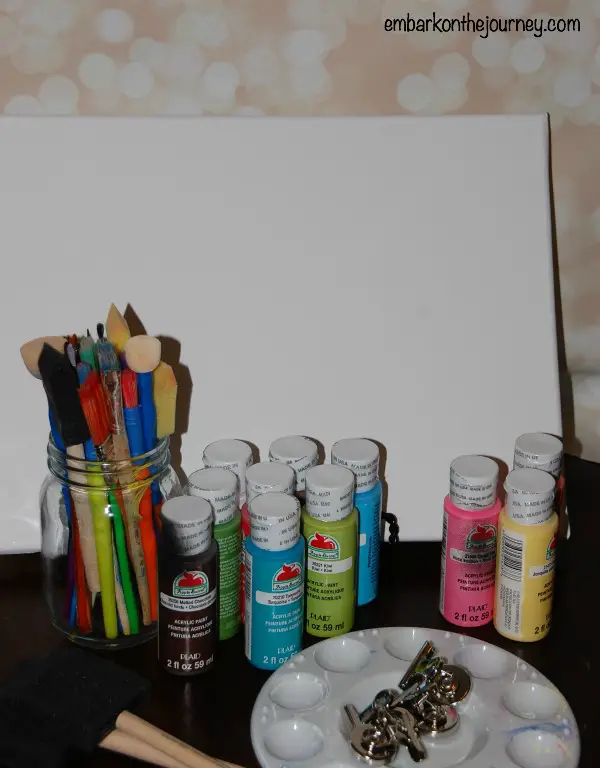 I purchased some canvases and clips at Walmart. We had the paints and brushes on hand.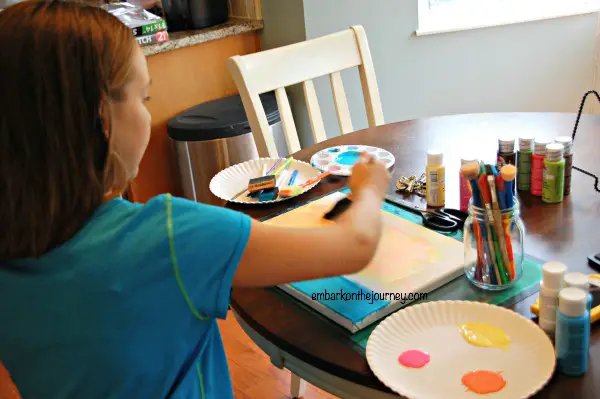 Em started by painting the sky and the ocean on the canvas. She chose to do a sunset on hers. While the paint is wet, you could also sprinkle glitter or salt on the wet paint to add texture.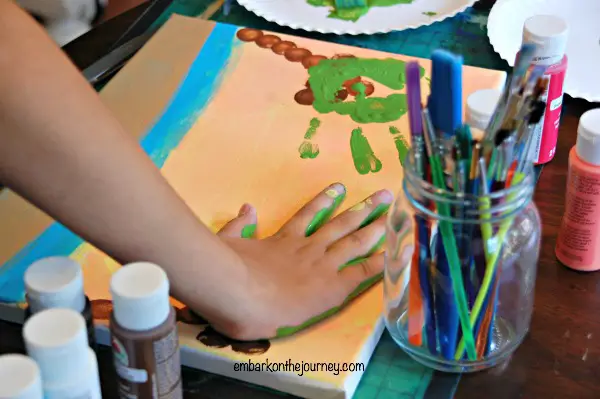 Once the background was dry, it was time to create the scene. Emma used a round sponge brush to create the tree trunks, but your children could also use their thumbs.
Emma finished off her project with some handprint palm fronds. Your kiddos can add fingerprint coconuts to their trees, as well, like my nephew did in the picture at the top.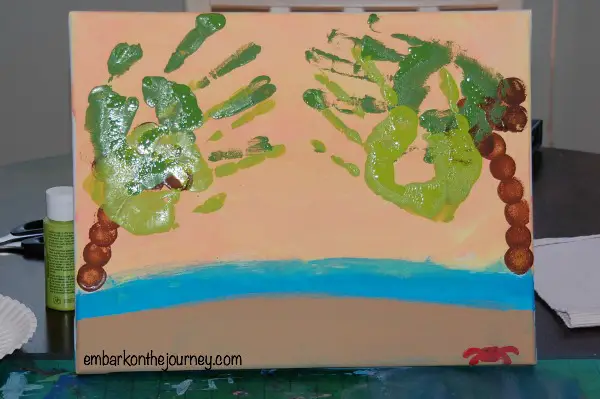 Remember, that Emma wanted to create a way to display her favorite beach pictures. So, I hot-glued a clip to the center of the canvas which will hold her favorite pictures from vacation.
Right now, Emma's is holding one of our favorite pictures from an old beach trip until I get new pictures printed.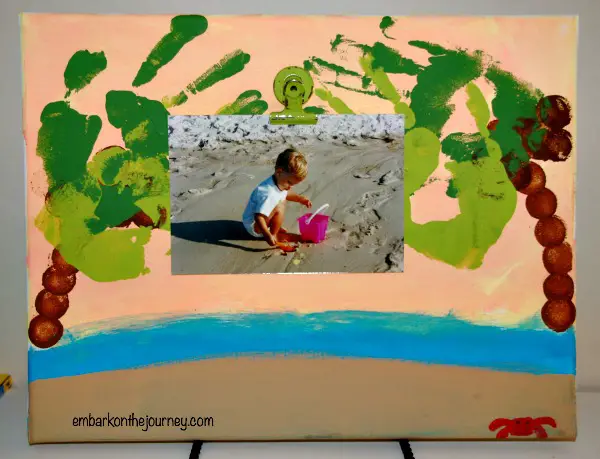 OCEAN BOOKS FOR PRESCHOOLERS
Fill your book basket with a great collection of
books about the ocean
. Most of these books can be found at your local library or used bookstore. If you have a hard time finding them, you can order them through my Amazon affiliate links by clicking the images below.
Commotion in the Ocean
– This delightful collection of poems includes fun rhymes about the creatures who live in and around the ocean. Children will delight in the snappy poems and colorful illustrations about whales, walruses, penguins, polar bears, stingrays, and sharks.
Over in the Ocean in a Coral Reef
– This coral reef is a marine nursery, teeming with mamas and babies! In the ageold way of kids and fish, children will count and clap to the rhythm of "Over in the Meadow" while puffer fish "puff," gruntfish "grunt" and seahorses "flutter." 
Ocean: A Peek Through Book
– Discover a world teeming with life beneath the waves, with graceful sea horses, darting tropical fish, electric eels, and humpback whales.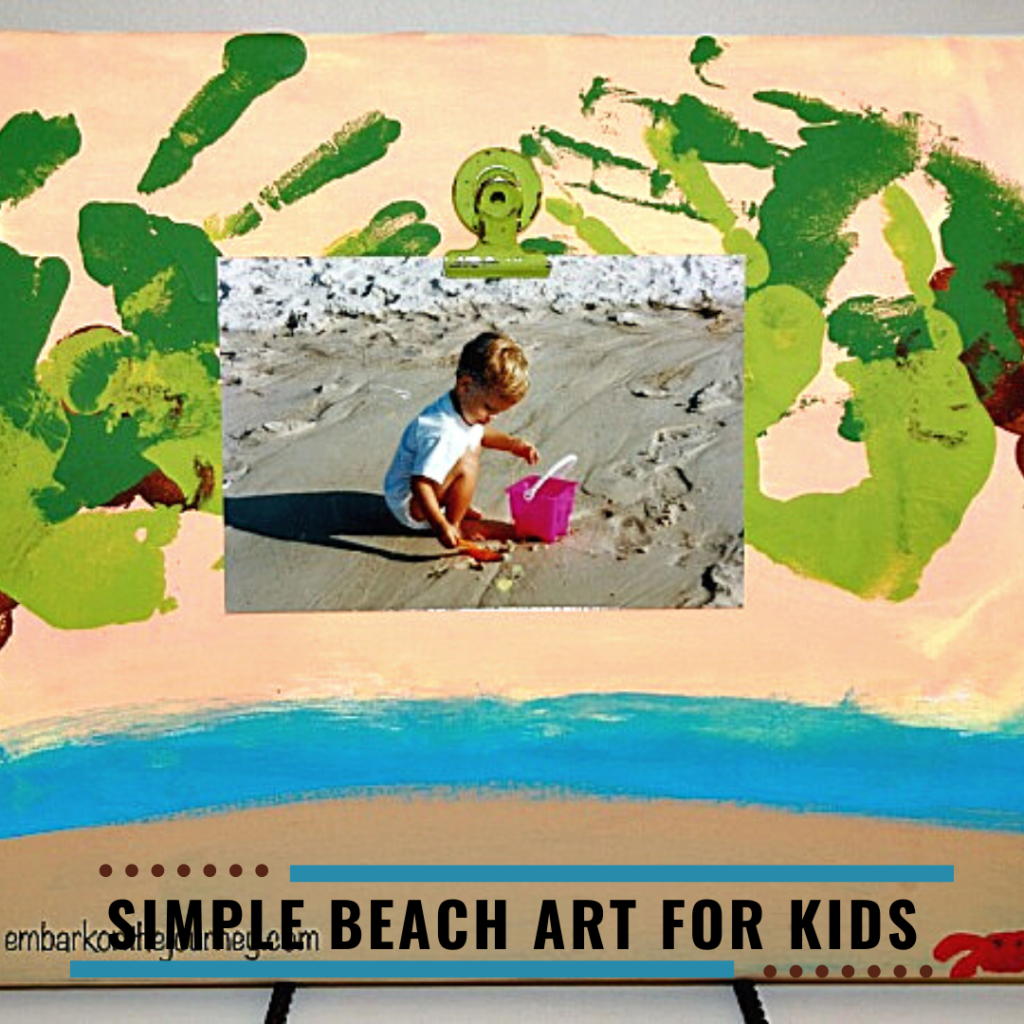 Round Out Your Unit with These Activities:
So, you need something adorable, but it also needs to provide engaging and meaningful play, right? This super cute
ocean felt board set
is a wonderful quiet toy for your little mermaids and mermen, keeping them creatively playing with an open-ended, screen-free, imagination-building toy (with all sorts of early learning secretly tucked inside).  Create your own underwater world with this mini version of our
Ocean play dough kit
! These make great party favors and are perfect for on the go!
More Crafts for Kids