Brand new for April 2020! A teen planner designed to help them plan their month, work toward their goals, and track their progress all month long!
It's almost April, and my daughter has been on me for days to create a new planner. She has ditched her Happy Planner for this version, and I am so excited! It's not often my 13 year old declares something I do to be "cool"!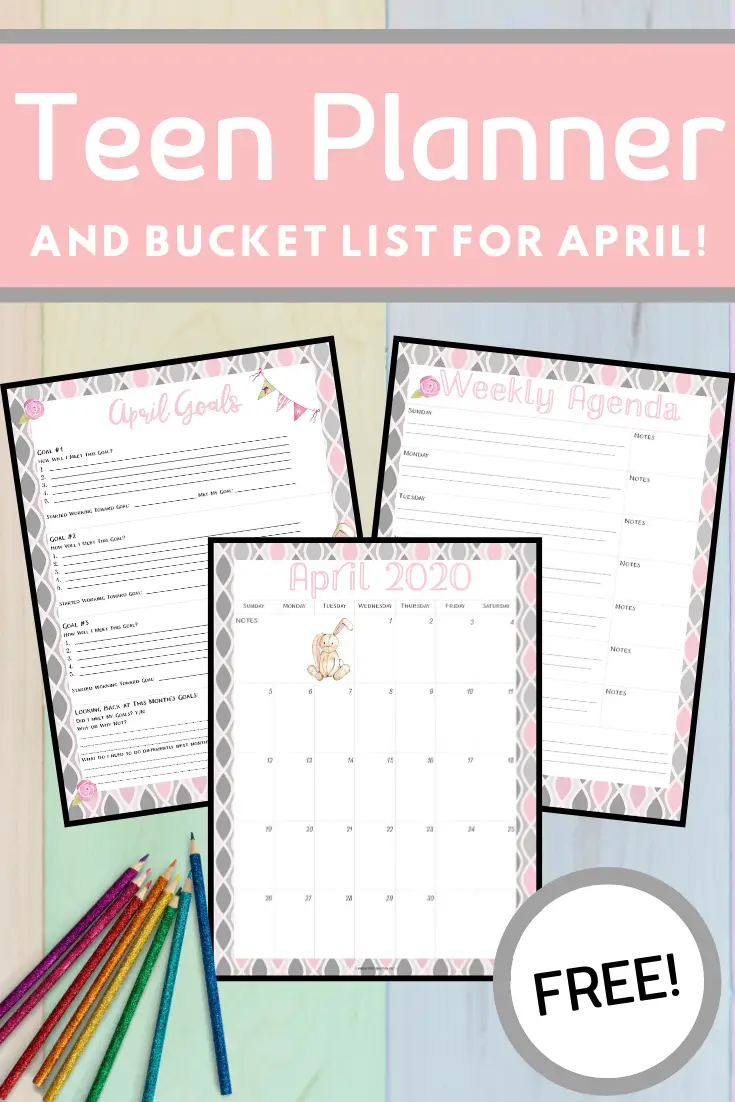 She is almost done filling out the journaling pages in her March planner, and she's ready to start setting goals for April. So, I'm back with a brand new personal planner for teens just in time to kick off a brand new month.
You can help your teens reach their goals by encouraging them to plan. This personal planner is perfect for teens and tweens. It has a variety of pages designed to help them plan their whole month, work toward their goals, and track their progress all month long. 
Teen Planner April 2020
This month's design was inspired by the rising temperatures and the onset of spring. I'm ready to explore the newness of spring – flowers blooming, bunnies hopping through the yard, and the birds chirping outside my window.
What's inside?
The April teen planner follows the same format as the previous months. Inside you'll find:
The calendar page is designed for teens to record upcoming events, birthdays, and other fun activities that are coming up this month.
The weekly agenda can be used to record appointments and project deadlines. Print out one copy to laminate and use all month long. Or, print one out for each week.
The 'this month' page is perfect for teens to record what they're reading, what they're watching, and where they're going this month.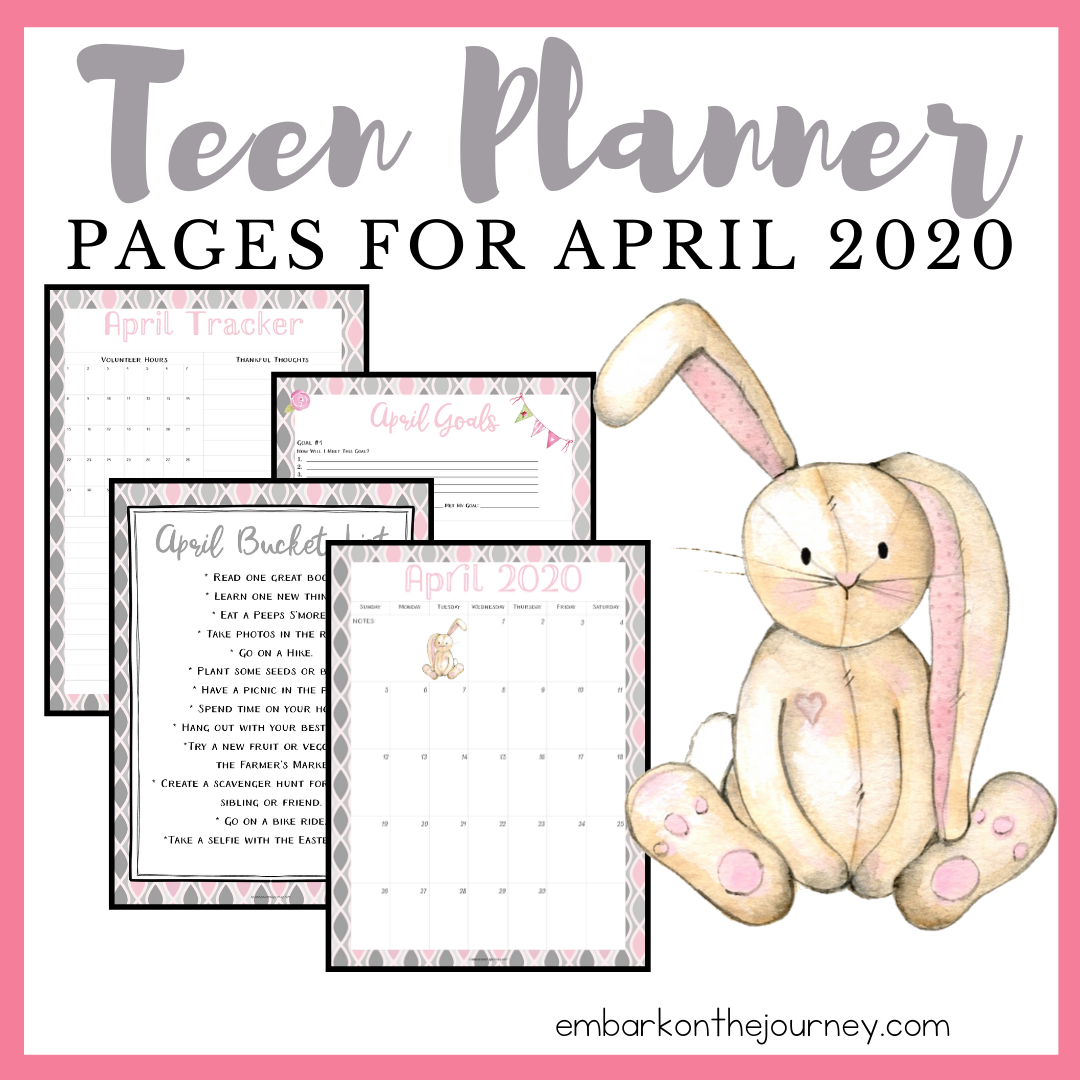 The goal tracker is designed to help teens break big goals into manageable chunks. There's space for them to track three goals for the month. At the end of the month, they can reflect on what worked and what didn't work before setting goals for the following month.
On the monthly tracker, teens will log their counter hours, exercise, books they've read, and things they're thankful for.
This month's bucket list is perfect for the beginning of spring!
New this month, at a reader's request, is a lined to-do list.
The journaling pages in the April personal planner for teens contain the following:
• Currently: where teens can record their thoughts "in the moment"
• The 'perfect' day…: What do your teens consider a perfect day? Or maybe they want to describe a day they thought was perfect…
• I love spring because…: What is it they love about spring?
• Mornings…: Love them? Hate them? Describe your thoughts and feelings on this page!
• Doodles and Random Thoughts: For those thoughts that don't "fit" anywhere else…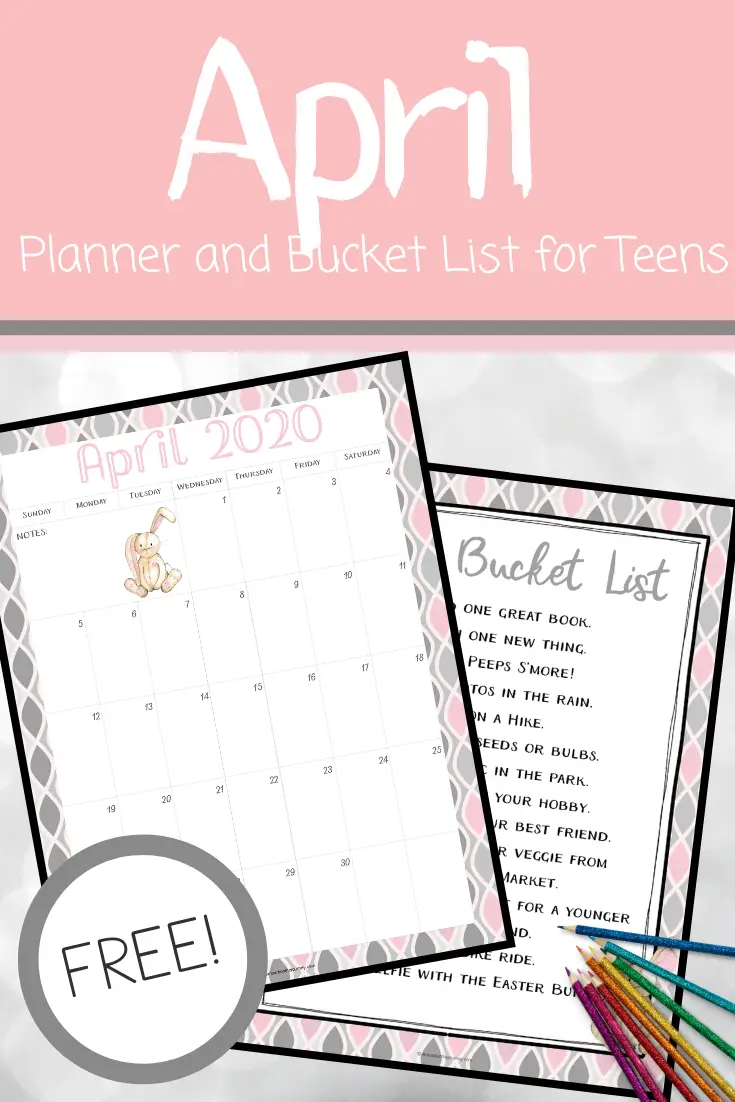 Books to help teens plan
Fill your book basket with a great collection of books to help teens plan. Most of these books can be found at your local library or used bookstore.
If you have a hard time finding them, you can order them through my Amazon affiliate links by clicking the images below.
Life Strategies for Teens – Whether you are a teen looking for a little help, or a parent or grandparent wanting to provide guidance, this book tackles the challenges of adolescence like no other.
What Color is Your Parachute? for Teens – No idea what you want to be? No worries! This fun, rewarding guide draws on the time-tested principles of the career classic What Color Is Your Parachute? to help you discover your passions, skills, and potential college majors and dream jobs. 
Teen's Guide to College & Career Planning – With valuable input from teens, parents, and well-known experts, the Teens' Guide to College & Career Planning knows how to talk to high school students about the important decisions for their plans after graduation.
Helpful planning tools for teens:
Get Your Free Teen Planner for April 2020!
The April Planner for Teens printable pack is only available to my readers. Click the button below, enter your information, and download your printables.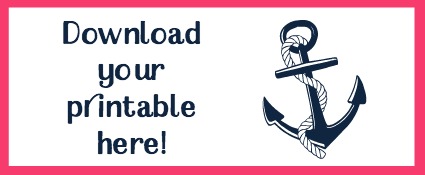 Related Posts