Fill your book basket with one or more of these engaging elephant picture books! Includes fiction and nonfiction selections.
Whether you're studying the zoo or animals in general, these books make the perfect addition to your homeschool elephant activities.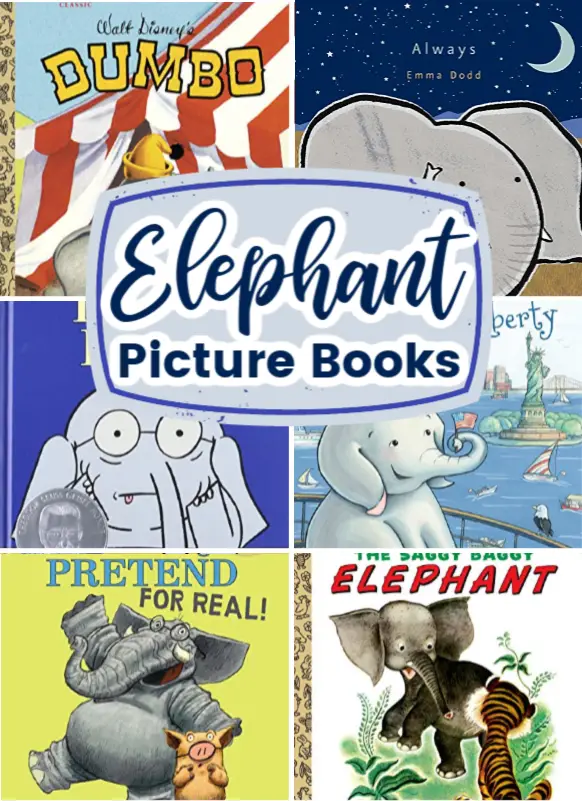 These books are full of bright, engaging pictures and easy-to-understand text that make them perfect for young learners. Be sure to add one or more of these books about elephants to your upcoming lessons.
Elephant Picture Books
Fill your book basket with elephant picture books. This list of books is a great place to start.
You can find them at your local library or used book store. Or, you can purchase them on Amazon by clicking the images and/or links below. Enjoy!
Strictly No Elephants – When the local Pet Club won't admit a boy's tiny pet elephant, he finds a solution—one that involves all kinds of unusual animals in this sweet and adorable picture book.
Waiting is Not Easy! – In Waiting Is Not Easy!, Piggie has a surprise for Gerald, but he is going to have to wait for it. And Wait. And wait some more…
Ellie – The zoo is closing! Ellie and her friends want to save their home, but Ellie's just a baby elephant, and she doesn't know what she can do to help. While the other animals are busy working, Ellie finds a brush and some paints, and gives the zoo a big splash of color! Will her bright new talent be enough to keep the zoo's gates open for good?
Twenty-One Elephants and Still Standing – One man seized the opportunity to show people in Brooklyn, New York and the world that the Brooklyn Bridge was strong enough to hold even the heaviest of passengers. P. T. Barnum, creator of "The Greatest Show on Earth," would present a show too big for the Big Top and too wondrous to forget.
Five Minutes' Peace – All Mrs. Large wants is five minutes' peace from her energetic children, but chaos follows her all the way from the kitchen to the bath and back again.
Sweet Land of Liberty – Through an amazing afternoon at the library, Ellis travels through time and discovers the pivotal moments that have shaped our nation's unique history, including,
Dumbo – Everyone's favorite big-eared little elephant finds his way to the skies in this uplifting Little Golden Book. With artwork from the 1940s, allof the original charm and beauty of the Disney classic can be found in this vintage book.
A Sick Day for Amos McGee – Friends come in all sorts of shapes and sizes. In Amos McGee's case, all sorts of species, too! Every day he spends a little bit of time with each of his friends at the zoo, running races with the tortoise, keeping the shy penguin company, and even reading bedtime stories to the owl. But when Amos is too sick to make it to the zoo, his animal friends decide it's time they returned the favor.
Harold & Hog Pretend for Real! – Harold and Hog are best friends. But can Harold and Hog's friendship survive a game of pretending to be Elephant & Piggie?
Elmer – Elmer the elephant is bright-colored patchwork all over. No wonder the other elephants laugh at him! If he were ordinary elephant color, the others might stop laughing. That would make Elmer feel better, wouldn't it? David McKee's comical fable about everyone's favorite patchwork elephant teaches readers to be themselves and celebrates the power of laughter.
Always – There is always love between parent and child, which is the heartwarming message in an exquisite new title from Emma Dodd.
My Mom is There – It's not easy being small. Nothing is simple. Not speaking, sleeping or walking. Not counting, reading or swimming. Not even hopping, skipping, or jumping! But with mum close by there's no need to be scared, and anything is possible.
Welcome to the World – Welcome To The World is a delightful book celebrating the arrival of a new baby. The story follows a charming little elephant, on a colorful journey, discovering all the wonders the world has to offer. 
The Elephant Who Tried to Tiptoe – This fascinating bedtime story for ages 3 to 8 follows the adventures of Ellie the Elephant as she falls in and out of love with herself. This fantastic tale reminds children to be their true self and to love the body they have. 
The Saggy Baggy Elephant – After a parrot makes fun of Sooki's big ears, long nose, and wrinkled skin, the "saggy baggy" elephant isn't too sure of himself. But once he meets some beautiful creatures who look just like him, Sooki celebrates with a joyful "one-two-three-kick."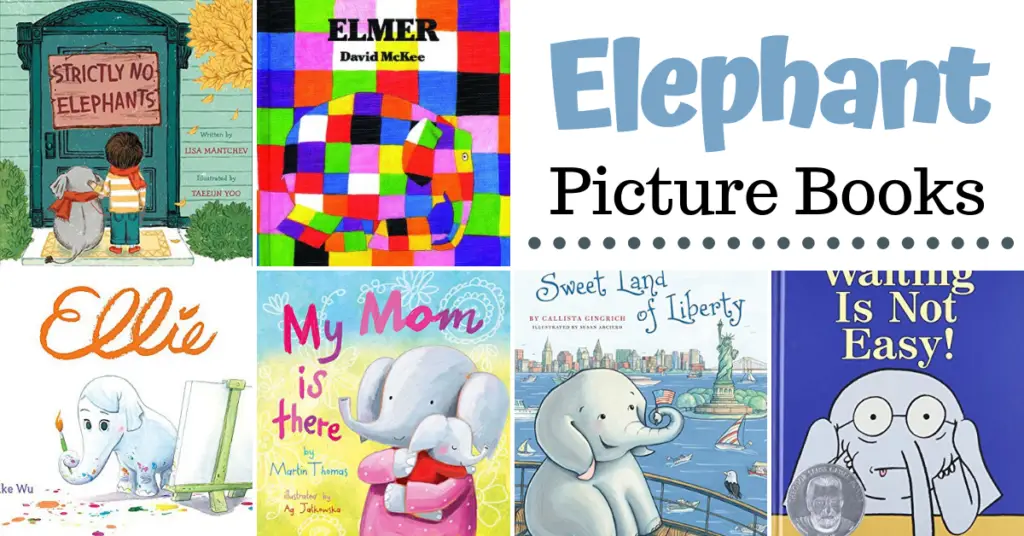 More Educational Elephant Resources
Do your preschoolers love animals? Do they roar like lions and jump around making monkey sounds? If so, they are going to love these free jungle animal printables! 
Related Posts