Keep kids busy this winter with one or more of these snowman activities for kids. Discover crafts, art projects, hands-on activities, printables, and more.
Winter is here in full in my area. We received a couple inches of snow last week as well as frigid temperatures. Schools were delayed one morning while the temps were below zero.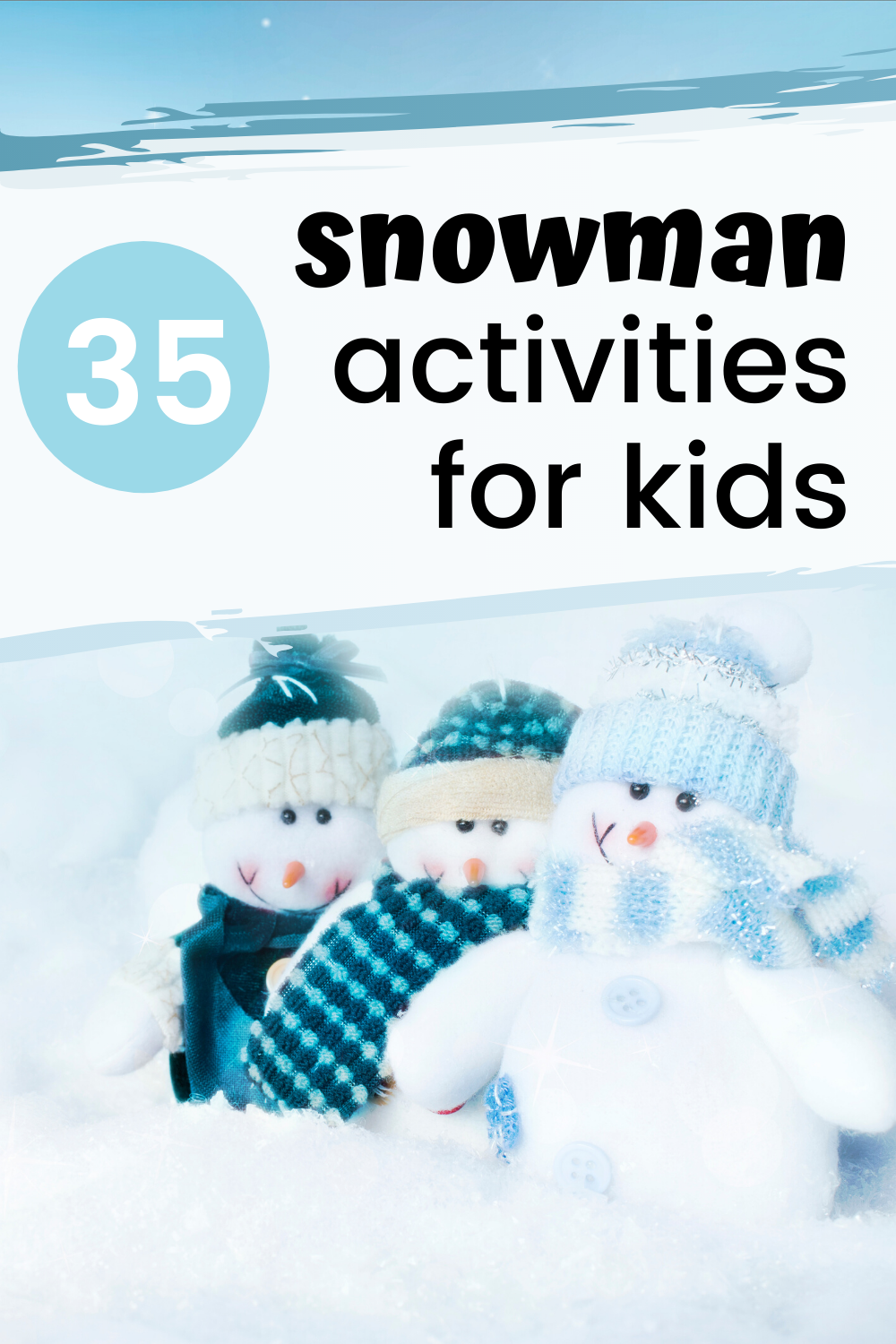 Snowman Activities for Kids
Snow days are great for having some indoor snowman fun. Make a snowman craft. Print out some snowman learning pages. Play a snowman game, or watch a snowman video. These activities will keep your little ones entertained indoors during these cold winter days.
Snowman Paper Crafts
This adorable Snowman Snowglobe Craft is a breeze to put together with construction paper and paper plates! No Time for Flashcards
You won't believe how easy it is to turn an ordinary pinecone into an adorable preschool snowman craft! Homeschool Preschool
Recycle old newspaper or printer paper with A Snowman That 'Shreds'. Such a cute, festive craft for kids. Baby Center
Fingerprint crafts are so much fun for little ones to make, and this Snowglobe Finger Print Craft is no exception. Crafty Morning
Add this fun S is for Snowman craft to your winter and/or Letter of the Week activities. Crafty Morning
Kids will have a blast gluing marshmallows onto paper to make this adorable Marshmallow Snowman. No Time for Flashcards
Save your empty cardboard tubes, and let your kids turn them into Paper Roll Snowmen. Supply Me
Preschool and kindergarten kiddos will practice writing their names as they make this Name Snowman craft. Fun-a-Day
This snowman paper plate craft is easy to make and absolutely adorable! Add this winter craft to your snowman activities for preschool. Homeschool Preschool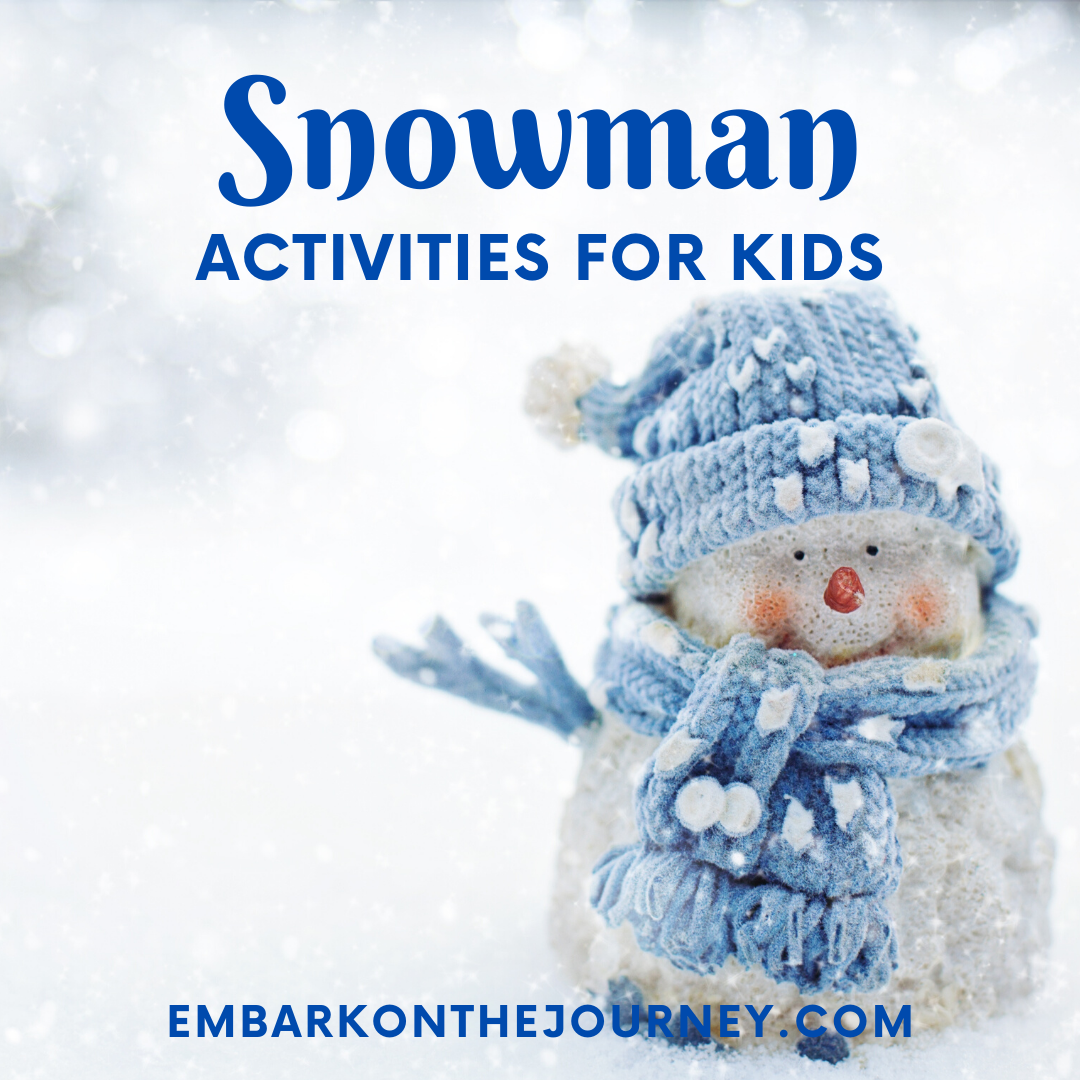 Snowman Art Projects
I love the idea of the 3D effect shown in this Aerial View Snowmen art project. I bet your kids will, too. Tiny Art Room
Mix up a batch of homemade paint so your kids can create some Shivery Snow Painted Snowmen. Growing a Jeweled Rose
Introduce your kids to pointillism – an art technique made up of dots – when you have them create a Pointillism Snowman. Meaningful Mama
Chop a potato in half, and use it to create fun snowmant potato prints. What a fun winter art project for kids! Growing a Jeweled Road
Turn your little one's footprint into a piece of art when you have them make Super Sweet Snowmen Feet. House by Hoff
Snowman Hands-On Activities
Set up an invitation to play with a fun snowman activity tray. Happy Hooligans
Turn small Mason jars or baby food jars into snowman luminaries. Then add battery-operated candles to the jar for a festive nightlight. CBC Parents
Mix up a batch of homemade dough, and your kids will have a snowman factory. Let them build snowmen indoors over and over again. Buggy and Buddy
With a bowl of water and some craft foam, your kids can build a Frosty snowman over and over again on a large window. Growing a Jeweled Rose
Turn white styrofoam cups into snowmen. Stack them up, and let your kids play a game of snowman slam! Growing a Jeweled Rose
Make a batch of snow dough. Kids can use it to build some DIY indoor snowmen. Build it up, knock it down, and build it up again. Modern Parents Messy Kids
Draw a snowman on paper, and grab some cotton balls. Let your kids play this fun snowman sight word game. The Imagination Tree
Snowman Printables
Kids can practice number recognition when they play this free roll a snowman game. The Tutu Teacher
This winter, preschoolers can practice sequencing with this set of "how to build a snowman" sequence card printables. Homeschool Preschool
This snowman preschool pack is jam-packed with activities that focus on early math and literacy skills. 123 Homeschool 4 Me
This snowman listening game (with free printable cards) is a fun twist on Simon Says. Pre-K Pages
Snowman pattern printables are a great way for preschool and kindergarten kids to work on AB, ABC, AAB, and ABB patterns this winter. Homeschool Preschool
BOOKS ABOUT SNOWMEN
Fill your book basket with a great collection of preschool snowmen books. Most of these books can be found at your local library or used bookstore.
If you have a hard time finding them, you can order them through my Amazon affiliate links by clicking the images below.
The Snowman – After nighttime falls and everyone is asleep in their beds, a group of fun-loving snowmen jump into action and have their own bit of fun while no one is around to see, in this interactive book filled with pop-ups, pull-tabs, and much more!
This Little Snowman – A fun, Christmas-themed twist on the classic nursery rhyme "This Little Piggy"!
Snowmen at Work – If you were a snowman, what job would you choose?
Round Out Your Unit with These Activities:
Do you wanna play Let's Build a Snowman Bingo? These printable PDFs contain everything you need to play Bingo. 
Winter has arrived, and with it comes dreams of building snowmen! Get kids excited about the winter season with a wonderful collection of snowman books for kids!
This Dress Your Own Snowman kit contains everything a well-dressed snowman needs: button eyes, a carrot nose, pieces for a mouth, a knit cap and pipe, and more.
Related Posts