This March, fill your book basket with a few good St Patricks Day picture books for kids of all ages! Find a few good fiction and nonfiction books to read. 
St. Patrick's Day is just around the corner. There are so many learning opportunities wrapped up in this one – often overlooked – holiday. 
You could choose to teach about Saint Patrick – who is he and why is he celebrated? Why is the shamrock considered lucky? Where is Ireland anyway? Are leprechauns real? And, why are you pinching me?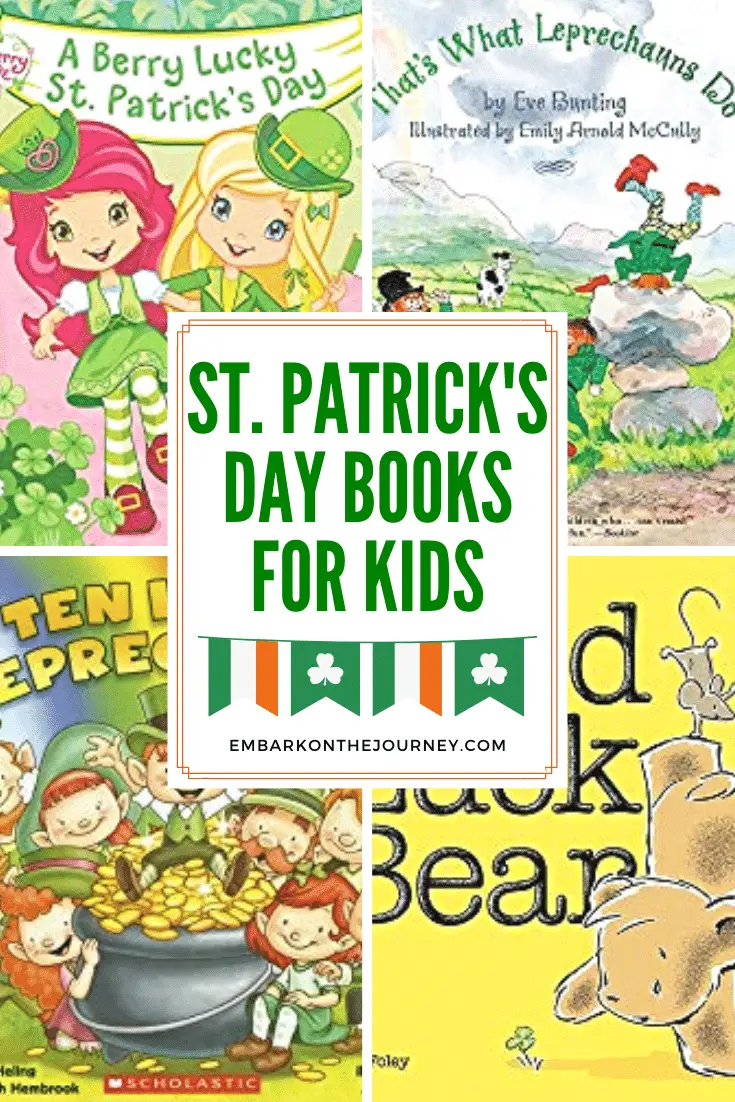 St Patricks Day Picture Books
Below, I've featured just a handful of St Patrick's Day picture books that your kids are sure to enjoy.
You should be able to find these stories about St. Patrick's Day at your local library or bookstore. If you can't find them locally, you can click each image cover to purchase them on Amazon.
Good Luck Bear | Bear and Mouse are looking for luck. Four-leaf clover luck. Will they find it?
Ten Lucky Leprechauns | Count from one to ten as one little leprechaun looking for treasure magically becomes ten silly leprechaun friends at the end of the rainbow! A humorous, rhyming celebration of St. Patrick's Day!
The Luckiest St. Patrick's Day Ever | Top o' the morning! It's March 17th, and the Leprechauns are gathered for their favorite day of the year. Join them as they celebrate St. Patrick's Day with music, dancing, and a parade!
The Night Before St. Patrick's Day | It's the night before St. Patrick's Day, and Tim and Maureen are wide awake setting traps to catch a leprechaun! When they wake the next morning to the sound of their dad playing the bagpipes and the smell of their mom cooking green eggs, they're shocked to find that they've actually caught a leprechaun. But will they be able to find his pot of gold? 
Green Shamrocks | Rabbit is growing shamrocks in a pretty yellow pot–he's getting them ready for St. Patrick's Day so he can wear them for the parade! When his pot of beautiful green shamrocks goes missing, he goes searching . . . will he find them in time?
That's What Leprechauns Do | What do leprechauns do? They bury a pot of gold at the end of the rainbow, of course. But as Mrs. Bally Bunion's ox, Miss Maude Murphy's hen, and Old Jamie soon find out, they can't resist having a little fun along the way. For, besides burying pots of gold, mischief is what leprechauns do!
Happy St. Patrick's Day, Curious George | Today is George's lucky day—St. Patrick's Day is here! George loves a celebration, and St. Patrick's Day means plenty o' music, dancing, and feasting fun! He dresses up in his festive finest, looks for leprechauns, and learns some Irish dance steps. But can George make it to the parade without causing any trouble? See if his lucky four-leaf clover will come through . . .
Mickey Mouse Clubhouse: Top O' the Clubhouse | It's Saint Patrick's Day at the Clubhouse, and Mickey and the gang are ready to celebrate with a party! But when Pete's shenanigans threaten to ruin their celebration, it will take some help from a leprechaun and a little luck o' the Irish to get the party back on track. 
A Berry Lucky St. Patrick's Day (Strawberry Shortcake) | Celebrate St. Patrick's Day with this special St. Patty's-themed 8×8 featuring Strawberry Shortcake and all her friends and a berry lucky four-leaf clover!
Happy St. Patrick's Day Hello Kitty | It's St. Patrick's Day, and Hello Kitty is getting ready for the big parade…
St. Patrick's Day Countdown | Count along with the forest friends in this shimmery board book! Five bright green holographic shamrock tabs and fun rhyming text make this a St. Patrick's Day treat!
St. Patrick's Day | In addition to the story of St. Patrick's life, here is information about how St. Patrick's Day is celebrated. There are decorations from shamrocks to shillelaghs. People give cards, share meals, and wear green to honor Ireland, the Emerald Isle. And there are parades! Included are six legends about Patrick.
The Story of St. Patrick's Day | The story begins with the traditional symbols of the day that are often found in schoolrooms, such as shamrocks, harps, and leprechauns. Then the narrative moves to a short biography of Saint Patrick himself: as a shepherd, as a missionary, and as a teacher. This colorful boardbook ties together the live of Patrick with the traditional images of Ireland.
There Was an Old Lady Who Swallowed a Clover | There was an Old Lady who swallowed things over and over, and now she's come back to swallow a clover! She's back! That lovely old lady has returned just in time for St. Patrick's Day. Now she's swallowing items to make the perfect rainbow to hide a pot of gold.
The Leprechaun's Gold | In this classic Irish legend, two harpists — merry-hearted Old Pat and ill-spirited Young Tom — set off for a contest to name the finest harpist in all of Ireland. When Young Tom realizes that Old Pat is truly the better musician, he schemes to be the winner — but he doesn′t reckon with the clever trickery of a mischievous little leprechaun.
Discovery in the Woods: A St. Patrick's Day Surprise | What is all the fuss about? What could be in that deep dark hole under the tree? And what in the world has happened to Sophie's poor nose? A St. Patrick's Day surprise is discovered in the woods one soggy March day. Come join the fun!
Jamie O'Rourke and the Big Potato | The laziest man in all of Ireland catches a leprechaun, who offers a potato seed instead of a pot of gold for his freedom.
Tim O'Toole and the Wee Folk | Tim O'Toole and his wife Kathleen are so poor they have not a penny or a potato between them. Even their cats are too skinny for the mice to chase! When Tim goes out to find a job, he stumbles upon "the wee folk" – a band of leprechauns who give him gifts sure to make his fortune. That is if Tim can keep clear of the evil McGoon family…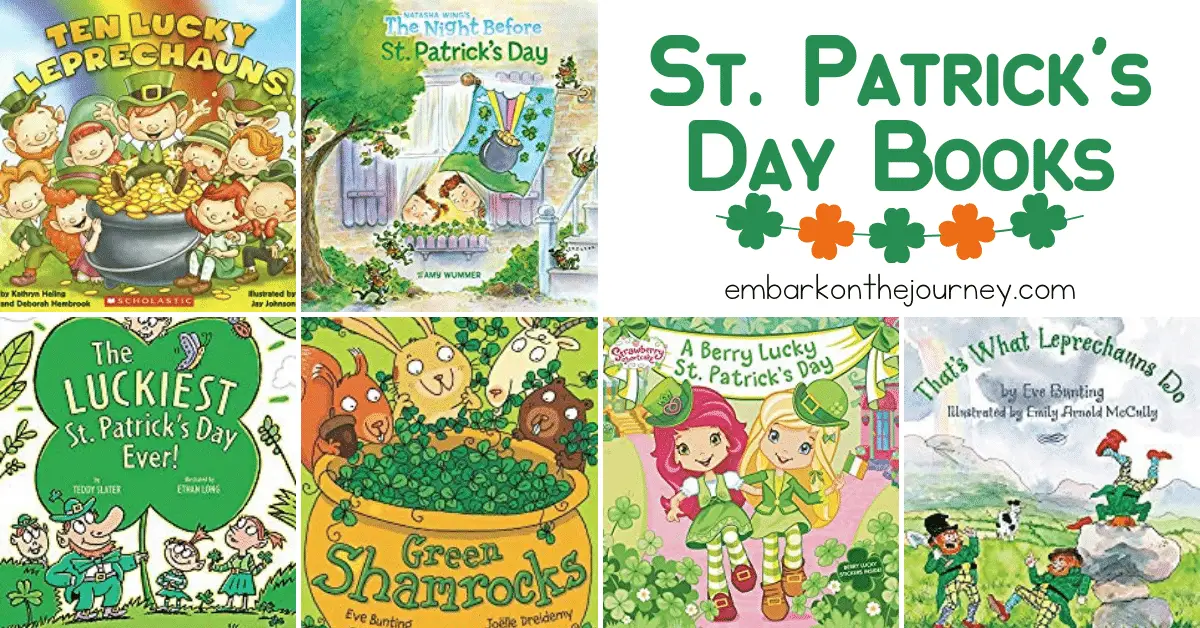 ROUND OUT YOUR UNIT WITH THESE ACTIVITIES
This leprechaun trap craft kit comes with everything you need to build an attractive trap for a devious leprechaun—and fool-proof tips for catching one!
Explore the colors and symbols of St. Patrick's Day with this fun St. Patrick's Day themed Playdough Kit. Kids can "bury" the gold coins and jewels in the playdough and dig for it, then put their discovered treasure in the cauldron. They can bring a little luck by making their own shamrocks with the shamrock cookie cutter. They can even make a little trap out of playdough, to try and catch their little leprechaun. There are countless ways in which your child can play and create with this kit!
Related Posts