Way back in December 2000, I graduated from college with a degree in Early Childhood Education. I was certified to teach grades K-8. I spent half a year subbing in all of the schools in my area – K-12. It gave me a taste of the different age levels, but I knew I'd go wherever I was offered a job. In August of 2001, I started teaching third grade at the elementary school I attended as a child. The following year, after an out-of-state move, I taught fourth grade science and social studies.
At the end of my second year of teaching, we were moving out of state again. Homeschooling had long been on my heart. I begged my husband to let me homeschool my kids. Let me just "give it a try" and see if it works. I was a certified teacher, for goodness sake, how hard could it be!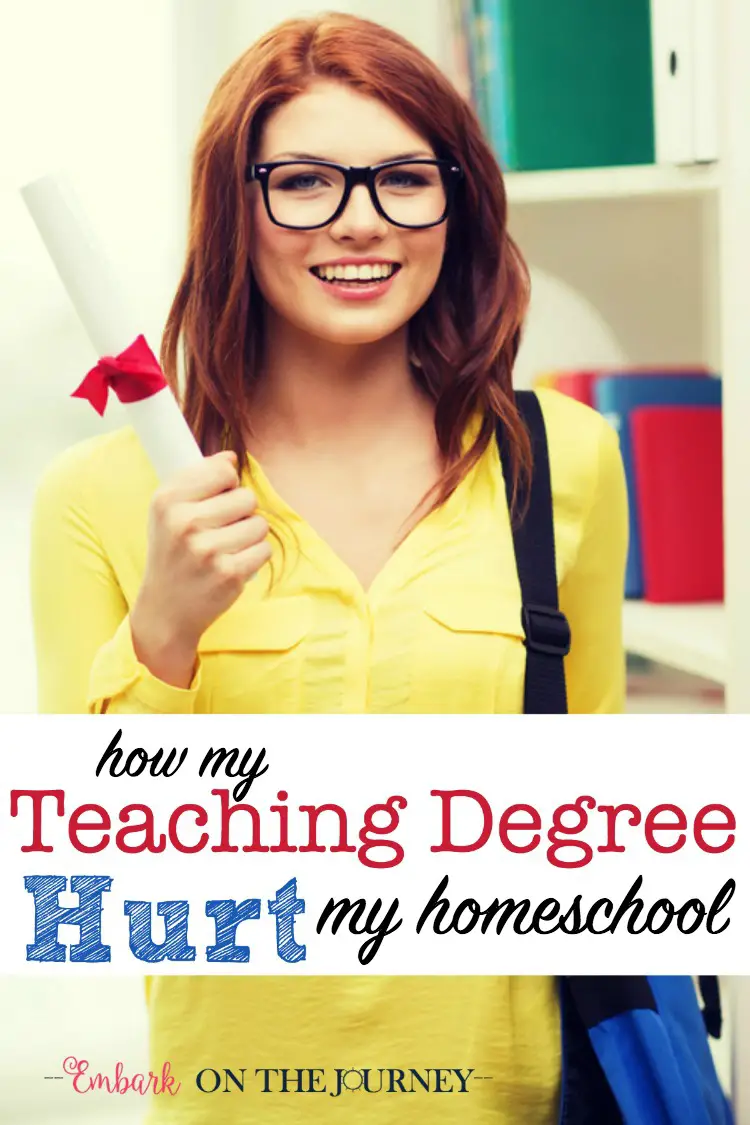 How My Teaching Degree Hurt My Homeschool
Wow!  That first year was tougher than I ever imagined! I didn't fully research our curriculum options. Instead, I used what someone blessed me with. I proceeded to replicate my classroom experience in my basement. We started at 9AM. We had a snack and lunch break. We finished at 2:30PM. My little guy sat at his desk and 'did school' all day long.
Ugh! It took me the entire year to realize what a disservice I was doing to him – and to me. We were missing out on so much that the freedom of homeschooling has to offer. If my lesson plan said write, he wrote. If my lesson plan said do 35 math problems today, he did 35 math problems that day.
I was inflexible. I stuck to the school calendar, because it's what I was used to. I used text books for everything, because it's what I was used to. It's what he was used to, as well.
Thankfully, after that rocky first year, I learned to lighten up a bit. I realized school didn't have to always look like 'school'. I had to get all that classroom training out of my system so that I could meet Logan where he was and move forward with the freedom that homeschooling gave us.
We started having fun. We started doing more hands-on projects and taking more field trips. We joined a homeschool PE class at our local YMCA and began attending story time at the library for Isaac.
I sifted through all that I had learned in college and in my classroom. I kept what was useful and pertinent to our new academic journey. I put away all the fillers I needed to keep a classroom running smoothly. I began to enjoy homeschooling in the way that was best for our family.
Here I am in my 14th year, and I am down to my last student. We're navigating the middle school years together, and it has absolutely nothing to do with my teaching degree!
Your turn:
Do you have a teaching degree? Has it been a help or a hindrance in your homeschool?