New homeschoolers often have many questions. I've heard some say, "I'm not smart enough to homeschool." I want to assure you that you are!
One statement I hear frequently when I mention that I homeschool is "I'm not smart enough to do that." New homeschoolers often wonder about the same thing.
I don't really think they're telling me that they're dumb or unintelligent. They just don't feel as if they know enough to tackle the upper grades or the harder subject matter.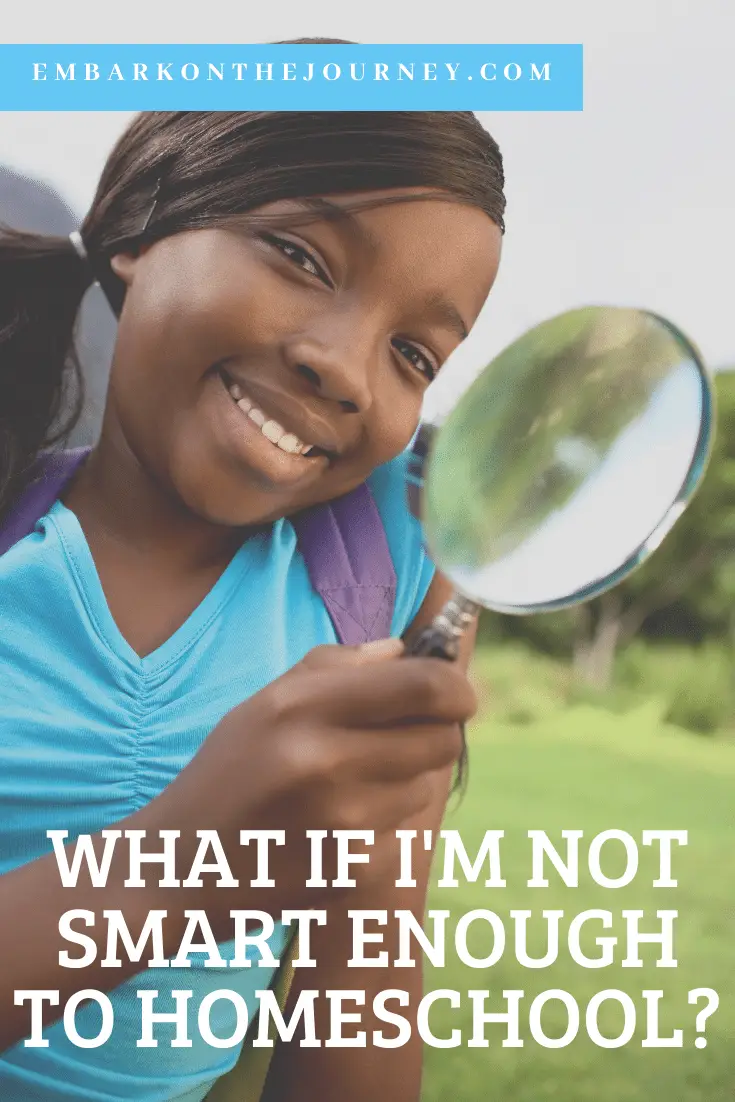 I'll be honest here. I've thought that a time or two myself. My oldest wanted to do chemistry when he reached high school. I never went past biology when I was in school myself. I knew nothing about chemistry.
And, let's not forget the fact that my daughter developed a love for Latin in about the third grade. Latin? I only took two years of Spanish in school, and I don't remember much of that. 
How in the world am I supposed to teach classes I know nothing about? 
 I'm Not Smart Enough
Oftentimes, those people are really talking about not being a teacher. Since they don't have a teaching degree, they don't feel qualified to teach their kids.
I've written before about how my own teaching degree did not qualify me to homeschool. It was actually a hindrance for many years. 
The fact is that everyone is a teacher to some degree. Did you teach your children to go potty on the toilet? Did you help them learn their colors and numbers and shapes? Have you helped them reason through a tough choice or overcome an obstacle? Do you love them? Do you want what's best for them? Are you willing to learn with them? Then, you are smart enough to homeschool.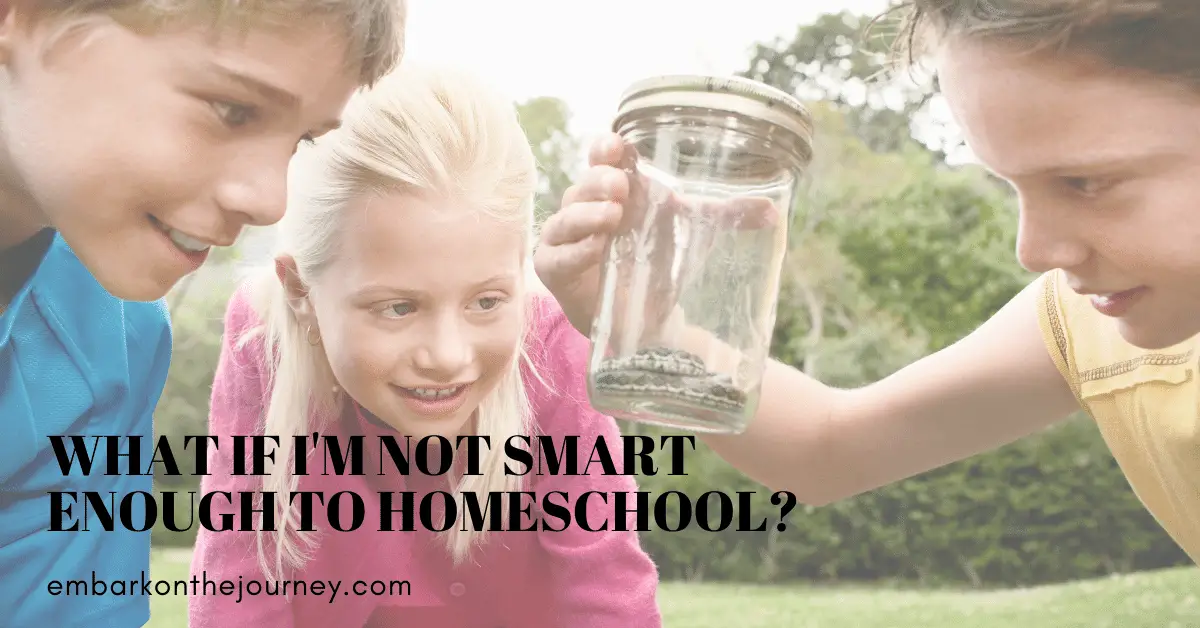 If you can do research online or at the library, you are smart enough to teach your kids. Let me be the first to admit that I don't know everything!
I have a teaching degree. I taught third grade for one year and fourth grade for one year before coming home to homeschool my own. In no way does that degree or two years of teaching experience help me in any way teach Algebra I or chemistry to my own kids! 
However, I am smart enough to know that I can't teach them everything they need to know. But, I couldn't in a classroom either. There will be gaps, and that is unavoidable.  There would be gaps if they were educated in a traditional classroom, as well. However, if I teach my kids how to learn, they can fill many of those gaps on their own. 
Then, of course, there are things that I truly can't teach my kids. Pottery, for instance. My daughter loves pottery. However, I don't have access to a pottery wheel or a kiln at my house. Not to mention, I know nothing about pottery. So, this is a class she takes at our local homeschool co-op.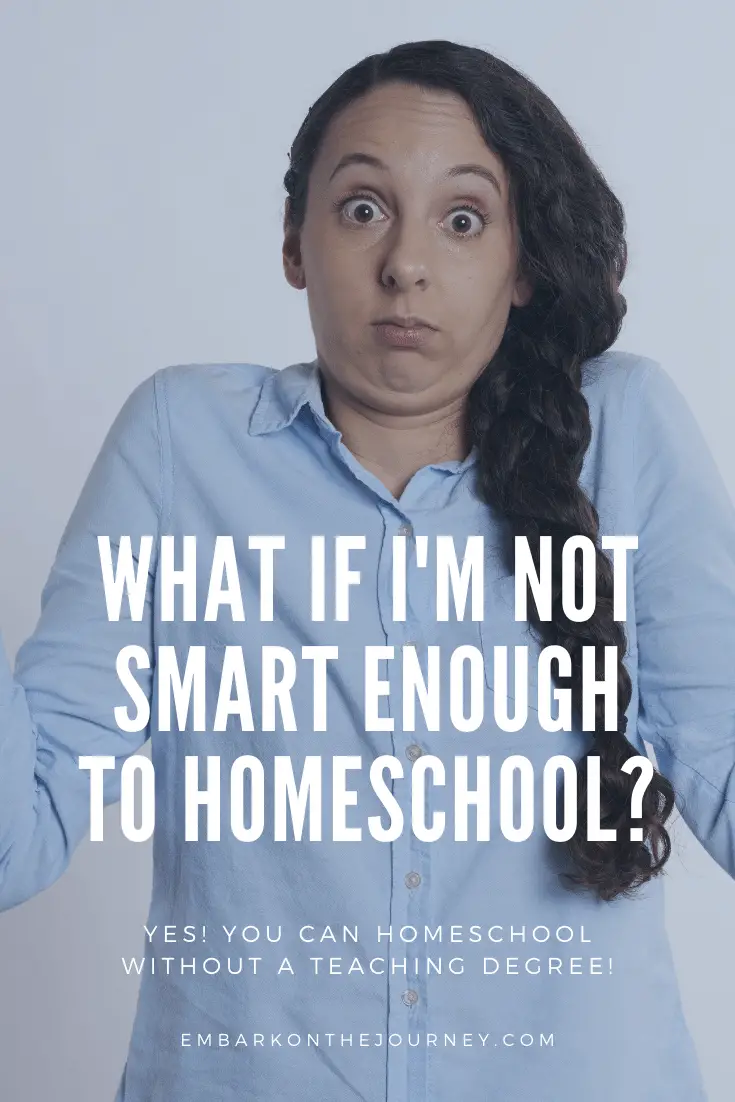 Do you have access to a homeschool co-op? If so, that could help solve the issue of needing to teach a subject you know nothing about  or just one you struggled through yourself in school.
Do you have a friend who is good at math? What are you good at? Can you swap subjects? You teach biology to her kids and yours while she teaches them all math.
Several years ago, I was a part of a small science co-op. We had three levels of kids, and we all took turns teaching. We rotated through topics and age groups each time we met. No one felt the burden of being solely responsible for teaching science for those years.
When it was my turn to teach, I picked the topic – mostly biology stuff. However, because we all had different strengths and interests, another mom leaned toward chemistry topics while another toward physics. It was wonderful!
Other options for teaching those subjects you don't feel smart enough to teach include dual-enrollment classes (for high schoolers), online classes, and classes taught via DVD or CD (we do this for math and Latin). Not to mention, many homeschool publishers produce scripted curricula. Our English book is scripted. I don't always follow the script, but it's there if I need help teaching a lesson. 
You don't have to be a genius to homeschool. You don't have to know everything to educate your own children. You have to love them and want what's best for them. You have to be smart enough to find a way to teach those hard subjects. And, it doesn't have to be you teaching them. 
Related Posts