I love using picture books with my kids to make concepts stick. Science is one of those subjects that is perfect for doing just that! Today, I'm going to share with you a great list of science picture books on a variety of topics. Enjoy!
Be sure to scroll down to link up your favorite reading-related posts in our What to Read Wednesday link-up!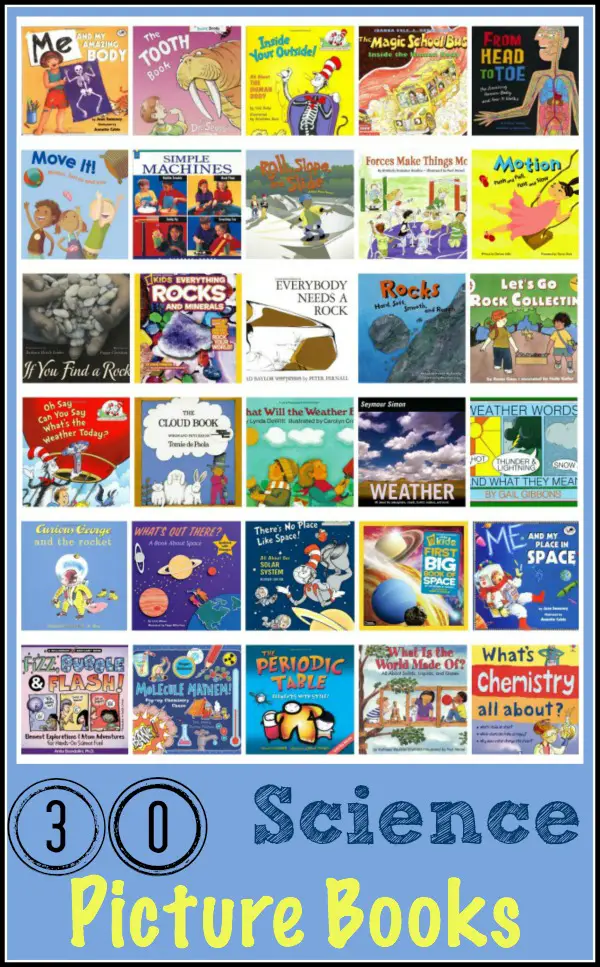 Science Picture Books
Astronomy

With earth as a starting point, a young astronaut leads readers on a tour past each planet and on to the stars, answering simple questions about our solar system.
Beginning readers and budding astronomers are launched on a wild trip to visit the eight planets in our solar system, along with the Cat in the Hat, Thing One, Thing Two, Dick, and Sally. It's a reading adventure that's out of this world!
National Geographic Kids First Big Book of Space
The book will explain basic concepts of space, beginning with what is most familiar to kids and expanding out into universe.
What's Out There?: A Book about Space
What is the sun made of? What causes night and day? Why does the moon change shape? Colorful collage illustrations and an easy-to-understand text bring planets, stars, comets, and the wondrous things out there in space right down to earth in a simple introduction to the solar system for young armchair astronauts.
This lively story captures George's adventure of becoming the first space monkey.
Rocks & Minerals

National Geographic Kids Everything Rocks and Minerals
Youngsters become geology experts as they browse eye-popping photos and absorb layers of information made extra fun through a humor-infused presentation. 
Rocks: Hard, Soft, Smooth, and Rough
The rocks you see everyday can be grouped into different types, like igneous, sedimentary, or metamorphic. Some rocks are actually minerals, and you can even find fossils in some types of rocks.
From the Egyptian pyramids to Roman roads, from the diamond ring on your finger to the pebbles under your feet'rocks are everywhere!
With joyful, poetic text and luminous photographs, If You Find a Rock celebrates rocks everywhere—as well as the mysterious and wonderful places they are found.
Everybody needs a rock — at least that's the way this particular rock hound feels about it in presenting her own highly individualistic rules for finding just the right rock for you.
Chemistry

Complicated topics are kept fun with a variety of devices including comic strips, fact boxes and 'nerdy notes' – post-it notes with handy mnemonics written on them.
 Can you make an ice cube disappear? Put it on a hot sidewalk. It melts into water and then vanishes! The ice cube changes from solid to liquid to gas. . . . Read on to find out more about the three states of matter.
In Molecule Mayhem, explore atoms, elements, molecules, reactions, radioactivity and other aspects of chemistry, with interactive novelties and instructions for seven engaging experiments to try at home.
What do elements have to do with your everyday life? They make your world — and beyond — move and groove, fizz, bubble and flash! 
The Periodic Table introduces budding chemists to the world of the elements as it's never been seen before. Designed to resemble popular networking Web sites, the pages of this book feature "homepages" for each of the chemical elements — complete with witty and informative profiles written by the elements themselves, plus a personally chosen picture.
Anatomy

The Cat in the Hat takes Sally and Dick for a ride through the human body where they visit the right and left sides of the brain, meet the Feletons from far off Fadin (when they stand in the sun you can see through their skin), scuba dive through the blood system, follow food and water through the digestive tract, and a whole lot more!
The Magic School Bus Inside the Human Body
Arnold has swallowed the Magic School Bus! Now, instead of seeing an exhibit of the human body at a museum, the class is taking a look at Arnold's stomach, his intestines, his bloodstream, and more from the inside on this heart-stopping fieldtrip – one the reluctant Arnold would be happy to miss.
In Dr. Seuss's hilarious ode to teeth, little ones will laugh out loud as they find out all the things teeth can do and how to take care of them so they last a lifetime!
An introduction to the human body and how it functions, including simple experiments which demonstrate the principles presented.
From your head to your toes and everything in between, this playful introduction to anatomy explains all the important parts of your body.
Weather

Oh Say Can You Say What's the Weather Today? 
The Cat and company travel by hot air balloon up and into various weather phenomena including rain, snow, thunder, tornadoes, and (yikes!) even hurricanes! Along the way they learn about thermometers, anemometers, wind vanes, cloud formations, humidity, fog, smog, weather folklore, and how to stay safe in lightning.
Ever wonder what makes the wind blow? Or where clouds come from, or rain? Every day you experience weather, but why do you experience the weather you do? Explore weather, a subject that changes every day.
Introduces the ten most common types of clouds, the myths that have been inspired by their shapes, and what they can tell about coming weather changes.
Read and find out why the weather is so difficult to predict.
Weather Words and What They Mean
Introduces basic weather terms and concepts.
Physical Science

Motion: Push and Pull, Fast and Slow
Explore the concepts of motion by learning about movement, speed, force, and inertia.
There are forces at work whenever you throw a ball, run up the stairs, or push your big brother off the couch. Want to learn more about the forces around you? Read and find out!
Move It! Motion, Forces, and You
Move It! explores the physics of why and how things move.
Roll, Slope, and Slide: A Book About Ramps
Describes the different kinds, uses, and benefits of inclined planes and ramps. Includes an activity.
Thirteen experiments about the six simple machines — the lever, wheel and axle, pulley, inclined plane, wedge and screw — teach kids about basic science.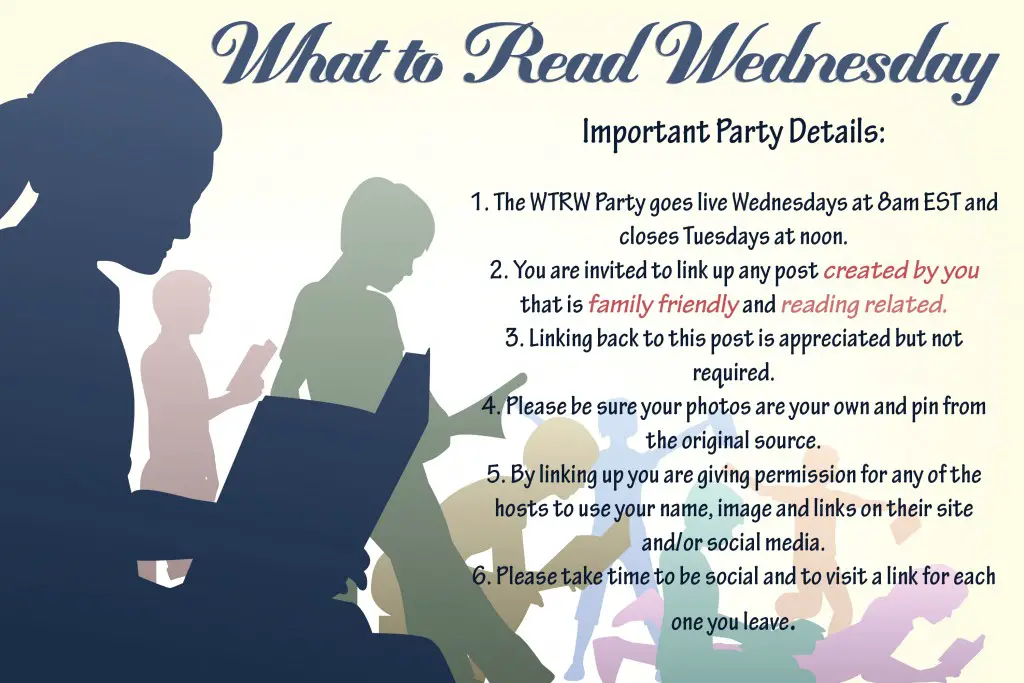 Now, it's time for this week's What to Read Wednesday. I loved this President's Day Lesson Plan for Kindergarten over at Sight and Sound Reading. We'd love for you to link up with us this week! Share your favorite post that is family-friendly and reading related. Maybe, we'll feature you next week!
[inlinkz_linkup id=485343 mode=1]