Writing is a subject that my middle schooler loves! It is not, however, a subject my older boys ever developed an affinity for. So, I as always on the lookout for fun ways to get them to write. 
I wanted them to see the importance of learning to write well. I wanted them to see that writing wasn't just writing another paper for history or literature. Writing is something that is necessary in many areas of life. 
If you, too, have reluctant writers, check out this list of fun writing activities. If you have a child who loves to write, they'll love this list, as well. It'll give them a whole new set of ideas to choose from for their next writing project.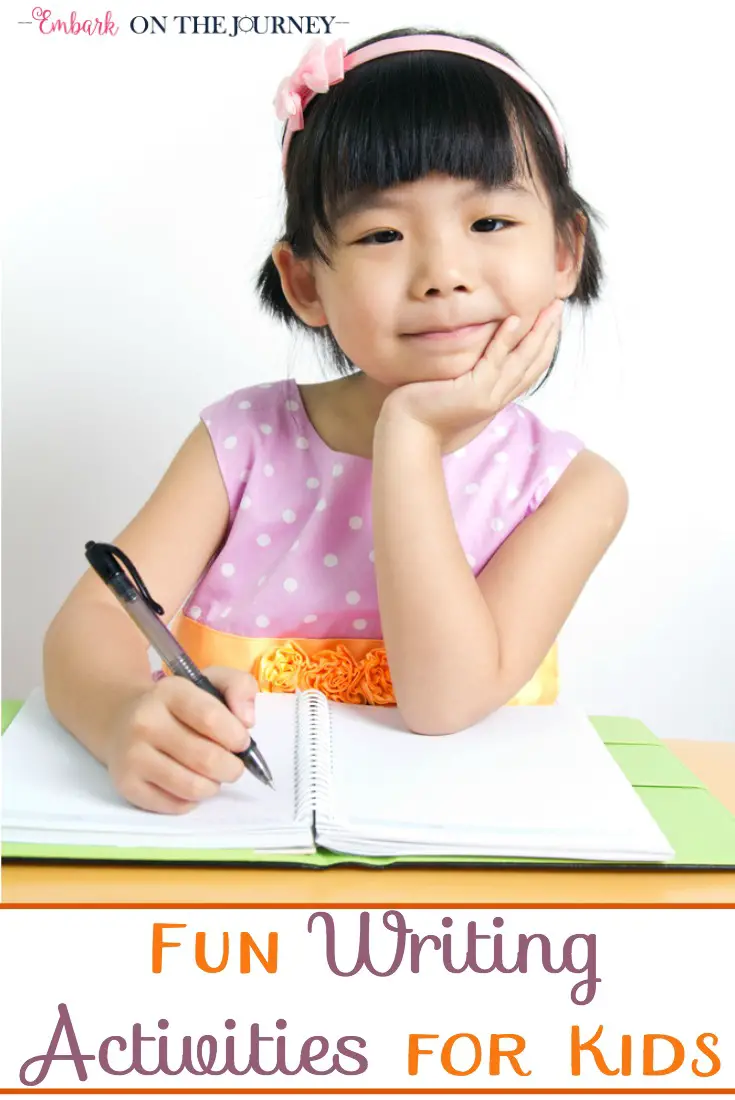 Fun Writing Activities for Kids
Journal – My daughter loves journaling. She has several, as a matter of fact. She loves picking them up and writing about her day, her dreams, her frustrations. I don't read her journal. Not only does this help her to be more open in her journal, but she knows I'm not looking at her spelling and grammar. She can just write… 
Get a special notebook or journal, and encourage your kids to put their thoughts on paper each night before bed. 
Make Cards – I don't know any parent or grandparent who doesn't love receiving handmade cards and gifts from their kids and grandkids. Encourage your writer to get creative. Have them write what makes their loved one so special. Maybe they have a favorite memory to share. My daughter loves to make her own birthday party invitations. Your kids may enjoy that, too. 
Picture Prompts – Grab an old magazine or scrapbook and look for fun pictures you can use as writing prompts. You could use pictures that are seasonal, pictures that tie into a topic you're currently studying, or a picture where the subject is doing something funny/adventurous/etc. Encourage your child to interpret the picture and write about it. What is going on in the picture? What is the subject thinking?
If you don't have anything on hand that will spark your writer's imagination, check out the WriteShop blog. There, you can find some really great photo prompts to use with your kids. Head over and check it out. 
Writing Prompts – Speaking of writing prompts, I recently shared a pack of 50 writing prompts that you can print out and use with your writers. You can create a writing jar or just print out the full-sheet prompts. Either way, these prompts are sure to spark your writer's creativity. 
Describe a Recent Event -Last year, in one of our WriteShop I assignments, Emma was asked to describe a person. She chose to focus on one of the principal dancers with the Cincinnati Ballet. We had just attended their performance of The Nutcracker, and she described her favorite dancer's costume in detail. There was no fussing about the assignment since I was able to tie it in to something she loves! 
Have you recently visited somewhere fun? Can your kids describe an even from your family vacation? Can they write about the event in a way that makes it unique – not just another field trip report?
Make a List – Whether it's a to-do list, a grocery list, or a list of every dog breed they can think of (yes, mine has done that), getting your kids to write a list helps them get their thoughts on paper. 
Lists aren't intimidating for reluctant writers. They don't require complete sentences. They don't need punctuation. 
Have your kids write out their Christmas lists. Let them help you make your next grocery list. Can they look through a travel magazine before your next trip, and create a list of all the places they want to visit or things they want to do on the trip? 
Make a Comic Book – Comic books make great book reports for reluctant writers. It allows for a lot more creativity and artistry than just a basic book summary. If you've been teaching interjections, onomatopoeia, or punctuation in your writing lessons, this is a great place for kids to practice those concepts in a fun way.
Pass the Story – This is a fun group writing activity. Decide before hand how much each person will be responsible for writing. Will they add 3 sentences? Will they write for 3 minutes? Once you've got your instructions laid out, the first person will start writing a story. After 3 sentences or 3 minutes (or however you have your rules set), that person will pass the story to the next writer. They will add on to the story – 3 minutes, 3 sentences, etc – before passing it to Writer #3. Continue in this manner until all the writer's have had a chance to add to the story. After the last person has contributed to the story, the first person gets to read the entire story aloud! 
Em and I do something similar in our WriteShop I lessons. In each lesson, we work together on a practice paragraph before she goes off to write on her own. After we've brainstormed ideas for our paragraph, we take turns contributing to the paragraph. She always starts the paragraph, and we alternate the rest of the sentences. I try to make it so that she starts and ends the paragraphs so she's working on her opening and closing with me as a guide. We work orally so that we can help each other with the structure of the paragraph. 
This is always her favorite part of our WriteShop lessons, because we are working together. It isn't a true 'pass the story' activity, but it helps her work through the structure of her assignment before she heads off to complete the assignment herself.
What is your favorite way to encourage your writers to have fun? 
Related Posts: