This camping alphabet game is perfect for reinforcing letter identification skills while working on visual discrimination with your kids.
Whether you're teaching a camping theme or planning a camping trip with your children, these free printables for kids are perfect!
It's great for preschool and kindergarten kiddos who need a little extra practice with letters.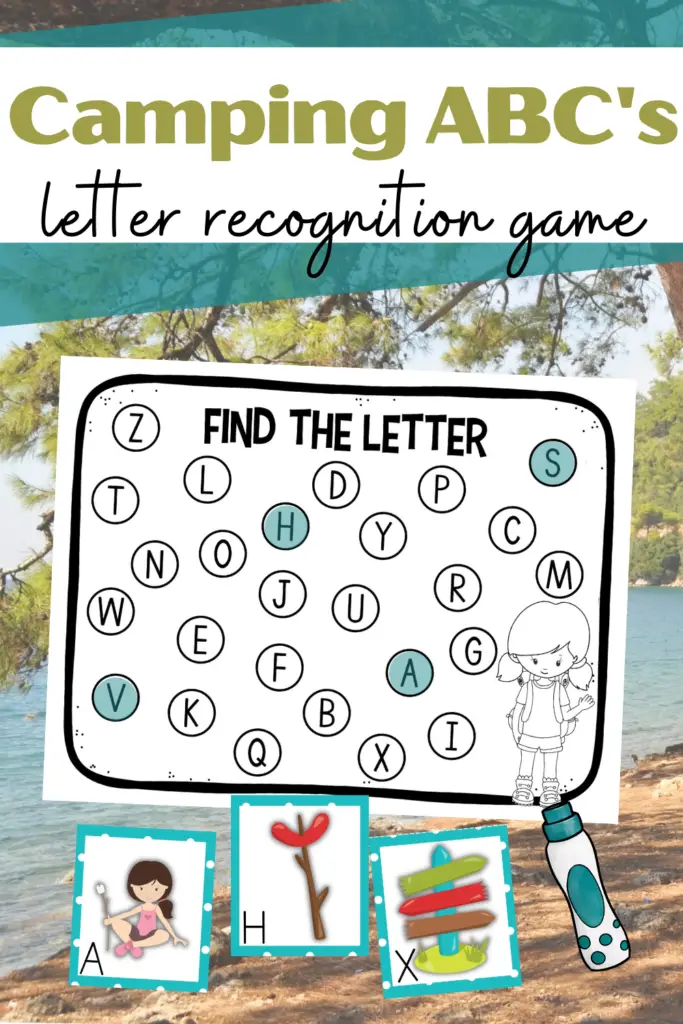 To play this game, download and print this activity pack. Preschool and kindergarten students can practice early literacy skills in home and classroom settings.
Camping Alphabet Game
This alphabet identification game is perfect for reinforcing letter recognition and strengthening visual discrimination skills with little ones.
This camping-themed alphabet activity is great any time of year, but is perfect to do prior to your next camping trip or backyard campout.
Start with a story
I always love beginning my lessons with a story. You can kick off this lesson by reading one or more of the camping stories featured below.
• Good Night Campsite – Get your little camper ready for your next camping trip. Your toddler will explore their favorite campsite and all the fun outdoor activities that come with it, like hiking and swimming. They'll even find chipmunks, frogs, and fireflies! Roasted marshmallows by the campfire included!
• Curious George Goes Camping – George tries to be helpful, but he of course just ends up upsetting a nearby camper. As he's hiding in the woods, he meets a forest creature who catapults the mischievous monkey into a chain of even more outrageous events!
• Llama Llama Loves Camping –  Llama Llama goes camping for the very first time and learns a valuable lesson: what seems scary can actually be super-duper FUN!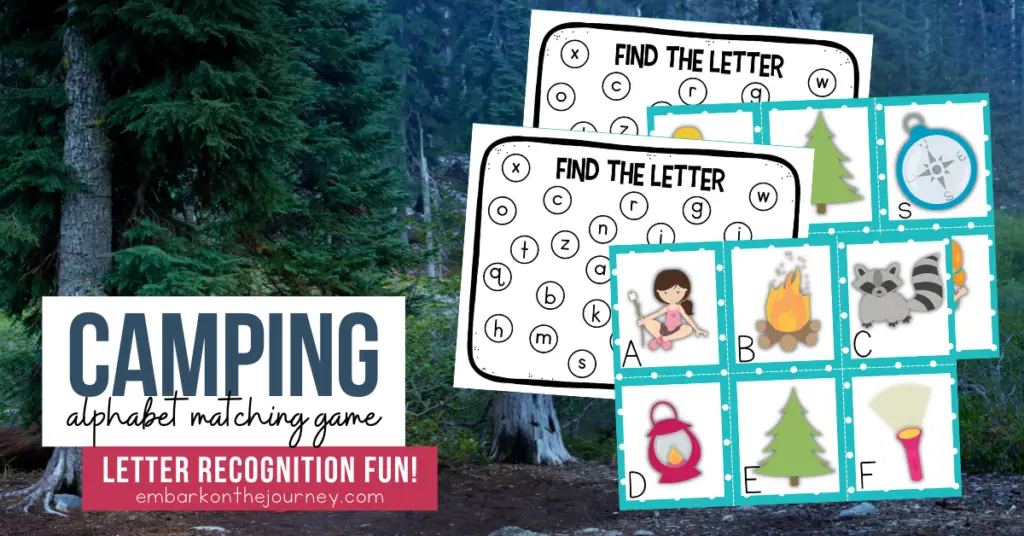 PREPPING THE ACTIVITY
To prepare this activity, print the letter cards on cardstock and laminate them for durability. You can laminate the letter mats or leave them plain.
If you laminate them, have kids identify letters with a dry erase marker. If you don't laminate them, kids can use markers or bingo dotters.
PLAYING THE GAME
Cut apart the laminated alphabet cards. There is one set of uppercase and one set of lowercase letters.
Turn the cards face down on a table. Have students flip over one card, identify the letter on the card, and find it on the alphabet mat.
Students can mark the letters with a dot marker, pencil, button, or mini-eraser.
You can have kids match uppercase-uppercase, uppercase-lowercase, lowercase-uppercase, or lowercase-lowercase.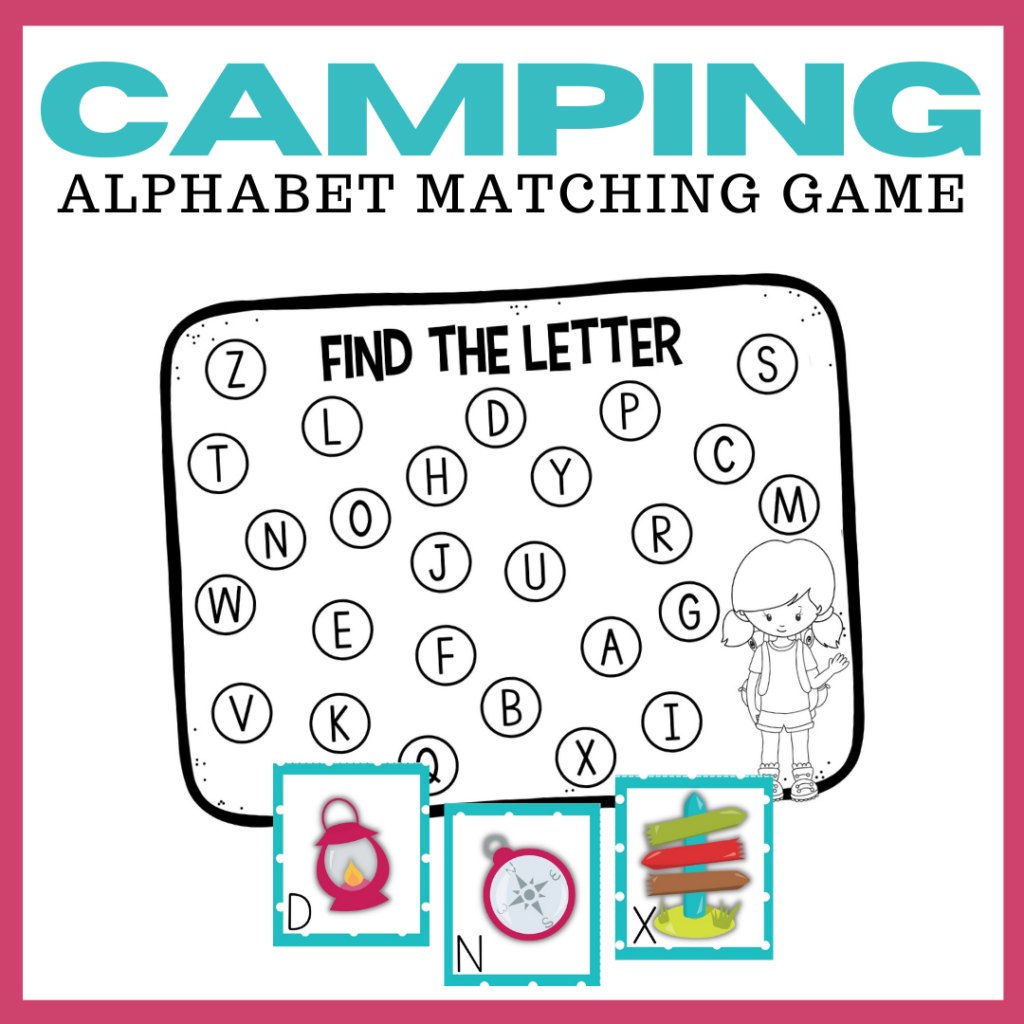 ROUND OUT YOUR UNIT WITH THESE ACTIVITIES
Before heading out on your next camping trip, be sure to print this camping scavenger hunt. There is so much to see around the campsite! 
This collection of camping read-alouds for kindergarten are sure to get your little ones excited about an upcoming campout or camping learning theme.
Summer is made for camping. As you plan your next outing, get kids excited with one or more of these camping crafts for preschoolers. These camping crafts are perfect for kids of all ages!
Camping never felt so cuddly! Set up camp in the playroom with this adorable, personalized campout kit, complete with a smiling marshmallow, water flask and campfire. 
This fun interactive game of Camp Charades will keep your camping trip fun. With 17 pages (8 cards per page) of exciting charade cards, your campfire moments just got more fun.
With a felt hiking map, compass, and hatchet, your kids will have all they need for a fun (pretend) hike through the woods.
Download Your Printables
This camping alphabet printable pack is only available to my readers. Click the button below, enter your information, and download your printables.