If you want a fun, interactive way to teach kids about birds, use these free printables to construct a homeschool bird unit study for elementary kids.
I love diving deep into topics that my kids are passionate about. This 13-page printable unit study is perfect for kids ages 6-10 who are passionate about birds.
This unit study printable is designed to help kids learn about birds they may encounter in their backyard or at the zoo.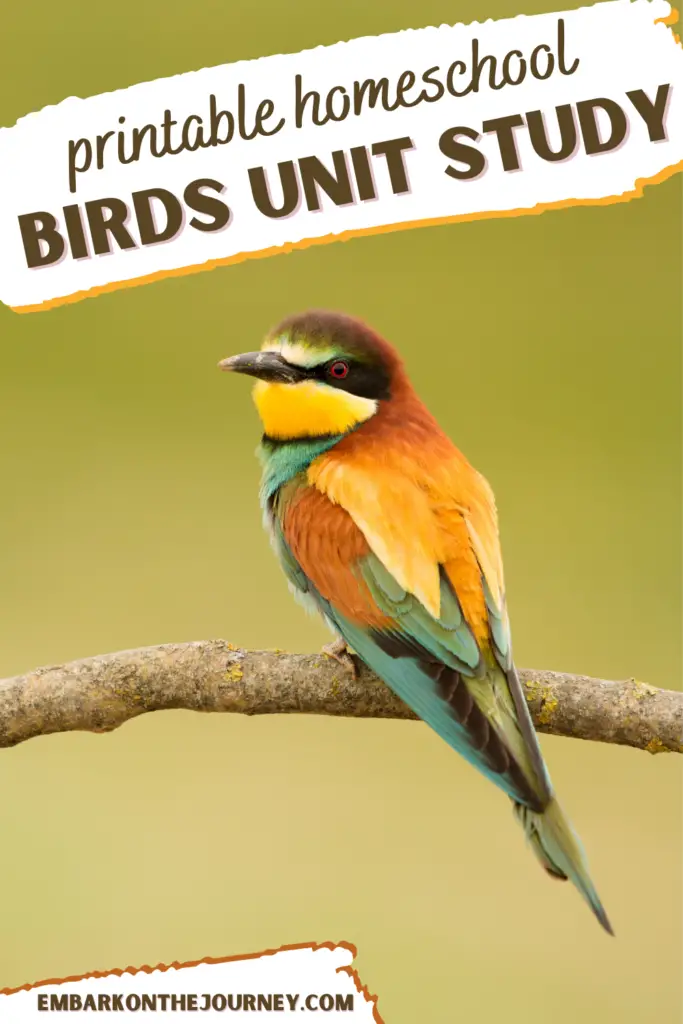 Homeschool Bird Unit Study
There are so many fun activities you can do as you teach your children about birds. Here are a few engaging ideas that will help you teach your kids about birds, their life cycle and anatomy, where they live, and more.
BIRD VIDEOS FOR KIDS
I love to incorporate movies and videos into our unit studies whenever possible. They're perfect for sick days or rainy days. Here are a few ideas for kids:
[mv_video doNotAutoplayNorOptimizePlacement="false" doNotOptimizePlacement="false" jsonLd="true" key="anyxy3huua1zelwunkuf" ratio="16:9″ title="Soaring With Birds" volume="70″]
BOOKS ABOUT BIRDS
I love to include a wide variety of books in my lessons. I use some for read-alouds and save others for independent reading (when appropriate).
Below, I'm sharing a few of my favorite nonfiction books about birds. I find they're perfect for introducing the animal, increasing vocabulary, and illustrating important information.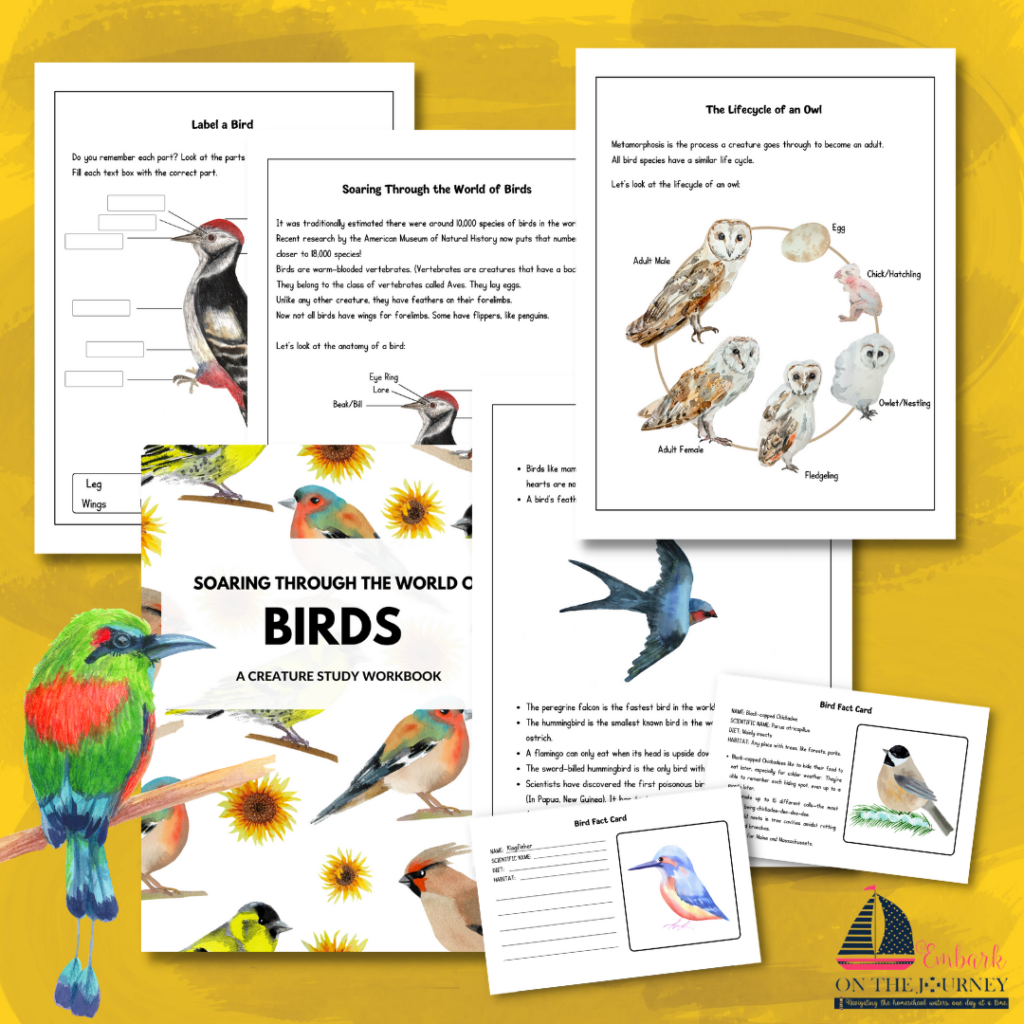 BIRD ACTIVITIES
Young learners love hands-on activities, and they help little ones engage with the topic at hand. When studying birds, you can add one or more of these activities to your to-do list:
Bird Unit Study
Print out this wonderful bird themed printable for elementary students. It's full of engaging activities that are designed for kids ages 6-10.
WHAT'S INCLUDED?
• Bird Facts – The "soaring through the world of birds" page includes fun facts about birds. You can laminate this page and hang it in your learning space during this unit, if you'd like.
The "interesting bird facts" page features more interesting facts about birds of all kinds.
• Parts of a Bird – Kids will use the words from the word bank to label the parts of a bird.
• Life Cycle of an Owl – There is a life cycle diagram and a cut/paste life cycle worksheet for kids to complete.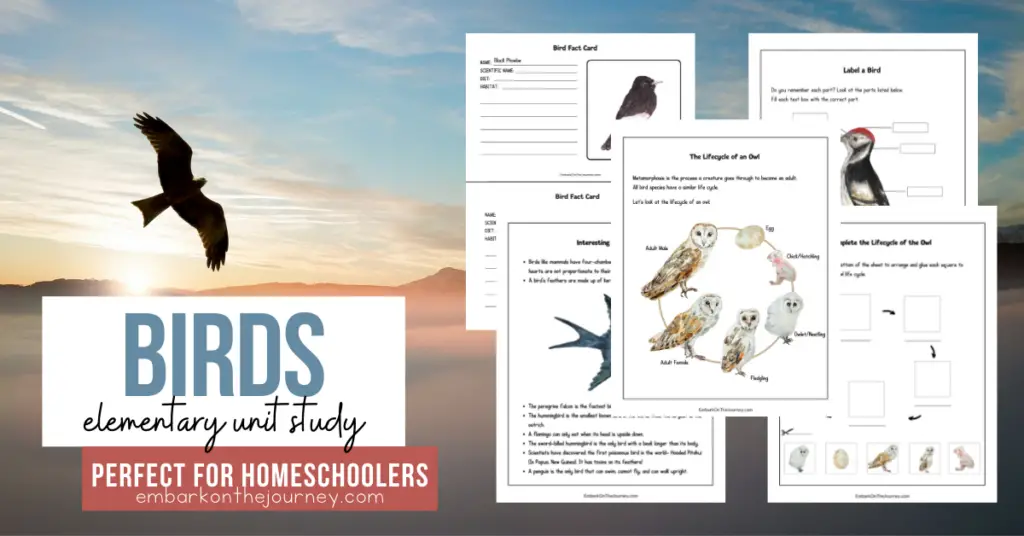 • Exploring Ornithology – This page introduces kids to the term ornithology, it's origin, and the job description of an ornithologist (someone who studies birds). This page also includes a fun activity and link to explore birds in your area.
There is also a writing prompt page which encourages kids to pretend their an ornithologist.
• Bird Fact Cards – These pages are my favorite! There are two completed bird fact cards – one for a chickadee and one for the cardinal.
In addition to those two completed cards, there are blank bird fact cards for kids to complete on their own. They can do so with internet research or with nonfiction books. These cards include the blue jay, finch, kingfisher, magpie, black phoebe, toucan, bluebird, and starling.
Finally, there are two blank bird fact cards for kids to fill out with their favorite birds. They can Google pictures of those birds to glue to the fact card, or they can try their hand at sketching it.
Download Your Printables
This birds unit study is only available to my readers. Click the button below, enter your information, and download your printables.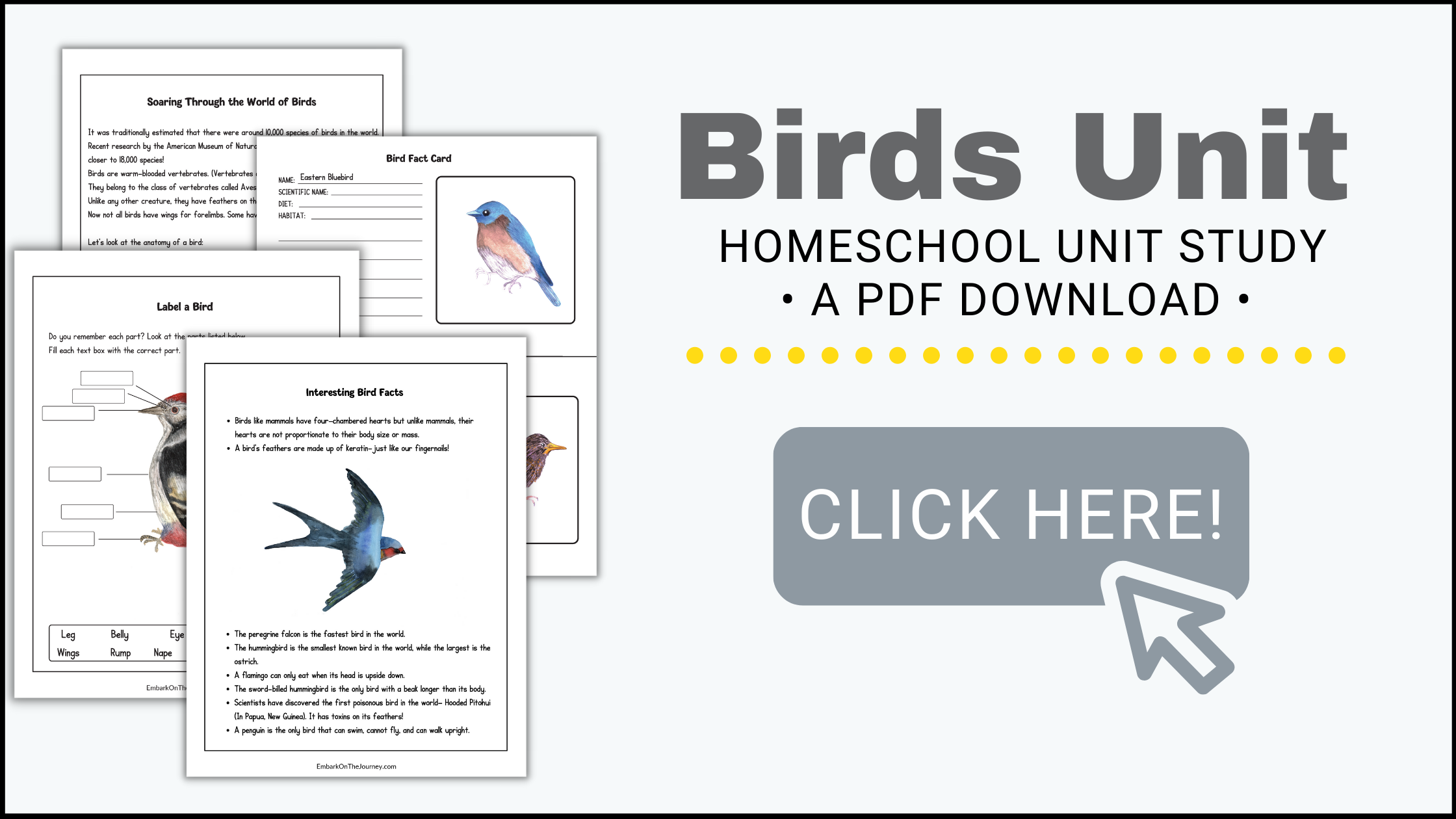 Related Posts