This superhero themed contractions printable game is a great hands-on way to have kids practice reading and building contractions.
Download and print this superhero activity and add it to your literacy centers. This game includes 66 contractions and the words that make them up.
Contractions can seem a little tricky when they're first encountered. However, as your kids become more fluent with them, they'll become better readers and writers.
Contractions Printable Game
This printable board game is a great hands-on way to help children become more familiar with contractions.
To begin the lesson, remind students that a contraction is a phrase that's been shortened by dropping one or more letters. An apostrophe replaces the missing letter/s.
Share some examples by naming two words and having kids combine them into a contraction. For instance, say "can" and "not". Students should reply with "can't".
Once students are familiar with the concept, introduce this game.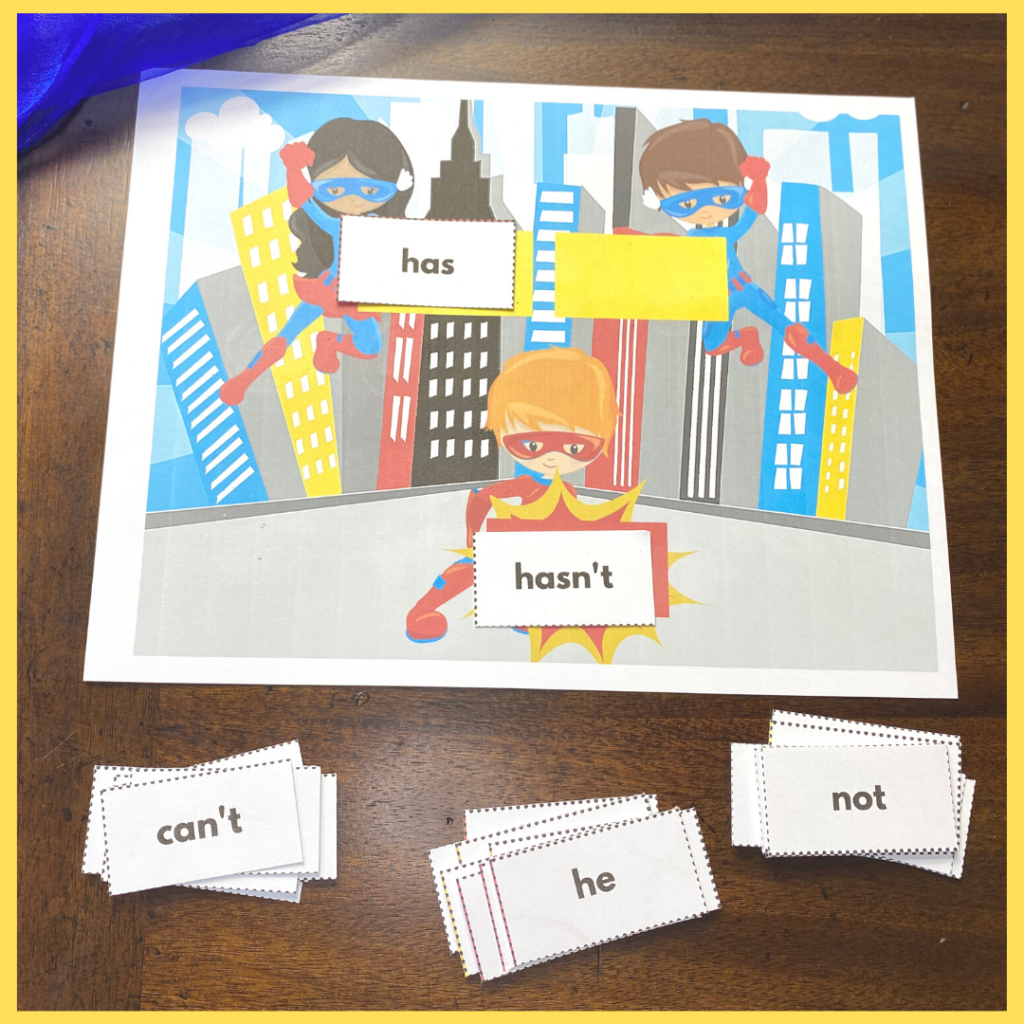 preparing the activity
Print all pages on cardstock and laminate them. Cut apart the word cards keeping the superhero bookmark as a reward for completing the activity.
You can add velcro dots to the game board and the backside of each card, if you'd like.
Completing the activity
Separate the word cards into three piles – contractions, word #1, and word #2. Have students place a contraction on the red box on the mat. Then, have them find the two words that make up that contraction. They'll place those words on the yellow boxes.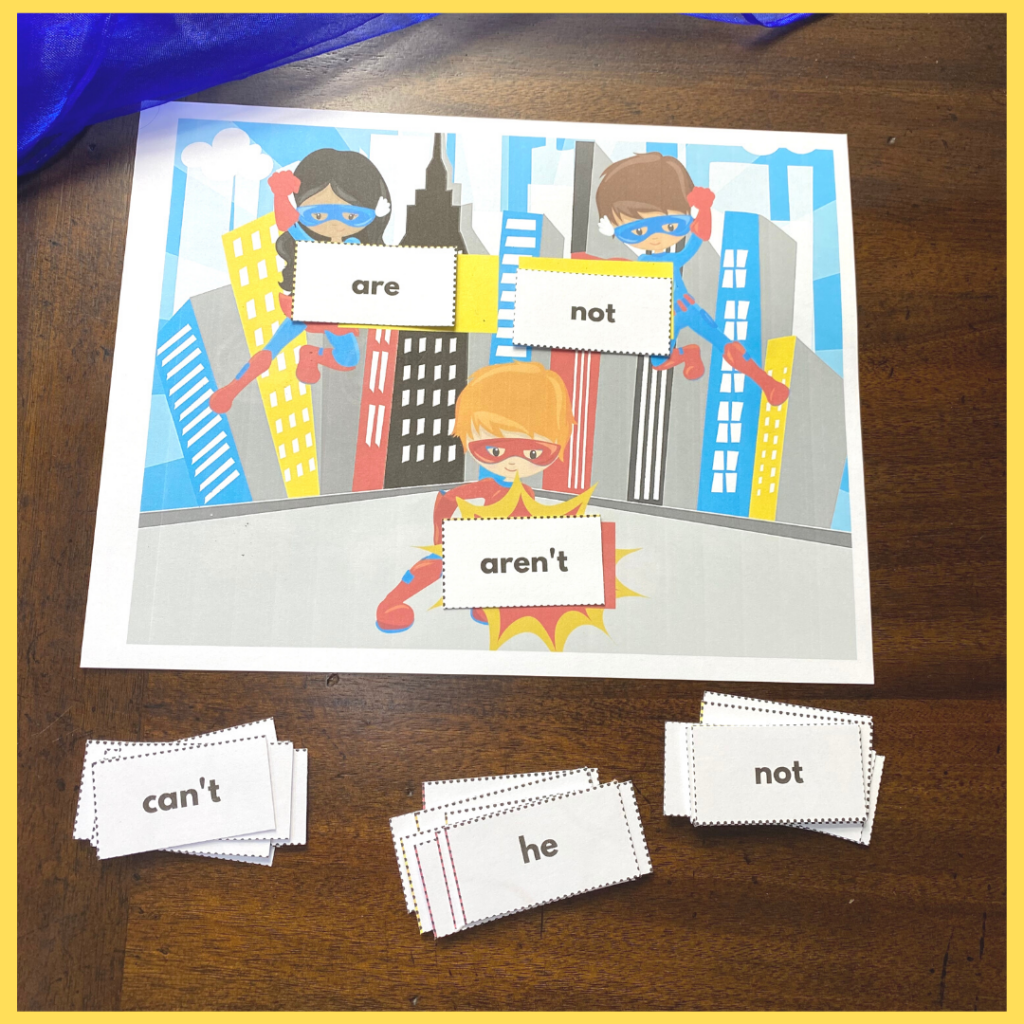 PRESCHOOL BOOKS ABOUT SUPERHEROES
Fill your book basket with a great collection of books about superheroes. Most of these books can be found at your local library or used bookstore.
If you have a hard time finding them, you can order them through my Amazon affiliate links by clicking the images below.
Be a Star, Wonder Woman! - As a new day dawns, a young girl faces the ultimate challenge: school! Follow along as she demonstrates her greatest superpower (sharing), overcomes her worst fear (the playground),and conquers her archenemy (the spelling test).
Ten Rules of Being a Superhero - In this handy guide, Captain Magma and his trusty sidekick, Lava Boy, take young readers on an adventure to learn all ten rules of being a good superhero.
There's a Superhero in Your Book - Use the power of your imagination to unlock this adorable Superhero's powers. But you'd better act fast before The Scribbler ruins your book completely!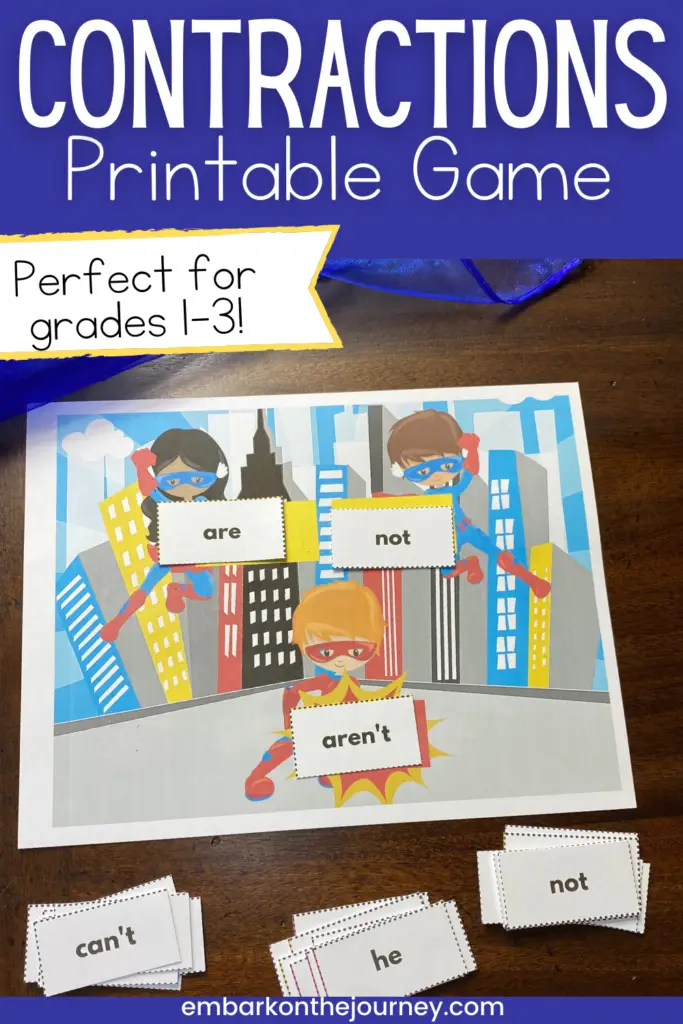 Download Your Printables
This Contractions Board Game is available in my shop. Click the button below to get your copy today.
Related Posts