Every year, homeschool moms have to decide what to teach and which curricula they will use. Here are tips to help you decide without becoming overwhelmed. 
Each year, about the time we wrap up our spring break, I start thinking about the next homeschool year. It seems that spring break is the signal that our current year is quickly coming to an end. It's time to look ahead to the next year and decide what I'm going to teach (subject matter). In addition, I have to decide which curriculum to use.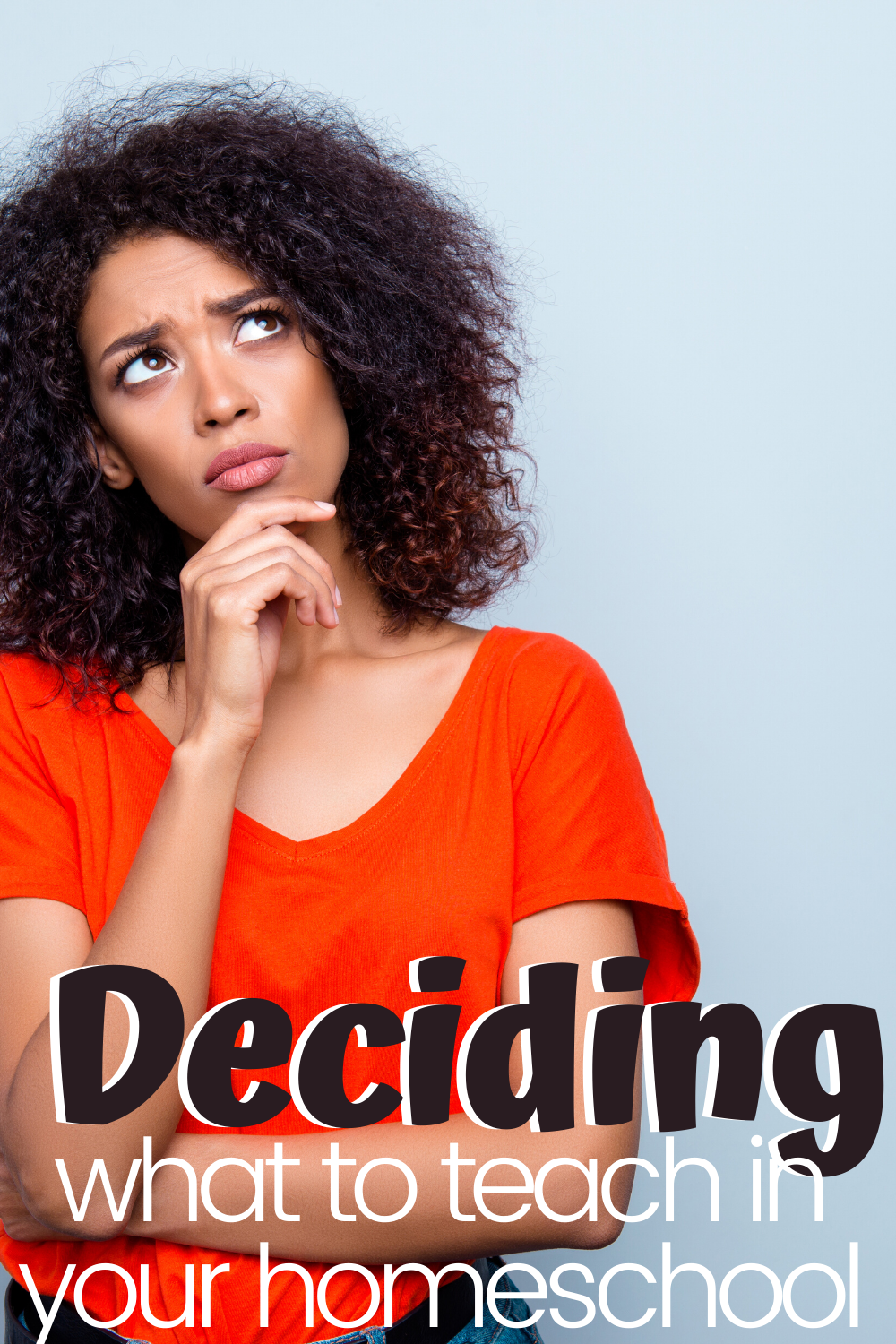 Decide What to Teach in Your Homeschool
The decisions surrounding what to teach are huge in a homeschool mother's mind, but they aren't as difficult for me as they used to be. I've been on this homeschool journey for 18 years now, and I've learned a few things along the way that help make the decision-making process a little easier. 
What will you teach? 
The first part of that big decision you'll need to make is what subjects to teach. In the early grades this could be pretty standard – math, science, history/geography, grammar, and literature. In addition, you could choose to add in special subjects such as a foreign language, nature study, music and/or art appreciation. 
As my children reach the end of their elementary school years, I start to take a hard look at the future. What do I want them to have covered before they enter high school? What books do I want them to have read? What seeds do I want to have planted for later learning? 
High school has its own set of requirements. Your state may have graduation requirements for homeschoolers.  Colleges will certainly have admissions requirements, too. These requirements will play a big part in deciding what subjects to teach.
Taking that decision one step further… Once you've decided on general topics – math, science, history, etc. – you'll need to decide which genre you want to teach.
Will you study chemistry or biology, ancient or American history, algebra or geometry? As often as possible, I try to let my kids have some say in which subjects we cover. For instance, my daughter studied elementary biology for three years before I made her pick a new topic of study. 
[mv_video key="suusyjzrpshdsm51heou" volume="70″ aspectRatio="true" title="Free Homeschool Websites" thumbnail="https://mediavine-res.cloudinary.com/video/upload/suusyjzrpshdsm51heou.jpg" jsonLd="true" doNotOptimizePlacement="false" doNotAutoplayNorOptimizePlacement="false" sticky="false"]
How will you teach it? 
Now that you know what you'll teach, you need to decide how you're going to teach each subject. Are you going to use textbooks, or do you prefer lapbooks? Will you use an online program, or will you attend a co-op? Are you going to use eBooks or purchase physical products? 
I use a variety of these options in my homeschool. We did lots of lapbooks and unit studies in the early learning years. I currently rely on a DVD to teach Saxon math (Algebra 1/2). I use textbooks for science, history, and grammar. We do lots of reading – literature, living books, magazines, online ebooks.
We don't currently use an online program, but I have used them in the past. My daughter also takes pottery at a local co-op. I looking into the possibility of her taking dual-enrollment classes for higher level math and science in high school.
Are you overwhelmed with choices? Try to focus on one subject or one child at a time. Take baby steps until you're all set for the new homeschool year.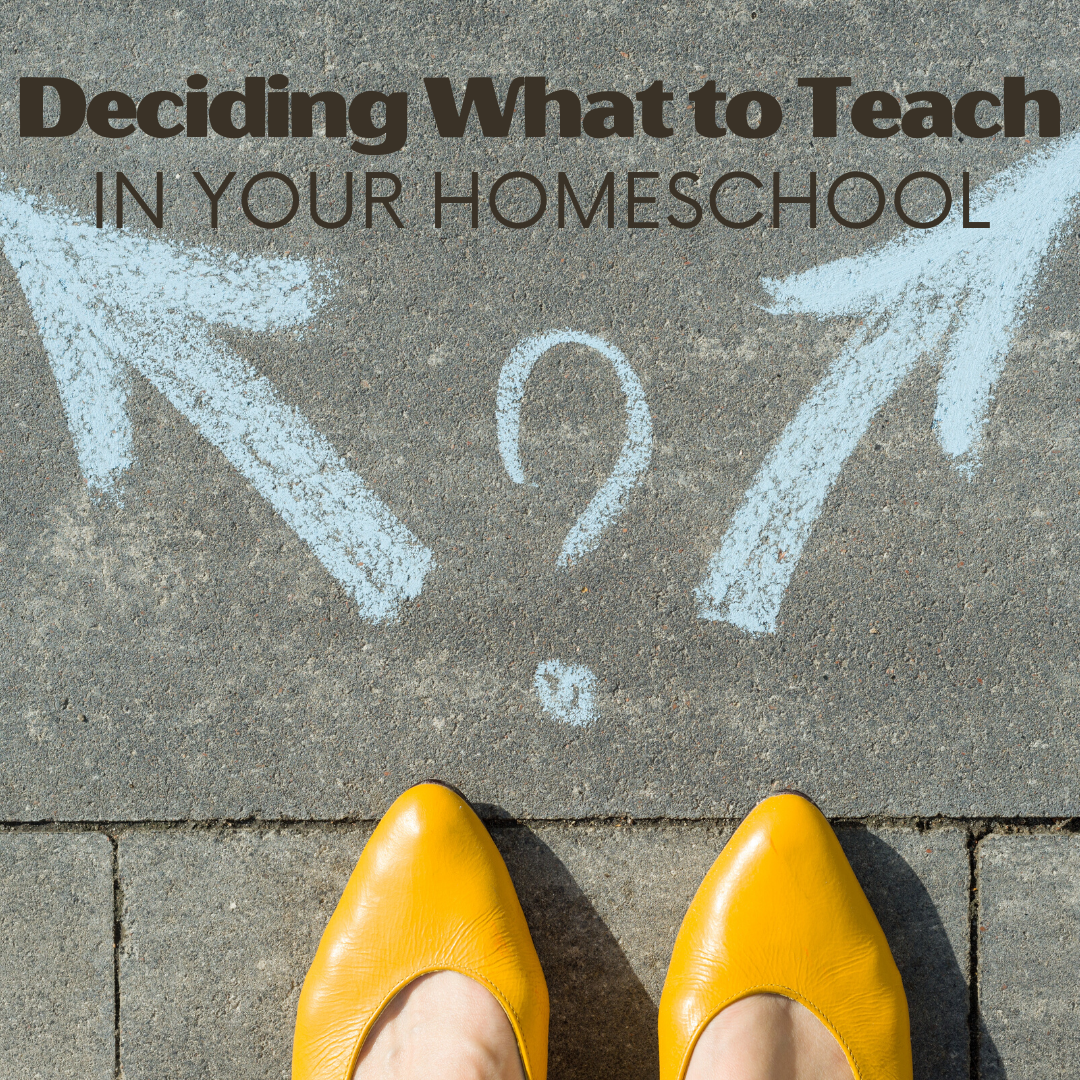 Encouragement for Homeschool Moms
Below, I've featured just a handful of books meant to encourage homeschool moms that will help your readers celebrate their favorite characters.
You should be able to find them at your local library or bookstore. If you can't find them locally, you can click each image cover to purchase them on Amazon.
Creating Homeschool Balance – "Creating Homeschool Balance" will help you understand what balance looks like, feels like, and how to create it. You'll learn strategie
Your Goals This Year – No matter which kind of homeschool parent you are, this book will help you understand the stages of homeschooling high school, put you on the path to success, and keep you from feeling overwhelmed. You can homeschool through high school, and here are the tools to help you.
Scheduling: The Secret to Homeschool Sanity – When you homeschool, it's important to take time to plan and rest, and not just work, work, work! Using schedules in your homeschool can help you avoid burnout.
Your turn:
How do you decide what you'll teach and which curriculum you'll use each year? 
Related Posts