Discover how to evaluate progress in your homeschool without relying solely on end-of-unit and standardized tests. Let's get creative!
Do homeschool parents give tests? I remember from my teaching days that we gave a test after each chapter and again after each unit in almost every subject. The curriculum I used in my classroom was designed that way. 
Yesterday, I shared about how you can determine what to teach and how to teach it. As important as it is to know where you're going, you need to decide how you'll know your child 'gets it.' How will you know when it's time to move on to the next chapter, unit, or lesson?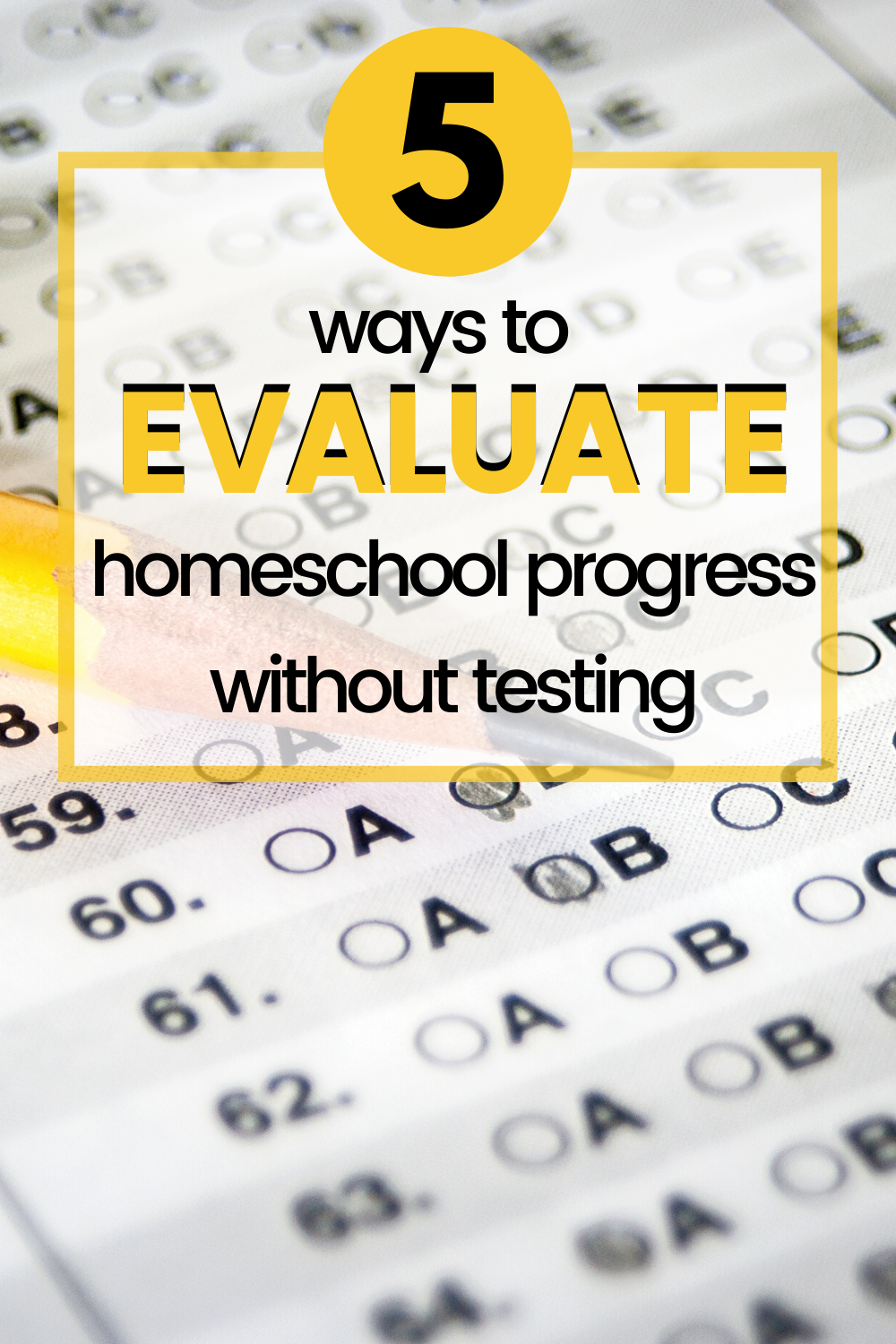 Evaluate Progress in Your Homeschool
I do believe that testing has its place as an evaluation tool even in homeschooling. However, it is not the only way to assess. Because my teacher-student ratio at home is so small (1:1 right now), I can use a variety of tools to evaluate progress and mastery. We do test, but we use lots of other tools, too. 
Narration
Narration is a great way to assess how much a child has retained and processed from a book they've read or a lesson they've completed. When the kids were younger, we did more oral narration than written. I'd read them a story and ask them to tell me what it was about. We'd complete a new lesson in science or history, and I'd ask them to tell me what they'd learned.
Listening to them tell me what they remembered was a great way to fill in the gaps or clarify things they didn't understand. As they got older, I started having them write their narrations on paper. It would start with just writing one sentence telling the most important thing they could remember. From there, they wrote a 3-5 sentence summary. Now, in middle school, my daughter is writing half-page to one-page summaries of her history lessons several times a week. 
[mv_video key="ehid5ufzikmntozlf482″ volume="70″ aspectRatio="true" title="Earning High School Credits in Middle School" thumbnail="https://mediavine-res.cloudinary.com/video/upload/ehid5ufzikmntozlf482.jpg" jsonLd="true" doNotOptimizePlacement="false" doNotAutoplayNorOptimizePlacement="false" sticky="false"]
Notebooking
My favorite assessment tool right now is notebooking. We use them for music appreciation, history, and Bible right now. In the past, we used them for nature study, science, and even literature. Sometimes, I have her use a generic notebooking page for her narrations. Other times, she might have to write an outline or list all of the Kings and Prophets of the Old Testament. She may have to illustrate the 7 Days of Creation or draw a picture of a tomb in a pyramid in Ancient Egypt. 
You can find an abundance of free notebooking page by clicking the banner below. I purchased a lifetime membership a few years ago, and use these notebooking pages in our homeschool on a weekly basis. But, the free pages kept me content for several years!
Lapbooking
Lapbooking (like notebooking) is one of my favorite ways to assess knowledge in my homeschool. I used lapbooking almost exclusively when my kids were younger. I have boxes of completed lapbooks in my basement, because I just can't bear to part with them. You can read more about how I used them in this post, Using Lapbooks in Your Homeschool. Emma did one this year, but decided she much prefers notebooking to lapbooking these days.
My all-time favorite site for FREE lapbooks is Homeschool Share! They have an amazing assortment of literature-based lapbooks, and Emma worked her way through quite a few of their animal lapbooks when she was younger.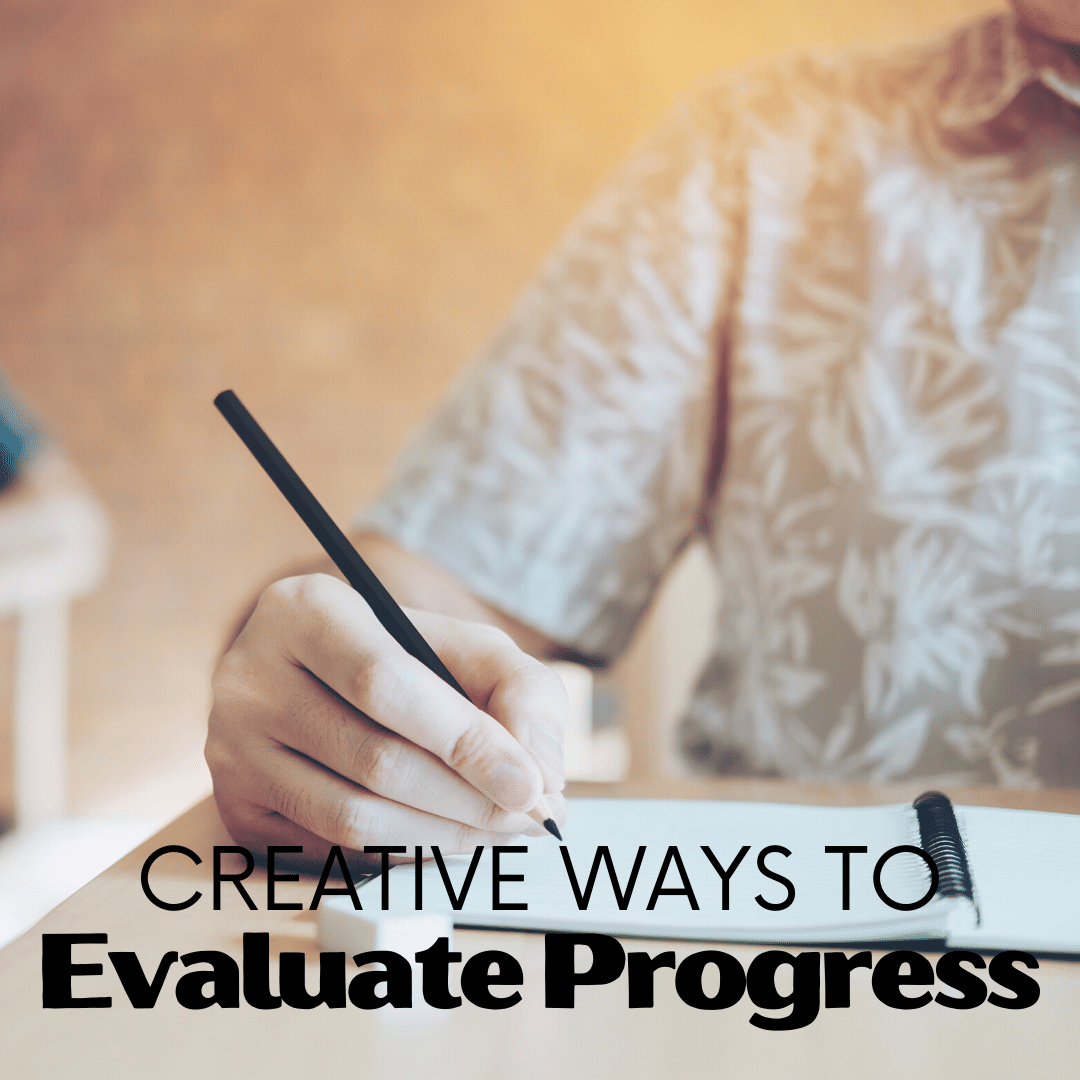 Art
If your child is artistic, let them put their skills to work by drawing and sketching things they've learned. They may want to use chalk pastels
to illustrate different types of clouds or parts of a flower. Let them draw and label the parts of a cell. Can they use clay
or another medium to sculpt something they just learned about – the Great Wall of China, an ancient pyramid, etc? Look for accuracy to demonstrate that they've got a good grasp of the subject. 
Testing
As I stated above, I believe that testing does have its place in my homeschool. First, I don't give tests in every subject in the lower grades. I rely more on the tools above than on a premade test from a publisher. I always give math test, though. Our curriculum is spiral and schedules a math test every four lessons. This year, Em also has a history quiz every week in addition to a test at the end of each grammar and science lesson. 
But, here's the thing about testing. It's just a tool. I don't treat tests much differently (yet) than a regular lesson except that she does spend a little extra time reviewing her assignments prior to taking it. They aren't multiple choice where she's likely to guess the right answer. And, I don't place a ton of emphasis (yet) on the grade. In fact, I don't do report cards, and she doesn't know her average in any given subject. I use the tests to determine whether or not she's ready to move on to the next concept or chapter. If she isn't, we have the freedom to spend a little more time on what she doesn't know before we move on.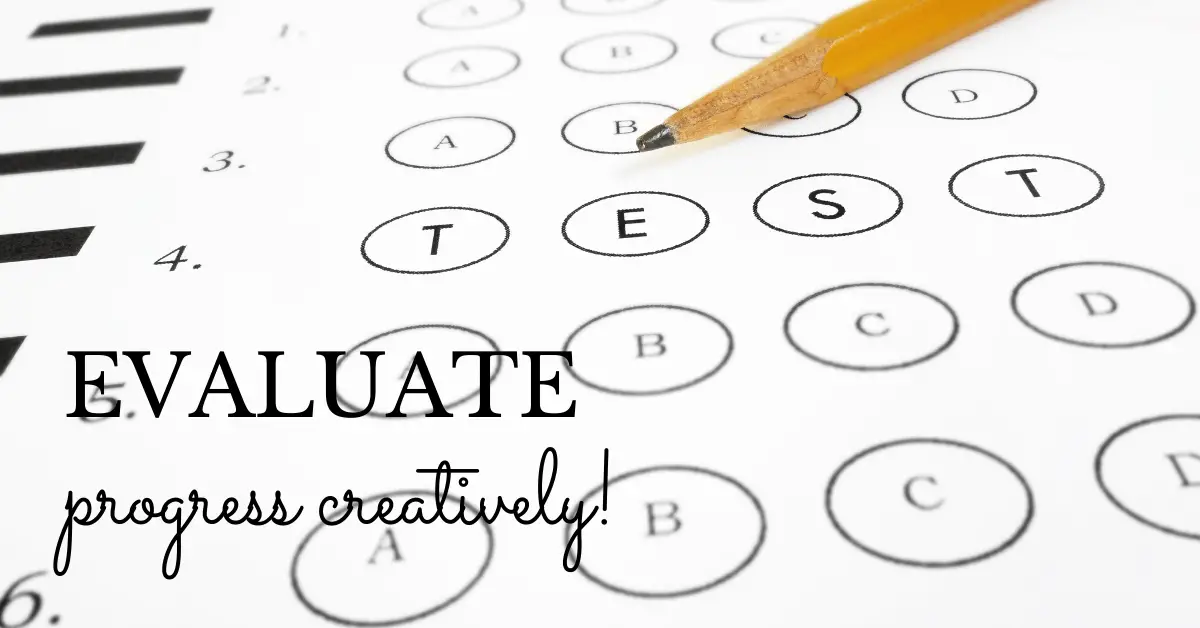 The bottom line, however, is that learning to take tests is an important skill kids need to succeed in college. Some kids don't want to go to college, and therefore, testing may not play an important part in their homeschool years. Emma, however, wants to be a vet. That will require her to attend college, and in college, she will be required to test. It's important to me that she know how to study for and take tests. It's just not the endgame for evaluating her skills on a day-to-day basis in our homeschool.
What are your thoughts on tests? How do you evaluate progress and mastery in your homeschool?
Encouragement for Homeschool Moms
Below, I've featured just a handful of books meant to encourage homeschool moms that will help your readers celebrate their favorite characters.
You should be able to find them at your local library or bookstore. If you can't find them locally, you can click each image cover to purchase them on Amazon.
Creating Homeschool Balance – "Creating Homeschool Balance" will help you understand what balance looks like, feels like, and how to create it. You'll learn strategie
Your Goals This Year – No matter which kind of homeschool parent you are, this book will help you understand the stages of homeschooling high school, put you on the path to success, and keep you from feeling overwhelmed. You can homeschool through high school, and here are the tools to help you.
Scheduling: The Secret to Homeschool Sanity – When you homeschool, it's important to take time to plan and rest, and not just work, work, work! Using schedules in your homeschool can help you avoid burnout.
Related Posts