These free Valentine's Day cards are perfect for class parties and loved ones. There are over 30 FREE printable Valentine's Day cards to choose from!
Are you ready for Valentine's Day? If you have a little one that will be handing out Valentine's Day cards, check out the awesome list of printable Valentines Day cards I've rounded up for you!
From Minecraft to Minions and Doctor Who to Frozen, there's something for everyone listed below!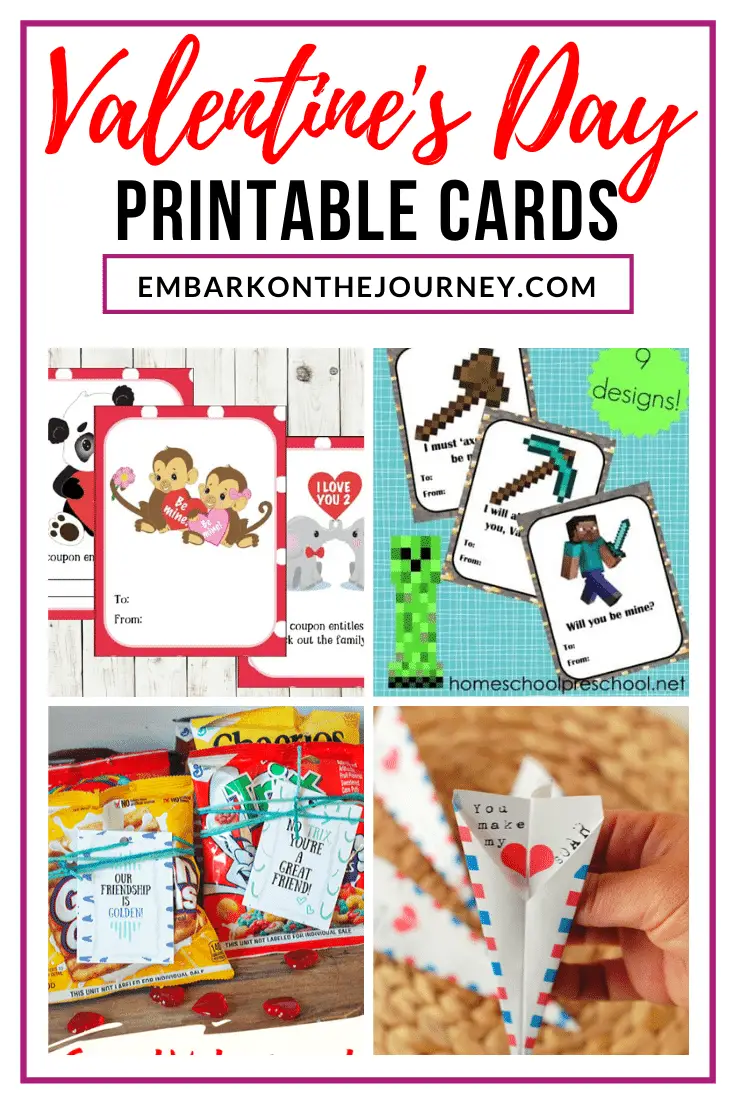 Free Printable Valentines Day Cards
Animal-themed printable Valentine cards for kids just in time for the big day! Print and pass these cards out to friends and family! Homeschool Preschool
Whovians will love these Free Printable Doctor Who Valentine's Day Cards! Meet Penny
I love these Mad Lib Valentines that are made from a book of Mad Libs you can purchase at the store. Then, print a tag to attach to each page before passing them out. Design Mom
You're going to love this super simple Valentine idea. All you need is this set of cereal Valentines and some small boxes/pouches of cereal! Homeschool Preschool
These printable I Spy Valentine's Day Cards are a Valentine and I Spy game in one! Simple Fun for Kids
These Minecraft printable Valentine cards are perfect for classroom parties or sharing with loved ones. Just print them out, sign them, and go! Homeschool Preschool
Marvel fans will  love these Superhero Valentine Cards! Spaceships and Laserbeams
Making paper airplanes has never been as much fun as when you turn them into paper airplane Valentines. No Biggie
These scripture Valentines are perfect for Christian school and Sunday school classes! The Purposeful Mom
It's so easy to make these decoder scratch cards, and kids of all ages will love them! Liberty Hill House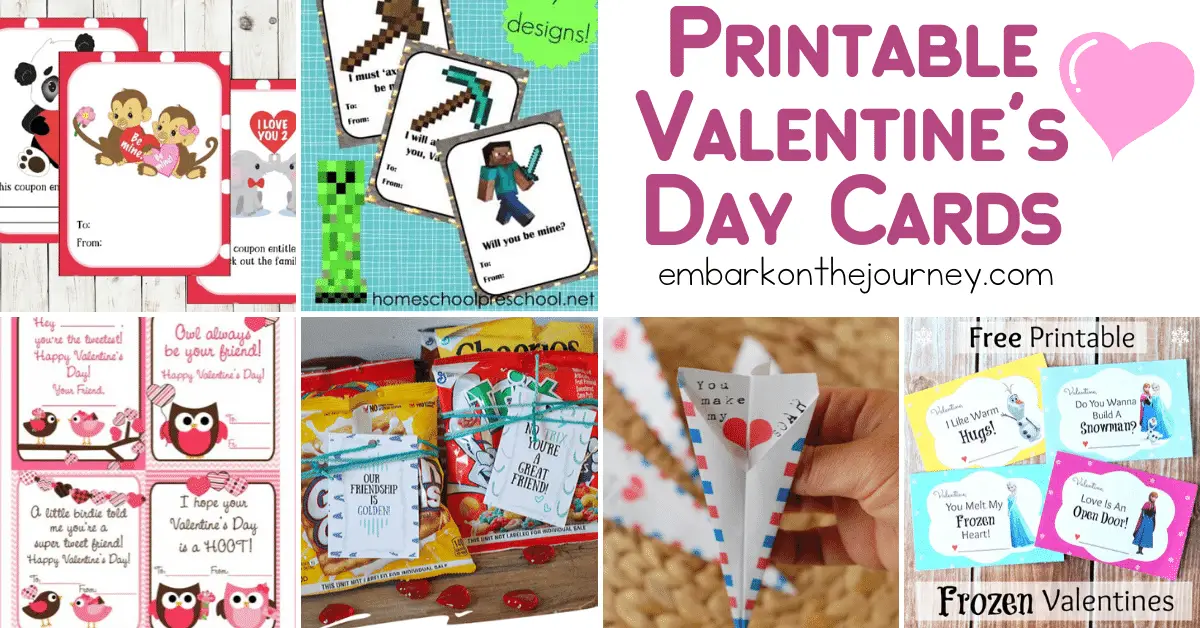 These pretty owls and birds Valentines are super sweet and print-and-go! Coupons are Great
With Frozen 2 having recently been in theaters, these Frozen Valentines are sure to be a hit! The Suburban Mom
These Love You to Pieces Valentines come with a free printable template. Kids just add a paper mosaic before handing them out. The Diary of a Real Housewife
Free printable We Belong Together cards are so cute featuring peanut butter and jelly, eggs and bacon, and more. Artsy Fartsy Mom
Add a lollipop to these I'm a Sucker for You cards for a festive Valentine's Day treat. Crystal and Co.
Attach these You Make My Heart Bounce cards to a baggie that includes a bouncy ball for a fun non-candy Valentine alternative. The Crafting Chick
These Bubble Valentine's Day Cards are perfect paired with mini bottles of bubbles. Armelle
I'm Wild for You Valentine cards go well with plastic jungle animals you can probably find at your local dollar store. Design Mom
Tie a You Make My Heart Pop card to a package of popcorn for a unique Valentine's Day treat. The Diary of a Real Housewife
These Laffy Taffy "Very Funny Valentine" cards are just about the cutest thing I've ever seen! Just Another Day in Paradise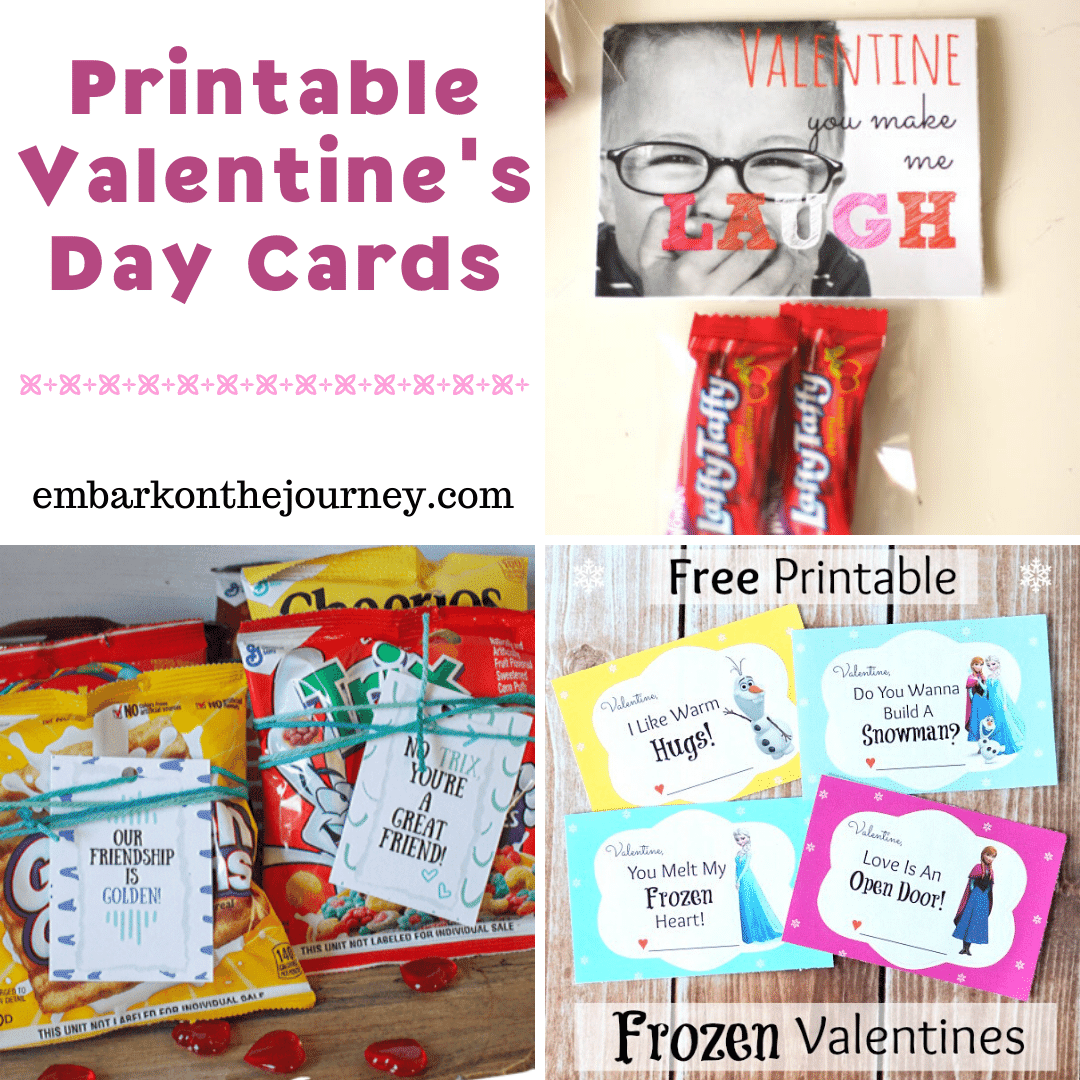 Kids will love using Tic Tacs to play games on these Tic Tac Toe Valentines. Nest of Posies
When you attach these cards to balloons Love is In the Air. 36th Avenue
Grab a box of alphabet cheese crackers before you hand out these Scrabble Valentines. Positively Splendid
Sports fans will love these I Wouldn't Trade You cards when you pair them with a sports card. 30 Handmade Days
Kids will think You're a Gem when you hand out these cards attached to a Ring Pop sucker. U Create
Books About Valentine's Day
Fill your book basket with a great collection of Valentine's Day books. Most of these books can be found at your local library or used bookstore.
If you have a hard time finding them, you can order them through my Amazon affiliate links by clicking the images below.
Cam Jansen and the Valentine Baby Mystery – Mysteries follow super-sleuth Cam Jansen everywhere she goes…even to the hospital. It's Valentine's Day, and Cam is at school when she learns her mother is about to give birth. Cam and her best friend, Eric, rush to the hospital with his mom. There, in the waiting room, something valuable disappears. Click, click! Cam starts to unravel the mystery. Will Cam solve it before her Valentine sibling is born?
Junie B. Jones and the Mushy Gushy Valentine – February 14—Valentime's Day, as Junie B. calls it—is just around the corner. Junie B. can't wait to see all the valentimes she'll get. But she never expected a big, mushy card from a secret admirer! Who is this secret mystery guy, anyway? Junie B. is determined to find out.
Nate the Great and the Mushy Valentine – Nate the Great hates mushy stuff. He spies a big red paper heart taped to Sludge's doghouse. Who left Nate's dog a secret valentine? Nate will solve the case, and then there will be no more mushy stuff. At least that's what he thinks. . . .
Round Out Your Unit with These Activities
Valentine's Day coloring cards are perfect for class parties and playdates! It's like a gift and an activity all in one. 
What kid doesn't love Bingo? This adorable Valentine's Day bingo set is perfect for the school classroom or a large family gathering or party — with 30 unique game boards. 
Related Posts