Whether you're studying flight and airplanes or famous aviators in history, this list of aviation books for children is a great resource to have on hand.
Fill your book basket with one or more of these wonderful books and pique your kids' interest!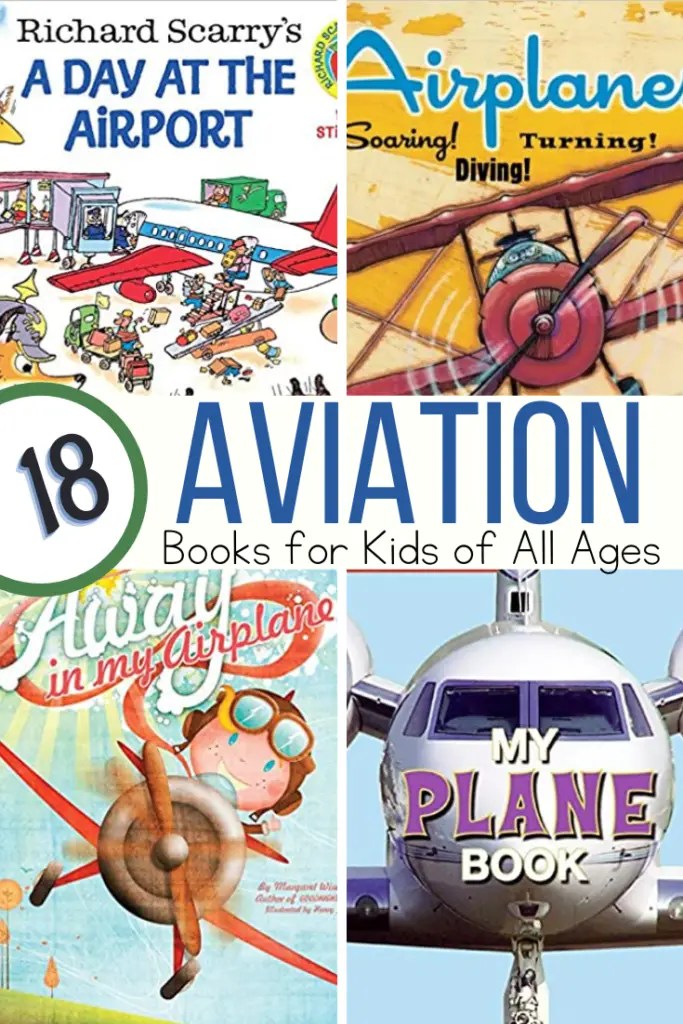 Aviation Books for Children
Below, I've featured just a handful of books that will help your readers learn about aviation and airplanes.
You should be able to find them at your local library or bookstore. If you can't find them locally, you can click each image cover to purchase them on Amazon.
Away in My Airplane | See the birds way up high and the people way down below in this rhyme full of movement, wonder, and excitement from the hidden treasures of Margaret Wise Brown.
A is for Airplane: An Aviation Alphabet | A is for Airplane: An Aviation Alphabet celebrates the roots, inventions, and spirit of the science of flight.
The Noisy Airplane Ride
 | THE NOISY AIRPLANE RIDE offers a rhyming tour of the variety of sounds a child might hear before, during, and after takeoff. Rhythmic noises make for a great read-aloud.A final double-page spread helps clarify some of the sights and physical sensations of a plane ride, from luggage loading to queasiness.
The Little Airplane | Take flight with Pilot Small's classic aerial adventure—now available as a board book! Tag along as Pilot Small takes his little red airplane up, up, up for a joyride!
Airplanes Soaring! Turning! Diving! | Sean Addy and Megan Halsey portray a variety of airplanes using vibrant clip art, etchings, and original drawings. Perfect for anyone who loves flying machines!
All Aboard Airplanes | From crop dusters to state-of-the-art military fighters, it's all here, complete with easy-to-read text and clear, colorful pictures that explain the uses and features of the aircraft.
Flying | An airplane takes off, flies, and lands after having passed over cities, country areas, lakes, and more.
My Plane Book | Exceptional nonfiction for children from one of the most trusted names in learning: the Smithsonian Institution.
A Day at the Airport | Join Richard Scarry's beloved characters Huckle Cat, Sally, and Lowly Worm for a day of adventure and discovery at the airport. Airplane fans will get an up-close look at the terminal, the control tower, the runway, and more!
Amazing Airplanes | From the airport terminal to the flight deck, the zippy text and zappy art take children through how a plane flies, safety rules, in-flight entertainment and air traffic control.
Big Book of Airplanes | From the fastest–and noisiest–passenger plane in the world, to downright strange aircraft, here is a spectacular look at a subject of endless fascination to children.
The Airplane Alphabet Book | Learn which type of plane is best for a dogfight, see the type of plane Charles Lindbergh flew in the first nonstop flight across the Atlantic, and much more.
The Jet Alphabet Book | THE JET ALPHABET BOOK propels young minds into the wild blue yonder to fly with Goblins and Nighthawks while they lock in solid reading skills.
Being a Blue Angel: Every Kid's Guide to the Blue Angels | In Being a Blue Angel, you will meet these heroes in Blue, see what they do and how they live, be inspired by them, and learn how you could one day find yourself Being a Blue Angel. 
A Picture Book of Amelia Earhart | The first woman to fly across the Atlantic solo, she disappeared mysteriously.
I Am Amelia Earhart | This book follows Amelia Earhart from childhood to her first flying lessons and onward to her multi-record-breaking career as a pilot.
Who Was Amelia Earhart? | From her early years to her mysterious 1937 disappearance while attempting a flight around the world, readers will find Amelia Earhart's life a fascinating story.
Who Were the Wright Brothers? | This is the fascinating story of the two inventors and aviation pioneers who never lost sight of their dream: to fly, and to soar higher!
Related Posts