This is an amazing list of the best kids movies based on books that kids in grades K-5 will enjoy! These movies are perfect for kids ages 4-14!
Sick days stink! Whether it's momma or a kiddo who's under the weather, it's hard to do school when someone isn't feeling well. But, you don't have to lose an entire school day just because a cold or a bug has hit your house.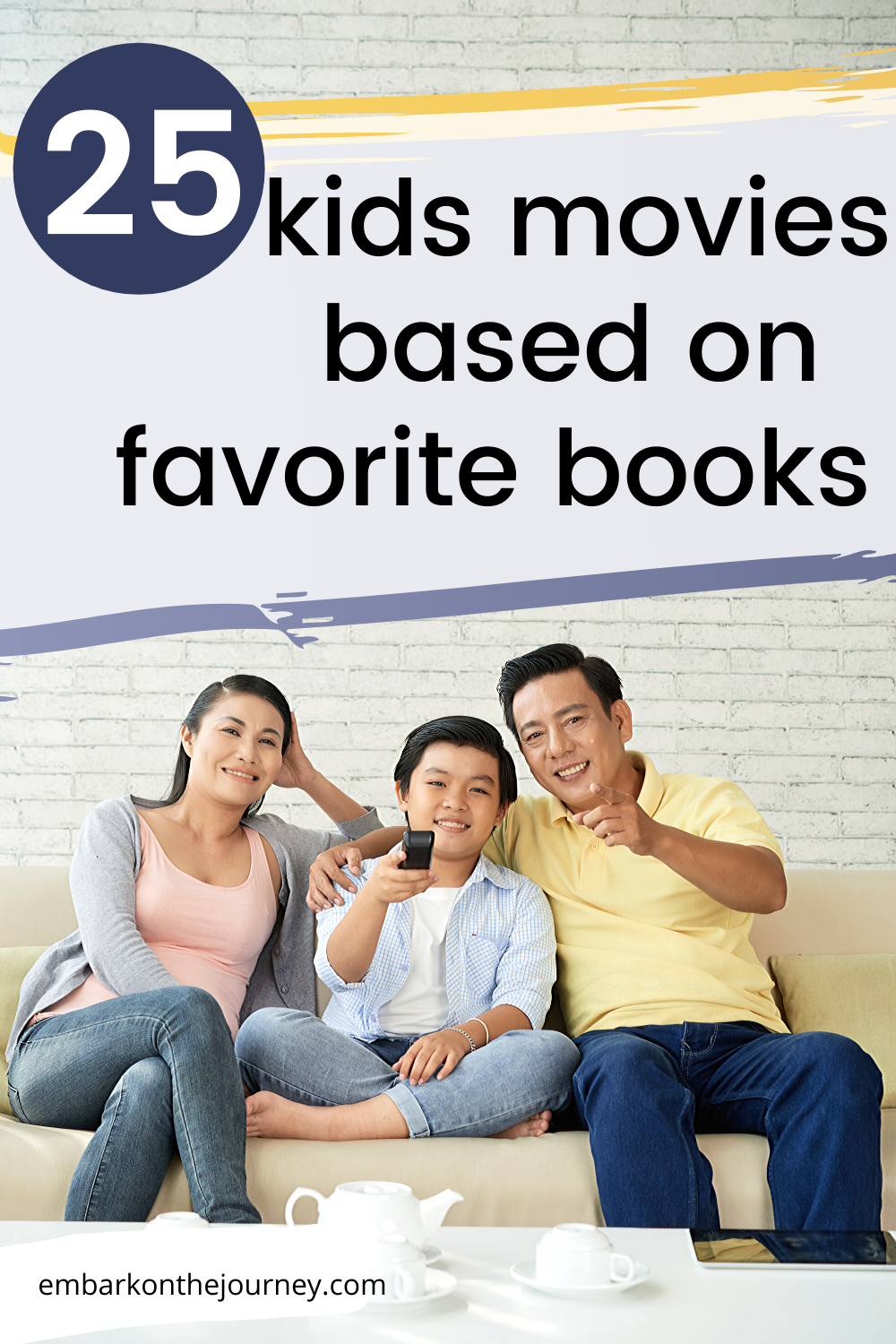 Last year, I shared how we handle homeschool sick days. In that post, I mentioned that my family loves to watch movies based on the books we've been reading. In fact, we tend to save them for sick days or short school days (field trip in the morning… movie in the afternoon). Kay left a comment asking me to share a list of movies that we have enjoyed.
I thought that would be a great idea. So here it is! A list of the best kids movies based on books that kids in grades K-5 will enjoy! We enjoy comparing the movies and books. It makes for great conversation.
Best Kids Movies Based on Books
This is an amazing list of the best kids movies based on books that kids in grades K-5 will enjoy! There's also a free printable list for you to download.
Though we tend to save our movies for sick days, they're perfect for rainy days, hot summer afternoons, and long cold winters! Or, you can watch them the day after you finish reading the book so the details are still fresh in your mind.
No matter when you choose to enjoy these movies, I hope you will read the book, as well. We think they're always better than the movie, and we don't want you to miss out.
Charlotte's Web | Book and Movie (live action) and Cartoon : Some Pig. Humble. Radiant. These are the words in Charlotte's Web, high up in Zuckerman's barn. Charlotte's spider web tells of her feelings for a little pig named Wilbur, who simply wants a friend. They also express the love of a girl named Fern, who saved Wilbur's life when he was born the runt of his litter.
The Brave Little Toaster| Book and Movie : Feeling abandoned by their beloved master, a vacuum cleaner, tensor lamp, electric blanket, clock radio, and toaster undertake a long and arduous journey to find him in a faraway city
Mr. Popper's Penguins | Book and Movie : A classic of American humor, the adventures of a house painter and his brood of high-stepping penguins have delighted children for generations. 
Fern Gully | Book and Movie : A teenaged fairy and her friends organize to save the rainforest!
Paddington Bear | Book and Movie : Paddington Bear had traveled all the way from Peru when the Browns first met him in Paddington Station. Since then, their lives have never been quite the same . . . for ordinary things become extraordinary when a bear called Paddington is involved.
Doctor Dolittle | Book and Movie (new) and Classic : John Dolittle, MD, is a respected physician and quiet bachelor living with his spinster sister Sarah in the small English village of Puddleby-on-the-Marsh. His love of animals grows over the years and his household menagerie eventually scares off his human clientele, leading to loss of wealth. But after learning the secret of speaking to all animals from his parrot Polynesia, he takes up veterinary practice.
Winnie the Pooh | Book and Movie : These characters and their stories are timeless treasures of childhood that continue to speak to all of us with the kind of freshness and heart that distinguishes true storytelling.
Madeline | Book and Movie (live action) and Cartoon : Nothing frightens Madeline—not tigers, not even mice. With its endearing, courageous heroine, cheerful humor, and wonderful, whimsical drawings of Paris, the Madeline stories are true classics that continue to charm readers, even after 75 years!
Pippi   | Book and Movie : Tommy and his sister Annika have a new neighbor, and her name is Pippi Longstocking. She has crazy red pigtails, no parents to tell her what to do, a horse that lives on her porch, and a flair for the outrageous that seems to lead to one adventure after another!
Harriet the Spy | Book and Movie : Harriet M. Welsch is a spy. In her notebook, she writes down everything she knows about everyone, even her classmates and her best friends. Then Harriet loses track of her notebook, and it ends up in the wrong hands. Before she can stop them, her friends have read the always truthful, sometimes awful things she's written about each of them. Will Harriet find a way to put her life and her friendships back together?
Ella Enchanted | Book and Movie : At her birth, Ella of Frell receives a foolish fairy's gift—the "gift" of obedience. Ella must obey any order, whether it's to hop on one foot for a day and a half, or to chop off her own head! But strong-willed Ella does not accept her fate…
Meet Kit | Book and Movie : Kit's world turns upside down when Mother's friends come to stay with them and Dad loses his business. Will life ever be the same again?
Curious George | Book and Movie : In this, the original book about the curious monkey, George is taken from the jungle by the man in the yellow hat to live in a new home, but–oh, what happened! Though trying to be good, George is still very curious and takes a swim in the ocean, escapes from jail, and goes for a flying ride on a bunch of balloons. 
Nim's Island | Book and Movie : A girl. An iguana. An island. And e-mail. Meet Nim–a modern-day Robinson Crusoe! She can chop down bananas with a machete, climb tall palm trees, and start a fire with a piece of glass. So she's not afraid when her scientist dad sails off to study plankton for three days, leaving her alone on their island. But when her father's cell-phone calls stop coming and disaster seems near, Nim has to be stronger and braver than she's ever been before.
Stuart Little | Book and Movie : Stuart's greatest adventure comes when his best friend, a beautiful little bird named Margalo, disappears from her nest. Determined to track her down, Stuart ventures away from home for the very first time in his life. He finds adventure aplenty. But will he find his friend?
Eloise | Book and Movie : Eloise is a little girl who lives at The Plaza Hotel in New York. She is not yet pretty but she is already a Person. She is interested in people when they are not boring. If you take her home with you, you will always be glad you did.
Judy Moody and the Not Bummer Summer | Book and Movie : Roar! It's not bad enough that Mom and Dad are heading to California, leaving Judy and Stink with Aunt Awful (er, Opal), but now two of Judy's friends are going Splitsville, too. Just when it looks like her summer is going to be BOR-ing- eureka! — Judy comes up with the most thrill-a-delic plan ever.
Where the Wild Things Are | Book and Movie : Max is the hero of this beloved children's classic in which he makes mischief, sails away, tames the wild things, and returns home for supper.
How the Grinch Stole Christmas | Book and Movie (new) and Cartoon : This heartwarming story about the effects of the Christmas spirit will grow even the coldest and smallest of hearts. Like mistletoe, candy canes, and caroling, the Grinch is a mainstay of the holidays, and his story is the perfect gift for readers young and old.
Polar Express | Book and Movie : A young boy, lying awake one Christmas Eve, is welcomed aboard a magical trip to the North Pole . . . Through dark forests, over tall mountains, and across a desert of ice, the Polar Express makes its way to the city atop the world, where the boy will make his Christmas wish. 
NOTE: I have an amazing set printable Polar Express storybook activities you should explore.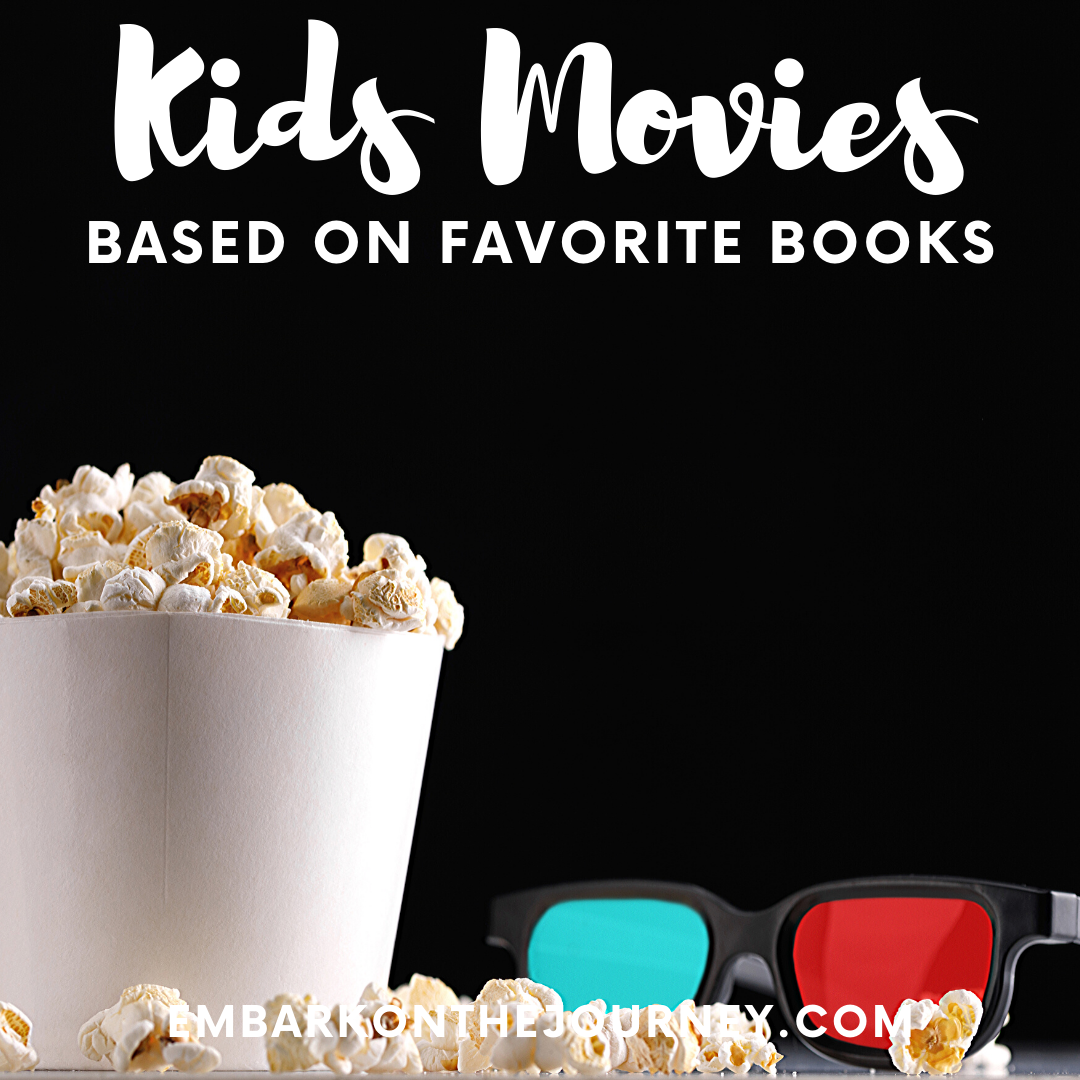 The Lorax | Book and Movie : With a recycling-friendly "Go Green" message, The Lorax allows young readers to experience the beauty of the Truffula Trees and the danger of taking our earth for granted, all in a story that is timely, playful, and hopeful. 
NOTE: This book/movie set is perfect for Earth Day!
Clifford the Big Red Dog: Book and Movie : Meet Clifford and Emily Elizabeth in the original Clifford book! Clifford is big. Clifford is red. But most of all, Clifford knows how to BE A GOOD FRIEND.
The Story of Babar | Book and Movie : After his mother is killed by a hunter, Babar avoids capture by escaping to the city, where he is befriended by the kindly Old Lady. Later, with cousins Celeste and Arthur, he returns to the great forest to be crowned King of the Elephants.
The Cat in the Hat | Book and Movie (live action) and Cartoon : Poor Dick and Sally. It's cold and wet and they're stuck in the house with nothing to do . . . until a giant cat in a hat shows up, transforming the dull day into a madcap adventure and almost wrecking the place in the process!
Cloudy with a Chance of Meatballs | Book and Movie : If food dropped like rain from the sky, wouldn't it be marvelous! Or would it? It could, after all, be messy. And you'd have no choice. What if you didn't like what fell? Or what if too much came? Have you ever thought of what it might be like to be squashed flat by a pancake?
Looking for even more book-based movies? Check out these 40+ Netflix Movies Based on Books.
Which of these gets your vote for best kids movie based on a book?
Related Posts