Entertain your kiddos with these fun printable patriotic games for kids! These are great for road trips and hot summer afternoons!
With Memorial Day and the Fourth of July just around the corner, many of you are gearing up for family road trips.
Print out these free printables for kids. They will love the variety of activities included.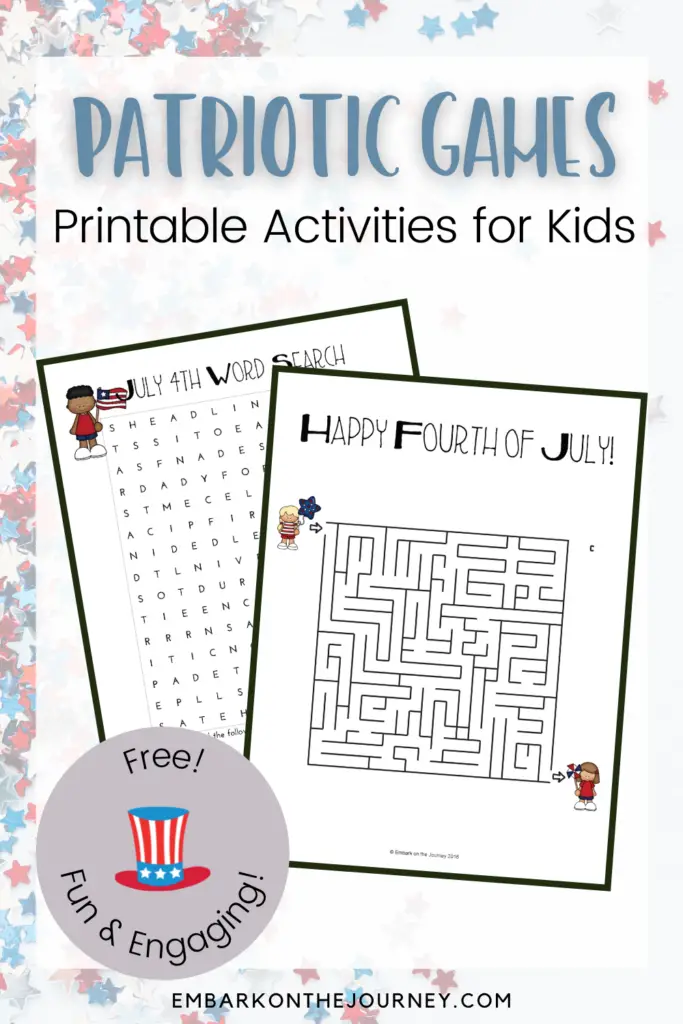 Printable Patriotic Games for Kids
If you'll be traveling, laminate the activity pages or slide them in a page protector. Let your kids do the activities with dry erase markers so they can wipe the pages off and do them again and again.
PREPARING THE ACTIVITY PAGES
Print these puzzle pages on regular printer paper, laminate the activities you'd like to make reusable, and you're all set!
WHAT'S INCLUDED IN THIS PACK?
In this pack, you'll find seven activities that are perfect for the whole family.
Older kids can enjoy the "How Many Words" page. Print two, and siblings can compete to see who can make the most words from the letters spelling INDEPENDENCE DAY.
There are two mazes in this pack. Both are a bit challenging and may be a struggle for preschoolers.
Preschoolers, however, will love the I Spy game. They'll search for eight different images and tally their results.
Young kids will enjoy the graphing activity, as well. Printing more than one game board lets siblings race against each other to see who can fill a column first.
For the older kids, I have a word scramble and a word search. Both have a word bank to work from.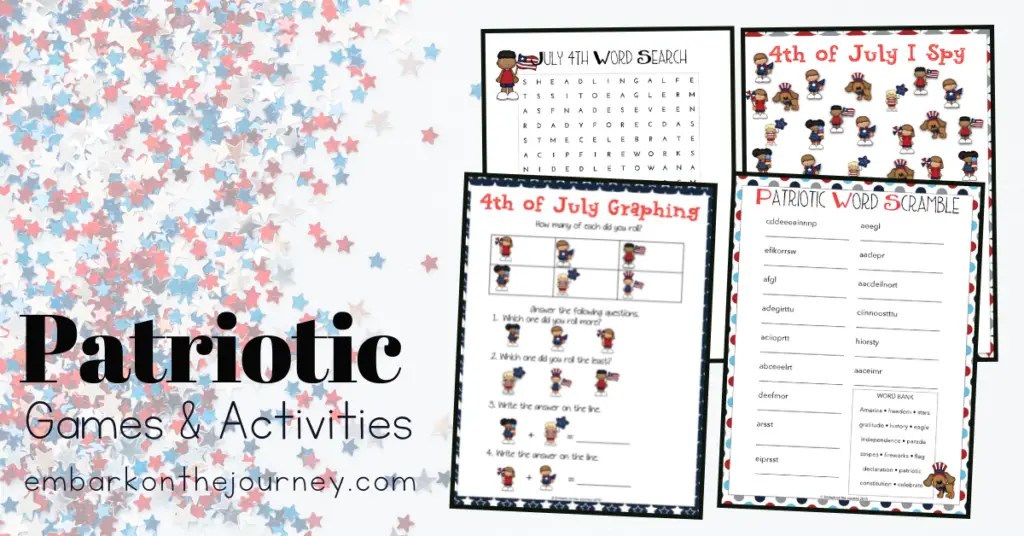 PATRIOTIC PICTURE BOOKS
Fill your book basket with a great collection of 
patriotic picture books
. Most of these books can be found at your local library or used bookstore. If you have a hard time finding them, you can order them through my Amazon affiliate links by clicking the images below.
What is America? – Little learners can discover the symbols, values, and beliefs that make America so great.
Hello, Fourth of July! –  Join a pair of eagles as they spend the day surrounded by the red, white and blue. Along the way, take in a parade, view historical paintings and statues, hit the beach, and enjoy great food at a picnic and barbecue, topping off the day with a colorful fireworks display!
The Berenstain Bears: God Bless Our Country – The Bear family and their Bear Country neighbors celebrate the Fourth of July with a big parade. But not before the cubs get a lesson about the blessings of freedom for their country.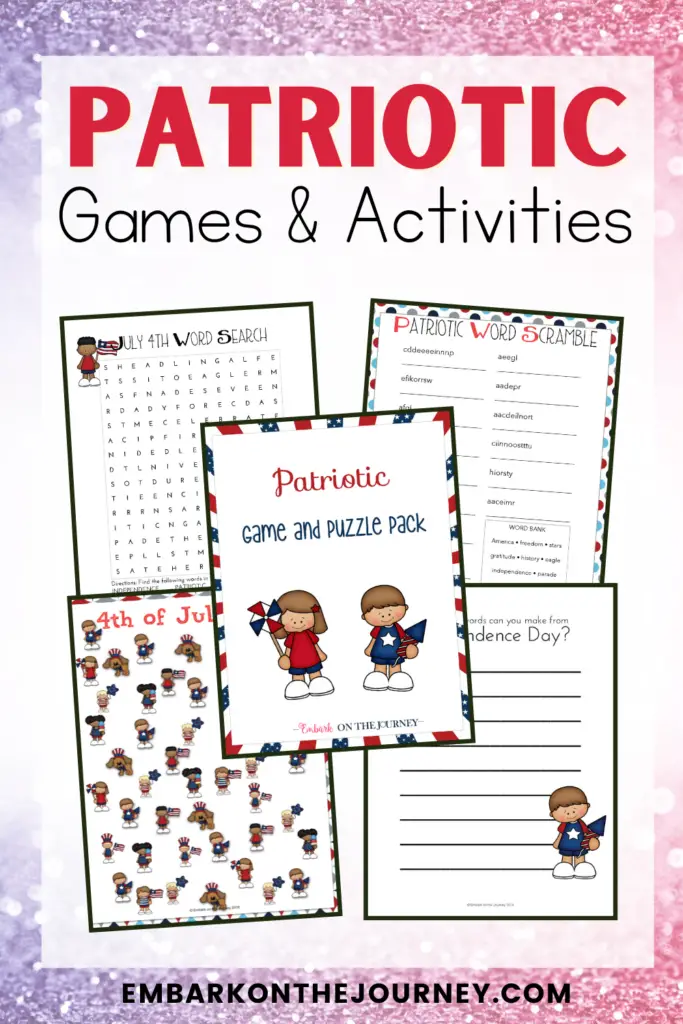 More Patriotic Fun
Sensory play is a crucial part of child development. This patriotic playdough sensory kit encourages imaginative play and language development, while developing fine motor skills and building nerve connections in the brain. But most importantly, it's fun!
Kids will love these handmade, 4th of July themed play dough party favors. Kick off Fourth of July with this cute, lightly scented set! Sensory play doh is the perfect gift for boys and girls alike!
Patriotic Printable
This patriotic printable pack is only available to my readers. Click the button below, enter your information, and download your printables.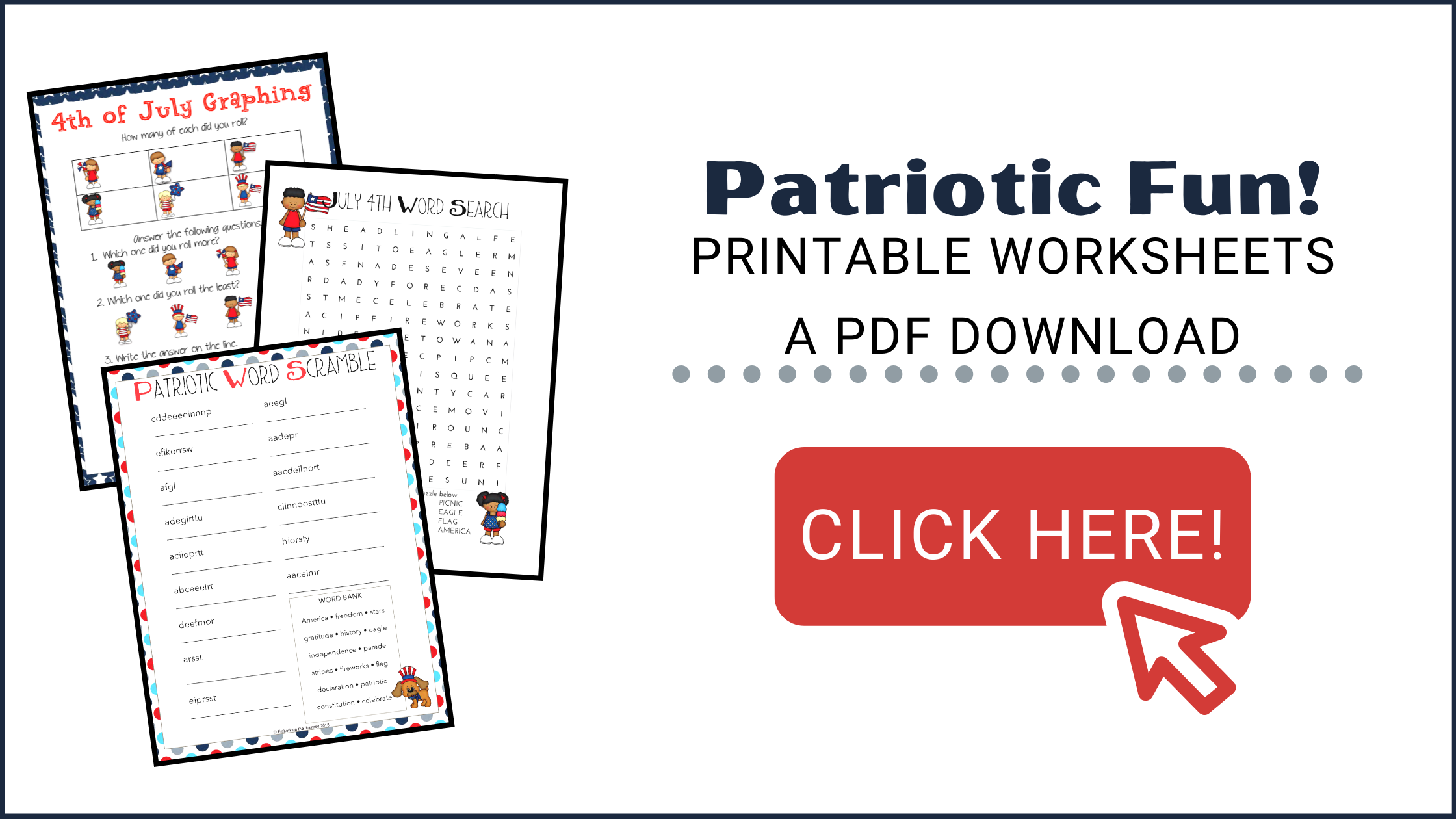 Related Posts