You can celebrate Pi Day on 3/14 in your homeschool with this amazing collection of Pi Day activities and crafts for kids of all ages!
Each of these unique pi day project ideas is sure to spark your kids creativity and encourage them to explore Pi on a whole new level.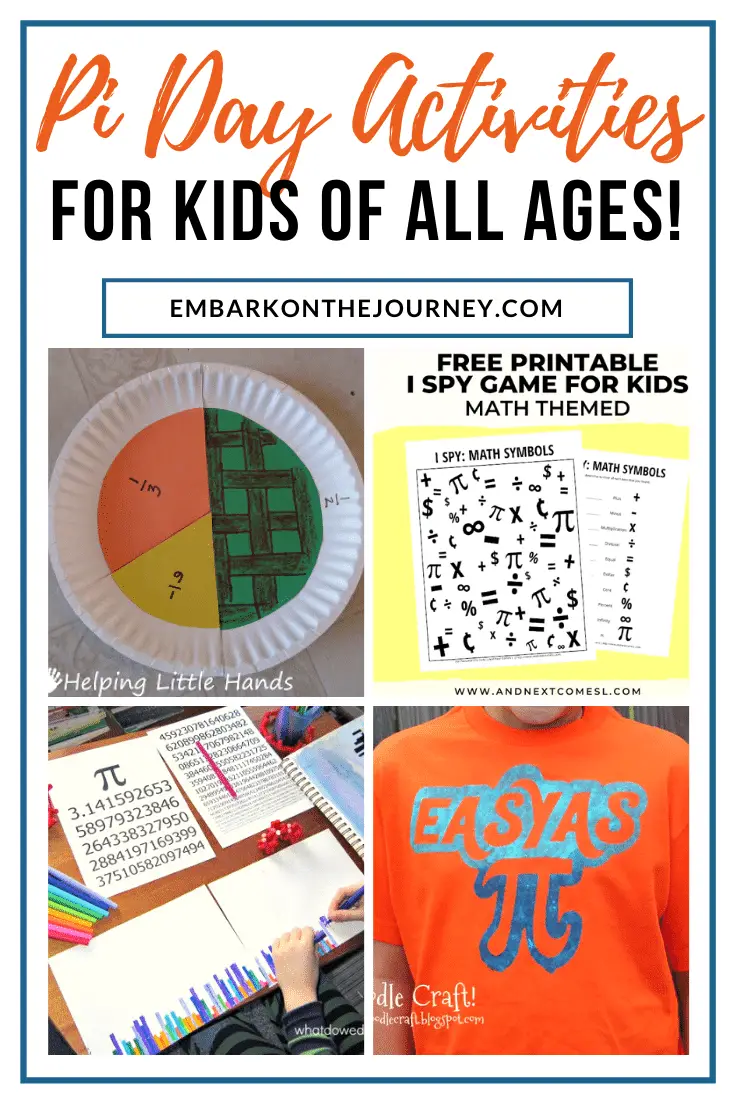 Pi Day Activities for Kids
What exactly is "pi" and why are we celebrating it?
Pi is the ratio of the circumference of a circle to its diameter. Though it's an infinite number, it starts with 3.14. Therefore, many people call March 14 (3/14) "Pi Day."
Here are four fun Pi Day activities that are perfect to use with your kindergarteners. These activities include fraction paper plate pies, circle patterns, and more. Pieces by Polly
Kids can make Pi Day bracelets as they explore Pi. There are two versions. One focuses on odds and evens, while the other focuses on the number sequence of Pi. Pink Stripey Socks
I know a few math-loving kids who would love to make and wear their own Pi Day tee shirts! These shirts require a bit of prep work, but it's easier than you'd think. Doodle Craft Blog
Introduce Pi to your young kids using this printable Math Symbols I Spy Game. This is a great way to teach and reinforce math symbols. And Next Comes L
I love this Pi Day art project! It comes with a free printable template. Students will love choosing 3 colors, and taking 14 minutes to decorate 15 boxes. Tinkerlab
Toddlers and preschoolers will have fun creating their very own Pi Day necklaces using dyed pasta and the first twelve digits of Pi. Momgineer
Students of all ages will love combining math and art to create a Pi Skyline. What Do We Do All Day
Your youngest learners can get in on the Pi Day fun with Pi Day Pie Playdough! Left Brain Craft Brain
And, here's another Pi Day tee kids can make and wear. Pieces by Polly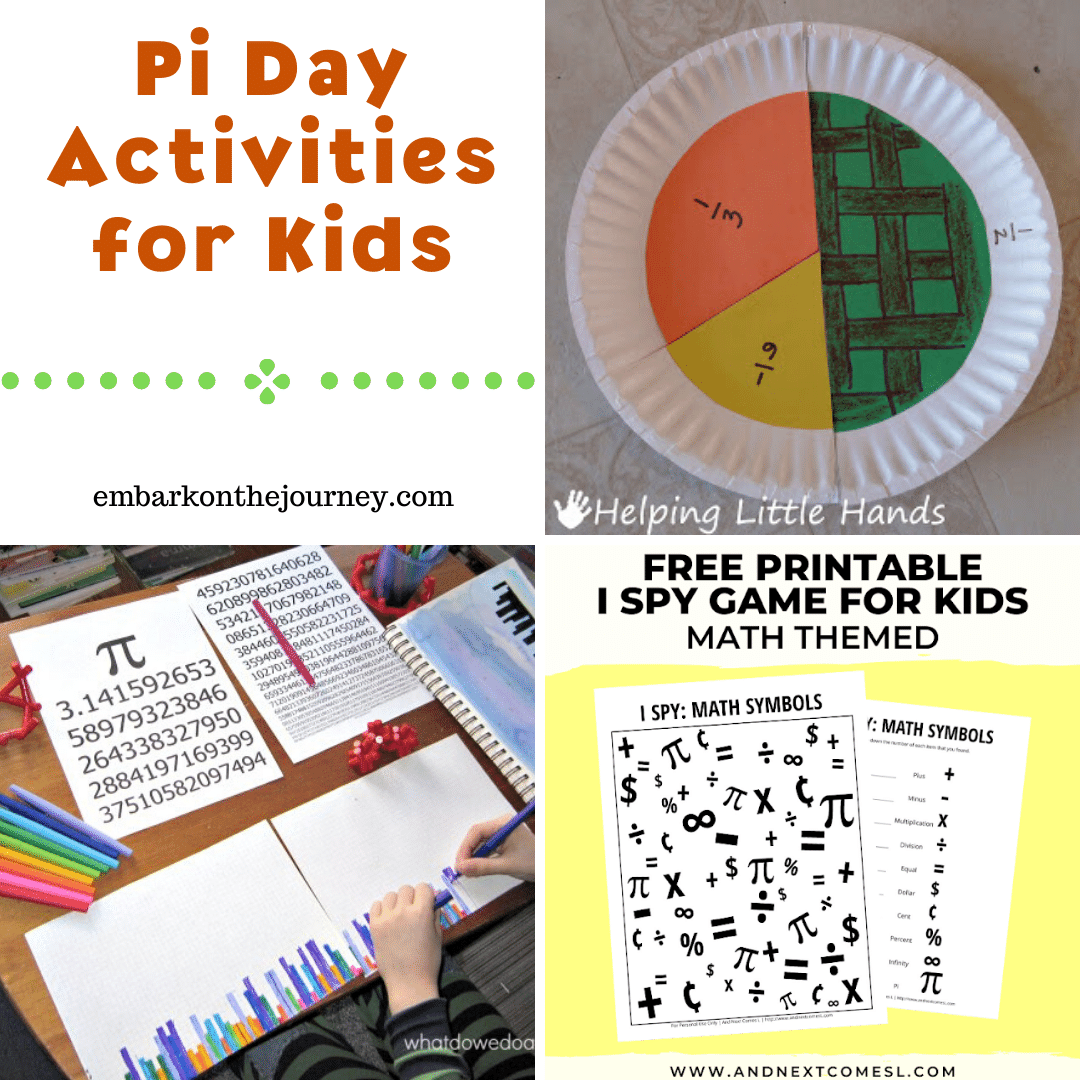 Create one of these two Pi art projects that represent the numbers in Pi. Pink Stripey Socks
This pie banner craft project is perfect for decorating your homeschool room for Pi Day. Use 14 pieces of "pie" to make it even more meaningful! Darice
Here's a fun collection of Pi Day songs you can incorporate into your Pi Day activities. The Educators' Spin on It
Another fun project that meshes math and art! Pop art for Pi Day! The free printable template is a great resource to complete this activity. Momgineer
Kids can prove Pi themselves with this Sneaky Pi Day Detector free printable activity. Jinxy Kids
Elementary-aged students can try this Pi Day inspired string art activity. Pink Stripey Socks
Books to Read on Pi Day
Fill your book basket with a great collection of books to read on Pi Day. Most of these books can be found at your local library or used bookstore.
If you have a hard time finding them, you can order them through my Amazon affiliate links by clicking the images below.
Happy Pi Day to You! – Join the Cat in the Hat as he explains how to measure circles and calculate pi in this perfect choice for Pi Day celebrations and nurturing a love of math and numbers!
Sir Cumference and the Dragon of Pi – This math adventure is centered around a potion that changes Sir Cumference into a fire-breathing dragon. Can Radius change him back? Join Radius on his quest through the castle to solve a riddle that will reveal the cure. 
It Happened One Pi Day – Unlock the hidden power of your mind to memorize numbers. Memorize Pi to 100 digits… 300 digits… More? This story gives you the first 600 digits of pi.
Teaching Resources
Add a pi-shaped cookie cutter to your playdough station, or use it to mix up a batch of sugar cookies for Pi Day. 
Celebrate Pi Day (3.14 or March 14) with this fun 6″ purple berry pie with braided crust and Pi sign decoration. Great for fans of math and nerds of every kind- there's literally not better way to honor math then by saluting it with pie on March 14. And this pie is extra awesome because it's zero calories!
Which Pi Day activity will you try first? 
More Math Posts