Dr. Seuss is a beloved children's author. Teach students more about his life with one or more of these Dr Seuss biographies for kids.
Next month, the nation will celebrate Dr. Seuss's birthday! He is an iconic children's author. It's not hard to find a book written by him.
However, kids might enjoy learning a little more about the man behind the books. So, I've compiled a list of books about Theodor Geisel, better known as Dr. Seuss. 
These Dr Seuss biographies will work well as read-alone books and read-alouds.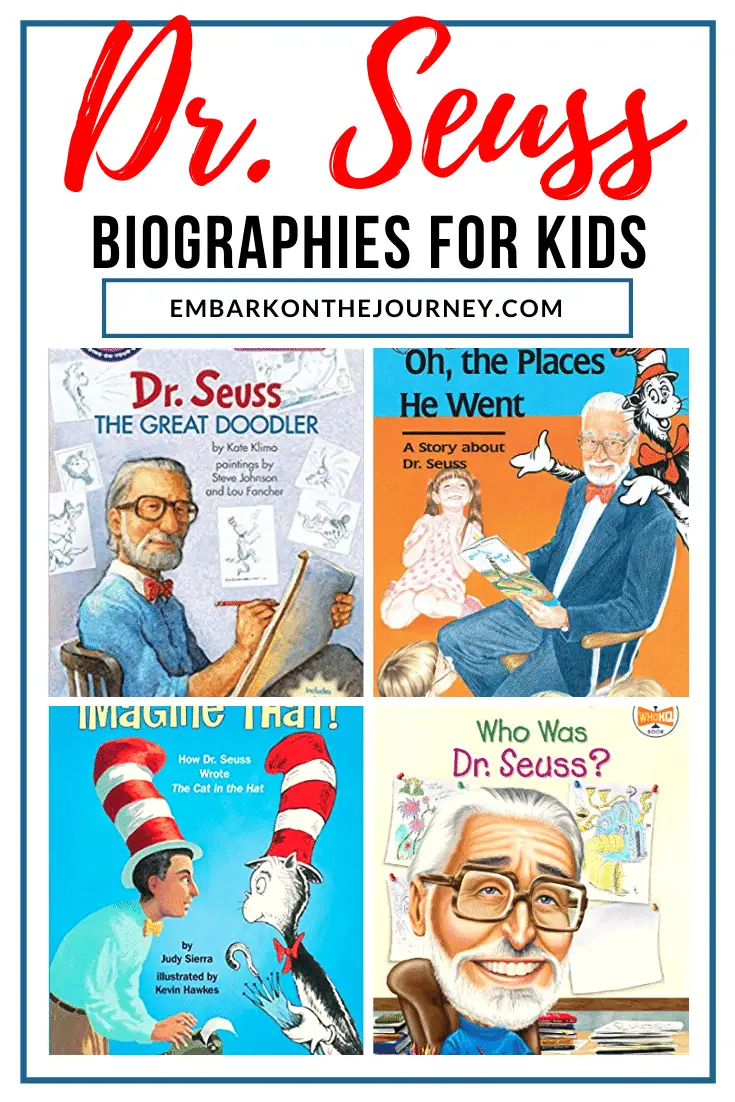 Dr Seuss Biographies for Kids
Fill your book basket with a great collection of Dr. Seuss biographies for kids. Most of these books can be found at your local library or used bookstore.
If you have a hard time finding them, you can order them through my Amazon affiliate links by clicking the images below.
Who Was Dr. Seuss? – Ted Geisel loved to doodle from the time he was a kid. He had an offbeat, fun-loving personality. This biography, with black-and-white illustrations throughout, brings an amazingly gifted author/illustrator to life.
The Life of Dr. Seuss: A Biography of Theodor Seuss Geisel Just for Kids! – He was one of the most brilliant men in the world. His books inspired millions of lives. But who was he really? This book, just for kids, will look at his childhood, education, marriage and work to see what made him who he was!
Oh the Places He Went A Story About Dr. Seuss– Covers the life of Theodor Geisel, who under the name Dr. Seuss, gained fame as an author and illustrator of books for children.
The Boy on Fairfield Street: How Ted Geisel Grew Up to Become Dr. Seuss – This is the first picture book biography of Dr. Seuss, written especially for his young fans who want to know what made him tick. 
Dr. Seuss – Text and photographs introduce the biography of Dr. Seuss, an award-winning and famous illustrator and author best known for writing The Cat in the Hat.
Dr. Seuss – Introduce students to Dr. Seuss, the author of children's favorites like Green Eggs and Ham. This biography uses simple text structures and clear images to help readers learn about this amazing writer.
Dr. Seuss: Young Author and Artist– A childhood biography of one of the most beloved authors and illustrators of all time.
Dr. Seuss: The Great Doodler – Follow his career as an ad man, political cartoonist, creator of forty-five indelible children's books, and Pulitzer Prize winner. Not bad for a lifelong doodler! Includes fun facts and several of Dr. Seuss's original sketches and artwork!
Imagine That! How Dr Seuss Wrote the Cat in the Hat – Have you ever wondered how the great Dr. Seuss wrote his most famous book? Did you know that for The Cat in the Hat, he wasn't allowed to make up the fun words he was known for? This bouncy account of the early career of Dr. Seuss (a.k.a. Ted Geisel) proves that sometimes limitations can be the best inspiration of all.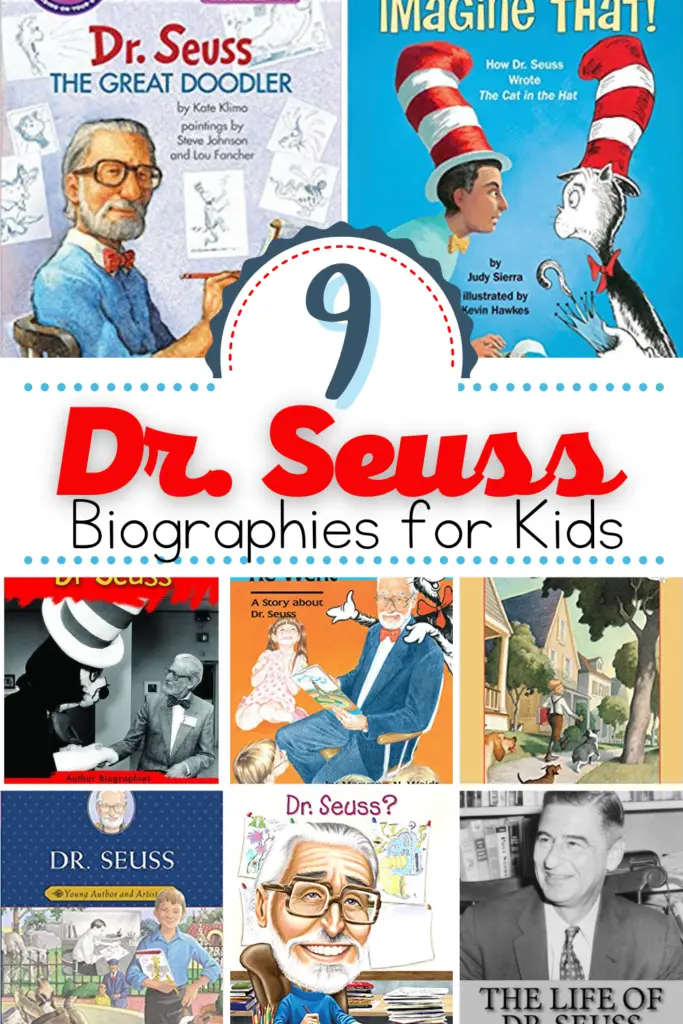 Teaching Resources
These very cute 2 inch Cat in the Hat Dr. Seuss building blocks are the perfect gift for any little boy or girl. These blocks come in a set of 13 and each block contains 2 letters. All of the letters of the alphabet are represented. The 4 remaining sides have different Cat in the Hat pictures on them.
Suess themed finger puppets are perfect for imaginative play and storytelling activities. 
Related Posts